Connecting With Consumers
Hunting for new contractors seems like everyone's least favorite pastime, and for good reason. It's stressful, time-consuming, and filled with pitfalls. "Are these companies trustworthy? Can I trust the customer reviews on their website?" These are the sort of questions flooding our minds as we shop around online.
At HVAC SEO Webmasters, we continually strive to better understand the consumer search process to deliver stronger results for our SEO clients. We recently conducted a research project to uncover insights into how homeowners (and commercial prospects) overcome search fright to find the next HVAC contractor for their property. We also delved into preferred contact methods for interacting with heating and AC contractors.
We specifically hunted for insights into the following questions:
How do consumers prefer to contact an HVAC pro when it's their first encounter?
What device(s) are they most likely to use?
Do consumers conduct additional site research before calling for the first time?
What website features encourage consumers most when they consider a new HVAC contractor?
Online analysts and consumer experts continue to describe shifts towards consistent personal research. In a Pew Research study conducted in 2018, 81% of the Americans surveyed said, "before making an important decision…they rely a lot on their own research". That number was significantly higher than the percentage of people consulting friends, family, and even industry professionals.
Reviews play a huge part in that personal research process. One Statista report states that 82% of consumer decisions to use a local business are affected by negative reviews (91% for positive reviews).
Even before the surveys, our researchers knew how important online search is for HVAC consumers, especially the process of consulting customer reviews. With the data, we gathered, however, we could understand even more how testimonials affect the behavior of prospective clients. Our data also reinforced the necessity of maintaining the proper communication channels!
Crucial Findings From Our Consumer Surveys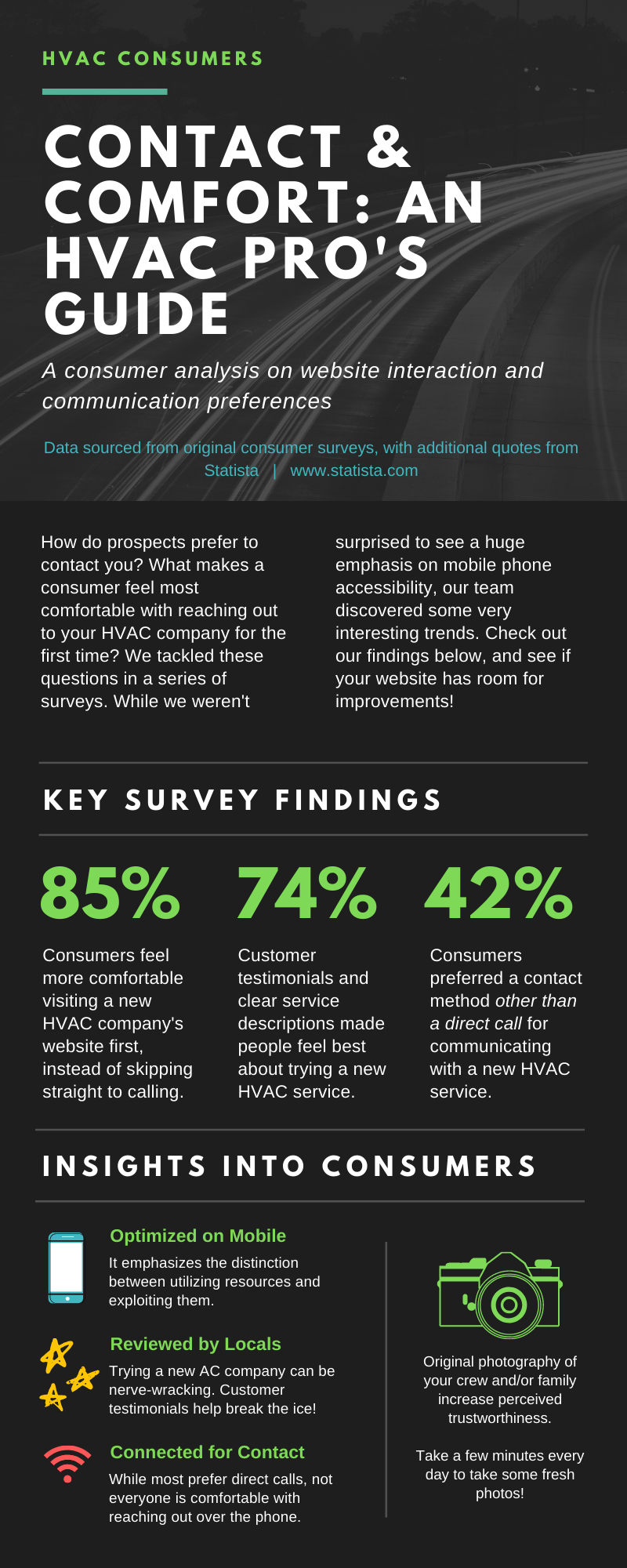 Our Survey Process
Using Google's streamlined survey tool, our team conducted a series of surveys designed to tackle some of the crucial questions we listed above. Each survey was released to a sample group of 300+ individuals spread across the continental United States. Since we specifically needed data from consumers who might require heating and air conditioning services, we confined the respondent age group to the 35+ year range, male and female.
All in all, we ended up collecting responses from over 1200 individuals. We achieved a well-spread sampling across genders, age groups, and the US region thanks to Google's tool. For our post-survey analysis, respondents were divided into four age groups: 35 to 44 years old, 45 to 54 years, 55 to 64 years, and 65+.
Our Consumer Questions
You discover a new, well-rated heating/AC company on Google Search. The company's phone number and website address are both listed. Assuming you needed service, would you…
Immediately call their listed phone number
Wait and visit their website first
You're visiting the website of a heating/AC company that you've never used before. Which of the following make you feel the most comfortable with choosing their services?
Testimonials from happy customers
Clear descriptions of the company services
Approval badges from HomeAdvisor
Pictures of the company owner & crew
Videos of recent AC/heating projects
You're on the website of a heating & cooling service you've never used before. You're about to contact them for the first time. Which method would you prefer most?
A direct call
An email link
A contact form
A direct messaging (DM) box
Which of the following devices are you most likely to use when you contact a heating/AC service?
A mobile phone
A desktop or laptop computer
A tablet
A voice-controlled personal assistant
Key Lessons for HVAC Pros
Lesson #1: Testimonials Take Priority.
When asked which website features made them feel most comfortable with choosing the services of an unfamiliar heating/AC company, 43% of respondents said that happy customer testimonials took priority. This lines up with the findings of numerous industry researchers from the last few years.
A study late last year states that the average US consumer reads through 10 reviews before they trust a business. Younger polled age groups were likely to read an even greater number (Statista.com). This seemingly high number of testimonials is likely related to the growing distrust of online reviews. Fake reviews in eCommerce fueled much of the problem, but that distrust has also spread to other industries.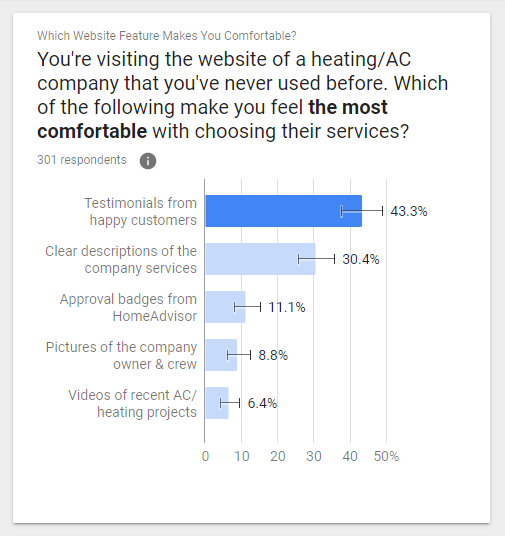 Testimonials and Clear Service Descriptions Ranked Highest Among the Website Features Listed.
Despite this, customer reviews clearly still play a crucial role in client adoption rates. Among the popular features listed in our survey, testimonials outweighed most by a wide margin. That margin widened even more for the women polled in the survey, as seen in the table below.
While features like HomeAdvisor badges, original company images, and project videos took priority for several consumers, clear service descriptions (more on this later) and testimonials consistently took top placement across each age bracket.
Actionable Takeaways for HVAC Pros
Keep collecting those reviews! Not only do they provide evidence of your company's trustworthiness, they also serve as a significant ranking factor in SEO. New reviews are especially valuable for prospective clients who haven't utilized your services before.
Nothing makes a business more attractive than glowing testimonials of excellent customer service.
While testimonials showcased on your website may not be quite as genuine as those on Google Reviews, they still boost consumer confidence. So post away! Get those happy stories front and center on your website. You'll notice a difference in your site KPIs.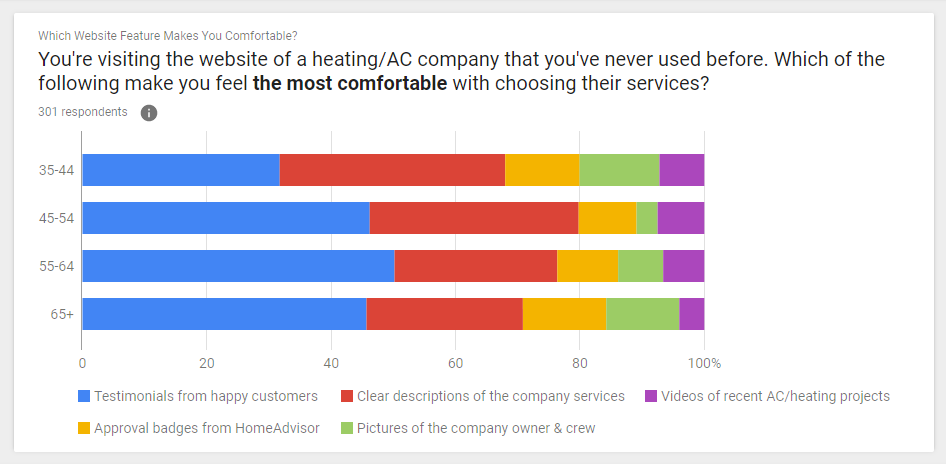 Lesson #2: Consumers Need Clear Descriptions.
In one of our recent podcasts, Creative Director Jason Landry stated that website design ultimately breaks down into two key elements: information and presentation.
According to our study, clear descriptions of a company's services are essential for higher conversions. That's especially true among men and younger demographics, who may not have as much experience interacting with home service companies. How HVAC companies present their service information makes a significant difference in adoption.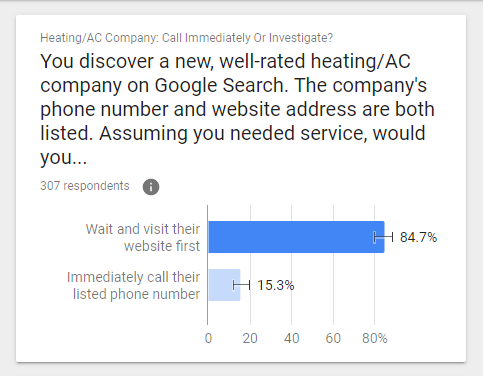 Consumers continually show a keen interest in personal research. According to the Pew Research study we mentioned earlier, personal research is even more important than recommendations than friends, families, and industry professionals to many consumers. This lines up with the findings in our next survey.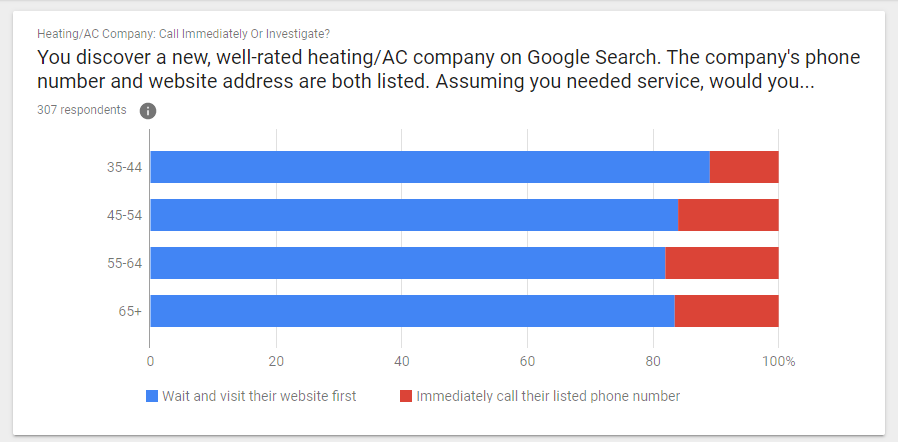 When asked whether they'd immediately call an HVAC provider or visit their website first, polled consumers showed a clear desire to research the website. For one, this enables prospective clients to dig more into the services available from the provider. Second, the additional research allows the consumers to craft a full perspective of the company in question.
Fewer would click through to the site if the consumers were worried solely about star ratings. After all, local map packs (the primary traffic source for many service keywords) showcase Google Reviews aggregate ratings for each listed business. They also desire a better understanding of the company's services.
To-Do's for HVAC Companies
If service detail is what your prospective clients want, give it to them! Write full, keyword-optimized service pages for every one of your solutions. Your clients will appreciate the helpful information and reward you with higher conversion rates.
Keyword-rich service pages also enable rankings for a much larger variety of terms. In other words, that's more people coming to your website for specific services you provide! So many HVAC companies injure themselves by skipping this process favoring a cheap bullet list on the homepage. That doesn't work for SEO, and it won't work for your prospective customers either.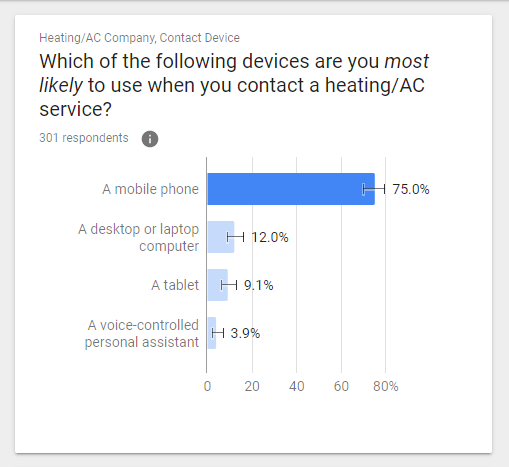 Get those customer reviews! Write those service pages (or have a professional do them for you). Of consumers say it's important, it matters.
Lesson #3: Get Even More Mobile-Friendly
As consumers eagerly harness mobile technology, desktop computers continue to fall by the wayside. Google even recognized the user shift in July 2019 when they switched to mobile-first indexing. Since most search engine users rely on mobile devices for their browsing, it's no wonder direct calling is their preferred choice when it comes to reaching out to your business!
75% of our surveyed consumers said they'd most likely use a mobile phone to contact their HVAC service provider.
At nearly 17%, men were the most likely of the sexes to reach out on a desktop computer, while only 8% of women said the same. Tablets followed in the 8-10% range, and voice-controlled personal assistants (PAs) came in dead last with a 4% average. We'll discuss these devices more later.
This high usage rate for mobile phones just re-emphasizes the importance of adopting truly responsive design. If your website doesn't conform to user devices, then you're missing out on a lot of traffic!
Key Action Items for Mobile Usage
Be sure your design caters to a mobile audience. Features that make browsing much easier:
Clickable / tap-able phone numbers
Sandwich menus
Direct messaging / texting tools
Large font
Adding these elements to your web design allows people to read and call on the go. For an even more convenient user experience, ensure that all your CTAs (calls to action) are clearly visible and hyperlinked.
Lesson #4: Go Beyond Direct Calls
"But you just said…" True. Direct calls are the most preferred method of contacting HVAC professionals. However, take a moment to consider the results of our last survey.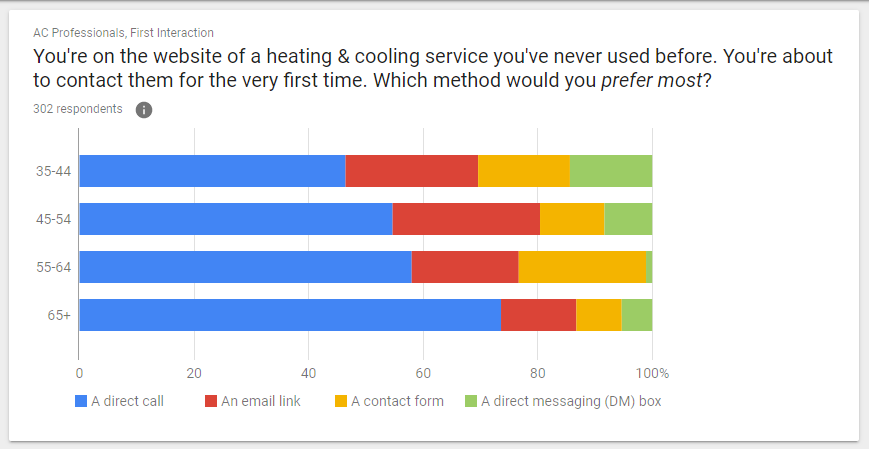 While approximately 58% of consumers preferred direct calls for contacting a new HVAC company, over 42% said they'd rather use other means. Email and contact forms were the most selected runner-ups to direct calls, at 20% and 14%, respectively. 8% of respondents – these were mostly from the 35 to 44 age bracket – were very interested in direct messaging as their first interaction tool of choice.
Potential To-Do Items for HVAC Pros
Expand the number of ways first-time prospects can contact your business. A large portion on the consumer base we polled would rather contact your company through email and/or contact forms. Even if you've already provided these contact channels, consider whether or not they're visible enough on your site.
Summing Things Up
The company website serves as the first point of interaction for many consumers. Consumers are hungry for information, more so than ever before, regarding key purchase decisions. Beyond visual design and graphics, there's an obvious need for encouragement from client testimonials. Equally important is the provision of detailed descriptions of your services.
Most of our findings boil down to two key issues: comfort and contact.
Reduce the barriers between your prospective clients and your services by making them more comfortable with your brand.
Take the time to gather original, unmanipulated consumer reviews from your happy customers. Again, 43% of polled individuals stated that happy customer testimonials are the most important feature for making them comfortable with an unfamiliar HVAC company.
Instead of lazily dropping all your services into a homepage bullet list, craft informative and keyword-rich pages for each one. This may be a standard practice in organic SEO, but it also matters very much to your would-be clients! Remember, the customer is (almost) always right.
Finally, consider expanding your customer contact options beyond direct phone calls. Not every method is appropriate for everyone, but additional options could help some prospects reach the conversion threshold. Be sure to consider all the contact tools outside your website, too, such as the direct messaging tool on your GMB profile. Experiment, analyze, and adapt the tools that work for your business!
A Note From the Team
The infographic and all related charts from our consumer research will be available on an upcoming HVAC Marketing Statistics page (in development). Some charts may have been altered for better visualization, but no data was changed. Our study focused on consumers within 35-65+ years of age to improve the representation of the average homeowner. Younger demographics may have different browsing habits and merit further study.