At HVAC Webmasters, we offer a range of HVAC digital marketing services for contractors. To succeed in the online advertising world, you'll need an online presence that covers the entire gamut of digital marketing. As times change, so too do the requirements for ranking on the top of Google search results. It used to be that placement of keywords, topical content, and URL structure was enough to catapult your business into elite digital visibility. Those times are long gone. Today, HVAC marketing services must consist of each of the following in order to maximize success and potential:
Services
Why Choose HVAC Webmasters?
HVAC Digital Marketing Agency
As a full-service agency that offers a plethora of HVAC digital marketing services, we handle each of the tasks listed above as part of your monthly plan. We also offer Pay Per Lead plans to businesses who prefer that agreement. In either case, our team of 15 digital marketing experts will boost your HVAC website to where it needs to be. If you're tired of losing out to competitors for HVAC keywords you know you should dominate, come talk to us. Sometimes the problem is as simple as an error in your Google My Business listing. Other times it is more expansive and involves domain authority, web design, and other detailed factors. The good news is that our digital HVAC marketing team is equipped to handle any issue.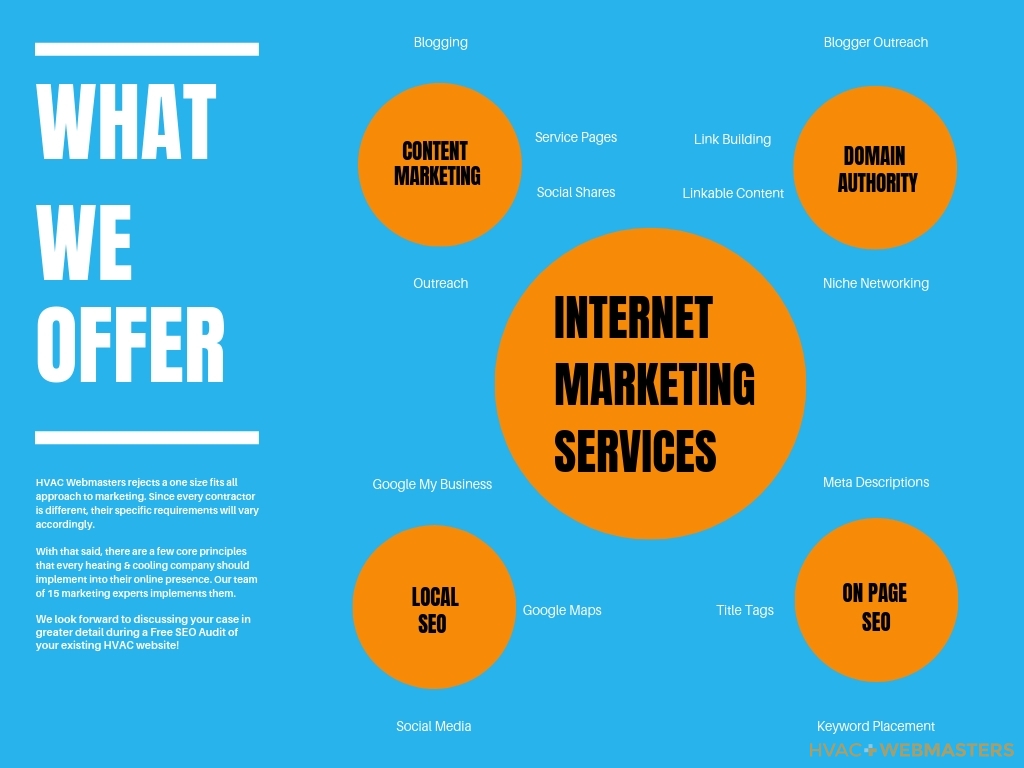 We've heard from our clients many times about the horrors of their previous online marketing company. We've spent a lot of our efforts undoing poor online management implemented by past marketers. Sometimes, Google My Business pages were not even claimed and optimized, which should be unheard of heading in 2020. Still, we understand that contractors are used to doing hard work like AC and furnace repair, and have never had time to learn how to market online. That's where we come in. Call us at (800) 353-3409 to sign up for HVAC digital marketing services from HVAC Webmasters.

Each listed service has several other more detailed tasks underneath its umbrella. When all is said and done, hundreds of tasks must be completed in order to establish a full online presence. But the work doesn't stop there. After establishing an online presence for your HVAC company, you must work just as hard to sustain it. That's exactly what we for your HVAC company at HVAC Webmaster. We let you handle the day to day operations of your business, like AC and furnace repair, while we make sure the leads keep pouring in from every possible source. 

Why SEO is Not Enough for HVAC Websites
SEO is not a singular concept, despite what you may have been lead to believe. SEO involves everything that Google and other search engines consider when ranking a page or business listing. Yes, just a decade ago, SEO was much simpler in its application. Researching and implementing keywords into a well-structured site was often enough to dominate in rankings. That is no longer the case. Today, Google expects to see every detail of a campaign from its custom-designed and coded website, to a fully optimized Google My Business listing. Let's take a closer look at some of the online services that most powerfully influence Google's interpretation:
Most problems with HVAC websites are systemic. Ignorance of best-practice optimization techniques has built a faulty foundation for your online presence, through no fault of your own. Maybe you have a someone helping you with marketing for free, and although they are doing their best, they just don't have the insights and data to take your business to the next level online. If you are worried about expenses, don't be. We offer several HVAC marketing plans that fit the budget of contractors throughout the country. All we'll need to know is how much revenue you earn, and then we can formulate a payment plan that ensures ROI and scalable growth for your heating and cooling company. To learn more, call our owner Nolen Walker at (800) 353-3409.
HVAC Marketing Strategies
Each of our online services works together to create a comprehensive digital marketing strategy to improve your business' online presence. Rest assured that when you sign up with HVAC Webmasters, we'll have an exhaustive plan of action that is implemented by our diversely skilled team of 15 digital marketing experts. Because we have top-flight talent in web design, link building, SEO optimization, and quality content creation, we are able to provide you with a scalable digital marketing plan that can serve you well for multiple decades. Our online marketing strategy consists of:
Obviously, the end goal of every marketing strategy is to create more HVAC lead sources, and that's exactly what we'll do. When you think about Google organic SEO, Google Ads, Google My Business, and Facebook / Instagram, that's an abundance of lead sources that provide an opportunity to contractors looking to dominate their local HVAC markets. We cannot stress enough how important it is to establish a full-scale digital presence which will not only increase lead generation in the near-term but also over a long period of time afterward.