Keyword Strategy
A keyword strategy is the research and implementation of specific keywords within your website's content, meta description, header tags, and title tags, with the intention of ranking first on Google for those terms. While keywords don't seem like a big deal they are what attracts Google searchers to your page. Though still important, keywords are not as heavily weighted as they once were for SEO. In 2020, Google now focuses more on user intent than they keyword itself. With that said, developing a comprehensive keyword strategy should remain a part of every HVAC website development process. You can identify target keywords with:
Difficulty: How much competition there is for a term or phrase
Volume: The amount of times people search for a term or phrase
Opportunity: How likely it is to rank high for a term or phrase
Choosing the right keywords, and properly implementing them, can make or break a website's online visibility. This makes hiring a professional SEO marketing team vital to overall internet success. SEO research experts can help you find relevant keywords that drive customer traffic to your website. At HVAC Webmasters, we help clients achieve top results for their respective websites. Our team of skilled writers are trained in effective keyword research that aims to, improve search engine rankings, and increase business revenue. Let the team at the HVAC Webmasters take your HVAC company to the next level in 2020.
Effective Keyword Research for Your HVAC Company
Before we conduct keyword research we like to get more acquainted with your HVAC company. We do this to better understand your company's goals and target audience. This knowledge, along with one one one consultation, helps us determine keywords that will drive client traffic and optimize your website for search engines. Because our HVAC Webmasters writing team is experienced with SEO research, their focus is to provide services that will help you generate customer leads and sales. While free keyword research tools exist on the internet, we advise against them. These tools are never really accurate or updated to reflect new changes in keyword volume and popularity. Consider these research tools:
MOZ Keyword Explorer
SEMRush
We have been working with local HVAC companies for years and have a unique knowledge of the industry that helps us determine optimal keywords for your website. Attracting the most customers and providing the greatest return, are our only objectives. There is no guesswork involved with our method. Instead, we do in-depth research using analytical tools to evaluate the best keywords for your businesses location. Our keyword research services are tailor made to increase HVAC leads and boost sales.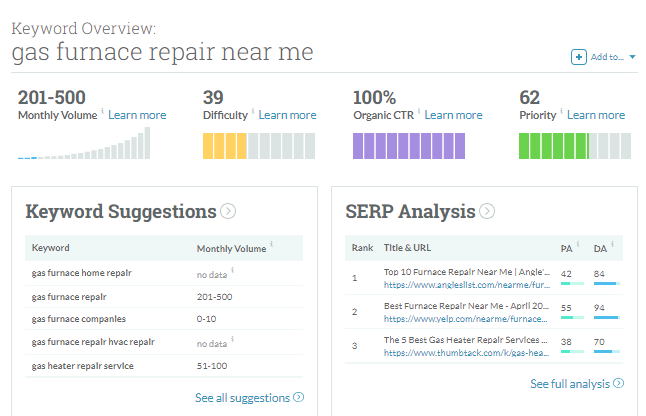 Source: MOZ
Local SEO
Not only will we monitor the keywords of your target audience, but also location specific keywords intended to reach a more narrow niche. This connects your company with prospective customers in your service area. In addition to that, local SEO drives customer traffic to your website and can actually match local mobile users with your company as they're on the go. Once we implement your research strategy, we continue to refine it throughout the lifespan of our partnership. In the process of monitoring keywords, there are a few things we look at specifically:
Do the keywords on your website direct enough traffic from organic searches?
Are the keywords that direct customers to your site generating sales?
Is your HVAC website ranking high on search engine results pages (SERPs)?
Does your content marketing strategy coincide with your keywords?
Are the keywords meeting revenue, search engine, and traffic goals?
The digital marketing landscape is fluid. Google is constantly improving its algorithm to more effectively cater to its users. As Google adapts, we adapt along with them. Throughout the lifespan of our marketing partnership, we will constantly evaluate and improve strategies to both sustain and improve your standing on search engines like Google. As searcher intent becomes more and more prominent, we are eager to push our clients ahead of their competitors with cutting edge keyword research.
Call the HVAC Webmasters Today at (800) 353-3409