Leaders In HVAC SEO & Internet Marketing
Because consumers in your area are using their computers and desktops to look up goods and services, your HVAC website needs to be able to compete with other HVAC companies in your area to reach the first page of Google and other search engines. At the HVAC Webmasters, we are here to provide your HVAC company with innovative HVAC SEO and internet marketing. With our services, we are able to focus on areas of SEO like content, web design, local mapping, and social media that will bring HVAC contractors like yourself more successful. While it might seem like you could take care of these SEO components on your own, hiring a search engine optimization company who has years working in the internet marketing industry can really benefit your company and bring more sales, improvement in your customer base, and an increase in search rankings. Are you ready for SEO and HVAC internet marketing? The team at HVAC Webmasters is ready to take you to the top with our superior SEO management.
Our Internet Marketing & SEO for A/C Companies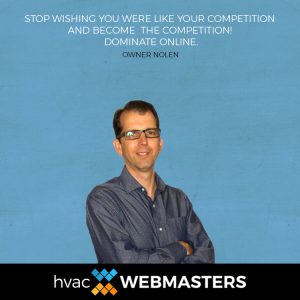 SEO for HVAC companies, commonly referred to as HVAC SEO, is an essential internet marketing technique that is designed to increase client traffic and sales on your website. SEO is made up of a number of components that are implemented through not only the written content, but also through the coding, and even social media. These techniques work together to make your website easier for search engines to read, so they will promote your website at the top of results for specific keywords and terms. With the use of proper SEO strategies for your HVAC website, you will not only show up at the top of organic search results, but you'll also achieve success in these ways.
Increase customer traffic to your HVAC company website so you can improve sales and search engine ranking.
Your brand recognition will be boosted more than it was before, which will be great for online visibility.
You'll be able to effectively take your HVAC business to the next level, increasing clients, sales, and your page ranking.
Get better HVAC advertisement for your company instead of relying on billboards and ads in the newspaper.
Enable consumers to find your website a whole lot easier; word of mouth is great, but when searching for your particular service, nothing beats finding you online.
Build a credible reputation that consumers are able to trust and gives you a lot of authority in the HVAC industry.
Your website is a first impression and even a storefront. In fact, more often than not, your website is the most of your company that your clients will ever see for themselves. With the help of our highly trained coding and design team, you can put your best foot forward, and display an impressive, fully optimized HVAC company website, filled with unique, compelling content, that is the perfect one-stop-shop for your target demographic.  At the HVAC Webmasters, we use HVAC SEO and internet marketing tools to get increased search engine results and get customers to your website and have them coming back time and time again. By focusing on search engines and customers, our SEO consultants can boost your sales and improve your HVAC company's success.
Online Marketing Gives You Better Search Engine Rankings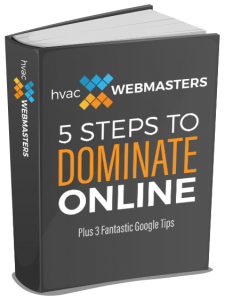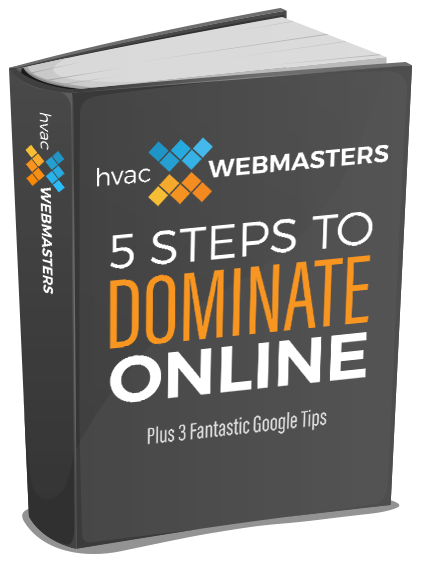 Increase your search engine ranking and positively impact your HVAC Company with HVAC Webmasters 5 Steps To Dominate Online. Transform your company and get greater success with this informative eBook. Download the free 5 Steps PDF.
Perfect Content Increases Your HVAC SEO Success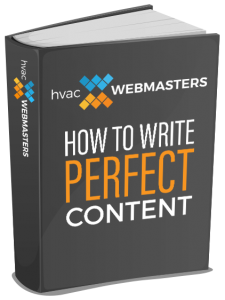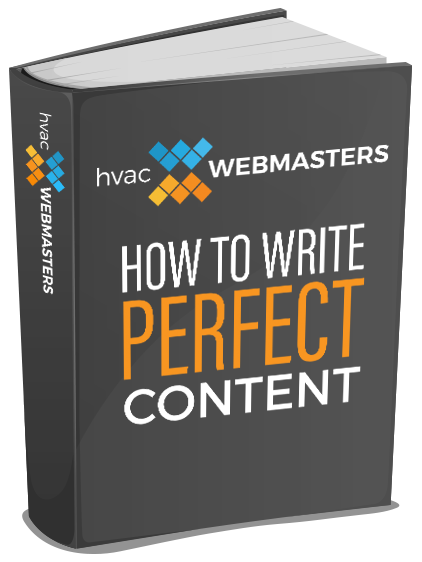 Relevant and unique content will not only attract your customer's attention, but it can help search engine rankings, as well. Ensure you always have great, organic content with How To Write Perfect Content. Download the free Perfect Content PDF.
Keywords Improves Customer Traffic and Online Visibility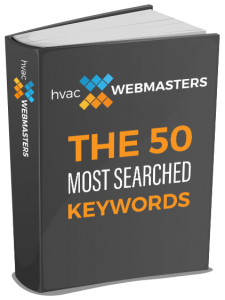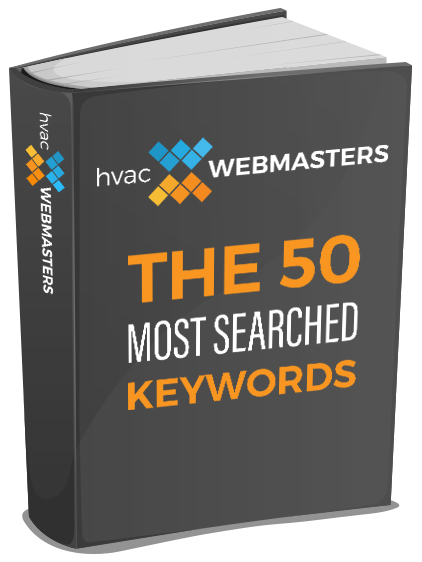 Knowing what HVAC keywords can bring influence to your company is incredibly vital. With The 50 Most Searched Keywords eBook, you will have the knowledge and tools to evolve your company online. Download the free 50 Keywords PDF.
The HVAC Webmasters Turn Clicks Into Calls
HVAC SEO consultants use a number of internet marketing and SEO components in order to increase your online visibility, get better brand recognition, and boost customer retention. At the HVAC Webmasters, it's important for us to not only get you traffic to your website but to get consumers who visit your website to give your company a call. While customer traffic is incredibly important to your business, the goal is to give your HVAC company more sales, and that can't happen if customers are only clicking on your website and not calling. In order to ensure you target customers who need your business, we will focus on not only our SEO marketing services, but on conversion rate optimization, also. With CRO, there are a few things that can happen to your HVAC Website
The content on your HVAC website's pages will have more than just keywords.
Our SEO writing team will write pages that appeal to your clients, that emphasize sales and brand awareness.
Search engines will be able to recognize and prioritize your website's pages, as well as being enjoyed by consumers also.
For the best HVAC Internet Marketing services, you can depend on the HVAC Webmasters to boost your visibility, and ultimately, your earning potential. We are HVAC SEO experts, and this is our passion. Our business was created to help your HVAC business succeed.
Ongoing SEO & HVAC Internet Marketing Services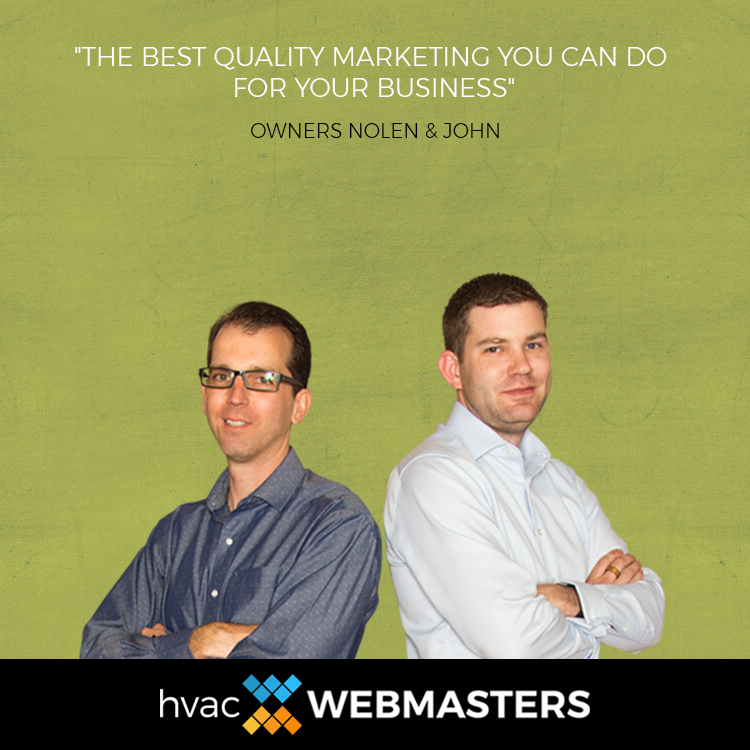 As a local HVAC Technician, the internet is a critical tool for your industry, and HVAC Webmasters is dedicated to helping you see long term results, high conversion rates, and higher sales for your company with our SEO and internet marketing for A/C companies. While getting your website setup to optimize with a number of SEO components, it's important to keep maintaining your HVAC company website long after it's been launched. In order to continue ranking in the search engines, we provide monthly HVAC SEO maintenance on your site, as well. Search engines love new content and regular updates and we are able to do that with these HVAC SEO maintenance services
Regular monthly blog posts that will make you a credible and authoritative figure in the HVAC industry.
Social media management that keeps clients connected to your brand, as well as new blog content.
Continue to work on adding your HVAC company information on online directories.
Ensure that your coding is all correct by performing analytic and data tests.
Research HVAC keywords to ensure the keywords on your HVAC website are keeping your ranking in the search engines by using the Google Keyword Tool.
And more SEO management services that guarantee your website is completely optimized keep your web pages at the top of search results.
An investment in a quality, optimized HVAC website will earn you a better return on investment than any other form of internet marketing out there! Are you ready to increase your visibility and sales and dive into comprehensive HVAC internet marketing? Call the HVAC SEO experts at (800) 353-3409 for HVAC Webmasters today and ask about our affordable, month to month plans!
Why Choose Us?
Experts in SEO & HVAC Internet Marketing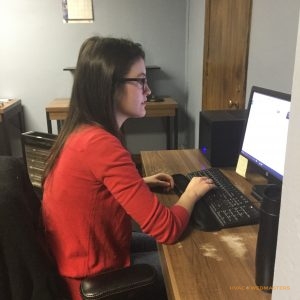 Understandably, you are looking for only the best in HVAC SEO. And we are the best HVAC Internet Marketing company around. We have a proven track record of success and our high level of integrity will help you gain results for your site that will last for years to come. The following are all reasons we are trusted by countless HVAC companies across the nation for superior HVAC SEO services:
We Work With Integrity: We are an honest, hardworking team of people who care about local companies like yours. Your success is our success.
We Provide Monthly SEO Services: You will receive ongoing work for your company. Your HVAC SEO will continue to grow over time, and we will continuously oversee your website's progress.
We Have Years of Experience With HVAC Internet Marketing: Your website will benefit from our years of knowledge with the HVAC internet marketing industry, and we are confident that your site will optimize online for countless HVAC keyword combinations.
We Do SEO The Right Way: Unlike some companies who try to shortcut their way to the top, you can count on us to put in the hard work it takes to do things the right way. When you reach the top 10 of search results for Google, you can rest assured knowing you got there the right way.
Call The Experts in HVAC SEO today! We will provide you with your free consultation and show you why we are the best HVAC SEO company for you and your business.
The Essentials
The Essentials of Internet Marketing for A/C Companies
Proper HVAC SEO takes hard work and attention to detail. Good SEO never includes cutting corners, cheating the system, or using old SEO practices. Instead, proper SEO will involve following the guidelines set out by Google. And it requires experience with the system. Here at HVAC Webmasters, we provide quality services because we do things the right way and have years of experience doing so.
The following are all important elements of proper SEO:
These basic elements are only just the beginning. Here at HVAC Webmasters, we believe in paying attention to the small things too. There are very minute details that all add up to make or break your online optimization. We make it our goal to leave no stone unturned in our quest to take you to the top.
How It Works
The Process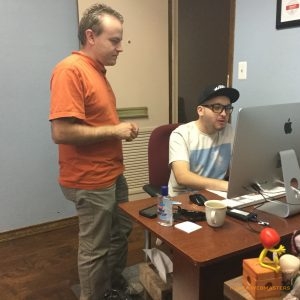 Getting started with us at HVAC Webmasters is simple. We will help your SEO HVAC and internet marketing campaign soar. The following outlines the simple process of upgrading your website to a new, optimized HVAC website:
Give us a call: Contact the HVAC Webmasters at 1-800-353-3409. We provide free SEO consulting services to see where your website needs work.
Tell Us About You: We tailor every single site to each individual HVAC company so it is important for us to understand your company well.
Build Your Web Presence: The HVAC Webmasters design team will develop a website that will optimize properly and start setting up all of the accounts you need to build your presence online.
Manage Content: We provide completely original, unique content, never copied. Your website will be written with content that optimizes for keywords, and high conversion rates, all while following Google's guidelines.
Prepare For Launch: After you approve the site for launch our webmasters will get to work making your site go live. And we will immediately begin tracking your results through analytics.
Continue Monitoring: A good website is never truly finished. That's why our work is never done at HVAC Webmasters. Your website will continue to be updated each month. Our continual work is what will help your results be long term.
The process is easy and hassle-free. We know you have a business to run. You can choose to be involved in every detail or as few aspects as possible. We are prepared to provide you with the best HVAC SEO services available.
Looking to get your HVAC company website the best results and long-lasting success? By calling the HVAC Webmasters today, the sooner you will enjoy the results that internet marketing and SEO for A/C companies can give you. When you in invest in HVAC SEO and internet marketing, you will have better rankings in search engines, but you can increase your customer base, and sales leads. We are ready to help you get more clicks and phone calls for your HVAC website, so contact the HVAC Webmasters to speak with professionals about online marketing and SEO for your HVAC company.
Based in DFW, We Service the Entire Nation with our Expert Team of HVAC Marketing Specialists. Call Now! (800) 353-3409