What is HVAC SEO?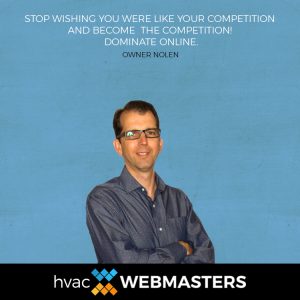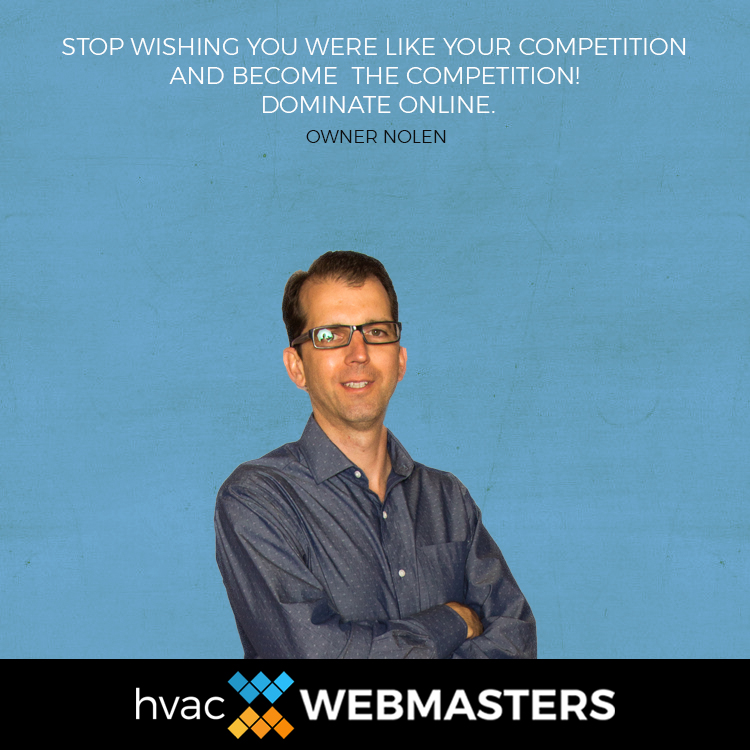 HVAC SEO, or search engine optimization, is the process of improving an HVAC company's visibility on search engine results pages (SERPs), most specifically, on Google. The goal of SEO is to generate traffic organically (for free), which ideally translates into sales conversions. SEO can be applied not only to a primary website, but to supplementary digital entities, like; social media profiles and business directory listings. By partnering with HVAC Webmasters, you choose between one of two payment plans; month to month (MTM) or pay per lead (PPL), both of which include SEO services. Elements of SEO for HVAC contractors include:
Local Optimization
Off Site Optimization
On Page Optimization
Technical Optimization
Search engine optimization is inherently dependent on Google and, to a lesser extent, Yahoo and Bing. As algorithms have evolved, best practices have changed. Tactics that once improved a website's ranking will now incur an official Google penalty. In an unpredictable field, staying on top of the latest trends and updates is imperative to success. Choosing HVAC Webmasters to market your services online, ensures that your web presence keeps pace with Google's latest algorithm changes and adheres firmly to their principle of prioritizing user experience. To get started with HVAC SEO, call (800) 353-3409 today.
Internet Marketing For AC Companies
Although the acronym SEO is often used interchangeably with internet marketing, search optimization is only one method of marketing online. To succeed digitally in 2018, marketing endeavors must expand through other areas. In addition to SEO, HVAC Webmasters offers website design, content marketing, and online directory listings as part of our basic agreement. We also offer add on services which include PPC management, Facebook marketing, Righteous Reviews (Website Reviews Integration), and virtual office space. Effective HVAC internet marketing should accomplish the following:
Brand Development: The establishment of an identity in your industry and service area
Lead Generation: The acquisition of prospective customers through relevant web traffic
Reputation Building: The formation of trust and authority for your brand and business
Search Visibility: An increased presence on search engine results pages (SERPs)
Most HVAC leads in 2018 are generated through internet marketing. Choosing a company to represent your business online is one of the most important decisions of your career. With increased demand and competition, marketing services are more readily available than ever before. With so many choices, finding the right suitor can be an overwhelming process. HVAC Webmasters keeps things simpler with our MTM and PPL agreements. In each case, you avoid long-term commitments found in most other marketing contracts. With us, you have the option to leave after each month, or in the case of pay per lead agreements, whenever you want.
Online Marketing Gives You Better Search Engine Rankings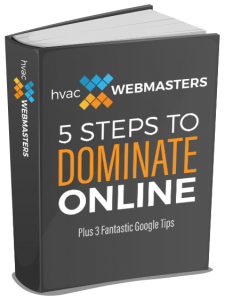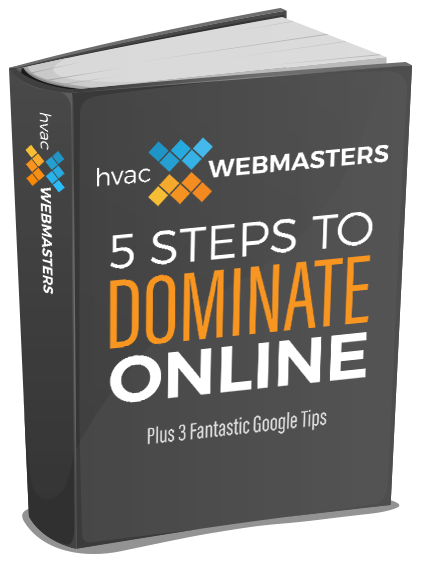 Increase your search engine ranking and establish digital authority with HVAC Webmasters' 5 Steps To Dominate Online. Transform your business model and achieve greater success with this informative eBook. Download the free 5 Steps PDF.
Perfect Content Increases Your Online Success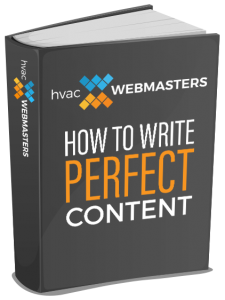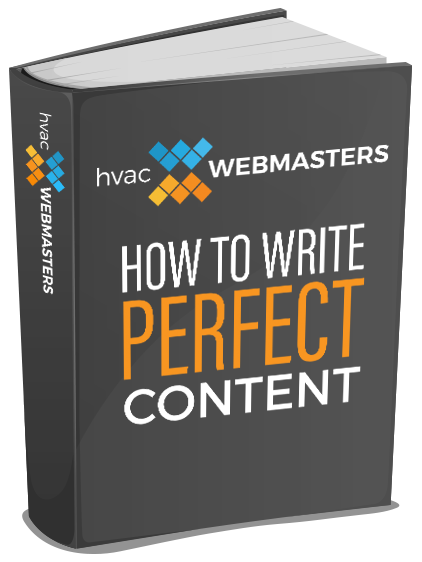 Relevant and unique content will not only appeal to readers, but it will improve search engine rankings, as well. Ensure the presence of valuable, organic content with How To Write Perfect Content. Download the free Perfect Content PDF.
Keywords Improves Customer Traffic and Online Visibility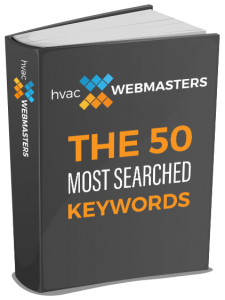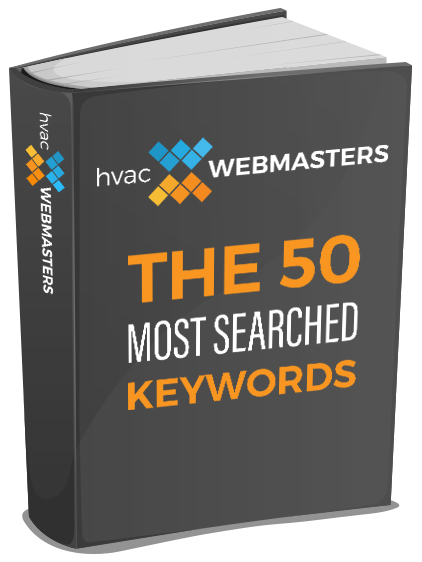 Understanding which HVAC keywords to target on your website is vital to attracting relevant traffic. With The 50 Most Searched Keywords eBook, you will have the knowledge and tools to grow your business through organic search. Download the free 50 Keywords PDF.
Claim Your Custom HVAC Website
HVAC Webmasters' design team constructs original websites for each of our clients. Signing on with us guarantees your company a unique and visually engaging website, free from the redundancy found in stock templates. We consult with clients through each step of the design process to assure customer satisfaction. Our designers implement company logos and color schemes into the site's framework, and will even create a logo from scratch if necessary. Each website is engineered first and foremost for mobile users, but also adapts seamlessly to desktops and other devices through responsive web design. Other custom website elements include:
Click To Call Functionality: Embedded phone number links that connect mobile users directly to your line
Tracking and Analytics: Usage of Google Analytics to track website performance
URL Hierarchy: A site structure that appeals to both search engines and their users
WordPress: An open source content management system
We work with businesses of all sizes and are able to scale websites to meet the client's specific need. For HVAC contractors with a long list of services, we're able to create an individual page for each, and optimize them to rank on Google for corresponding keywords. No images? No problem. We download and optimize royalty-free stock photos and place them appropriately throughout your on-page content. Lots of images? Even better! We optimize your company photos for web use and Google image results. Using WordPress as our content management system we are able to organize site structure, optimize URL's, and perform any kind of SEO task imaginable. Call (800) 353-3409 to claim your custom HVAC website.
Ongoing Marketing Services For AC Contractors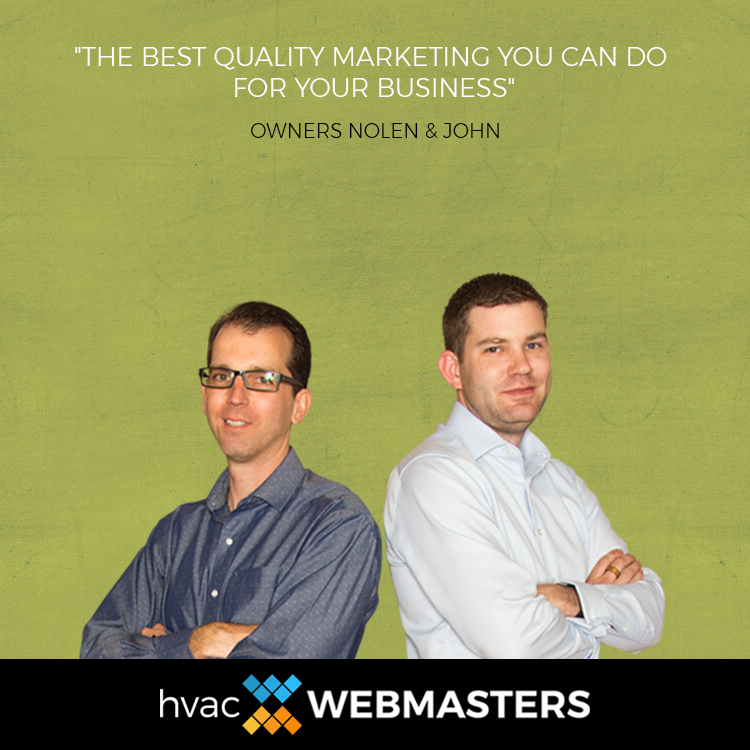 Launching your custom website is only the beginning of our partnership. SEO and internet marketing services are ongoing, and regular work is required to sustain success over a long period of time. Our staff of web designers, content marketers, SEO and PPC experts, work tirelessly to maintain your online presence. With our base services, you'll receive ongoing SEO, content marketing, citation cleanup, and website maintenance. Our goal is to make your company dominate its local market long-term. Don't settle for one off marketing services that forget you exist after launching your website. Examples of specific ongoing services include:
Algorithmic Adjustments: Keeping SEO up to speed with the latest Google Algorithm updates
NAP Updates: Editing directory listings for re-brands, or new locations and phone numbers
Regular Blog Posts: Scheduling monthly blog posts
Technical Web Maintenance: Correcting technical website problems
The best metric to gauge marketing success is return on investment (ROI). With our company, your chances of considerable ROI are increased significantly. Whether your choose our MTM or PPL plan, ongoing services encourage sustained success which ultimately translates to sales revenue. Our business values affordability and quality — putting the customer first at all times. Our lines of communication are always open in case you have questions or concerns about your campaign, or wish to make changes. To sign up with HVAC Webmasters, you can give us a call today at (800) 353-3409. We'll walk you through the process in even greater detail.
Payment Plans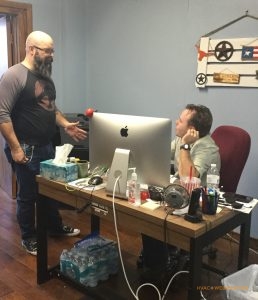 Choose between one of two payment plans:
MONTH TO MONTH (MTM)
PAY PER LEAD (PPL)
Both options provide great value for contractors and the final choice comes down to business goals and personal preference. MTM agreements are ideal for contractors who value routines — with a fixed payment coming at the conclusion of each month. PPL plans are best suited for results driven companies. Leads are more expensive than a fixed monthly rate, but require payment only once an exclusive lead is produced. If leads are never generated, you never pay a dime. How's that for financial security?
The Essentials
Regardless of if you choose PPL or MTM, you receive these fundamental services:
The Add Ons
In addition to the fundamental services included with your plan, you can pay extra for the following add on services:
For companies looking to improve their online presence in 2018, there isn't a better choice than HVAC Webmasters. With two great payment plans, along with the option of add on services, contractors can solidify themselves within the digital landscape. We work with all types of AC companies, from those in business for over a decade, to those just starting out today. Our years of experience marketing heating and cooling services online gives us a unique advantage over other marketing services. We have the body of work to make data-driven, analytical decisions with an especially high probability of success.
To Get Started With SEO and Internet Marketing Services, Give HVAC Webmasters a Call At (800) 353-3409!