Becoming an HVAC contractor can be a great career choice. Unlike other jobs throughout the country, HVAC technicians are in little danger of becoming obsolete. After all, homes and buildings will always need heating and cooling maintenance, regardless of how "smart" the technology evolves.
Another primary advantage of HVAC as a career is its educational path. Most jobs require a 4-year degree of some sort to even get in the door. Unfortunately, the debt that corresponds with that college plan can create massive debt for students who are not guaranteed profitable employment and often work extra to pay off debt.
There's a shortage of HVAC technicians throughout the country. The average age of an HVAC contractor is around 54 years old, which highlights the opportunity for a younger generation to infiltrate the marketplace. Several companies will even offer tuition reimbursement for individuals looking to jumpstart their careers.
If you achieve your goal of becoming a skilled technician, the long-term security of the position is considerable. Compare it to other industries like finance and technology, and it becomes even more evident. Few people are skilled in heating and cooling repair than in finance, and you can go to school to change that.
Pros and Cons of an HVAC Career
We mentioned some opportunities available to individuals looking to start a career in HVAC. But what about the job itself is appealing? For one, you have a chance to work in different types of backdrops. As office workers may tell you, or you may know from first-hand experience, sitting in a single place all day can drain your energy and severely hinder productivity.
The most innovative people are moving around, and as an HVAC technician, you'll be doing just that. Another advantage is the fulfillment that comes with solving problems. Diagnosing and fixing problems can be a rewarding experience. Compare the Pros and Cons of HVAC careers below: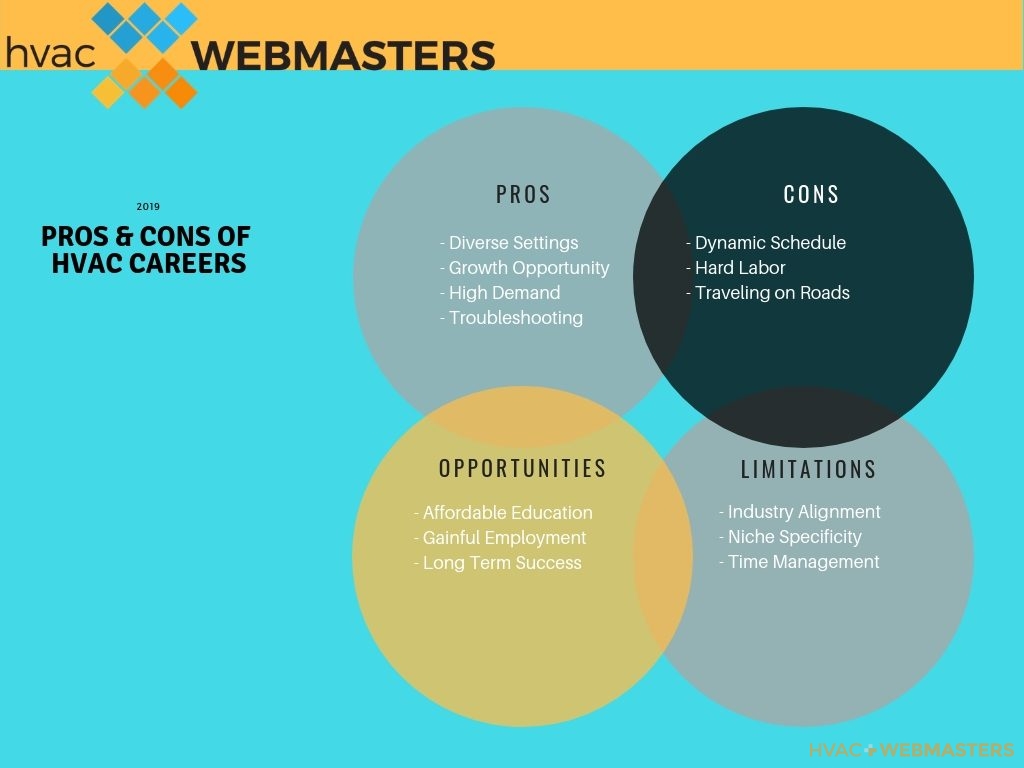 The cons of becoming an HVAC technician are not unlike other service-type jobs. The physical exertion required to do the job is immense and something you must be prepared to handle. Becoming full-fledged heating and cooling expert also takes time, probably even more time than your education will last. 
On-the-job experience is where you'll hone your skills to the next level, which is something that can be years in the making. Still, if you can learn on the job, you'll earn money while sharpening your skills and making yourself more marketable while transitioning to the next tier of HVAC business success. The pros certainly outweigh the cons in this scenario.
HVAC Careers Salary
An entry-level HVAC service technician can make upwards of $54,000 per year. That's pretty significant for an entry-level position. Not every HVAC employee is a service technician, however. Some start as rough-in installers or helpers, and other less profitable titles.
The pay scale generally ranges from $30,000 – $75,000 annually for professionals within the HVAC industry. When paired with the position's high demand and long-term sustainability, it's hard to find a financial reason to dissuade yourself from choosing HVAC as a career. Compare salaries below: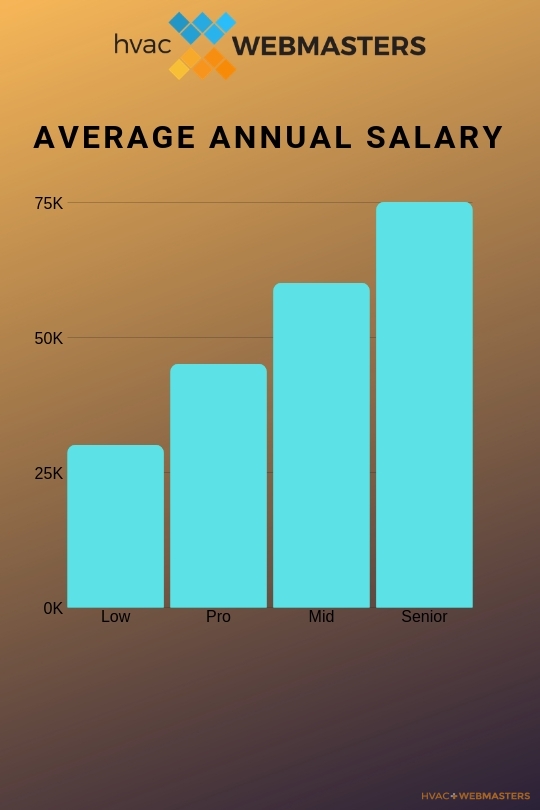 Like accounting, some industries will show higher average annual salaries in a Google search. But that figure doesn't tell the whole story. The cost of becoming an accountant is far greater than that of becoming an AC technician. Think about it, finance requires a more prolonged and more expensive education, and that's to give yourself a puncher's chance at employment.
Furthermore, accounts payable could become automated entirely in the not-so-near future. So while the existing number might look more appealing, considering other variables helps put everything in context.
Different Jobs in the HVAC Industry
There are two ways to categorize jobs in the HVAC industry, by niche, and by position. For example, residential HVAC services is a niche where a Senior-level technician is a position. There are multiple types of niches and positions someone can strive for in their career. Some technicians even target multiple niches and rise through positional ranks rather quickly.
The more niches you become an expert in, the more on-job experience is required, and the longer it will take to become a full-fledged expert within your field. Different jobs include:
Niche: Commercial, Residential, Industrial
Position: Entry-Level, Professional, Mid, Senior
As for positions, we already spoke about the opportunity for entry-level service technicians. The defined job description can be drilled down even further. For example, a rough installer and tech helper would both be considered entry-level positions but have slightly varied responsibilities for the employee.
Once you move through the ranks to professional, mid, and senior levels, different options within each will manifest themselves as well. Everything from systems designer to team supervisor is on the table during your trajectory. As a result, when asking, "is HVAC a good career in 2023" the answer is yes.