HVAC contractor marketing is essential to growing your HVACR business in 2023. But which methods produce the highest ROI? Additionally, which techniques can companies implement in-house, and which should they outsource to 3rd party specialists?
These are questions that every heating and cooling contractor should ask themselves in the new year and questions HVAC Webmasters can answer. Our SEO agency has served thousands of HVAC companies over the past decade, giving us valuable insights into which marketing techniques perform best. Be sure to bookmark this list of 14 cool HVAC marketing ideas for 2023.
Digital Marketing for HVAC
Most HVAC marketing is digital. Most leads originate from online sources, from local websites to business listing submissions. HVAC companies can take steps to enhance their online presence with various digital marketing strategies.
Each technique produces ROI in the right circumstances, but contractors should stay aware of pitfalls associated with specific online marketing ventures. Let's take a look at some of the top digital marketing techniques for HVACR companies in 2023:
1) Search Engine Optimization
One of the most popular digital marketing techniques is HVAC SEO, otherwise known as search engine optimization. The strategy consists of refining web content, URLs, links, and user experience to rank more effectively on Google, which naturally drives more traffic and business to your company.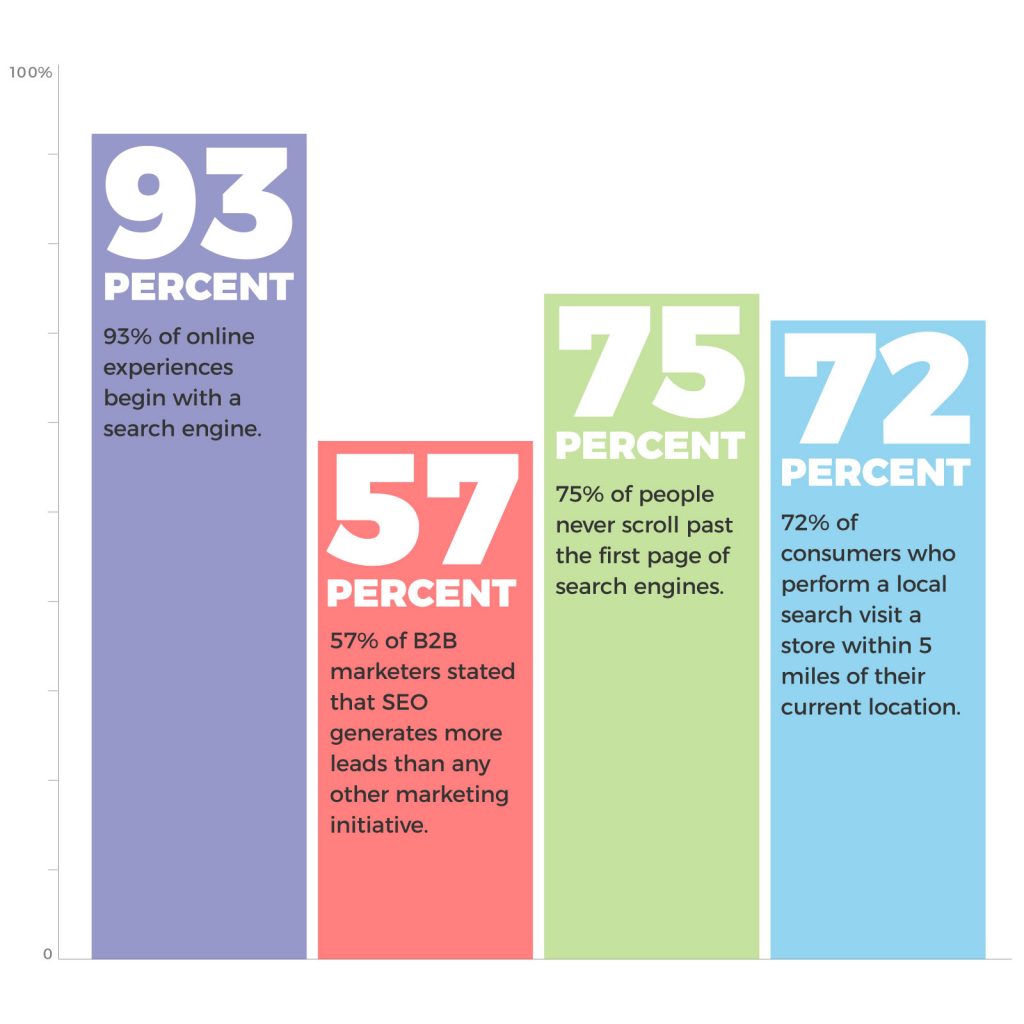 SEO is a massive industry, and most local companies now invest in some form of SEO. There is a right way and wrong way to execute search optimization, and HVAC contractors should invest in the right services to help them achieve their goals.
2) Pay Per Click Advertising
Advertising is a form of marketing, and PPC is the most popular digital advertising method. Most novice HVAC companies gravitate towards pay-per-click ads because they produce quick results without much effort. While short-term lead generation is appealing, a long-term PPC investment can yield negative ROI without careful planning.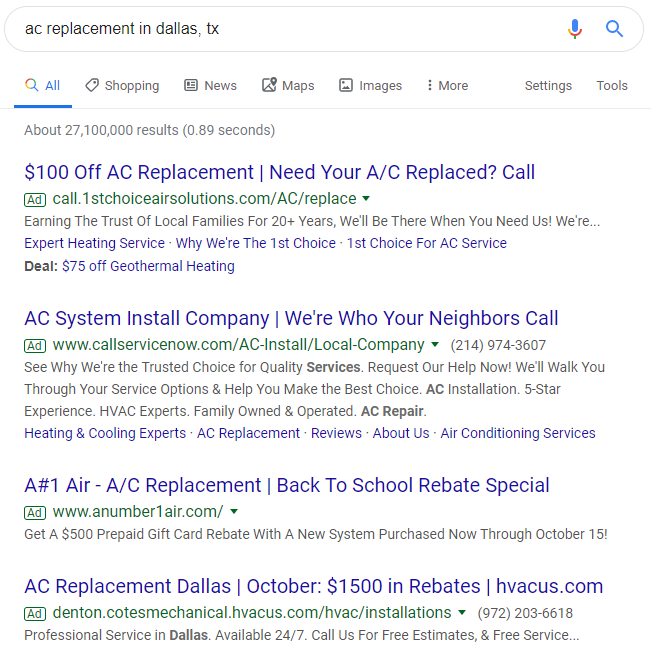 In most cases, PPC works best as part of a larger digital marketing strategy that includes SEO, reputation management, and remarketing or pixel tracking.
3) Social Media Advertising
In addition to paying for Google ad clicks, contractors can invest in Facebook Ads, YouTube Ads, and even NextDoor Ads. Every social platform has an advertising platform for local businesses. For HVAC companies, in particular, Facebook Ads have grown in popularity as of 2023. With Facebook advertising, companies can target consumers with discounts, offers, and seasonal specials. HVACR professionals can even invest in lead-gen ads that capture the user's contact information on the spot.
4) Reputation Management
For local contractors, reputation management is critical to converting traffic. Search engines also favor companies with strong reputations and often rank them higher on Google Maps. Generating more reviews is a prominent reputation component, but managing your online perception goes beyond testimonials.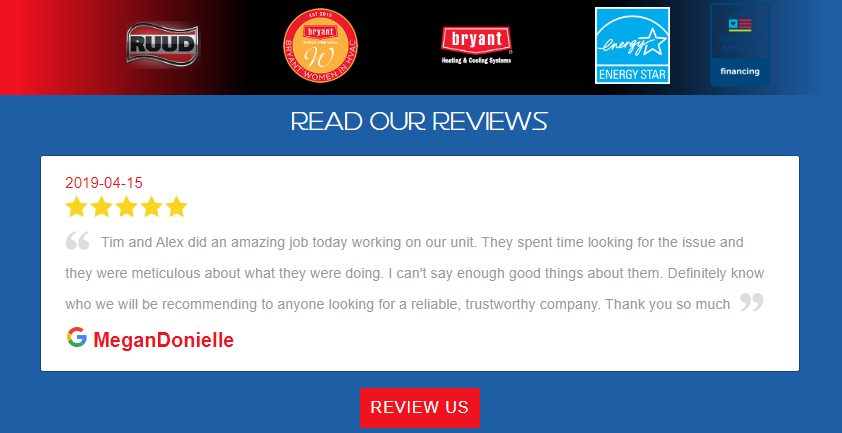 Managing your HVAC company's reputation includes Google My Business optimization, NAP citation building, and ensuring positive search results for your brand name.
5) Remarketing / Pixel Tracking
As traditional marketers know, consumers rarely buy a service or product at first glance. The levers required to boost conversions often occur gradually after repeated exposure to a brand. In digital marketing, remarketing or pixel tracking helps companies achieve these goals.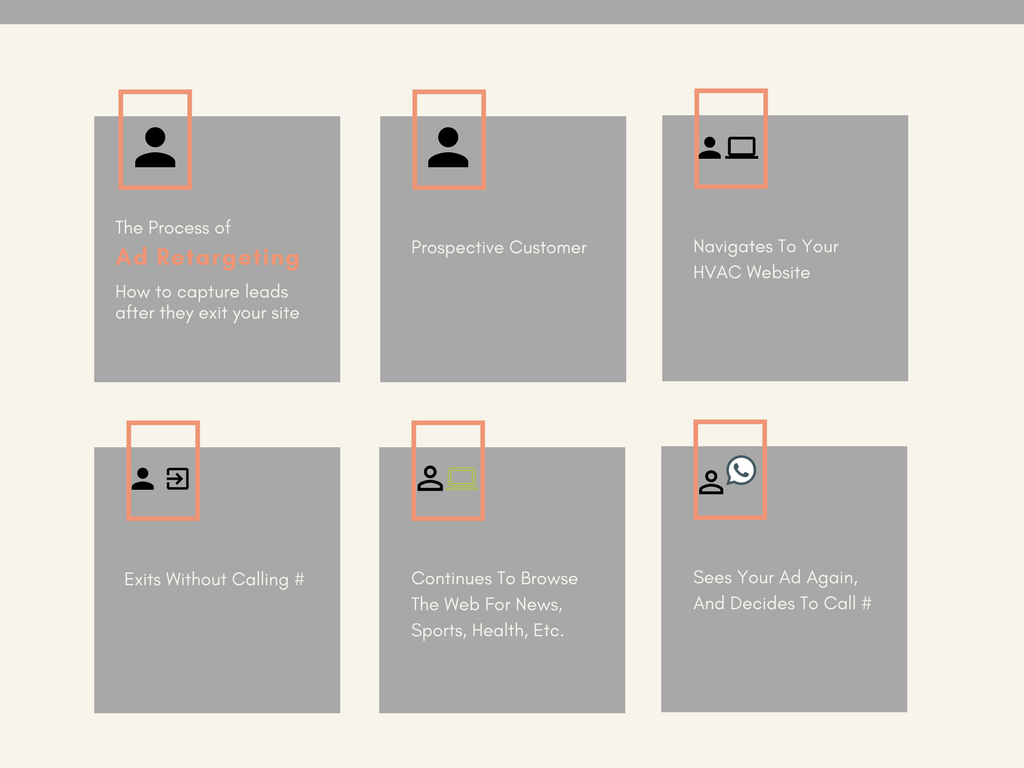 Users visit your website, and their browser stores cookies that tag them to see your ads as they browse the internet. Your target customers spend a lot of time on Facebook and other social media platforms, targeting them after leaving your website.
Traditional HVAC Contractor Marketing
While digital marketing ascends to the mainstream, aspects of traditional marketing remain effective. Although investments like print advertising, radio spots, and television commercials no longer hold the same prestige, they still have a place in modern marketing.
These methods can provide substantial value for HVAC companies across the United States when used along with digital strategies. Check out some of the top traditional marketing methods:
6) Business Cards
In 2023, business cards remain relevant to HVAC companies. Part of the business card's intrigue is its ability to take your customers online. Every modern business card should list a company website and various social media handles, along with the legal name, address, and phone number. For older customers, business cards can often serve as the transition from traditional to digital marketing. For example, a client may read your card, navigate your website URL, and leave a review.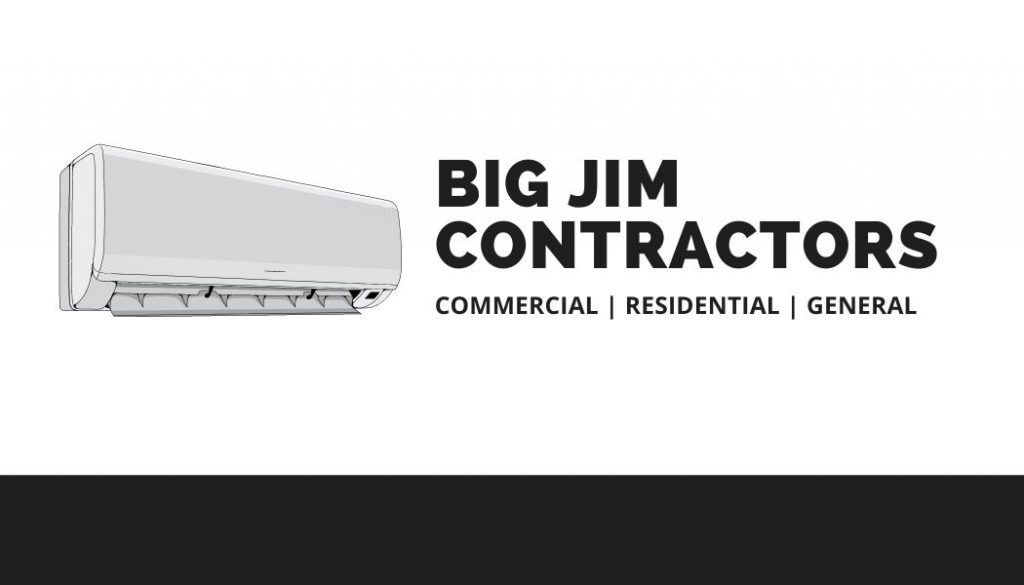 7) Billboards
Research shows that billboards continue to produce substantial ROI in 2023. As a form of out-of-the-home advertising, billboards place your HVAC brand front and center for potential customers. Like other forms of advertising, billboards work best in unison with different online and in-person marketing techniques.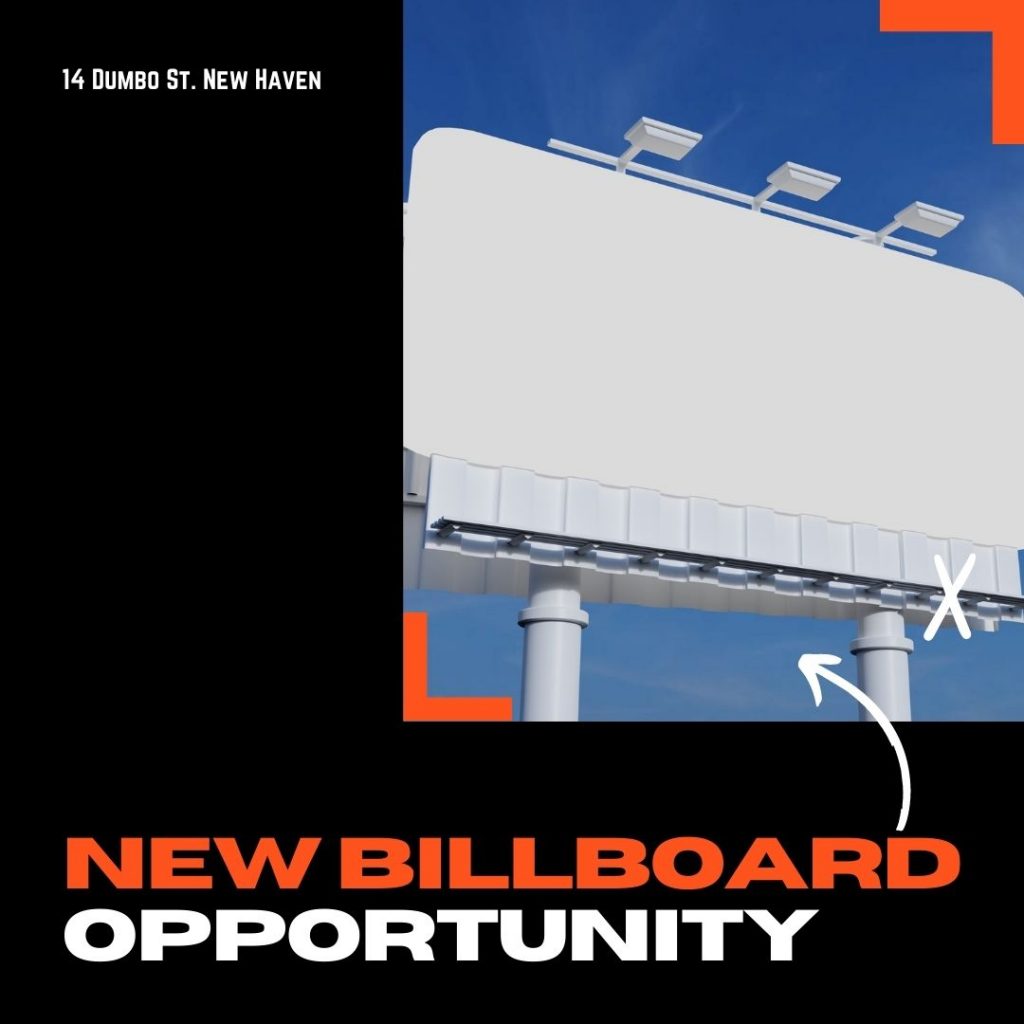 The downside of billboards is the cost. After all, placing your company on a highway or main road will never be cheap.
8) Print Advertising
Newspapers and magazines have grown virtually obsolete in the past decade, and investing in advertising on these platforms might seem like a waste. However, those that continue to read newspapers trust them more than ever.
Research indicates that 82% of people trust print ads. If you can target local newspapers with HVACR advertisements, the ROI could prove surprisingly favorable in 2023.
9) Radio Ads
While music streaming services seem to have taken the radio's place, a surprising amount of consumers still listen to the radio. A study shows that the average American still consumes 13+ hours of radio per week. Some of the most reliable clients have not entirely transitioned online for HVAC contractors and may need a bit of coaxing to start connecting digitally. Tracking radio ROI is simple and one of the reasons companies still invest in advertising.
10) TV Commercials
Let's be clear; YouTube is now the top platform for video consumption worldwide. Back in 2018, digital ad spend officially overtook television ad spend. However, television ad sales increased by 5% in the same year. The trend indicates that as the competition diminishes, the ROI increases. HVAC contractors looking to make a name in their local community may still be able to benefit from a television spot.
HVAC Marketing Essentials for 2023
Most companies aren't going to invest in every single marketing venture. So which concepts should HVAC contractors prioritize in 2023? Digital marketing is undoubtedly the foundation for any local business and makes up most of HVAC Webmasters' recommended pursuits. It's helpful to pay attention to the latest marketing trends for HVAC companies:
11) Custom Website
Your website will serve as the central hub of your HVAC marketing strategy in 2023. Whether you invest in SEO, PPC, business cards, or print advertising, a branded, custom website is critical. In 2023, most consumers associate professionalism and brand recall with your company website.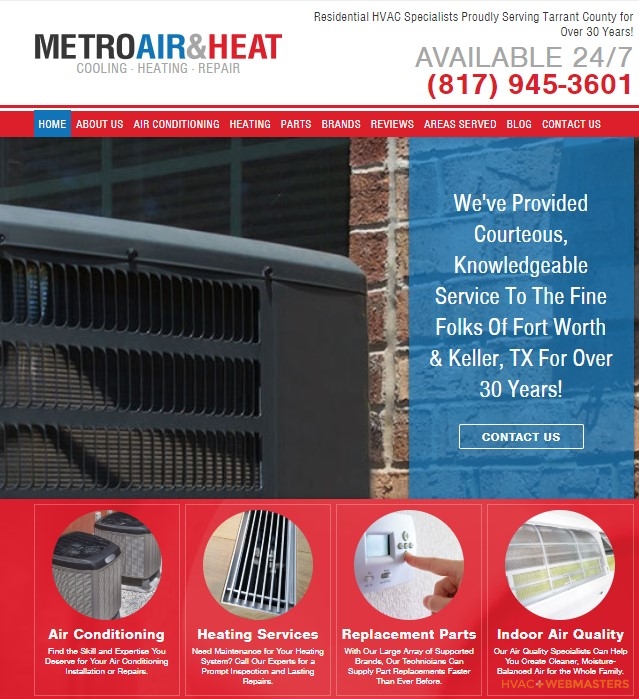 Skimping on your design and user experience can have dire consequences. The best course of action is to invest in high-quality HVAC website design.
12) Google My Business Listing
If you do nothing else for your business online, make sure you claim your Google Business Profile listing. A GBP listing is cost-free and can allow your business to rank on Google's Local Map 3-Pack. Ensure you optimize your listing for accuracy with the proper name, address, and phone number.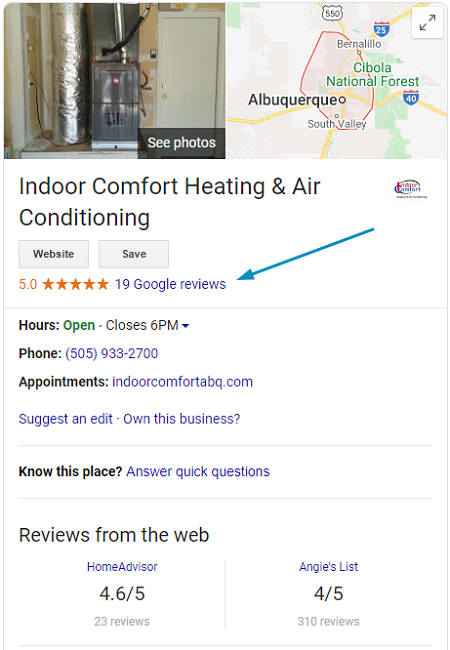 You can further enhance your listing by generating reviews and uploading high-quality images of your staff, trucks, and equipment.
13) Reputation Management Software
We cannot stress enough how important reputation is to HVACR companies. But managing your reputation manually is both time-consuming and challenging. The best action is to invest in software like DataPins, which sends automated review requests to your clients. DataPins also features job-site check-ins to help showcase your work across various service areas.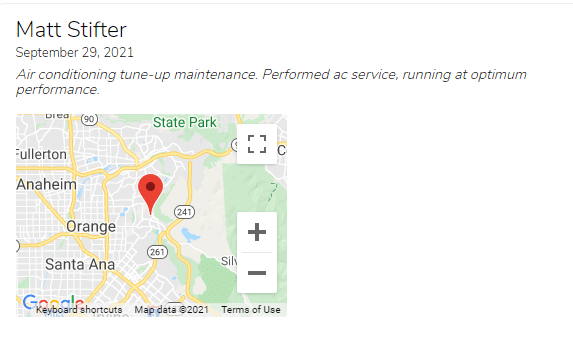 Best of all, the software uses reviews and map pins to boost your local rankings without any effort from you as the contractor.
14) Service Pages
One-page websites might help your brand, but they limit your SEO reach. Investing in service pages is the best way to achieve sustainable business growth. SEO works best with specific service pages like AC Repair or Furnace Repair. When users search for a particular job, they find your business on Google Search and Google Maps.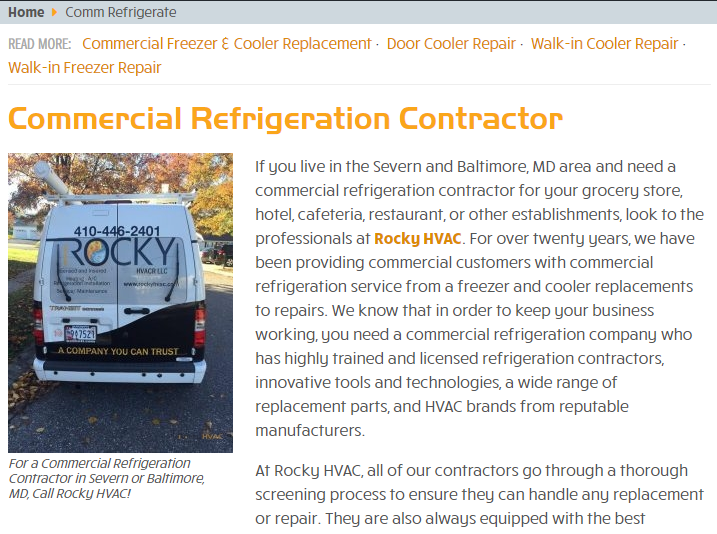 In conjunction with an enhanced reputation, local service pages can grow your HVAC company faster than any other marketing technique.