HVAC Webmasters offers web design services for HVAC companies. As a 13-year veteran of the website design industry, we have crafted thousands of high-ranking websites for heating and cooling companies.
A website is the foundation of every HVAC business. At HVAC Webmasters, we've designed websites for thousands of clients and learned a thing or two about what makes a website successful for heating and cooling businesses.
Our team provides web design services for HVAC contractors across the United States of America. We believe in a full-scale approach to marketing, which is why each of our custom websites includes SEO, lead magnets, and calls-to-action (CTAs).
We look forward to designing a custom website for your heating & cooling company.
Web Design Portfolio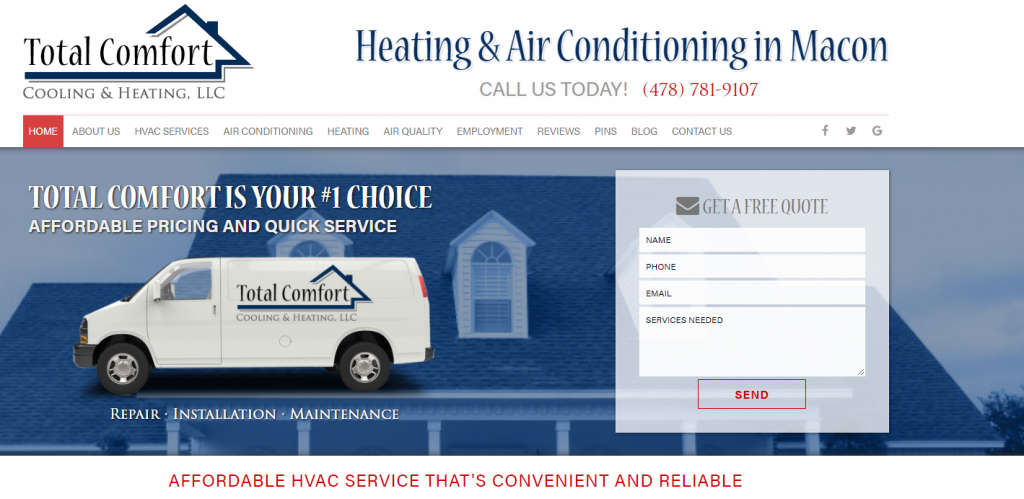 Common Questions About Web Design Services
Why Choose Custom Web Design?
Our custom web design makes it easier for your HVAC company to earn more listings and stronger rankings on Google Search. We conform to the best industry practices, which is why all our sites are incredibly practical and convenient from a visitor's perspective.
Our design team works to connect users with the information they need most while simultaneously nudging them toward your phone number for increased lead potential.
Oh, and they're pretty too. Responsive design practices ensure that your website works across any major device, whether desktop or mobile.
How Does Web Design Affect SEO?
Web design is a huge factor in organic SEO for companies. Professional design improves your potential to rank for industry keywords and earn higher conversion rates. Here are some top ways that web design affects SEO:
Stronger on-page keyword strategy leads to more Google Search listings.
Easy navigation promotes longer site visits and higher conversion.
Potent calls to action (CTAs) lead to more phone calls to your office.
Alluring visuals and original photos create deeper trust in your brand.
Better linking makes it easier for Google to crawl your website.
How Much Does it Cost to Build a Website?
Our average cost for custom web design is typically in the mid-thousands. That's what we pay to get your search results off the ground. Much of that cost goes towards supporting designers and content writers, securing any necessary domain rights, and arranging citations. These activities make a profound difference in HVAC SEO results.
Between the low startup cost and very fair month-to-month flat fee, we make it very easy to obtain a kick-butt, lead-generating website. Once you see what your new site does for your ongoing revenue growth, we're confident you'll be satisfied.
What Are Website Design Services?
Website design services from HVAC Webmasters include a custom website, branded theme, calls-to-action, and SEO. We work with clients to best represent their brand online and utilize custom images of your staff and equipment and your company logo.
Our expert design team crafts the website theme based on your brand, logo, and color scheme. Each of our sites works to generate more customers for your heating and cooling business through SEO and conversion rate optimization.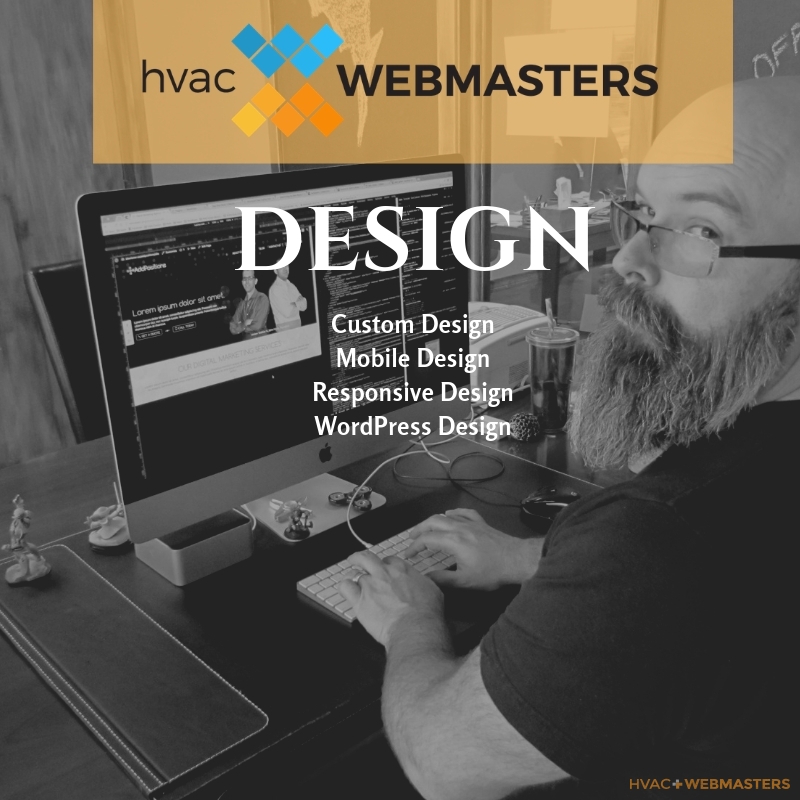 Custom Design
Most heating and cooling contractors fail to generate success with their websites because of website templates. These free stock templates (or sometimes paid for $15-$50) prevent the pages from ranking well on Google search results.
Some templates look fine, but their coding structure lacks uniqueness, preventing high rankings. Google prefers websites that are unique, not just in presentation but in code. HVAC Webmasters designs completely customized websites for every HVAC Contractor. Elements of our custom design include:
Engagement: Spark's the user's interest rather than looking redundant
Optimization: Clean code for optimal Google rankings
Personalization: Usage of logos and color schemes
Uniqueness: Original design not duplicated from another source
Both the front and back ends of your website should be customized. The front end shows your HVAC website's users that it is unique and professional. The back end tells Google the same thing. Having one without the other fails to maximize the potential of your HVAC company site.
For instance, a professional-looking template might appeal to the user, but they'll never find it in organic search results because of a redundant code structure. Similarly, good code and bad presentation can contribute to a high bounce rate, which will considerably dip the site's pre-established ranking.
Mobile Design
More than half of the searches performed by people looking for heating and cooling services were conducted via mobile devices like smartphones, tablets, etc. That number will continue to rise in 2023 and beyond.
The moral of the story is this; mobile design is critical. HVAC Webmasters designs each website as mobile-first, meaning that while it's responsive (it will work on every device), it's tailored specifically to mobile users. Our principles of mobile design are:
Coding: Structuring mobile code for Google optimization
Display: Ensuring an ideal viewport for information consumption
Speed: Maximizing site speed on mobile to improve experience and ranking
Navigation: Providing simple and convenient navigation for the user
The stats are apparent, if a mobile site takes more than 2 seconds to load, most users will bolt immediately, and most likely, to your competitor. Having a site load on time is a start, but it's not enough to keep the user engaged.
To do that, the navigation must be seamless so that the individual can consume the information they need as conveniently as possible. Aside from the obvious necessity for display, a code-optimized mobile site is important so that users can find it in the first place on Google.
Responsive Design
While most HVAC searches originate on mobile, there are still desktop users who must be accounted for. The solution is responsive web design which allows a site to display optimally on any device. Using this form of coding allows the site's HTML to respond based on the device through which it is accessed.
For example, an iPad user would see larger dimensions than an iPhone user, but both would display exactly how the designer intended. The same applies to desktop and laptop users who access your company website online. Elements of responsive design are:
Compliance: Meets Google's standards, as they recommended it
Flexibility: Works well with every device
Site Speed: Keeps one site on the server for maximum loading speed
Social Sharing: Allows URLs to be shared across devices and platforms
Since Google is on the record for recommending responsive design, there should be no hesitation when incorporating it. Google even cites its algorithms' ability to index responsive pages as a factor in their recommendation.
It makes a lot of sense, even if you don't know much about website design. Think about the number of devices people use to access a website today. With so many variations available, it's logical to pursue an optimal presentation for each of them with a single design.
WordPress Design
Every website needs a content management system (CMS). A CMS keeps the content on your HVAC website organized and optimized. You've probably heard of WordPress, which is the most popular CMS on the market. And for good reason. HVAC Webmasters uses WordPress CMS themes for each client website we create. Now you might be thinking, can't I just buy HVAC WordPress themes?
Yes, you can, but when themes are being sold, you must understand they're being sold to hundreds and thousands of people. That means your website is not unique at all. HVAC Webmasters provides custom WordPress websites for HVAC contractors. Benefits include:
Aesthetics: WP empowers custom designers to make extremely appealing sites
Blogging: WordPress supports internal blogs, which makes each post part of your main site
Community: Because of WordPress' massive following, a community of developers helps advance its capabilities each day, month, and year
SEO: WordPress helps to optimize your website and rank it on Google
Other CMSs exist, like Drupal, Joomla, and Duda, but none hold the weight of WordPress. However, remember that WordPress.ORG; the CMS, should not be confused with WordPress.com; which is not a CMS but rather an isolated blogging platform.
With WordPress.com, the blogs are not custom-designed but are rather picked from templates by the webmaster. Needless to say, HVAC Webmasters use only WordPress.org, the CMS, when designing client websites. Another thing to remember is that Wix and Weebly are website builders with built-in CMS software, but they don't provide the same level of control as WordPress.