Why Do HVAC Companies Need Custom Website Design?
Custom website design is a critical component that determines whether or not a customer chooses to use your services or not. While it seems superficial, people tend to judge websites based on appearance, navigation, accessibility and other web design elements; if a website has a poor design, it is more likely to lose potential clients for its company. The quality of your website's design can convey that your HVAC company is dependable and well established, making your customer's online experience that much better.
That's where HVAC Webmasters come in. We believe in the importance of great web design and we will ensure your website has the proper design elements to generate more customer relationships, increase revenue, and enhance search engine rankings. With the help of our expert design team, they will be able to create a custom design that will leave your customers impressed and have you optimizing better online. What are you waiting for? Give us a call today at (800) 353-3409 for quality web design for your HVAC company.
Importance of Web Design To Your HVAC Company Website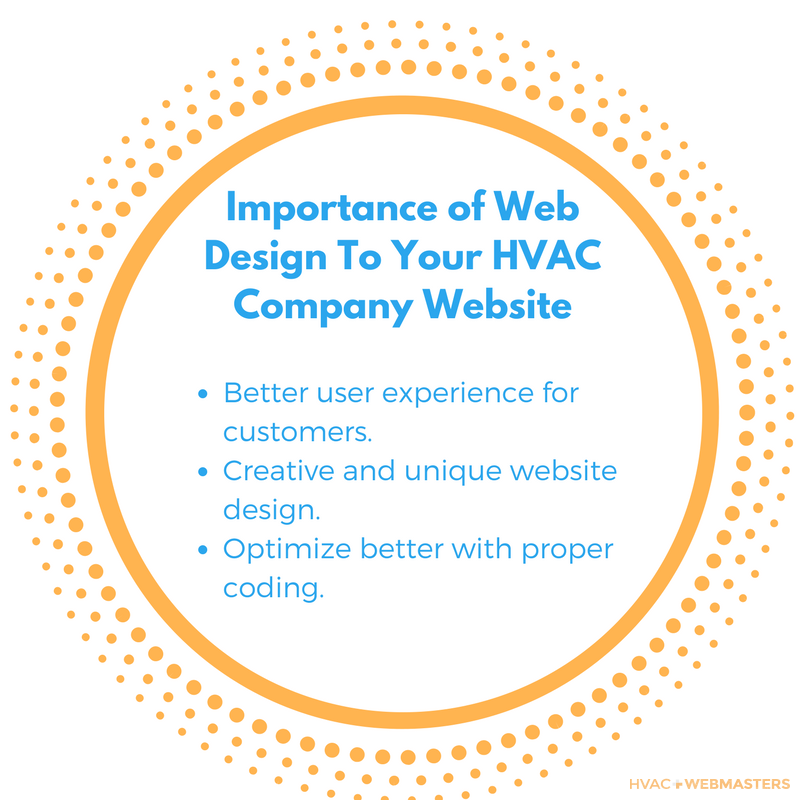 There are a number of ways for potential customers to find out about your company; word of mouth, social media, or your own research. Before a customer decides whether they want to use your business or not, they will usually go on your website. While you might have some great content and other essential internet marketing techniques, the design of the website is the deciding factor for customers. Without good web design, you face the possibility of losing prospective clients. Your website is a reflection of your company's brand and staff. Think of your website as a virtual storefront. If a potential customer comes to your storefront and your business is outdated and unprofessional, it is unlikely that a prospective customer will trust you or want to have a business relationship with you. Because of this, we want to ensure you make the best first impression with proper web design from our expertly trained design team.
Not only is your company's web design essential to attracting customers, but it is also important to search engines, as well. This can be done with SEO that is embedded in the website design. There are a few things that search engines will look for in regards to web design and SEO.
Responsive design: Customers are using their smartphones more and more to look up information on the internet; because of this, websites need to be viewable on not only computers but on smartphones and tablets, also. Without responsive design, it can affect the user's experience, which will then affect sales and even search engine optimization.
Unique design: Search engines, like Google, love creative and unique web design. The more unique, the better it will rank in the long-term.
Proper coding: Behind the design of your site, it a large amount of coding. Google and other search engines look at your website's coding to see what the website it about. Without the proper coding, your website it not able to optimize properly. With better coding, your website can have better visibility.
Our design team at HVAC Webmasters understands that not only is great web design important to increasing customers, but also to SEO. We offer quality web design services that will grow your client base, boost your sales, and get you ranking higher in search engines, all at an affordable price. If you are interested in our web design services for your HVAC company, call us today at (800) 353-3409.
Key Elements To a Successful HVAC Company Web Design
Since a website's design is so important to the success of a company, it is important to have a web design that is able to keep customers back for more. So what are ways to make your HVAC website design more successful? Our creative design team has years of experience designing creative and original web designs for local HVAC companies. Because of this, they are skilled and knowledgeable in the key elements that make a web design effective.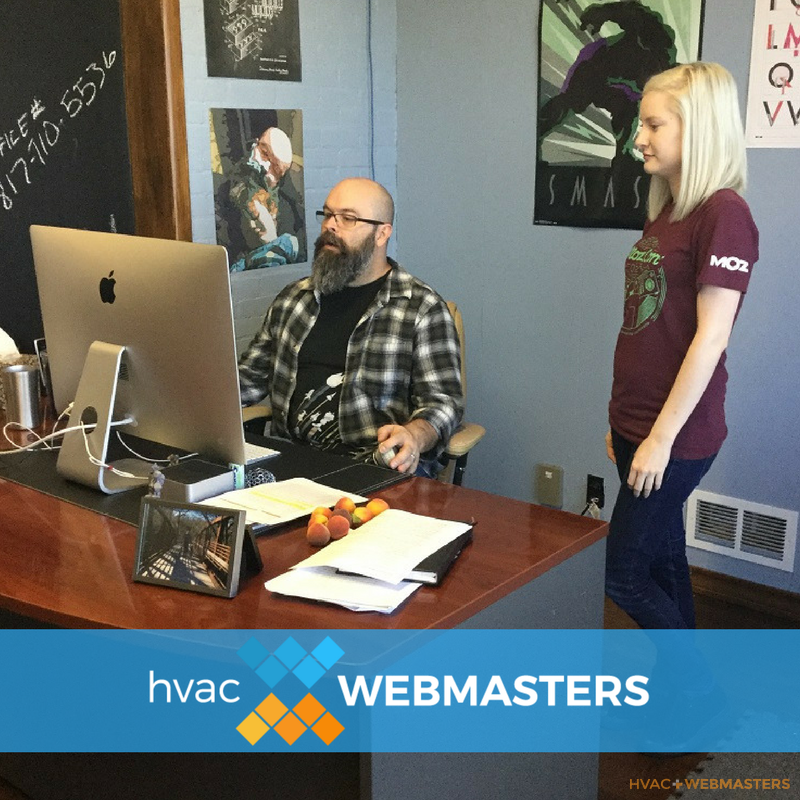 Visual appeal: Your HVAC company's web design will need to appeal to potential and existing customers, and a great way to do this is by making it visually appealing. There are many ways to make a website easy on the eyes, from the color scheme, images, typography, and even space for words and content.
Consistent: Your brand is an important part of your web presence and carrying that over to your web design is important. Components like color schemes, logos, typography, format, and style will need to stay consistent throughout. If each page has a different font, colors, and styles, it will be confusing and likely make the customer rethink your business.
Simple Navigation: When a potential customer finds your web page, they should be able to locate the page they need with ease. Every page on your website needs to be placed in an organized manner, so customers can search and find what they are looking for without any trouble.
User-friendly: Although a beautiful site is important, it should still be designed so that a consumer can find what they need, after all, they are the ones who are looking to use your business.
At HVAC Webmasters, we take these principles and apply them to your web design. We want to give you the best web design for your HVAC website, to increase your online presence, acquire more clients, and boost your profit with proper web design and internet marketing techniques. Let our team of design professionals take you to the top of the search results when you call us at (800) 353-3409 for exceptional web design for your HVAC company.
Web Design Services For Your HVAC Company
Your website design matters a great deal to the HVAC Webmasters design team and they will work very hard to ensure your website is not only appealing to customers but to search engines, as well. Some of the services we offer in order to make this happen include the following
Logo Design A logo is a great way for potential customers to remember you and help you stand out from the rest of your competitors. Our design team is able to create a company logo that encompasses your company's values and brand.
Responsive Design At no additional cost, our expert design team will create responsive designs for our HVAC clients. Responsive designs mean that customers are able to view your web page on all platforms, like smartphones and tablets, a lot more clearly.
It is important to acknowledge that our web designers never use web templates; every design is our own and created to uniquely fit your HVAC company's brand and values. While other web designers might use templates and charge their customers an exuberant amount of money, we pride ourselves on creating custom websites for our customers at a fraction of the cost of other web designers. We even feature a custom design for your HVAC company at start up and there are no hidden costs for this design. In addition to the above services, we also provide monthly design services such as coding updates, to make sure you continue to see long-lasting results on search engines. Our team at HVAC Webmasters cares about your website, and we will work hard to make sure you get the best web design possible.
Ready to work with the HVAC Webmasters? Call us today at (800) 353-3409 and we will transform your HVAC company's web design into something truly spectacular.