Do HVAC Contractors Need Custom Web Design?
Website design is a representation of your company. Custom designs exhibit uniqueness and professionalism, both qualities that reflect well on HVAC businesses. The heating and cooling industry is rampant with similar looking websites. Companies often use stock templates because they are cheap and convenient. Unfortunately, the trade off for affordability is performance and appeal. These stock designs evoke amateurism and severely limit your website's potential reach. Elements of web design include:
Appearance: The presentation of your website from a visual perspective
Interactivity: Elements of your website that interact with users, such as videos, forms, etc.
Navigation: How easily users can navigate your website via links, scrolling, etc.
Site Speed: How quickly your website loads, particularly on mobile devices
Investing in a custom website doesn't have to break the bank. HVAC Webmasters offers two different payment plans. Month to month (MTM) plans require a fixed payment at the end of each month. Pay per lead (PPL) plans require payment only after an exclusive lead is generated. Both basic plans include custom web design, along with; SEO, NAP citation listings, and content marketing. 2018 is the perfect year to take your website to the next level. With more users accessing the web via mobile device, choosing a company that specializes in mobile-friendly design is encouraged. Call (800) 353-3409 for custom web design.
How Website Design Appeals To HVAC Consumers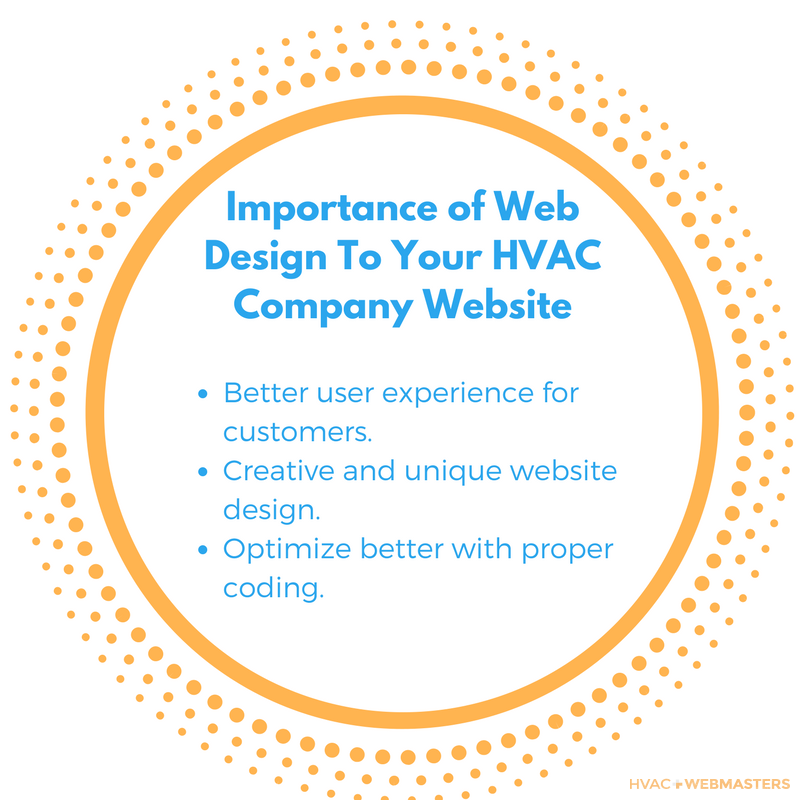 Prospective customers in the market for HVAC services usually inquire about their options through search engine queries, most notably; Google. Having a website that ranks towards the top of results for local and industry keywords creates visibility for your business. Once visitors are on your website, design becomes a critical point in the conversion process. How easy your pages can be navigated, particularly on mobile devices, can have a major impact on conversion rates. Interactivity is another consideration for HVAC websites, as the user's experience often determines their subsequent actions. Both search engines and their users look for the following in web design:
Responsive design: Customers are using their smartphones more and more to look up information on the internet; because of this, websites need to be viewable on not only computers but on smartphones and tablets, also. Without responsive design, it can affect the user's experience, which will then affect sales and even search engine optimization.
Unique design: Search engines, like Google, love creative and unique web design. The more unique, the better it will rank in the long-term.
Proper coding: Behind the design of your site, it a large amount of coding. Google and other search engines look at your website's coding to see what the website it about. Without the proper coding, your website it not able to optimize properly. With better coding, your website can have better visibility.
Google algorithms have evolved to the point where user experience is properly valued. Therefore, by creating a design that appeals to users, you are by association, appealing to search engines as well. How users interact with your site will instruct Google and other search engines where to rank it on results. Performance metrics like bounce rate, click through rate, and time on page are all indicative of user experience. HVAC Webmasters' design team is among the best in the industry and understands the gravity of the design process. As the foundation of your internet presence, a website represents a virtual storefront for your heating and cooling company and can form the ever important first impression for consumers. As an add on service, we offer website reviews integration with a custom widget; Righteous Reviews. This widget will display an aggregate rating of all of your reviews (Facebook, Google, etc.) right on your website, and encourage visitors to leave new ones. Call (800) 353-3409 for custom website design.
Key Elements To a Successful HVAC Company Website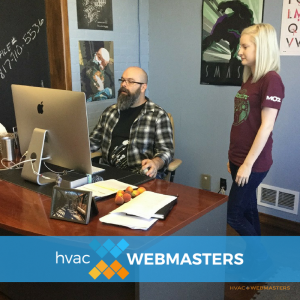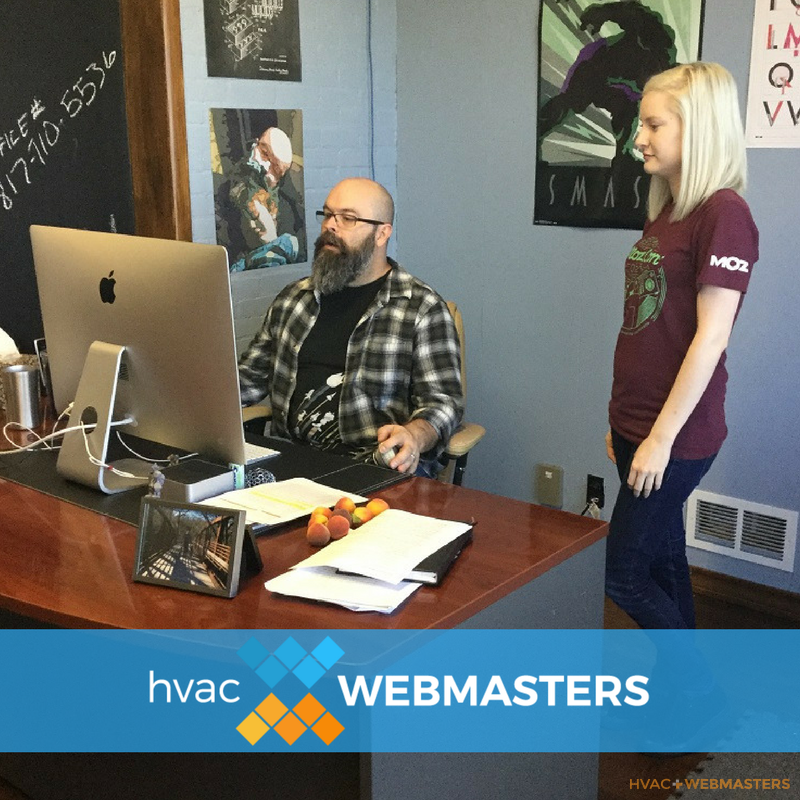 Web design should encourage visitors to complete a call to action, a feat that can be nurtured on both the conscious and unconscious level of the user. HVAC Webmasters' design team has been constructing websites for local contractors for years. Not only do we have the first hand experience of what works and what doesn't in web design, but we have the data to support our notions. An advantage of specializing in the heating and cooling industry is that our data is specific to your market, and uninformed by inconsequential statistics. Our experience and data both conclude that the following elements are indicative of a strong website:
Visual appeal: Your HVAC company's web design will need to appeal to potential and existing customers, and a great way to do this is by making it visually appealing. There are many ways to make a website easy on the eyes, from the color scheme, images, typography, and even space for words and content.
Consistent: Your brand is an important part of your web presence and carrying that over to your web design is important. Components like color schemes, logos, typography, format, and style will need to stay consistent throughout. If each page has a different font, colors, and styles, it will be confusing and likely make the customer rethink your business.
Simple Navigation: When a potential customer finds your web page, they should be able to locate the page they need with ease. Every page on your website needs to be placed in an organized manner, so customers can search and find what they are looking for without any trouble.
User-friendly: Although a beautiful site is important, it should still be designed so that a consumer can find what they need, after all, they are the ones who are looking to use your business.
We implement each of these components within your design, prompting relevant traffic to your website. Our goals extend beyond aesthetics, as we aim to solidify your online presence both now and into the future. Our basic service plans, whether you choose MTM or PPL, include custom design, along with; SEO, NAP citation listings, and content marketing. Choosing one company to handle all of your internet marketing needs keeps your campaign organized and helps you more easily track and measure performance and progress. HVAC Webmasters' values transparency in our services, and provides detailed reports of website performance via Google Analytics and other tools. Our designers craft each site in the corresponding company's image, considering client input and accommodating to customer preference.
Web Design Services For Your HVAC Company
Your website design matters a great deal to the HVAC Webmasters design team and they will work very hard to ensure your website is not only appealing to customers but to search engines, as well. Some of the services we offer in order to make this happen include the following:
HVAC Webmasters refrains from the use of stock templates. Though pre-made templates are convenient and cheap, they limit SEO potential and fail to exude professionalism and aesthetic appeal. To separate your company from competitors, you need a custom website that presents your business and accompanying brand in the best possible light. For companies with a current logo, we can implement the image into your design. For new contractors who don't yet have one, we can design one based on your input and preferences, and implement into your design as well. There are no hidden costs with our marketing services. The payment process is simple. You choose from a MTM or PPL plan which includes the basic services of web design, content marketing, SEO, and NAP citation listings, and you have the option to pay extra for add on services which include PPC management, Facebook marketing, website reviews integration, and virtual office space. We look forward to hearing form you soon.
Call (800) 353-3409 to transform your HVAC company's web design into something truly spectacular.