HVAC Webmasters offers HVAC logo design for local companies. As part of your digital marketing campaign, we help craft the perfect logo for your website, social media profiles, and business cards. Our in-house graphic design team designs a high-quality logo that fits your brand and business objectives.
Effective digital marketing captures the attention of consumers. Because of this, HVAC contractors should ensure the design and optimization of an appealing company logo. HVAC Webmasters can design your company a unique logo from scratch or work to improve one already established for your brand and optimize it for web use.
We offer multiple convenient plans, including website design and SEO (including photo optimization).
Your custom logo design involves:
Branding: A logo is the face of your brand and company
Engagement: A visually appealing logo engages customers
Versatility: A flexible logo can appear on websites, business cards, trucks, etc.
Optimization: An optimized web logo contributes to search optimization.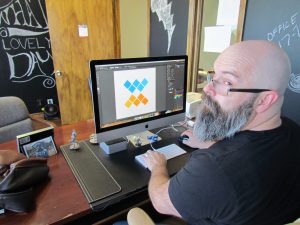 A unique logo helps develop brand recognition. An appealing logo reflects well on your business and encourages consumers to recall your brand. Because images work subconsciously in our minds, customers cannot often pinpoint exactly why they like a logo. We can measure which logos generate the most intrigue through research studies and then evaluate their qualities.
Web Optimization for HVAC Logos
Visual appeal is important for logos, but optimizing it for the web use is equally critical in today's marketing landscape. With so many places to upload a logo file (website, listing directory, social media profile, etc.), having a file ready for each platform is crucial.
The logo on your website should also be optimized for search, just like other images. To make a logo file "web-ready," the following actions must be performed:
Alt-Text: As best SEO practice, alt text of each image file should correspond to the file name
File Name: For SEO purposes, a logo file should be renamed to company-name-logo
File Size: The size of the image file should be compressed to promote faster loading times
File Type: Logos are generally exported as PNG files which produce an efficient yet visually pleasing output
With HVAC Webmasters, logo files are compressed perfectly for website usage. It's also important to note that a website is not the only destination spot for a web-ready logo. Other places include social media profiles, online review profiles, and business listing directories.
Each destination should display an identical design, with the only difference being the image resolution size preferred by the respective platform. Having inconsistent designs can confuse potential customers and discourage them from trusting your brand.
HVAC Logos and Branding
We've discussed logos in the context of branding, and rightfully so. In many ways, your logo is your brand. If local customers don't recognize your logo, they very likely don't know much about your company. If they immediately associate it with AC repair or a similar service, you've established a presence within that community.
Visual associations can work in both positive and negative connotations. If you've earned a poor reputation, your logo might be recognizable for all the wrong reasons.
HVAC Webmasters works with our clients to identify the services needed and deliver just the right package for your company. With multiple options to choose from, there is sure to be an ideal option for your needs. Although the cost of an exclusive lead is higher than the fixed monthly payment, it is only required after being generated.
That means if leads are never generated, you never pay. This offers great financial security for contractors, especially those who value results over process. Both plans include web design and search engine optimization.