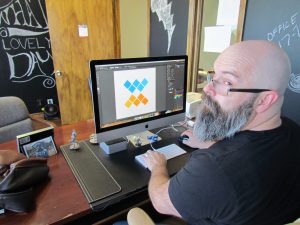 HVAC contractors should consider every path to enhanced search engine optimization (SEO). One of the paths often ignored is optimal logo design. Since you're a contractor, and not a graphic artist or web designer, you are forced to rely on a third party to design and implement your company logo. While the market for logo design is rather expansive, do designers know how to optimize logos for search engine rankings?
There are two primary elements to your HVAC logo design. First, you want a logo that looks good and is aesthetically pleasing to potential customers. Second, you need a logo that is optimized for web display as well as SEO. Neither of these elements is strong enough on its own to ignore the other one. At HVAC Webmasters, we design logos for companies and implement fully optimized versions into your website structure.
Company Logo's for HVAC Contractors
HVAC contractors should consider the benefits of branding. The difference between SEO and branding is that SEO gets visitors to your website, and branding helps them remember it. A well designed logo is one of the most important components of a strong brand. Some of the advantages of branding your HVAC company include:
Customer Recollection: You want customers to remember your HVAC company so that when they spread the word, they will recall exactly who serviced their heating and cooling units
Increased Credibility: Branding creates a level of comfort for the customer, making your company seem more professional, and more likely to preserve a loyal customer base
Market Expansion: By Branding their HVAC services, contractors can use their logo throughout multiple internet channels, including social media, citation sources, and blog posts
Branding is certainly an advantage for HVAC contractors. A well designed logo can expedite the process by creating early recognition. If customers remember your logo, they will remember the quality of your services, giving you a chance to become an authority in your local community.
Logo Placement for HVAC Companies
Once HVAC companies have a logo ready to display, the question becomes; where should it be placed? HVAC company websites should display the logo on the top left of their website. Users have a tendency to process information from left to right, making the top left logo, the first thing they will see. Your website is not the only pace your logo should be displayed on the internet. You should upload your logo to all of your social media accounts, as well as your citation sources.
Creating a good logo is difficult for someone without graphic design experience, and optimizing it for web use further complements the process. At HVAC Webmasters, we will design and implement your logo for both SEO and branding. If you're looking to take the next step in internet marketing, you should strongly consider a well designed logo. For HVAC logo design services, call us at (800) 353-3409