Digital marketing aims to capture the attention of consumers. With that in mind, HVAC contractors looking to establish an online presence must have a visually appealing logo. Since your expertise is in heating and cooling services, and not graphic design, you must rely on a third party source to design your logo. HVAC Webmasters provides logo design services to contractors and companies across the United States. Our services focus on:
Branding: A logo is the face of your brand and company
Engagement: A visually appealing logo engages customers
Versatility: A flexible logo can appear on websites, business cards, trucks, etc.
Optimization: An optimized web logo contributes to search optimization.
A well designed HVAC company logo is aesthetically pleasing to customers and promotes brand recollection. In other words, a good logo is one that consumers will remember the next time they see it. The goal is to have the logo become synonymous with your company, its ideals, and philosophy. At HVAC Webmasters, we consult directly with our clients to design a logo that fits your vision. If you already have a logo, we can make subtle improvements to increase its marketability, and optimize it for web presence. Call (800) 353-3409 for HVAC logo design services.
Web Optimization for HVAC Logos
A logo's visual appeal is important, but ensuring it is properly optimized for web use is equally imperative. Improper usage of image files on your website can bog down loading times, and negatively impact search engine optimization. The best part about working with HVAC Webmasters, is that our services are all inclusive. We handle every aspect of your internet marketing campaign, from logo design and optimization, to content marketing and social media management. If you are wondering what makes a logo "web-ready", consider some of the factors below:
Alt Text: As best SEO practice, alt text of each image file should correspond to the file name
File Name: For SEO purposes, a logo file should be renamed to companyname-logo
File Size: The size of the image file should be compressed to promote faster loading times
File Type: Logos are generally exported as PNG files which produces an efficient yet visually pleasing output
Much like with our photo optimization services, we ensure that logo files are perfect for website use. It's also important to note that your website is not the only online destination for your logo. Other places where it will be present include; social media profiles, online review profiles, and business listing directories. It is important that each of these destinations displays an identical logo so that customers can begin to associate your business with that image. This process is conducive to brand development, and will have a long-term sustainable affect on your business.
HVAC Logos and Branding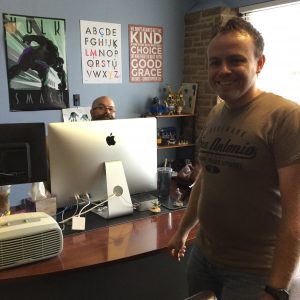 The word "brand" is thrown out a lot in marketing. But do HVAC companies really need a brand? Well that depends on what your goals are. If your goals include attracting web traffic, generating leads, and ultimately increasing revenue in 2018, the answer is yes. While your brand won't be on a national scale, it can make a big impact in your local community. After all, as a heating and cooling company, your leads must be within your service area in order to have value to your business. With that in mind, a logo establishes your brand identity, distinguishes you from competitors, and promotes customer loyalty.
As the visual representation of your company, a logo will be present on all marketing materials. That means your website, business cards, social profiles, and even your company truck. With so many sources on which that image will be apparent, it is important that you invest the proper resources into its design. There is no better place to do that than with HVAC Webmasters. Not only will we handle graphic design elements of your marketing campaign, but will also develop your website, optimize it for search engines, and market it via social media and PPC campaigns. For HVAC logo design services, give us a call at (800) 353-3409.