Online reviews are a crucial aspect of local search engine optimization. Statistics show that 73 percent of consumers place more trust in local businesses with positive reviews. That means two things for your HVAC company. First, you must generate reviews on platforms like Google, Facebook, and Yelp. Second, the majority of these reviews must be positive. So you might be wondering, how does an HVAC business go about generating reviews for their company? Consider these strategies:
Ask For Them: Here's a novel idea, ask a customer to leave a review after completing their service
Email Signature Links: Embed links to your review profiles, along with a sentence or two encouraging customers to leave reviews
Social Media: Use social platforms like Facebook and Instagram to encourage online reviews
Website Links: Embed links to your review profiles in the footer of your website
While asking for reviews is fair game, paying for them certainly is not. Yelp has cracked down on review solicitation across the internet, to prevent the local SEO landscape from becoming a private auction. The goal is to level the playing field for local businesses, so that the top companies are being promoted, rather than the ones with the deepest pockets. The best way to earn positive reviews is to do a great job, but a strong internet presence certainly helps your cause. Visibility across review platforms like Google My Business, Yelp, and Facebook encourages more reviews. For HVAC company reviews management, give us a call at (800) 353-3409.
The Impact of Local HVAC Reviews
We've outlined the importance of online reviews to local search engine optimization, but the impact reaches even further across the internet marketing spectrum. Reviews not only influence ranking, but they impact reputation. These two things go hand and hand, as one cannot exist without the other. This is especially true as Google algorithms have evolved to more efficiently meet the needs of searchers. Search results will reflect the reputation of local companies within their local community. With that in mind, consider the additional ways local reviews impact your business:
Fresh Content: content that is generated by customers, like reviews, can boost your search engine ranking
Keyword Generation: When customers leave reviews, they will be using the same keywords that you optimize your website for
Social Media Activity: Because social media is used to connect, reviews are a great way to start a conversation about your service and increase your organic search ranking.
Search engines like Google love new content. While new service pages might be added here and there and monthly blog posts can increase online visibility, they do not have the SEO impact of customer reviews. Not only are reviews viewed as original content, but they are content that is relevant to your business, which is even better for optimization. Social media platforms also offer review opportunities that can be integrated onto your HVAC website, Google My Business page, and throughout the web for optimum reach to new audiences. They also offer a personal testimonial to your company which is trusted more than any other type of marketing.
Responding To Negative HVAC Reviews
Review management is not a one-time deal. The process is ongoing as new reviews are published across various platforms. A quandary for many small business owners is how to respond to negative reviews. The key is to view them as a PR opportunity to show other consumers how professional your business is. By focusing on a solution, and looking to resolve the issue in a professional manner, you will not only turn a distressed customer into a more satisfied one, but you will publicize your customer-first attitude to the general public. In responding to negative feedback, incorporate the following qualities:
Customer First: Even if the reviewer is holding a grudge and embellishing their dissatisfaction, always make them feel like your main priority
Follow Up: Attempt to continue this public conversation in private by asking for the reviewer's phone number or email address
Professionalism: Never engage in trivial dialogue with an angry customer, and refrain from using insensitive language or vulgarity
Resolution: Your response should work towards a solution, whether that's a discount, an apology, or some other form of compensation
Because internet users place more trust in companies with largely positive feedback, maintaining a good standing on review platforms is important. A few bad reviews are inevitable if you are in business for a long enough period. The key is to overwhelm these occasional bad reviews with an abundance of positive feedback. This will "drown out" negative feedback and help your star rating stay at or above that critical 4-star mark. If you find that your star rating is below 4, a re-evaluation of your company policies, specifically as they pertain to customer service, should most likely be completed. HVAC Webmasters can help you create a strategy not just for acquiring reviews, but also for handling negative reviews and integrating positive feedback.
Review Acquisition Strategy for HVAC Contractors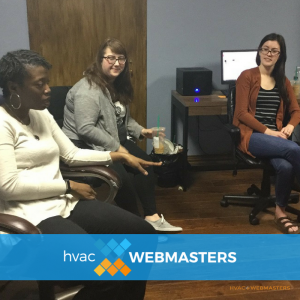 Since Yelp and Google vehemently oppose review solicitation, especially of the monetary type, HVAC companies must invest in a review acquisition strategy like the one provided by HVAC Webmasters. We will alleviate the stress of online review generation, and let you focus on the day to day operations of your heating and cooling business.
As with any other component of your internet marketing strategy, reputation management requires a defined and measurable plan. We've been working with contractors in the heating and cooling industry for decades, and have a wealth of experience dealing with their customer base. In other words, we've seen some stuff. We can provide the guidance and assistance you need to acquire the good reviews you're looking for while deflecting and diffusing negative reviews. If you require assistance with any aspect of your HVAC company reviews, or simply need reputation management services, contact HVAC Webmasters today by calling (800) 353-3409!
Looking to integrate online reviews into your HVAC internet marketing campaign for 2020? Get started with the HVAC Webmasters today by calling (800) 353-3409.