HVAC Webmasters provides NAP citation building for HVAC companies. After signing up for our services, our team builds dozens of business citations across online directories and optimizes your existing listings for NAP consistency. If you didn't already know, NAP stands for name, address, and phone number, which are standard contact information for each listing. As a full-service heating and cooling marketing agency, we understand the value of local and industry citations.
What Are Online Citation Sources?
An online citation source is an online platform that lists a company's name, address, and phone number, or NAP information. Citations are most commonly mentioned in reference to business directories like Google My Business, Angie's List, and Yelp, although their literal interpretation extends to social media networks and other digital entities. Online citations assist consumers in finding business information and also contribute to search engine optimization.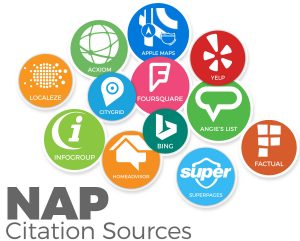 Most Common Citation Sources
As noted, online citations most commonly refer to business directories within the digital landscape. When an internet user performs a branded search or a search of a company name, they are most frequently doing so through Google, Yelp, or Facebook.
With proper optimization, a branded search will produce a complete Google Homepage including a company knowledge graph along with directory citations, social media accounts, and other mentions throughout the web.
Additionally, Google Maps listings are linked to your company's Google My Business profile which provides helpful business information like hours, location, and services. Some of the most common citation sources for HVAC companies include:
Facebook
Google My Business
HomeAdvisor
Yelp
MOZ, a top-ranking keyword and SEO management tool, lists citation signals as a Local Search Ranking Factor which corroborates what SEO professionals have believed for some time. Aside from providing accurate contact information for public access, optimized citation listings can work to improve search ranking. Google perceives accurate and consistent listings as an indicator of trust for local businesses. Much like links from authoritative websites serve as a digital endorsement, an optimal presence on citation sources is similarly impactful.
Elements of a Citation Listing
NAP (name, address, phone) is often used interchangeably with citations in reference to the listings' name, address, and phone number. While these are certainly important elements of a listing, they are far from the only ones. This is especially true in an evolving digital landscape, where internet users expect more information, more quickly.
HVAC Webmasters provides citation source optimization to ensure that your company's listings are not only accurate and consistent but fully complete.
The information used with citation sources should be complete and uniform, and they should offer as much detail as possible. Aside from company name, address, and phone number, other listing elements include:
About Us
Hours
Images
Location Data
Reviews
Social Media Links
Videos
Website URL
The About Us section is designated for business descriptions and mission statements. It's an important representation of your company's brand, and often the first influential factor in the consumer's journey. Images help enhance your profile and provide a visual representation of your company. The same is true of videos. Backlinks to your primary website and major social media profiles help users connect with your business on a variety of platforms as well as creating more online authority for your site.
Finally, reviews are one of the most important factors in local search marketing for HVAC companies. They're also a major influence over a consumer's perception of your company. In fact, more than 60 percent of online searchers consider a company's reviews before choosing a service provider. Because of this, reviews are a must for your citations.
Citation Sources Optimization
Online directories acquire business information from data aggregators like Neustar and Acxiom, which extract such data from public records and search databases. For this reason, companies that have never manually listed their business on an online directory, are still often represented. While this is positive in some aspects, it also increases the risk of duplication, inaccuracy, and other complications. With HVAC Webmasters, these issues are resolved quickly, and solutions are implemented for long-term prevention and sustainability.
Businesses might have heard of services like NAP audits and directory cleanups. HVAC Webmasters offers a similar service in citation source optimization. Contractors who partner with HVAC Webmasters will receive full optimization of their listings with the assurance of accuracy, consistency, and completeness. As part of our local SEM service, we optimize your HVAC company website for better local search results.