What is Google My Business for HVAC?
Google My Business or Google Business Profile is a free profile and tool for HVAC companies to showcase their business on Google Search and Google Maps. Business owners must verify their business (via postcard) to edit information and manage the profile. Once verified, a GMB listing showcases your company's business name, phone number, hours of operation, and other info.
Why HVAC Businesses Utilize Google My Business
The bottom line for marketing any business in the digital age is the same as decades ago: making your business as visible as possible. And today, you aren't making your business nearly as visible as it can be if you do not have it listed on Google My Business. 
Just as the name implies, Google My Business is a business listing service offered by none other than Google. It's a platform that allows businesses large and small to be more visible to Google users. And there are plenty of those. Over a billion people currently use Google products and services like Gmail, Google Maps, and Google Business Profile.
For better or worse, Google is mammoth. Whether you are watching YouTube or performing a simple search to help you decide on dinner tonight, your life is being affected by Google.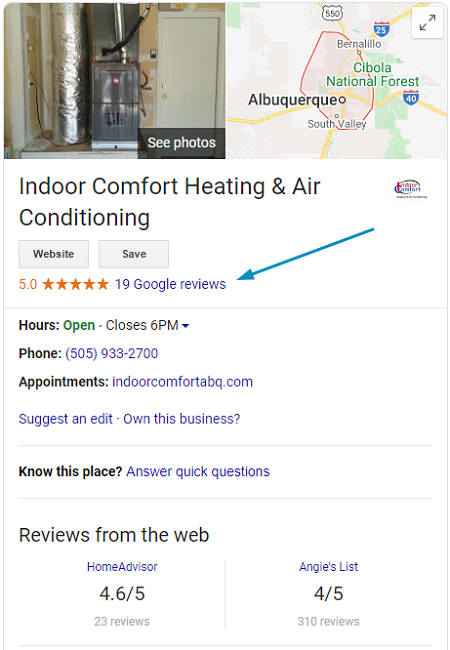 And as an HVAC contractor, you can leverage the unfathomably huge audience that Google boasts for the success of your business. Today we are going to be talking about how your Google My Business listing can gain you more customers, increase brand awareness, and how you can utilize it for maximum effect.
Why HVAC Contractors Need a Google My Business
Some of you may be asking why you need a Google My Business (GMB) listing in the first place. Maybe your HVAC business is doing fine without one. Or perhaps you are just reluctant to spend time setting one up. Whatever the reason, there are vital benefits both for fledgling HVAC businesses and established ones.
The three main benefits of GMB are:
Local 3-Pack
The local three-pack shows up at the top of 93% of local Google searches. Without a GMB listing, you have no hope of getting your HVAC business indexed on the local three-pack. And in case you were wondering why the local three-pack is so important, an overwhelming majority of Google users click on the top 3 search results and rarely click on lower results. 
Reputation Management
Since so many people start their research into local businesses with a Google search, GMB usually accounts for people's first interaction with business reviews. GMB offers a platform for people to leave reviews of companies. Your aggregate rating is prominently displayed when your site company appears on relevant searches. And customer reviews are a huge commodity in digital marketing.
Key Insights
When you set up your GMB profile, you will see how people find your business, what keywords they are using, and even what kinds of people are looking at your profile. Google data can give you invaluable insight into who you should target in subsequent marketing and ad campaigns. 
And if that all wasn't enough, Google My Business is free. A GPB listing will cost you nothing to set up or maintain. 
Setting up your GMB Listing
Setting up your Google My Business listing is very easy. It all starts here. You enter the name of your business and fill out the prompted information during the setup process. Creating a new listing is a straightforward process that you can easily navigate by clicking the link above.
So we'll skip the details of that part. And luckily, "HVAC Contractor" is an established category on GMB, so you don't have to worry about your business category not being available. 
But we will walk you through solving some of the problems you may encounter while setting up your HVAC Google My Business listing. 
Address Listing
You may not have a central office or location as an HVAC contractor. You may operate out of your home. You must have a physical address for your business for Google to verify you, so you will have to list your home address in this case. But that doesn't mean you have to display your home address online for the world to see.
If you don't want your address listed on your GMB profile, log in, click on the "Info" tab, and look for your address listing. There should be a pencil icon next to your address – click it to open the editing menu. Towards the bottom of the menu, you will see an option for "Clear Address," click it. Then click "Apply," and your address disappears on your public GMB page. 
Adding Multiple Locations
If you have more than one office serving different areas, you can manage all of them from a central GMB account. Head to the "Location Groups" tab once signed into your GMB account. Click the "Add Location" option to add a single location or import locations.
If you have more than one place to add, choose import location and receive a template to fill out with all of your business location information. But if you want a single spot, click "Add single location" and fill out the fields.
Business Claims
If you find a claimed business matching your company info, you have already created an account, or someone else has. If someone previously claimed your business, Google will give you a hint for their email address. If this doesn't help, you'll need to choose the option for "Request Access."
You will then provide business and contact info to help verify that you are the business owner. Google will then contact the person who claimed the company and get back to you within a week.
Check with other team members about existing Google My Business listings that may be attached to their Gmail addresses.
Getting the Most from GMB
Now that your HVAC Google My Business listing is set up, it's time to optimize it for maximum customer response. Here is a list of essential optimizations you should make for your GMB profile:
Q & A's
GMB allows you to populate your GMB listing with Q & A's regarding your business. It's a good idea to fill out some essential Q & A's about your business when your page goes live. Think about the most common questions you have heard from customers in the past and add them to your profile.
Another tip: customers can also provide answers to questions about your business to review any customer contributions for accuracy. 
Add Photos
Adding high-quality, relevant photos to your GMB listing can improve click-through rates by 35%. That means 35% more people will click on your website if they see that you have photos on your GMB listing. The images you add should be relevant to your business and your services.
They could be photos of you and your crew, your service vehicles, and on-site work. Make sure the images are high-definition and not blurry. 
Add Service Locations
As an HVAC contractor, you more than likely service more than one city or area. You must list these service areas on your GMB page. There's a simple tutorial on recording multiple service areas on your Google My Business listing here. Just make sure you list all the places you service to show up on more local intent searches. 
Consistent NAP
NAP stands for name, address, and phone number. Google doesn't like inconstant NAP information and will omit listings for the same business if their NAP info differs from one site to another. It may seem mundane, but it's a mistake many people make.
You have to make sure that your business name, phone number, and address are listed and spelled the same way across all platforms. That means your official website, your GMB account, and any review websites you may be listed on (and you should be listed on all of them, by the way). 
Service Listing
Being thorough with service listing will also help you appear in more searches. Make sure to add every HVAC service you offer on your GMB page. Don't forget to update your service list if you have recently added new services to your repertoire. 
Summary of Google My Business for HVAC
Google My Business is now called Google Business Profile though many still refer to it by its former name or acronym, GMB. Regardless of what you call it, Google My Business is an essential component of every HVAC marketing strategy. It's not possible to reach local consumers on Google without a verified listing.
The guide above outlines the various steps you can take to get your listing up and running. From verifying your listing to adding unique images and FAQs, GMB optimization can pay dividends for your business. Remember, you can take your efforts a step further by installing DataPins on your website and connecting the URL to your GMB listing.