Content marketing for HVAC is the strategic creation, publication, and distribution of digital content worldwide. Google values content when ranking websites, and that's why properly marketing content is so important. HVAC companies that aim to rank at the top of Google search results should prioritize content marketing as one of their primary techniques. When rightly executed, HVAC contractors' content marketing can translate directly to lead generation and, eventually, sales conversions.
Creating Great Content for HVAC Websites
Creation is the most crucial step in the content marketing process. To create quality content, you need quality writers, videographers, and photo editors who know the heating & cooling industry. Many website managers resort to a tactic known as content scraping, where they'll steal portions of text or images from another website and publish it as their own.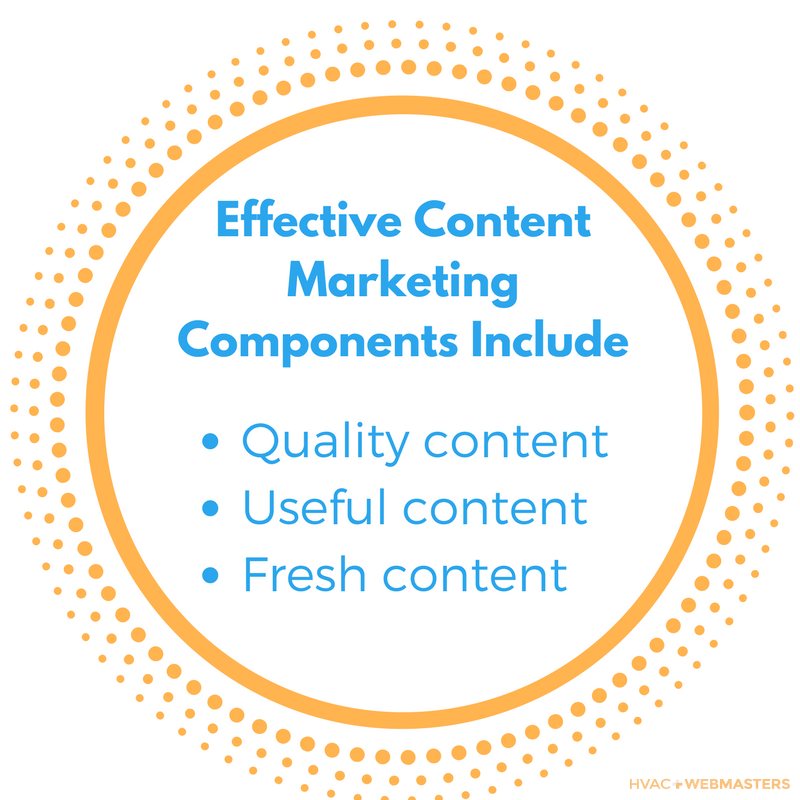 Google looks for engaging, unique, and valuable content for its readers. HVAC companies that meet these content standards rank higher on search and keep visitors engaged. In addition, other websites are more likely to provide links.
Scraping content is plagiarism by definition, but it is also counterproductive for SEO. Although hiring a writer will cost money, it is the most fiscally responsible decision in both the short and long term. Content is the fuel for SEO. Here are the characteristics of quality content as described by Google:
Some of these characteristics are ambiguous, and it is mostly the user's behavior that truly defines them. Metrics are produced based on how a user interacts with a web page and website, all of which are measured and considered by Google when evaluating the content and, subsequently, determining rankings.
These metrics can be found with tools like Google Analytics, Moz, and SEMrush, and can reveal important facts and details about your web traffic and viewer satisfaction. Engaging content is that that keeps the user's attention.
Similarly, valuable content meets the users' needs based on how they respond to it. Uniqueness is a measurement that's based more on comparison to other websites and pages. If your content is original and not published elsewhere, it is considered unique.
Publishing Heating & Cooling Content
HVAC contractors will require a content management system (CMS). A CMS is a web-based software option that allows the webmaster to publish, edit, and manipulate content seamlessly. WordPress is the most notable CMS on the market, which we stand behind at HVAC Webmasters.
We utilize WordPress in each of our client's content marketing strategies and website design. WordPress makes publishing content simple, whether as a page or as a blog post. Elements of content publication include:
Formatting
Optimization
Scheduling
Other CMSs exist, like Drupal and Joomla, but none are as globally popular as WordPress. One of the critical features of WordPress is the internal blogging structure. When a blog post gets published through WordPress, it is hosted directly on the top-level domain.
Without getting too technical, a top-level domain refers to your main website. Because the post appears on your primary site, Google indexes it accordingly. It's a great way to drive users to your website through blog posts without needing any "middlemen." There's little to dislike about WordPress.
Distributing HVAC Content
Although your website is an important place for content (including your internal blog), it is not the only content distribution channel. In 2023 especially, Google will look for content from various sources. With the ongoing popularity of social platforms like Facebook, Instagram, Twitter, and YouTube, there are ample opportunities to distribute content.
That's before even mentioning Google My Business posts and other business directory profiles like HomeAdvisor and Yelp. The more places you can syndicate content, the more authoritative your HVAC company can become. And remember, content is more than just text.
Consider YouTube for video content and Instagram for both image & video. For content marketing in general, focus on these distribution channels:
Blog Posts
Google My Business
Social Media
Website
Another option for marketing your HVAC content is through guest posting. Guest posts are blog posts written on domains other than your own. For example, if you know of a plumber that needs a post written about furnace problems during winter, you can pitch them an idea, write them a post, and have them publish it on your blog.
Not only does this help spread your brand name organically, it provides a valuable inbound link from one authoritative site (the local plumber) to another (you — the local HVAC contractor).
Disclaimer: Google only likes to see guest posts that make sense, much like the example we outlined. Posting on a nutritional blog is irrelevant to your services. Likewise, blog posts engaging in keyword stuffing won't provide a good reader experience or positive search results. Your blogging should stick with a natural reading experience for the best results.
Blog posts typically target informational queries toward the top of the funnel. These posts help bring traffic to your website, attract 3rd-party links, and boost general engagement around your URLs. You can also link internally from post to page, and vice versa, expanding topical authority for HVAC-related subjects.
Content Marketing Services
HVAC Webmasters is a full-service digital marketing company for HVAC companies. We provide content marketing as part of our SEO services. With a staff of 15 diversely skilled professionals, we handle all of your content marketing needs. Most of our team is content creators, and each of them is well-versed in writing for the heating & cooling industry.
One of our foremost advantages over marketing competitors is our specificity regarding the HVAC industry. Other content teams might produce generic content that does not pinpoint the nuances of your services. We are happy to provide samples of our content upon request.
We also offer multimedia production as an extension of our regular SEO services. Media production is an extension service that can boost your company to the next level in 2023. In Google's evolution, the content has advanced from primarily text-based to a more visual presentation.
Text is still fundamental to SEO, but it is enhanced by images, videos, and audio. We offer a regular blogging service at HVAC Webmasters as an optional extension of our standard SEO package. When you call for your free SEO consultation, feel free to ask about this extension.
Learn More About Our Content Marketing Services