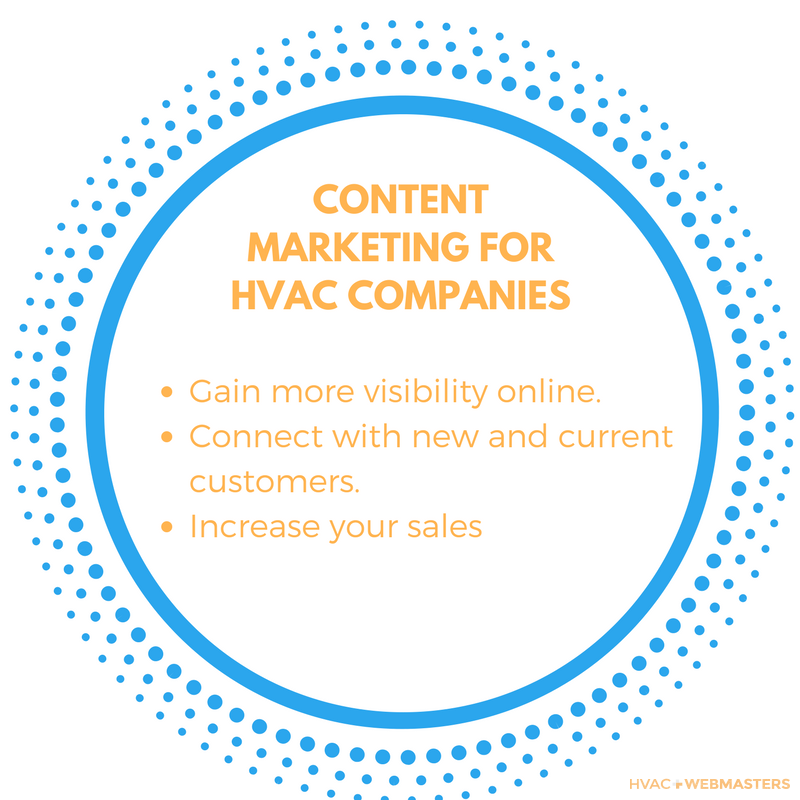 Company websites serve as a digital representation of your HVAC company. It's where new customers are able to discover you and existing customers are able to connect with you. When an individual discovers your website, they will want to know who you are, what service you provide, and where you are located. With little to no information on your website, customers will lose interest fast. In order to optimize your site and generate new leads, content marketing is essential. Engaging web content keeps customers coming back for more. By appealing to users, search engines take note, and rank your website accordingly. Content marketing aims to impact users in the following ways:
Engagement: Good content engages readers and keeps them coming back for more
Identification: Content should explain who you are, what you do, and why you do it
Instruction: A well crafted page takes the reader on a journey that ends with a call to action
Promotion: While brand promotion is important it should be done so within the context of user-friendly content
Not too long ago, the best way for companies to improve search engine rankings was to stuff keywords on their website. While it might have generated traffic, there was no long-lasting relationship with visitors. At HVAC Webmasters, our goal for your company is to improve visibility online, connect with new and current customers, and increase sales. All of this can be made possible with our HVAC content management services. We work not only to generate clicks and calls but to improve search rankings for relevant keywords. Want to improve online visibility and gain more business? Call HVAC Webmasters today at (800) 353-3409 for content marketing that will get you long-term results.
The Importance of Content Marketing For Your HVAC Website
HVAC Webmasters employs professional SEO writers to craft unique and original content for your website. Still, it is important for you to know how content plays a key role in improving search engine rankings and influencing customer relationships. First, it is important to note that content and SEO work together. They are mutually exclusive elements, but you need both in order to grow your clientele and expand online visibility. SEO refers to search engine optimization, which is a tool used to build online presence and increase search engine rankings. Content is information on your website intended to appeal to a defined audience and inspire them to become customers. When SEO and content work together, they improve optimization and reach a wider audience. Web content needs not only to appeal to your audience, but also to search engines like Google, Yahoo, and Bing.
The expert writing staff at HVAC Webmasters has years of experience writing for local HVAC companies and knows how to appeal uniquely to your industry. Because of their experience in this market, they can identify content trends within the HVAC industry. In order to sustain long-term rankings, content must appeal to Google's overall philosophy of user experience. While other search engines exist, Google is the unequivocal giant of the industry and therefore generates the most valuable search results. Google, like its users, prefers original and unique content. HVAC Webmasters content writers recognize Google's standards and posses the skills and knowledge to appeal to search engines and customers alike. With our services, you receive long-term, sustainable results that satisfy the needs of customers and search engines. Interested in content marketing for your HVAC website? Call HVAC Webmasters today at (800) 353-3409!
Effective Content Marketing Components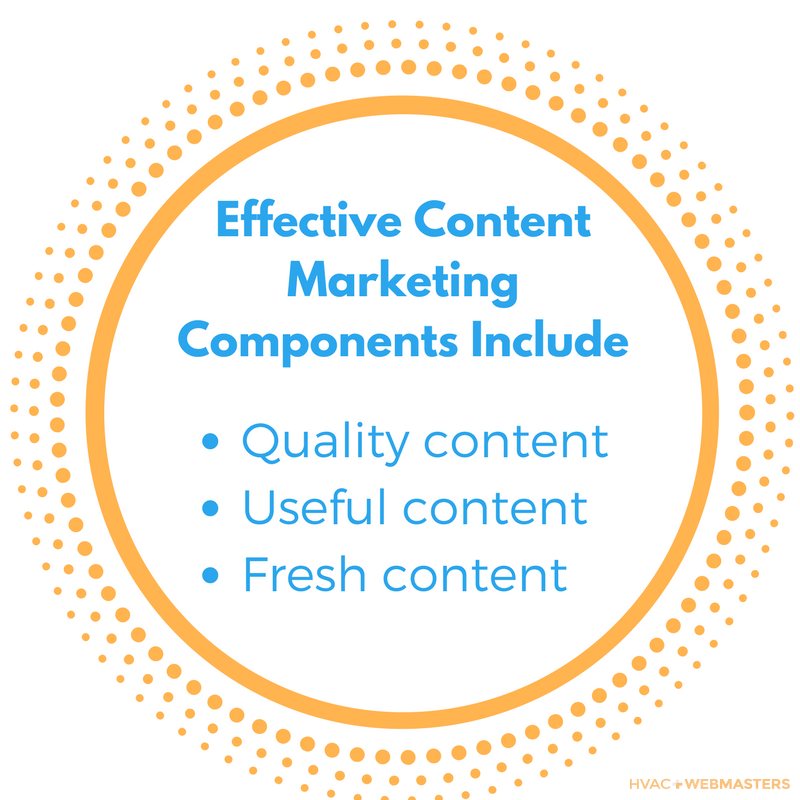 There are hundreds of HVAC websites that potential customers are able to search for, but we want to make your website stands out from the rest. We do this by creating quality content for your HVAC website. Quality content is important when you want to appeal to both the customers and search engines. Sure websites will have content on them, but it's probably the same information that has been repeated on other websites. We provide content that makes people want to spend a few more minutes reading your website's page. What is the sole purpose of searching the web? To learn and find information. We seek websites that are credible, informative, and instructive. None of that would be possible without content. But not just any content will do. At HVAC Webmasters, our writers abide by effective content quality standards in order to gain more clients and boost sales. Content should be:
Fresh: HVAC Webmasters performs monthly maintenance like blogging to keep customers engaged and search engines happy
Quality: Our expert writers create quality content that is not only engaging and educational to customers, but also incorporates industry and local keywords used by competitors
Useful: HVAC Webmasters determines which keywords to target for long-term, sustainable success
While having quality content is important, it also has to be useful to the consumer. A large volume of content that doesn't serve a defined purpose, discourages customer engagement. To ensure your website has useful content , we research keywords and phrases that are relevant to your industry and location. Keeping content fresh establishes authority in your industry, which in turn promotes credibility and trust. Customers and search engines love fresh, or new, content.  Although we can't keep updating main service pages with new content, there are other ways to generate fresh content that notifies search engines and keeps the attention of customers. At HVAC Webmasters, our goal is to help you reach the top of search engines and increase traffic with our content marketing services.  If you are interested in content marketing for your HVAC company, please call the HVAC Webmasters today at (800) 353-3409 today!
HVAC Content Marketing Services
Once your website is written and launched, we don't stop there. Because search engines love new content, we want to make sure you continue to appear at the top of search results. We do this by providing a series of beneficial writing services:
By improving your site each month, we can increase sales for your business while promoting customer loyalty. We are committed to our clients and aim to achieve long-lasting results for your company. A couple of clicks and calls are not enough, we pursue long-term results and craft our content marketing services to accomplish that goal.
If you are ready to boost your sales, gain more customers, and rank higher on search engines, give us a call today at (800) 353-3409 for the best content marketing from our writing professionals. We guarantee we will help you rise to the top with our quality and content marketing techniques.