One of the best ways that an HVAC company can boost their rankings online is with different SEO elements. Sure your reputation and services are what keep customers coming back for more, but SEO is a great way to gain more online visibility, which in turn helps you gain more exposure to potential clients. While there are more popular SEO components like content, social media, and web design that are utilized and focused on more, every SEO element plays a crucial part in getting more recognition online and generate more customer leads and sales. An underrated SEO component that can really enhance your HVAC website's online presence is schema markup. While this SEO aspect has been around for a few years, a lot of websites don't utilize it. At HVAC Webmasters, we use schema markup and structured data to help your HVAC website appear more prominently on SERPs (search engine result pages). Our team is able to provide schema markup on your web pages so you can have an edge over your competition. Let our HVAC SEO and internet marketing team take you to the next level with essential SEO schema markup and structured data for your website by calling us today at (800) 353-3409.
What Is SEO Schema Markup?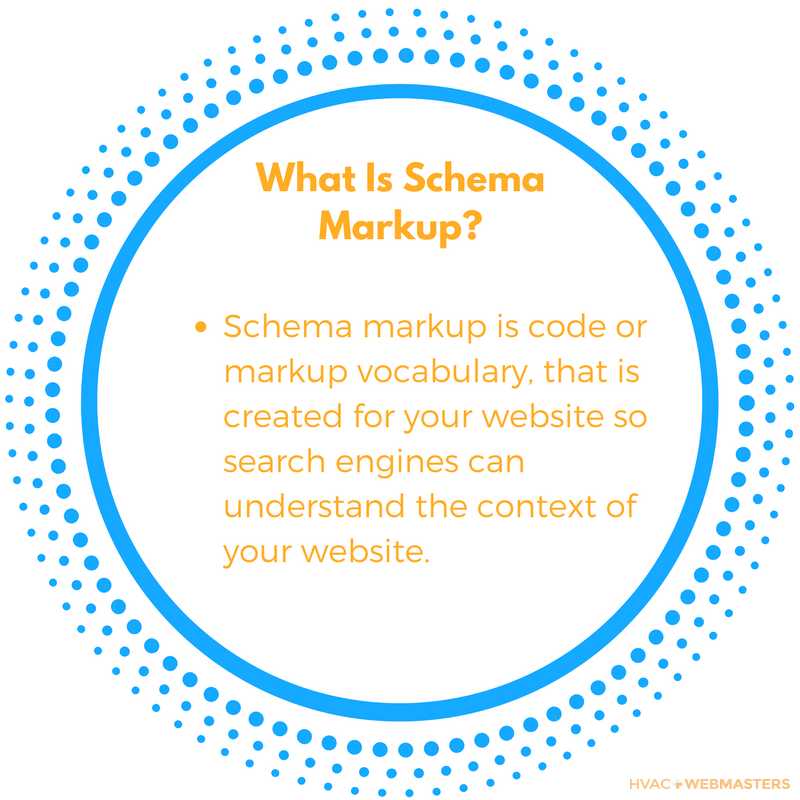 In order to find out why schema markup is an essential part of any SEO and internet marketing campaign, it is important to know what schema markup is. Schema markup is a type of code or semantic/markup vocabulary that is implemented on your HVAC website so that search engines are able to provide more meaningful information for potential customers. Basically, it's boosts your visibility in the SERPs and makes your website more relevant and meaningful to customers searching for your particular service. A crucial aspect of SEO that works with schema markup is structured data. The way that structured data works is that the information on your web pages is formatted in a way that any search engine will know what the web page is about. So while schema markup lets search engines know what your content means, structured data gives search engines context for what your HVAC website it about. When these two work together, a website is able to have more of a presence on the web. Because a lot of websites have still yet to use schema and structured data, using these SEO elements will give you an attractive advantage to not only the SERPs, but also to customers, also. Allow the HVAC Webmasters get your HVAC website ranking and performing better with our schema markup and structured data services when you call us today at (800) 353-3409.
Why SEO Schema Markup and Structured Data Are Important To Your HVAC Website
There are a number of reasons why it's important to have schema markup for your HVAC website.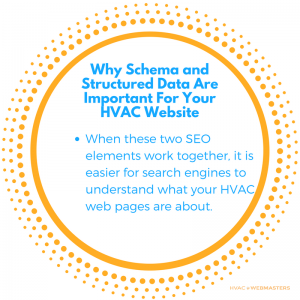 Rank higher in the SERPs: Because schema markup doesn't help the overall ranking in search engines, many people are willing to dismiss it's superior benefits. While it might not help the overall ranking in search engines, it does help companies rank higher in the SERPs (search engine result pages). There have been studies performed that have determined that companies who use schema markup on their websites tend to rank a lot higher than companies who don't use schema.
Informative to internet users: Not only can schema and other structured data help a website rank better in the search engine result pages, but schema markup gives customers a better sense of what your website offers. You can look at your schema markup up as a business card for your website; when potential customers see the schema markup in the SERPs, they will see where you are located, what services you provide, etc. Because customers are able to get a condensed version of what your business is about, it is seen as very user-friendly.
Better CTR: In addition to higher rankings in the SERPs and being user-friendly, schema markup is great to use within your content to display rich snippets in SERPs. Rich snippets refer to structured data markup that the HVAC Webmasters put in the HTML of a particular page so search engines under the context of that page. With comprehensive rich snippets, it can help improve your CTR (click-through rate) on your website. If that rich snippet appeals to a customer, they are more likely to click through your site to find out more about your HVAC company.
Call the HVAC Webmasters today at (800) 353-3409 to get SEO schema markup and structured data on your HVAC website.
HVAC Webmasters SEO Schema and Structured Data Services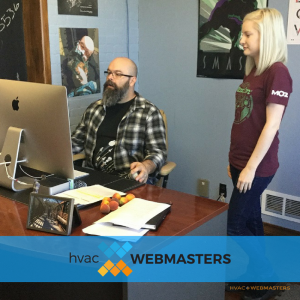 At HVAC Webmasters, we are a SEO company that believes that our customers require the very best. We guarantee that with our SEO and internet marketing services, we are able to get your HVAC website to the top of the search engine results with our schema and structured data services, but also our other comprehensive SEO services, as well. Depending on what goals you are wanting to achieve for your website, we will work with you to ensure that you get the online success that you deserve. Our mission is to come up with an SEO strategy that will increase client traffic, boost search engine rankings, that will lead to more sales with the help of our encompassing SEO services. If you want to learn more about SEO schema markup for you HVAC website, call the best SEO company for your HVAC needs at (800) 353-3409.