In a highly competitive digital landscape, HVAC companies must find ways outside of the norm to rank on Google search results. The common techniques of content marketing, social media, and website design are each important and impactful, but will not be enough to overtake competitors. An often underrated and underutilized element of SEO is schema markup, sometimes referred to as structured data markup. This optimization technique can offer multiple prized benefits:
Increased Visibility: Websites with structured data appear more prominently on results pages
Prolonged Exposure: Results with schema markup tend to be longer in length with expanded links to individual pages
Rich Snippets: Results on Google with extensions are referred to as rich snippets, and schema markup helps you generate them
Visual Enhancement: Results with schema markup are more visually appealing and therefore have a higher click through rate
Schema markup serves as a virtual highlighter for your website's search result. Try doing a google search of "hvac company near me" and analyze the results from a visual perspective. Which results are you most attracted to? And what elements make those particular results stand out?
In most cases, the results you gravitate to incorporate some aspect of structured data. While it might seem like a trivial way to select the best search result, visual appeal has always been an important part of marketing, and schema markup extends that to search engine results. To equip your website with schema markup, call HVAC Webmasters at (800) 353-3409.
What is SEO Schema Markup?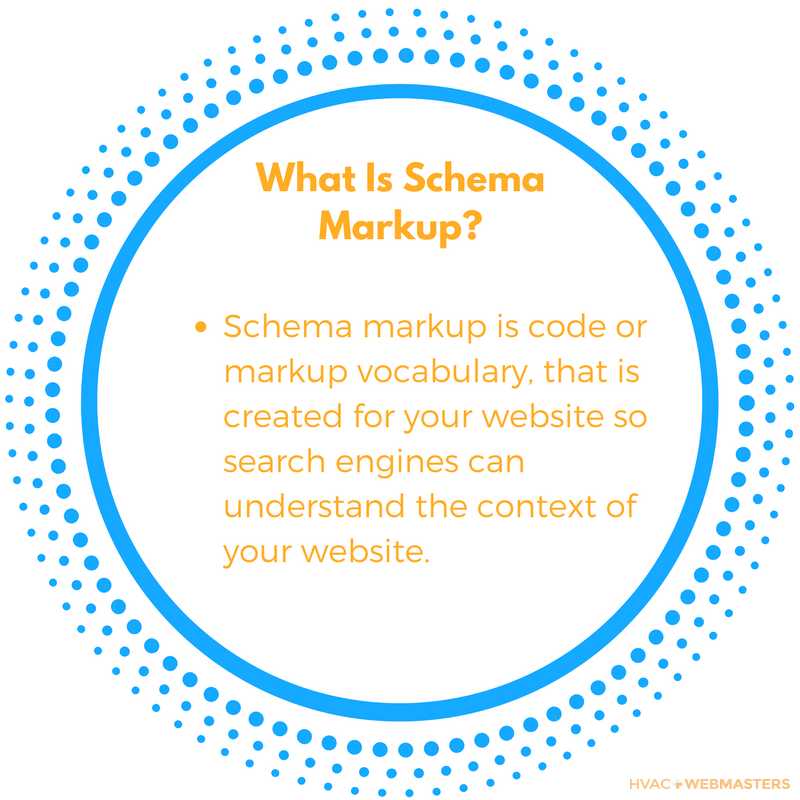 Schema markup is a type of code or semantic/markup vocabulary that is implemented on your HVAC website so that search engines can provide more meaningful information to Google crawlers and Google users. The term schema markup references a collaborative project known as Schema.org which was developed by Google, Yahoo, and Bing.
This coding collaboration between the three major search engines aims to provide the best possible results to its users. Content that can be marked up with Schema code includes:
Branches: For HVAC companies with multiple location branches
Events: Special discounts, promotions, or events
Reviews: Testimonials from customers
Services: Individual services like residential ac repair, residential furnace repair, etc.
Enhancing visibility on SERPs makes your website more relevant and meaningful to potential customers. This is particularly true when those customers are searching for an individual service. Say, for example, a consumer is looking for residential ac repair in their area. They are more likely to click a result that presents that specific service than a general HVAC company.  Structured data communicates with search engines and better informs them about your website's content.
Because many websites fail to incorporate structured data, using this SEO technique can provide a real advantage to HVAC companies. HVAC Webmasters offers schema markup and structured data services for HVAC contractors across the nation. To learn more about these services, and how they can increase traffic to your website, give us a call today at (800) 353-3409.
HVAC Webmasters SEO Schema and Structured Data Services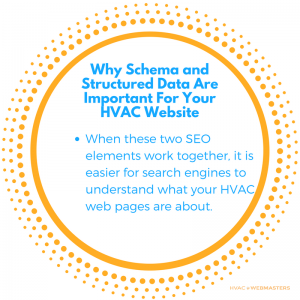 At HVAC Webmasters, our team of SEO experts believes that each customer deserves our undivided attention. By working with us, you ensure that every aspect of your internet marketing campaign is handled with dedication and professionalism. While competitors are focused on stuffing keywords on their stock template websites, you can dominate them in search results through schema markup. Search engine like Google will prioritize your website in rankings, and their users will be more likely to click on your result. Some top advantages to schema markup are:
Improved CTR: Schema markup improves CTR (click-through rate) on your website
Improved Marketing: Customers view a condensed version of your services, appealing more to niche consumers
Improved Rankings: Research suggests companies who use schema markup on their websites tend to rank higher than companies who refrain
Because schema markup isn't an official ranking factor, certain corners of the internet will dismiss its value. While it might not serve as a direct correlation to rankings increase, it certainly contributes to SEO in an indirect manner. Increased CTR, and a more informative SERP presentation will both drive metrics that do impact ranking.
As part of our SEO strategy, we exhaust all options that will increase client traffic, boost search engine rankings, and ultimately lead to sales conversions. To learn more about SEO schema markup for your HVAC website, call the best HVAC internet marketing company at (800) 353-3409. We are happy to discuss each of our services in detail and lay out exactly how they translate to success for your heating and cooling business.
Implementing Schema Markup on Your Website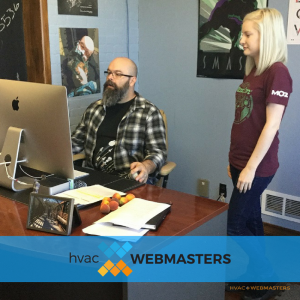 To implement structured data on your HVAC website, the assistance of a professional web developer is highly recommended. Though Google offers a Structured Data Markup Helper for anyone to use on their websites, complications can arise for people unfamiliar with HTML code. The last thing you want to do is risk destroying your entire website and set back your marketing campaign for months. If you are looking for a company that incorporates schema.org along with other internet marketing services like web design, content marketing, and social media, HVAC Webmasters is the perfect match for you.
Though a variety of options exist for your HVAC internet marketing needs, our familiarity with the industry makes us uniquely qualified to run your online marketing campaign. We have years of experience working with contractors just like you, which gives us a decided advantage over other marketing companies that lack that expertise. We have our ear to the pulse of your industry and are constantly evaluating new trends in 2020. Why place your trust in a generic marketing firm, when a superior one that focuses directly on the heating and cooling industry is right in front of you?
Call HVAC Webmasters today at (800) 353-3409 for SEO schema markup and structured data!