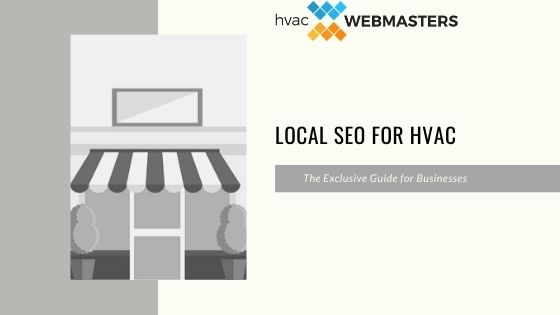 What is HVAC Local SEO?
Local SEO for HVAC is the practice of optimizing your HVAC business for local searches on Google and other search engines. Specifically, the practice targets Google Map 3-Pack rankings with your Google Business Profile and regionally-targeted landing pages for traditional organic results.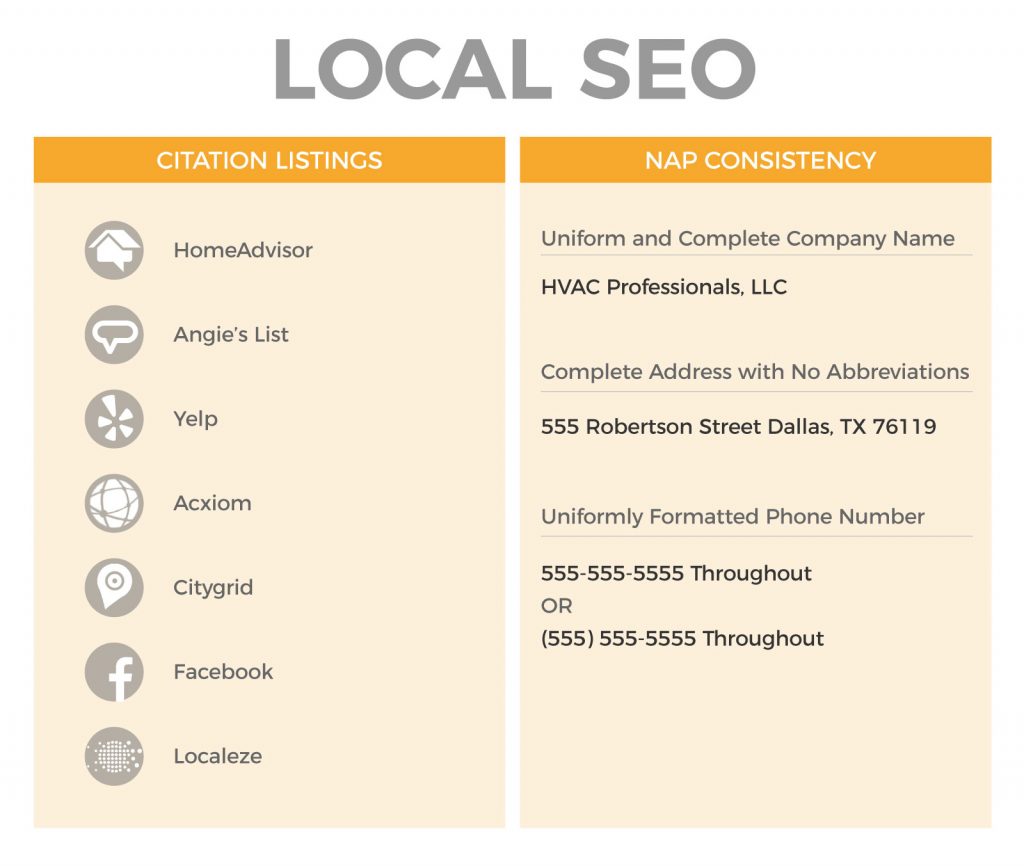 Local SEO encompasses various SEO practices, including NAP citations, Google Business Profile, and local website landing pages for HVAC companies.
Why HVAC Companies Need Local SEO
Local SEO is tremendously important, given how potential clients typically search for your heating and air services (by location). At HVAC Webmasters, we've worked with thousands of contractors over the past decade, producing favorable local results on SERPs. Check out some of our case studies to learn more.
Not only should your organic on-page and social media content include a focus on local keywords that rank well for geographic factors, but there are additional elements to local SEO that you can employ to help search engines like Google recognize where you are. This is what ensures you're prominently displayed in SERPs. Some of the local SEO elements that a strong internet marketing plan will include:
Citation Management
Google Business Profile management
Embedded Google map on Contact Page
NAP Consistency
Review Management
Schema Markup
You don't have to know how to execute these variables yourself to have a successful HVAC website. However, you need to leverage experts in local SEO (like us) who can dial in all the right pieces of the puzzle to make your site look strong and logical when Google is retrieving location-specific results for users.
MOZ listed these (and several other factors) when considering local search ranking results, and it's worthwhile to consider that some elements weigh more heavily than others for moving the dial on your SERP position.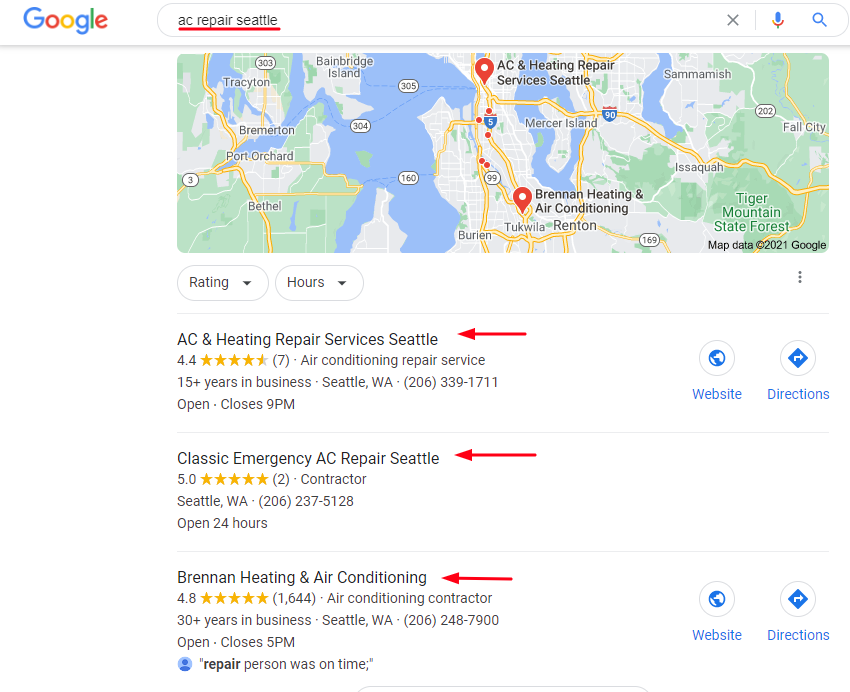 Google Map 3-Packs appear at the top of SERPs for most local queries like hvac contractor near me, ac repair services near me, and various other phrases.
Local SEO Ranking Factors for HVAC
Once HVAC companies understand the importance of ranking locally, they naturally wonder how to influence rankings. Google Maps and Google Search rankings are based on separate algorithms, so each will require unique solutions. That said, some aspects of each algorithm carry over to the other one.
Below, HVAC Webmasters outlines local SEO ranking factors for 2022. Mastering each factor gives your company the best chance to rank on both Google Search and Google Maps. Though Google's algorithm continuously evolves, it is important to establish a baseline of best practices for consistent growth in your industry.
Google Business Profile
Claiming and optimizing your GBP listing is critical to local SEO. You can claim your business here and start ranking on the Local Map 3-Pack. Of course, optimized listings perform far better than empty ones. You should ensure accurate contact information, upload unique photos, and provide answers to the FAQ. You should also enter your website URL in the appropriate GBP field.
Google Business Profile serves as your local SEO foundation, and without a listing, ranking becomes implausible. Sometimes HVAC companies have more than one listing, so you should merge the two listings. Furthermore, it would be best if you decided whether to list your address publically since most HVAC businesses are quality as service area businesses (SAB).
Your GBP listing will also serve as a central hub for your Google Reviews, which we will discuss below. You can share your review link in your marketing materials, email signature, and other promotional content. Google Business Profile reviews have the greatest influence over Google Maps rankings and increase GBP conversions.
Google Reviews
Generating Google Reviews is critical to local SEO success for HVAC companies. Google makes it easy to share your review form by providing you with a shortlink which you can then share with customers. Still, HVAC companies often forget to stay on top of the review generation process. Investing in a local SEO tool like DataPins solves the problem for good.
DataPins sends automated review requests to customers after finishing jobs. When customers leave Google Reviews, your company gains more credibility and converts more prospects. In addition to requesting reviews, DataPins also empowers contractors to perform jobsite check-ins.
If you provide enough service, customers may eventually leave negative reviews. A few negative reviews won't hurt your business, but responding to each review makes sense. Try to remedy their problems and ensure great service if they decide to come back and use your company. Remember that prospects are watching how you react to every review.
NAP Citations
The terms "NAP" and "Citations" are often used somewhat interchangeably, but the best way to understand these as critical elements for local SEO is to look at what they represent: Name, Address, and Phone (…N.A.P.). It's a no-brainer that potential customers searching for local HVAC businesses via Google will want easily-accessible contact information. Especially if the issue is emergent — such as a brokedown furnace in the middle of winter — a viewer needs to be able to find your phone number in a matter of seconds to get that repair in the works!
Not only is NAP data important for user experience, but it also demonstrates to Google that your site is well-developed, useful, and communicates contact information explicitly. This makes you a great fit for searches that invoke your stated service area (determined via location keywords or the address listed), which means Google and other search engines will give your site higher rankings to meet the need.
NAP isn't only important for your primary HVAC website SEO — including on-page content, thoughtfully designed Contact Page, and structured data usage — and for your secondary websites.
Think of social media business pages, Google Business Profile page, Angie's List page, etc., which are the citations for your HVAC business.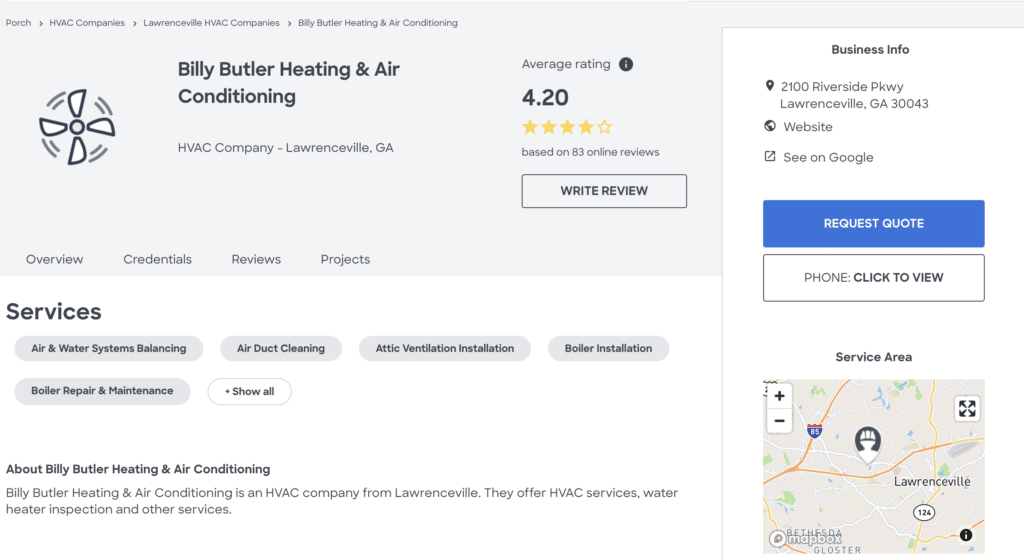 All of these potential entry points are opportunities to provide a great user experience by ensuring NAP is consistent, the pages are optimized, and you've managed citations across the web. This establishes authority and reliability regarding your overall web presence, giving your local SEO game a huge boost.
Local SEO Content
Organic content has a significant, long-term impact on your ability to rank well for local SEO. For Localized Organic Ranking Factors, the on-page signals count for 26% of your ranking score.
What does this mean? It's (hopefully) no surprise at this point that you have to have a good copy on your website. You can't throw up a single paragraph on a webpage about HVAC services and expect that to either inform your potential customers in any real way, nor will it reward you with a top spot on the search engine results page. I will go ahead and beat this point to the ground: Google wants what your site visitors want.
When potential customers click through to your website from the results page or a citation page, they expect to find relevant info. There is no value if you have generic or lackluster content or the content volume is minimal. You're not adding anything worth reviewing; thus, you aren't considered an optimal candidate for Google to serve up in the rankings.
We know that quality content is a must for HVAC businesses, but incorporating location keywords into the content will impact local SEO. It's one thing to kick butt for the keyword search "best heating company," but if the user follows suit with typical behavior, they're going to tack on their city name or zip code to get more tailored results. In fact, Google often prompts adding "near me" or even the user's city (based on location services).
You will not seem relevant if you haven't optimized your service area (or areas). Utilizing strong H1 tags with the city name alongside high-performing search keywords will help your site make leaps in bounds.
Domain Authority
Another factor to consider is Domain Authority. In a nutshell, MOZ's metric, domain authority, is a 1-100 ranking that can help gauge the strength of your site relative to other trusted domains via links. This means outgoing links to reputable organizations (such as unions, trade organizations, libraries, etc.) and incoming links that establish your content as traffic-worthy.
This doesn't mean you should engage in shady linkback tactics. Rather, it reinforces an organic SEO strategy that acknowledges good content, providing value for the internet and those who use it, as the lynchpin of an effective internet marketing campaign.
Since we're talking about local SEO, including links (or better yet, obtaining links to your well-developed on-page content) to nearby organizations that can bolster your local reputation and cultivate relationships is an awesome strategy!
User Experience
User experience always counts. If the bounce rate for your site is high — which means that viewers aren't spending much time on pages — Google interprets that as less-than-engaging (perhaps due to superficial content or slow page loading) and will penalize sites that don't seem to grab users.
On the other hand, HVAC mobile websites with a strong response via clicks to call will be perceived as helpful and relevant. Content must be good, and information must be accessible and accurate, but you've got to ensure that all typical user experience elements are also intact. This includes:
Engaging Design
Intuitive Site Navigation
Obvious "Call to Action" Buttons
Optimized Image Size For Device
Prompt Page Loading

A strong website UX contributes to local rankings just like it does with SEO in general. Click-to-call buttons are especially helpful to local consumers.
Local Keyword Optimization
Local keyword optimization is not unlike traditional SEO but focuses on local terms and phrases. Company websites will still want to follow standard optimization protocol, as the best practices remain valid when crafting a local keyword strategy.
HVAC Webmasters is a leader in online marketing for heating and cooling companies. We've worked with contractors in this industry for decades and know what it takes to market effectively to their core audience. Local keyword optimization consists of:
Body Content: Distribution of local terms throughout the body text
Meta Descriptions: Inclusion of local phrases within web page meta descriptions
Title / Header Tags: Placement of local keywords within title and header tags
URL Slugs: Disposal of local terms within URL slugs
Optimizing for local terms using the WordPress content management system is straightforward and intuitive. With WordPress, website managers can easily manage title and header tags, body content, and URL slugs. Internal linking is another tactic for emphasizing HVAC keywords.
Link to your most important pages from other internal pages, and use the anchor text for the keyword. Of course, ensure that your terms make sense to the reader and never engage in spammy keyword placement.

Keyword research for local SEO can yield lower search volumes with lower difficulties. Remember that many local queries don't register volume on research tools but still drive traffic to your website and GBP.