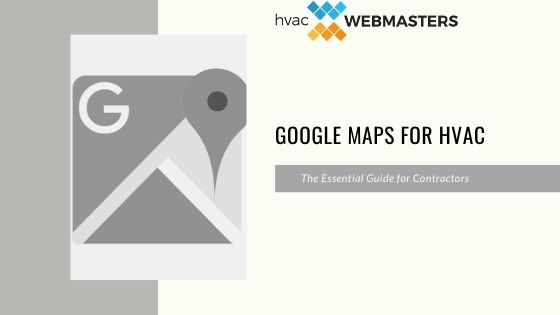 What is Google Maps for HVAC Companies?
Google Maps is a web mapping service from Google. In real-time, it provides ariel viewpoints, satellite images, and interactive looks at locations, streets, and neighborhoods. Additionally, it provides Local Map-Pack listings for business and service-related Google searches.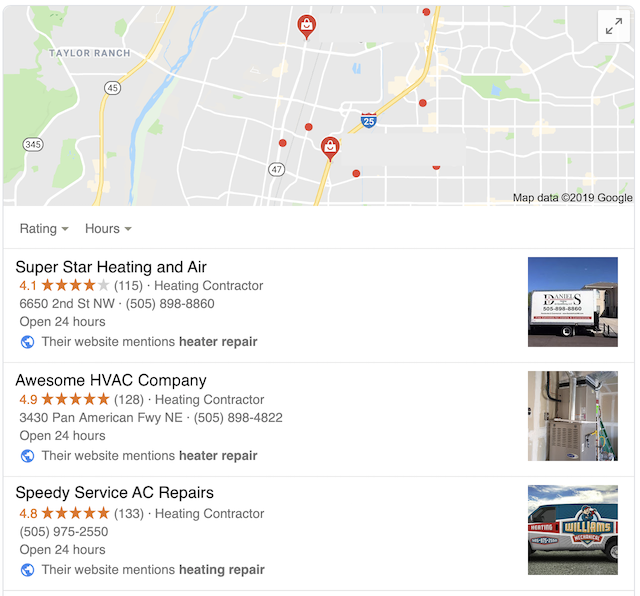 Top Google Maps rankings appear in the Local Map 3-Pack on Google SERPs for relevant queries like hvac contractor near me.
Why HVAC Companies Need Google Maps
Local searches make up over 80% of HVAC website clicks. Among those clicks, a great deal originates from Google's Local Map 3-Pack. Google delivers 3 Google Maps results based on their criteria and the searcher's location for local search queries. Getting your listing within the pack is critical to lead generation in 2023.
One of the biggest pain points we hear from new HVAC clients is that they cannot seem to get decent placement on Google Maps. This is a big deal because of how important this ranking factors into conversion rates for their potential customers. Luckily, there are steps you can take to improve.
Google Maps Ranking Factors
Google Maps rankings are based on three clear criteria: proximity, relevance, and prominence. Your business must master each to show up for various keyword terms within your service area. Let's take a closer look at each factor:
Proximity
How close your GBP address is to the searcher's location? Although you can't directly influence proximity once you have an address, there are ways to maximize your existing address for the best results.
Relevance
How closely related your business listing is to the searcher's query? For example, if someone searches for an HVAC contractor in Miami, FL, you can expect an HVAC Guys Miami business name to rank well on the Map 3-Pack.
Prominence
How well-known is your business, both online and offline? Google uses signals from external sources (like credible links and brand mentions) to calculate prominence and the most apparent signal of reviews. The more reviews your Google listing has, the more prominent your business becomes.
Google Maps Optimization for HVAC Businesses
Just like anything worthwhile, HVAC companies must put effort into ranking well. Whether you're trying to maximize your position on Google for mapping, organic searches, or both, you must put intentional work in to see results.
Realistically, most HVAC business owners don't have the time or the insight to spend regular hours on your website and overall internet marketing. Delegating your SEO strategy and implementation to professional webmasters can be beneficial.
Please don't waste time guessing what will work, or throwing many hours into your website over the course of a few weeks, only to abandon it the rest of the year. While we can't — nor should anyone else — claim to know a perfect recipe for making results happen, we want to share some insight that we've gathered over many years in this space, which had served many customers in increasing their rankings (on all fronts) and growing their businesses when nothing else seemed to work.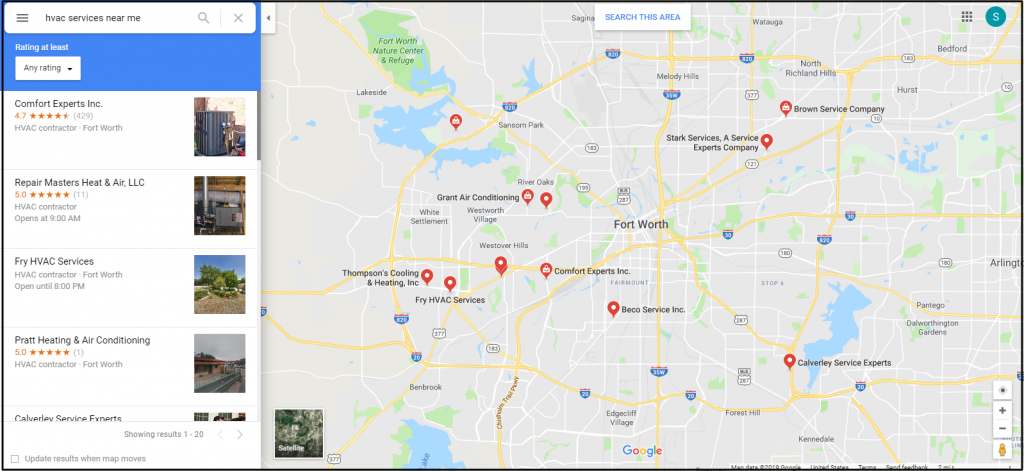 It's not a perfect science, but it's also not exactly throwing mud at the wall. Let's dig into some practical steps you can take to improve Google Maps ranking for your HVAC website.
Google Business Profile
The first step is to claim and optimize your Google Business Profile (GBP) account. It's important to verify that everything listed about your business is correct, relevant to HVAC, and consistent with how you're represented across the web.
So don't feel the need to make the GBP page unique from your website; don't do that. See one as an extension of the other, with a perfect agreement regarding basic business info (such as NAP: name, address, phone number), services provided, and company focus.
We always recommend maxing out the available fields for citations across the web, and GBP is a great place to put it all out there. Don't forget attributes, photos, hours of operation, and service area. You can also add FAQs, a great way to add meaningful content and anticipate your customers' needs.
NAP Citations
Citations are everywhere you show up on the internet for your business, such as Angie's List, Better Business Bureau, Yelp, etc. On any given citation page, you generally have the opportunity to "claim" or manage that listing, ensuring that the correct information is listed for your business.
NAP refers to the name, address, and phone number and is the minimum information you need to appear in the undercurrent of Google's records across the web. You can generally include other data, such as your website URL, which can help with HVAC SEO rankings.
For example, don't use the website field to add a link to the AC repair page of your website in hopes that traffic will boost that page in rankings. Those citation links are often "nofollow" and don't count toward rankings. Not to mention, you know that the user intends to find your home page and go from there, so serve up what the customer wants.
Website URL
Perhaps the most undervalued aspect of Google Maps ranking is your attached website URL. When ranking the attached listing, Google considers the strength of your website, particularly its content and link profile. For example, a strong HVAC company website attached to your GBP listing can help you outrank a competitor with a lesser website.
We mentioned content and links as the major signals from your website to your GBP listing. Google scans your homepage menu to find keywords related to local queries. If Google knows you provide services like AC repair, air duct cleaning, etc., they will rank you for those on Google Maps.
If you publish vanilla, generalized content, you will fade into the background with the zillions of other vanilla HVAC web pages. We know you can't afford that, and if you're frustrated with subpar Google Maps placement, quality content could be an area you need to bolster for better results.
Business Address
Your GBP address directly impacts proximity to the searcher's location. HVAC companies can hide their address by checking the box for a service area business (SAB). Since most HVAC companies don't have a storefront business, the SAB options may be appropriate. That said, research shows that businesses that keep their address public perform better in search results. 
In either case, your address must be legitimate. You cannot utilize a virtual address or share space for your GBP listing. Google may suspend your listing, which eliminates you from search results entirely. You can apply for reinstatement but must prove that your business truly exists at the questioned address.
Google Reviews
It would be best if you generated as many Google reviews as possible for your HVAC business. You can share your review link by clicking "share review form" on your GBP profile page. You can include that link in marketing materials like your email signature, newsletter, and even on your website. You can also use software like DataPins to send automated requests.
While nobody wants bad reviews, some customers will inevitably leave less than 5-star reviews. An aggregate rating between 4.5 and 4.9 is ideal since some customers may become suspicious of a perfect 5-star rating. If you get a bad review, respond professionally and offer to remedy the situation, if possible. You should also respond to good reviews.
Google Posts
Publishing Google Posts further optimizes your listing and can also increase conversion rates. Have a summer special? Create a Google Post. Running a local contest? Create another Google Post. Think of Google Posts as social media for your Google Business profile. While they don't directly impact rankings, they can affect engagement.
If you are unsure how to create a Google Post, follow this guide. You'll find the process simple and something you can do within minutes. You can even attach a call now button or sign-up button to get immediate conversions.
Ranking Outside Your Main Service Area
HVAC companies often ask about ranking in cities outside their main service area. If your address exists in Frisco, how can you rank in Dallas? The best way is to install DataPins Local SEO software on your website. DataPins offers check-ins that produce schema markup that validates your location pages. In other words, Google can recognize jobs you've done in Dallas through your check-ins and schema code.
Another option for trying to rank better on mapping for a city outside of your own is to…well…move to that city. Sometimes moving your business is the best option for Google Maps ranking. However, companies without this option can still maximize their presence in other service areas with DataPins.
Competition is fierce for those operating in a large metropolitan area, and the map view for HVAC repairs in a given area will be much more concentrated. You must pull out all the stops regarding location marketing, and optimizing with cities as part of your keyword strategy will be vital.
Local Mapping Services For HVAC Contractors
We like to go above and beyond for our clients at HVAC Webmasters. Although optimizing business listings is important, it is not the only element determining local search rankings. With this in mind, after we set up business listings, solidify NAP information, and optimize your website citations, we continue to other elements that can improve your local ranking. Some of them include:
DataPins: Local SEO software that allows contractors to perform jobsite check-ins and automat review requests, included for every client
Link Building: Establishing quality backlinks from local authorities can improve your local search visibility
Review Management: Encouraging reviews with automated requests and monitoring reviews on Facebook, Google, and Yelp
Schema Markup – We can expand online visibility through schema.org and structured data markup
Every local business should now have a functional mobile website that is optimized for local keywords. If you aren't receiving the number of local leads you require to run a profitable business, now could be the time to change marketing services. 2023 can be a fresh start for your HVAC company.
The HVAC Webmasters' experts have years of experience researching and implementing this SEO component for local HVAC contractors and companies. We perform mapping services to earn trust with Google and other search engines and boost customer traffic and encourage more sales conversions.