What are HVAC Leads?
HVAC leads are prospects who show interest in heating and cooling services. An individual or business can demonstrate an interest in multiple ways, including submitting a contact form or placing a phone call. Once your company acquires the prospect's contact information, they are commonly referred to as a lead.
Lead quality varies by provider and technique. Many brokers, for example, sell a prospect's information to multiple contractors. These are known as shared leads, which convert at a lower rate than exclusive leads.
Sales Leads for HVAC Companies
As an HVAC contractor, leads are the lifeblood of your business. To make money, you need jobs. Everything invested in online marketing is rooted in lead generation. Think about it, SEO, PPC, Social Media, and Website Design all share a common goal.
As a result, HVAC SEO Webmasters uses a system proven to produce unlimited leads.
Google Ads campaigns are fruitless if they fail to produce new clients. Worse, ad spending amounts to a negative ROI by losing money without receiving any benefit. As small business owners can tell you, sustainable growth wins the race. Let's take a look at some components of online sales leads for HVAC contractors.
You're only reading this page right now for one reason: you need more sales for your business. Like every other HVAC contractor in the country, you pursue avenues to get more clients. The problem with lead generation is that 3rd-party providers understand your needs and may exploit them.
It is critical to know who to trust and who to avoid. After all, this is your primary source of income in most cases, and investing money in the wrong agency can cost you your business. HVAC Webmasters offers several all-inclusive internet marketing packages designed for the needs of the HVAC contractor.
We work with you to identify marketing needs and create a customized package with strategies and techniques to boost your company's lead generation. Our experts provide a combination of web design, SEO, quality content, and citations to deliver scalable results.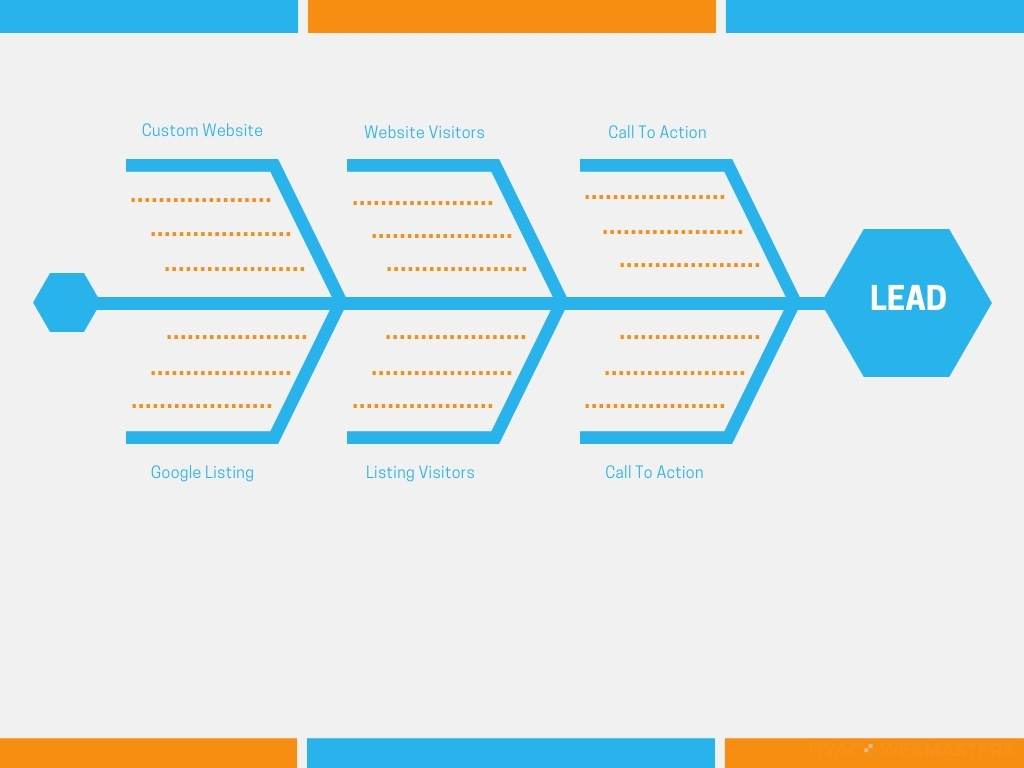 By offering an unlimited leads service, we produce a system that gets conversions for our clients. You'll receive SEO, citations, GBP optimization, and web design, which translate into consistent lead generation. We also provide professional PPC campaign management, so you can acquire leads from every channel.
Buy HVAC Leads in 2023
Our system is an ideal fit for those looking to buy HVAC leads. Some companies will charge you for shared leads while, in contrast, HVAC Webmasters charges only for exclusive leads. Best yet, we create a branded presence for your company online so that customers pursue your services rather than a 3rd-party.
Our staff makes sure that prospects originate from our marketing campaign. We screen every lead call to ensure proper attribution and campaign optimization. Our system uses decades' worth of data to target the right consumers.
Some lead-gen companies are pretty sketchy. They charge you an upfront fee without promising a favorable outcome. Once they have your money, their incentive to produce results decreases. Sure, they'll eventually lose your business, but the contractor takes the greatest risk.
Exclusive HVAC Leads
Not all online leads hold the same value. For example, shared leads are far less valuable than exclusive HVAC leads. For those unfamiliar with the differences, shared leads are available to several or more contractors, who must defeat one another for the same customer.
In contrast, exclusive leads are open to one company only, so you can secure the sale without worrying about immediate competition. While the customer may still find a competitor later, you have every opportunity to close the deal.
For HVAC contractors who've used shared leads in the past, exclusive leads are more appealing. Shared leads are a nightmare for home service companies. Competing for a single lead is a tall task, even for someone whose sole responsibility is sales conversions.
Not to mention, many HVAC businesses take sales calls themselves and rarely have time to fight off every other AC maintenance expert in the city. Save yourself the headaches, and invest in exclusive prospecting.
How To Get Free HVAC Leads
You can get free HVAC leads through Google Business Profile by ranking your listing in the Local Map 3-Pack. Since Google Business Profiles are free to claim, you can start ranking for relevant keywords like ac repair near me in your local area. Google's local algorithm considers proximity, relevance, and prominence, so it helps to get Google reviews and complete every part of your business profile.
If you can rank on the 3-Pack, you are getting free leads consistently because you don't have to pay any kind of monthly fee for your Google Business Profile. Of course, most of the top-ranking GMB listings also invest in on-site SEO since it contributes to the prominence ranking factor. As a result, you should still work on your AC company website to maximize your local rankings.
Does SEO Generate HVAC Leads?
HVAC companies optimized for online search generate leads at a much higher rate than their competitors. From Google Maps listings to organic search results, the chances of receiving a click and a call from online consumers skyrocket if your website ranks well. But SEO's relationship with leads is even more meaningful than that. Exclusive leads come through a custom online marketing campaign. Contractors can create leads through:
Company Website
Google Maps Listing
NAP Directories
Social Media
SEO has evolved quite a bit over the last decade. Once a market inefficiency, utilized only by a small percentage of HVAC contractors, has now become a part of every marketing department. With a more evolved Google algorithm and a massive increase in competition, generating leads from search engine optimization requires consistent and detailed actions. The good news is that HVAC Webmasters can complete these actions with precision and regularity.
SEO + CRO = Lead Generation
For internet marketing, step one is solid website design and structure. Step two is implementing SEO elements for lead generation. The third step is something known as conversion rate optimization. CRO and SEO work together to produce the valuable leads that every contractor covets. We optimize conversion rates through the following:
Calls to Action: Placing phone number links within your search-optimized content promotes conversions
Content Engagement: Users won't stick around for the call to action unless engaged by the content that brings them there
Funnel Measurement: Using Google Analytics, web managers should breakdown every point of the conversion funnel process to improve areas of high dropout rates
Information Relevance: Your SEO should focus on relevant keywords so that visitors will have already shown interest in your services before they enter the website
CRO and SEO must work together. Each component requires investment to produce leads for HVAC contractors. Of course, your office's job is to close the deal and convert customers. Leads produced as a result of HVAC Webmasters' services are exclusive to your company and are relevant to your services and service area.
Best Way to Get Exclusive Leads
There is no one solution for getting more customers in 2023, but organic SEO is still the best long-term strategy for your business. Why? Because the ongoing cost is minimal when compared to PPC.
Recent local search updates allow HVAC contractors to earn premium local listings within months. Despite this exciting development, balancing your SEO efforts with other channels is crucial. Whether Google Ads (Formerly AdWords) or Facebook Ads, there are always ways to supplement traffic and while organic SEO marinates.
Hiring an HVAC lead generation company to handle each channel is ideal for contractors and companies alike. For example, direct mail and door-knocking can only go so far. Nearby residents check your online reputation before using your services, whether you were polite or not. Without an online presence, your conversion rates remain relatively low.
Content Marketing for Leads
Content marketing is widespread because it is cost-effective and yields tangible results. Developing high-quality content is an excellent strategy for contractors looking for more leads in 2023. Of course, most home service contractors don't have time to produce long-form content that's worth readers' attention.
Our team of SEO experts can assist you in every aspect of the content development process. Some of the ways we distribute content include:
Blog Posts: Monthly blog posts keep content circulating on your website, making your website continuously active
Citation Listings: Managing your citations from online directories ensures that your company presents itself professionally and is easy to find
Website Pages: We use schema and structured data to design a quality website with high SEO potential
Leads drive every heating and cooling business. But it's not just lead quantity that makes a difference; it is lead quality. While each technique can produce maximum lead generation, proper execution ensures success.
HVAC Webmasters provides a complete campaign strategy and implementation for your lead generation platforms. We provide detailed reports that tell you exactly where your traffic comes from and provide experienced guidance on the next steps. As a result, your marketing efforts always return the best results possible.
Commercial HVAC Leads
HVAC companies specializing in commercial repairs are looking for leads within that niche. Residential leads won't help a commercial HVAC contractor and vice versa. Of course, some contractors are experts in both fields, and either lead type would be a welcome acquisition.
Regardless of your specialty, HVAC Webmasters' plan will deliver. We work with commercial contractors throughout the United States to capture the best customers in 2023.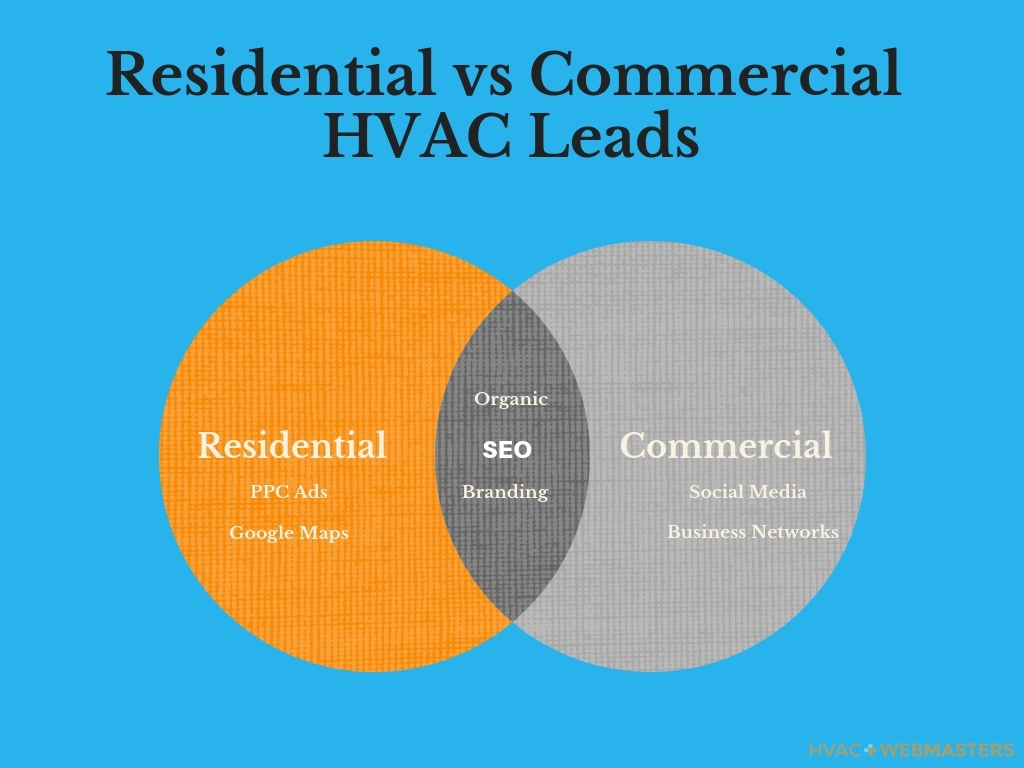 Commercial HVAC leads can be more challenging to come by than residential ones. Corporations often show different behaviors when searching for HVAC services. Unlike a homeowner, who might do a simple Google search of ac repair near me, business owners are more likely to confide in their network of professionals. Online networks include LinkedIn, Facebook, and other social networking platforms. Branding efforts have become critical in this space.
How to Get More Leads
Everything from custom web design to search engine optimization is part of the online lead generation process. Each of these tasks is important to generating leads for your HVAC business. Whether it's driving relevant traffic to your website through on-page SEO or converting those visitors with conversion rate optimization, it all helps the process.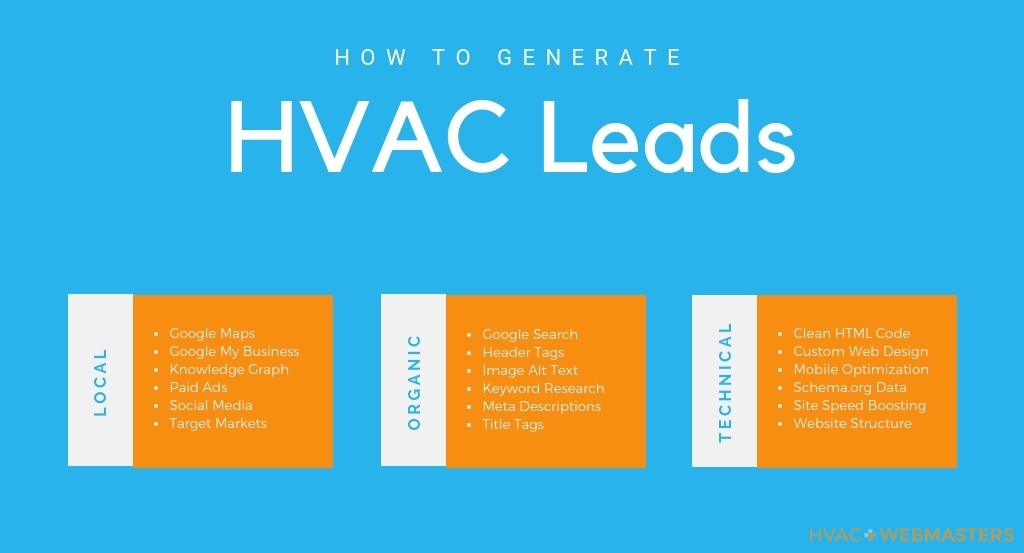 Word of mouth used to be one of the largest promotional factors. Today, word of mouth exists online. Similarly, newspaper ads used to be a goldmine for home service workers, while today, those ads have transitioned to Google, Facebook, and YouTube.
In congruence with technological advancements, the average consumer has become smarter and more selective when choosing AC and heating services. It's your job to make them feel like your business is the ideal choice.
Lead Sources
There are many sources for leads. Some traditional ones like word of mouth, print, radio ads, and television infomercials have become mostly obsolete. Newer ones like organic search, Google Business Profile, Google Ads, Pay Per Call, and Facebook Ads are alive and well.
Other sources like Instagram and YouTube are on the rise. The heating and cooling industry is in high demand. Because furnace problems are common during winter, and AC problems are problematic during summer, opportunities are ripe.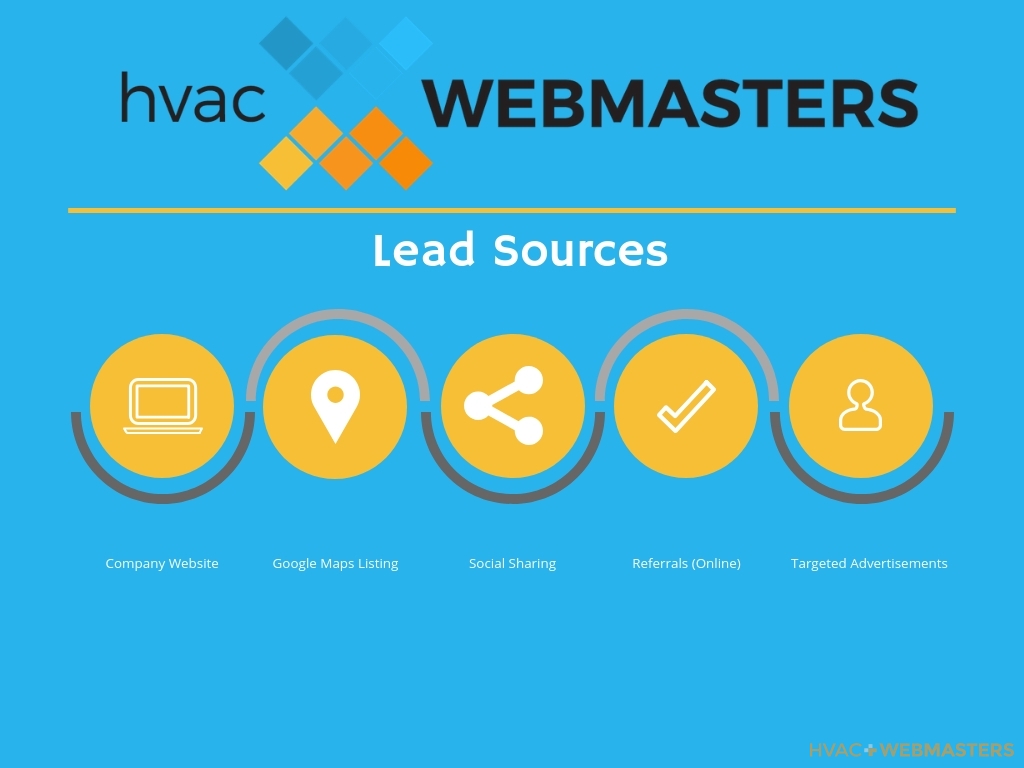 HVAC Webmasters identifies each source; organic, paid, social, etc. … and ensures optimization to keep your business in good standing with Google and its users. The goal for every contractor is to generate more online leads and increase clientele. We put you in a position to do this by diversifying your lead sources and encouraging visibility.
HVAC Sales Techniques
Converting leads to customers requires sales skills. The first step is on us, which is to bring you the highest quality leads who have shown interest and your service. Converting these kinds of consumers is exponentially more likely than with other forms of leads. Still, you must do a few things to increase the probability even more. As a sales closer, which in many cases is the HVAC contractor, you should consider some sales techniques below:
Ask Questions: Learn the potential customer's concerns
Be Conversational: Build trust by conversing as a helpful correspondent
Range Pricing: Offer a range of prices rather than a single price point
In 2023, most consumers reject disingenuous tactics. Furthermore, they have options to vet companies before agreeing to invest. However, with unlimited leads, your prospective customers already have a good idea of what your company offers. Pre-sales trust contrasts with a typical outbound cold call, which usually ends in the call recipient telling you off.
HVAC Lead Generation Ideas
Aside from the services included in our unlimited plans, we also provide additional lead generation services. For example, targeted Facebook advertising is a lead generation task. Your content reaches more people; you can target by demographics, location, and interests. Lead generation ideas include:
Advertisements
Contests
Raffles
Sponsorship
Sponsoring your local little league team or another local group can generate leads. However, there are no guarantees. The difference in trust-building today is that there are more checks and balances. Associating yourself with community members is no longer enough to persuade a prospective buyer.
Prospects check your business online, and you lose phone calls if they find 1-star reviews berating your services. As a result, attending to your online reputation can enhance every other aspect of your promotional campaigns, both online and offline, in 2023.
Are Leads Overhyped for HVAC Companies?
Most companies overrate shared leads because contractors don't need the nightmare of fending off ten competitors for the same lead. Since most companies offer only shared leads, exclusive value is even greater. As a result, exclusive prospects are in greater demand and lower supply. Furthermore, they increase the conversion rate of a sales call exponentially. Make sure you find a company that offers exclusive leads.
Lead generation is one of the most critical aspects of your HVAC business. To survive in this business, you need clients. To get HVAC customers, you need service leads. It's a straightforward idea that every contractor understands. The challenge is finding legitimate companies to provide the prospects. HVAC Webmasters can solve your problem today.
Get More HVAC Leads Today