---
Hey, I'm Nolen Walker, founder of HVAC Webmasters, with over a decade of experience in the lead generation industry. I'm going to tell you a little secret about HVAC Leads – they aren't what you think they are!
The act of buying HVAC leads from 3rd parties is counterproductive to business growth. I know this based on 10+ years of working directly with HVAC professionals, many of whom have grown their businesses and tripled their revenue.
There's a much more effective way to generate sustainable heating and cooling leads for your business.
Below, I outline precisely how they did it and how you can do it too!
---
How to Get HVAC Leads in 2023
As the owner of a marketing agency that has worked with thousands of heating and cooling companies over the past decade, I've tracked the most popular ways to get HVAC leads:
Buy HVAC Leads From 3rd Party Lead Brokers (Not Recommended)
Invest in a Business Website and SEO Strategy
Boost Google Business Profile (GMB) with Reviews and Rankings
Get Referrals From Existing Customers and Other Businesses
Paid Advertising on Google, Facebook, and Other Platforms
---
---
My HVAC Lead Generation Recommendation Based on 10+ Years of Experience

Best Way to Get Qualified HVAC Leads
The best way to get qualified HVAC leads is to establish an online brand through SEO, a website, and Google Business Profile.
---
How to Target The Most Valuable HVAC Leads
Not all HVAC leads hold the same value. When you buy leads from a 3rd party broker, they are primarily considered "shared leads," meaning you compete against other local contractors to close the sale. Shared leads have lower conversion rates and lower repeat customer rates, decreasing their lifetime value.
Conversely, exclusive HVAC leads are those that you generate through your own brand. This can include your business website, Google Business Profile, referrals, yard signs, social media, and other platforms. These are the leads you want to target because they have higher conversion rates and repeat customer rates.
---
Exclusive HVAC Leads
You can get exclusive HVAC leads by investing in a branded online presence. This starts with investing in a business website, search engine optimization, Google Business Profile (GMB), and social media profiles. Once you establish your brand online, you will begin funneling in exclusive HVAC leads.
---
---
Commercial HVAC Leads
Commercial HVAC companies typically enjoy higher ticket services but also face a greater challenge in generating leads online.
Unlike a homeowner, who might do a simple Google search of ac repair near me, business owners are more likely to confide in their network of professionals. In addition, branding efforts have become critical in this space.
As a result, commercial HVAC companies must gain exposure where their clients are most active, including Facebook, Linkedin, and YouTube.
---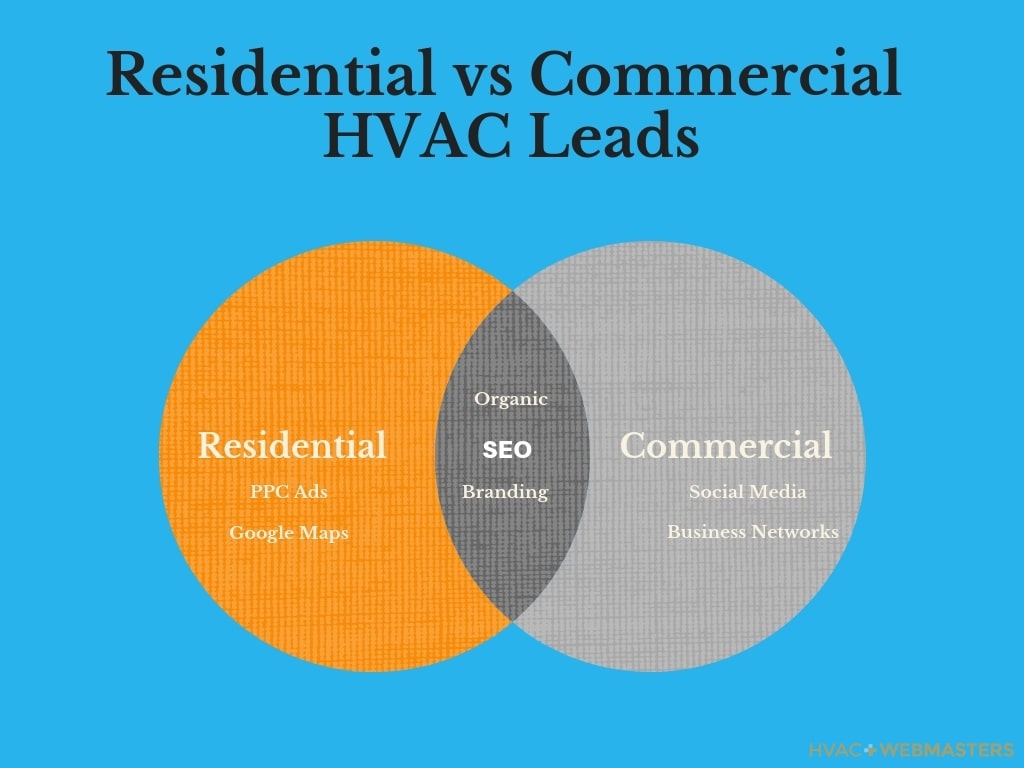 ---
How To Get Free HVAC Leads
You can get free HVAC leads through Google Business Profile by ranking your listing in the Local Map 3-Pack. Since Google Business Profiles are free to claim, you can start ranking for relevant keywords like ac repair near me in your local area.
Google's local algorithm considers distance (proximity), relevance, and prominence, so it helps to get Google reviews and complete every part of your business profile.
If you can rank on the 3-Pack, you are getting free leads consistently because you don't have to pay any kind of monthly fee for your Google Business Profile.
Of course, most of the top-ranking GMB listings also invest in on-site SEO since it contributes to the prominence ranking factor. As a result, you should still work on your AC company website to maximize your local rankings.
Word of mouth used to be one of the largest promotional factors. Today, word of mouth exists online. Similarly, newspaper ads used to be a goldmine for home service workers, while today, those ads have transitioned to Google, Facebook, and YouTube.
In congruence with technological advancements, the average consumer has become smarter and more selective when choosing AC and heating services. It's your job to make them feel like your business is the ideal choice.
---
The Truth About Whether You Should Buy HVAC Leads
Helpful consultants are sometimes tasked with telling hard truths. In this case, I must tell you that you SHOULD NOT buy HVAC leads in 2023. I am telling you this out of respect for your business and because I want you to succeed. You can check out the video below to learn more about my reasons.
---
---
Cost of HVAC Leads
The industry cost of HVAC leads ranges from $5 to $1,000 depending on lead source, location, service type, and brand notoriety. Companies with established brands drive their cost per lead (CPL) down to the lowest end of the range, while contractors that pay per lead pay on the higher end of the spectrum.
---
Best Lead Sources for HVAC Companies
There are many sources for leads. Some traditional ones, like word of mouth, print, radio ads, and television infomercials, have become mostly obsolete. Newer ones like organic search, Google Business Profile, Google Ads, Pay Per Call, and Facebook Ads are alive and well.
Other sources like Instagram and YouTube are on the rise. The heating and cooling industry is in high demand. Because furnace problems are common during winter, and AC problems are problematic during summer, opportunities are ripe.
HVAC Webmasters identifies each source; organic, paid, social, etc. … and ensures optimization to keep your business in good standing with Google and its users. The goal for every contractor is to generate more online leads and increase clientele.
---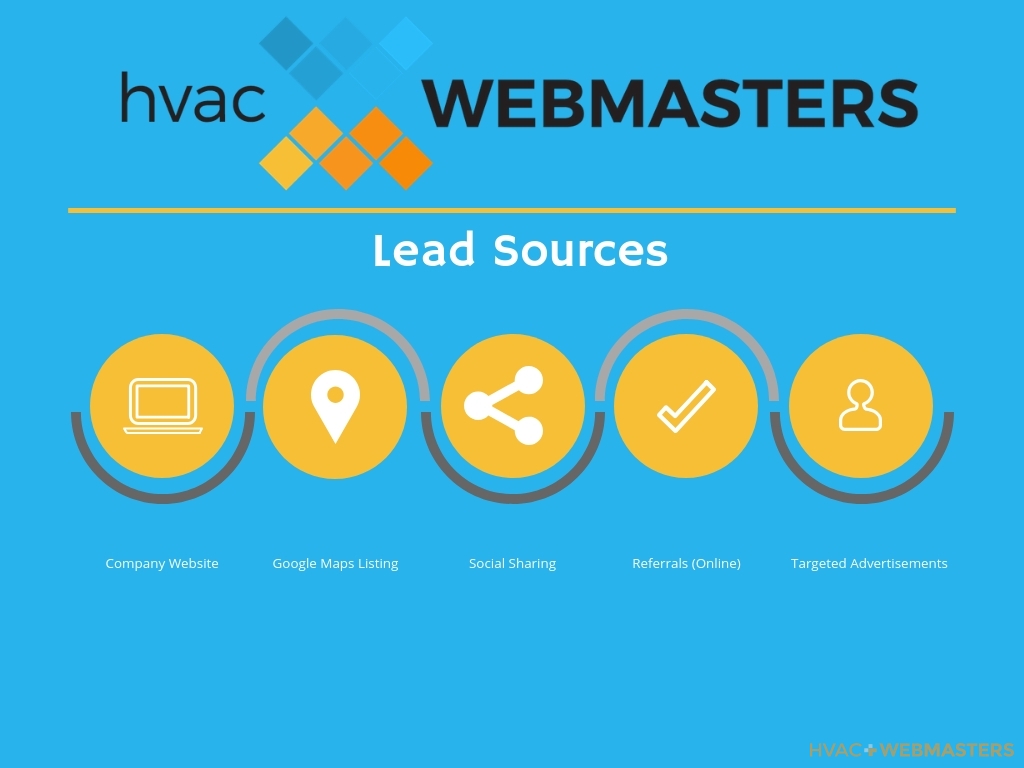 ---
Organic Search (SEO)
Your best bet for qualified HVAC leads is organic search, AKA "SEO." The consumer searches Google for something like "ac repair services," and your website shows up at the top of the search results.
Most companies only go after the major terms like "heating repair," but the key to success is targeting long tail keywords like "trane ac unit repair services," which account for more than half of all search clicks.
---
Google Business Profile (GMB)
Your Google Business Profile is an extension of organic search because it can appear on search results within the Map 3-Pack. With that in mind, you want your business profile to rank for the same keywords that your website does so that your listing appears on top of search results within the Local Pack.
The one factor most HVAC companies overlook is the impact of the business website on the Google Business Profile ranking. Google scans the content on your website when ranking your business profile. As a result, these two entities are closely related and must be optimized synergistically.
---
Google Ads
So many AC companies are skeptical of SEO because it takes too long. While the industry cliche that "SEO takes 6 months" is not accurate, it can take several months to see consistent results. During this period, it's worthwhile to invest in Google Ads, often known as Pay Per Click.
Too many contractors rely on PPC for long-term lead generation when its best function is supplementing your SEO presence in the short term. Be careful who you hire to run your Google Ads campaign, as they may lock you into long-term agreements or engage in shady tactics like black-box billing.
---
Facebook Ads
Facebook Ads offer many of the same challenges and benefits as Google Ads. The main difference is that your Facebook advertisements must rely more on visual content. Consider recording a video of you and your staff that can peak the engagement of future clients.
An additional benefit to Facebook Ads is that your advertisement can also appear on Instagram. You can reach lots of potential customers through lookalike audiences and even capture their contact information via Facebook Lead Ads. Much like Google PPC, Facebook Advertising is primarily a short-term strategy.
---
Next Steps for HVAC Lead Generation
After consuming my step-by-step blueprint for HVAC lead generation, you are equipped with the knowledge to begin the process yourself.
I challenge you to take the first step today by purchasing a domain name for your HVAC business and claiming your Google Business Profile.
If you've already done both of those things, I challenge you to invest in SEO services from a reputable agency that specializes in heating and cooling.
Regardless of where you are on your lead generation journey, I am here to provide helpful insights to maximize your results.
Get More HVAC Leads Today
---
---