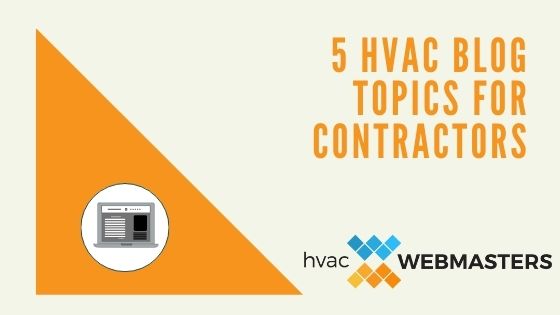 Steal These 5 HVAC Blog Topics
4 Great Advantages of Preventative A/C Maintenance
7 Healthy Ways To Reduce Home Allergens
9 Refreshing A/C Tips for Summer
6 Best Heating Units for Energy Efficiency
3 Tips for Choosing The Right HVAC Contractor
What is an HVAC Blog?
An HVAC blog is a series of posts published on an HVAC website, typically in chronological order. A website may exist solely as a blog or feature a blog as an extension of the leading site, as is the case with many HVAC company websites.
Best HVAC Blog Topics for 2023
So you can't think of any topics for your HVAC blog? Have no worries; HVAC Webmasters will present five great blog topics you can use on your HVAC company website. These topics may also spark additional ideas for new topics that you can use as future blog posts.
Take a look at our five blog topics below:
1) Advantages of Preventative A/C Maintenance
Urging people to invest in preventive a/c maintenance can help drive business to your company. If people understand the risks of ignoring their HVAC units, they may feel inclined to pay more attention and spend on regular services.
The goal is to convince readers that short-term maintenance costs less annually than waiting for major HVAC repairs. 
2) Ways To Reduce Home Allergens
Part of blogging is casting a wider net than your specific service pages. People know when they need AC repair, but what about other cases where they could benefit from your services? One of the most popular is reducing home allergens.
Homeowners want to live a better lifestyle, and declining home allergens can help them achieve that goal. Outline how HVAC services can help them combat allergies.
3) A/C Tips for Summer
Seasonal blog posts can help keep your content fresh, and readers engaged. Summer, in particular, is a great time to post about air conditing tips. For scorching climates, posts like these can lead to readers investing in your AC repair services.
If nothing else, you can generate excellent seasonal traffic that tells search engines how users engage with your content.
4) Best Heating Units for Energy Efficiency
Remember when we said that readers want to save money? The same notion applies to any blog post about energy efficiency. Aside from younger homeowners being more environmentally conscious, all homeowners want to save money.
So write your post introducing them to the most energy-efficient heating units, and you may find yourself with some new customers.
5) Choosing The Right HVAC Contractor
For the most part, blog posts should serve the reader and not blatantly endorse your own business. However, you can craft a post about choosing the right HVAC contractor. Explain what should go into their decision-making, whether they choose you or another business.
If you can subtly indicate how your company meets its needs, they will likely pick your services over competitors.
Blogging Guide for HVAC Companies in 2023
Most successful HVAC companies don't have time to publish regular blog posts while managing their HVACR business. As a result, contractors often ask questions like, how do you find blog topics? How do you find time to write blogs?
The solution for most companies is to hire a content marketing agency to write and publish blog content in 2023. 
Choosing Additional Blog Topics for HVAC Companies
HVAC Webmasters provided five cant-miss topics for your heating and cooling blog, but eventually, you'll need more posts. That's why we will outline how anyone can find vital blog topics that bring in traffic through Google search.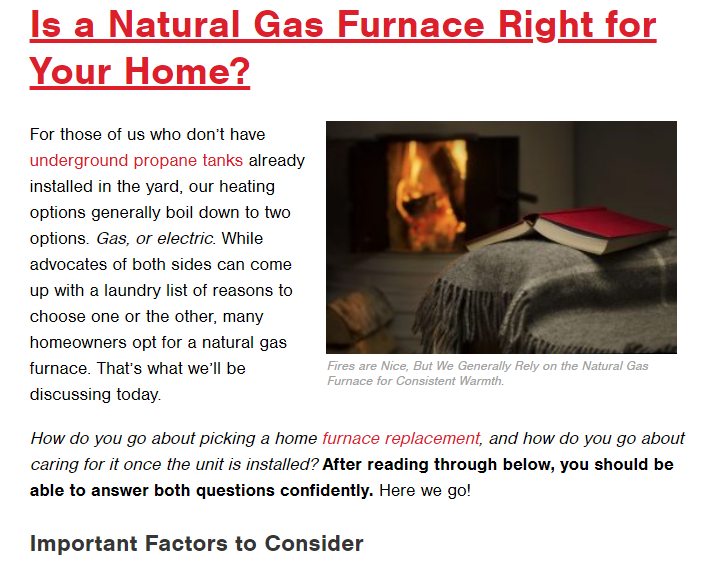 Keyword Research
The best way to find blog topics is through keyword research tools like MOZ and SEMRush. You can find your competitor's blog topics by seeing what keywords their domain ranks for. You can also research primary keywords like HVAC and AC Repair to see which related keywords come up.
Some of them may spark an idea for a new blog topic. If you have a general idea in mind, search for the phrase and try to identify the highest-volume keyword relating to that topic.
Enter your competitor's website URL into a tool like Moz Keyword Explorer to see which informational queries they rank for on Google. You can find lots of potential blog topics using this method.
Keyword Cannibalization
One thing to avoid is keyword cannibalization. For example, if you already have a service page titled AC repair in Dallas, TX, you don't want to write a blog post with the same title.
Generally speaking, your blog posts should not offer services but rather explain different aspects of your services or answer common questions. 
Topical Clusters
Blog posts should be more conversational than specific service pages. However, if you find yourself covering a similar topic as one of your service pages, be sure to link from the blog post to the service page to build topical authority.
Google will then choose which of your pages to rank based on the user's query. For example, AC repair services should bring up your service page, while something like AC problems during summer should bring up one of your blog posts.
The Purpose of HVAC Blog Posts
You may ask yourselves whether blogging is even worth it for HVAC companies. After all, limiting your content to service pages would require much less effort. However, to answer that question, you must first understand the function of a blog for a website, specifically a service-based company website.
Blogs Serve as Linkable Assets
You may or may not know much about link building for HVAC, but it can influence your website rankings on Google search. Building links without blog posts may be dangerous since most websites aren't going to link to a page about AC repair.
More sites will, however, rank to a post about common AC problems, for example. With this in mind, blog posts can serve your website with links, regardless of whether they bring customers directly.
Blogs Keep Your Website Fresh
For years, the SEO industry harped on Google's freshness ranking factor, which gauges how frequently a website is updated. While the initial craze was misleading, blog posts can freshen your website and encourage regular crawling from search engines.
While this won't guarantee you a specific ranking position, it will showcase activity and likely increase user engagement. Thus, blog publishing has a minimal downside as long as you steer clear of repetitive content and keyword cannibalization.
Blogs Are Worth Sharing on Social Media
Another excellent benefit of blog posts is their shareability on social platforms. You wouldn't want to share a service page on your Facebook timeline, but you would like to share an informative blog post.
Users are more likely to engage with blogs on social media because of their catchy headlines and conversational tone. Who knows, one of your posts may even go viral in 2023.
More HVAC Blog Ideas for 2023
Still not convinced that blog posts will be worth their trouble? We understand your concerns. After all, if you review competitor blogs, you might find several thin posts that seem like a waste of space and energy.
Not all blog posts are worthwhile, but consider some ideas to ensure your posts make a difference.
Embed Videos Within Your Posts
Consider embedding YouTube videos within your blog posts if you want to catch people's attention. For example, recording videos of your jobs may be realistic with modern phone technology.
You might even outline a specific job in one of your blog posts and keep users engaged with the attached video. Google loves rich media, and when combined with informative text, it can boost search rankings.
Create Funnels Using Blog Posts
Another great idea is to use a blog post at the top of your sales funnel. You can think of a blog post as casting a wide net on potential customers. The post itself won't create a sale, but it may place the reader in a funnel that results in an eventual sale.
One way to build a great funnel is to create internal links to your service pages from within the post.
Another option is to install a pop-up plugin that launches a pop-up on your blog posts. Users will then submit their contact information in exchange for a discount code or something to that effect.
Blog Post Alternatives for HVAC Companies
Since the SEO value of blog posts has decreased over time, HVAC companies should look for other content types to enhance their website's SEO. The best option in 2023 is DataPins which enhances EEAT (experience, expertise, authority, and trustworthiness) and increases on-site conversions.
DataPins showcases recent jobs from your service and routes them to the appropriate website page. For example, your furnace repair service page will showcase your most recent furnace repair jobs.
The more pins you drop (which include schema markup, geo-coordinates, captions, and photos), the higher you can rank for relevant keywords.
Demonstrating E-E-A-T Through Blog Posts
Google's Helpful Content Update was designed to favor content produced for users rather than search engines. Unfortunately, traditional HVAC blogging has been geared towards "tricking" search engines into indexing more of your website pages. This strategy is now a detriment to your site's overall rankings.
To create blog topics for users, first, you must demonstrate E-E-A-T, which stands for expertise, experience, authoritativeness, and trustworthiness. In simpler terms, your posts must provide original insights that only you can provide based on your experience in the heating and cooling industry.
Examples of tangible E-E-A-T include statistics from internal data, images of recent jobs, "pins" from the DataPins app, and embedded YouTube videos of you and your staff. In many cases, your blog post titles will be similar to traditional HVAC blogs but will incorporate veritable E-E-A-T that helps the users first.