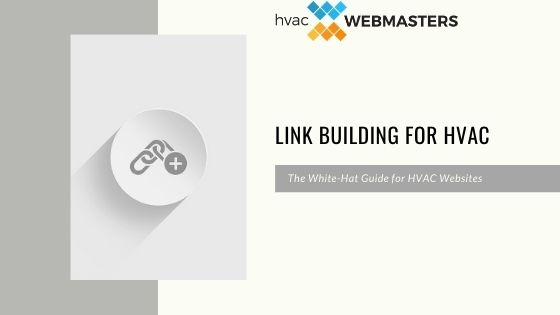 What is Link Building for HVAC?
Link building refers to processes designed to increase inbound links to your HVACR website through outreach, content marketing, and search engine visibility. The ultimate goal of link building is to rank higher on search results for topical keywords.
Why HVAC Websites Need Link Building
SEO helps HVAC companies develop their brand by increasing website traffic and improving visibility on search engines. Content marketing, web design, social media, and local SEO contribute to an overall SEO strategy for contractors. An additional element of SEO that cannot be underestimated is link building.
Not only is link building a fundamental part of website development, but it's also a primary way in which search engines interpret a domain's authority. Of course, not all link-building helps websites rank. In fact, black-hat link-building tactics can get your heating and cooling website penalized and banned from Google search results.
Understanding how to properly and safely build white-hat links is key to succeeding online. Every link should provide helpful information to users.
Authority
Links build a website's authority. If you've used link analysis tools like Moz, Majestic, or AHRefs, you can observe metrics showcasing a website's authority. While each platform has its own metric (i.e., Domain Authority, Trust Flow, etc.) Google does not refer to any 3rd party metric. However, Google has its own private metrics that likely use similar calculation scores to determine a website's authority.
Navigation
Links exist everywhere on the internet, including on your HVAC website. You will link out to external domains and interlink to internal pages on your website. When users read through a page or article, they may need to refer to another page on the same website. Your job as the webmaster is to create seamless navigation that enhances user experience and validates your topical authority.
Rankings
Make no mistake, link-building campaigns exist for ranking purposes. Without a significant end goal like search rankings, businesses would not focus their resources on link building. While Google's algorithm considers various other factors, inbound links remain one of the most pivotal ways to gauge a website's relevance. Of course, white-hat link building requires an understanding of Google's Quality Guidelines.
Traffic
While rankings are the top priority in a link-building campaign, referral traffic represents another important component. Links from major directory websites like Yelp, Angie's List, and HomeAdvisor can lead users from that platform to your website. Make sure you include your website URL in each directory listing. Aside from directory traffic, HVAC companies can also gain traffic from links on popular blogs.
Link Quality Factors for HVAC Websites
Though link quantity is a factor in building domain authority, generating random links will not help your website. In fact, Google reserves the right to penalize your website for such behavior. As part of their algorithm updates through the years, Google has cracked down on link schemes, link spam, and any other variation of manipulative linking practices.
So how does Google distinguish good links from spam links? Well, they use several indicators that help identify a link's purpose. For example, a link from a gambling site to your HVAC company website is a clear indicator of manipulation.
While sketchy links may not get you banned (mostly because any competitor can maliciously build bad links to your website), they certainly won't help you rank for industry keywords.
Anchor Text
Anchor text is the words or phrases within the linked part of the content. Search engines monitor anchor text for both relevance and possible spam. Too many instances of the same anchor text indicate link manipulation and may cause a penalty. Conversely, a lack of relevant anchor text may prevent your website from ranking at all.
Referring Domain
Search engines can often gauge link quality based on the domain from which it comes. If you receive a backlink from a trusted local newspaper, you are far more likely to see tangible results than with a link from a low-level blog.
Link Relevance
Similarly, a medical website link won't transfer as much trust as that from an HVAC resource website. But the domain itself is not the only identifier of relevance. Getting a link to a blog post about the best HVAC companies in your area holds more relevance than a link from a blog post about a specific type of air conditioning unit.
Link Placement
Where the content editor places your link partially determines its quality. For example, a link placed in the footer or sidebar of the website holds less weight than one placed within the body content. Why? Because links within body content indicate proper editorial placement and generally enhance user experience. Links in a sidebar or footer generally exist for less relevant purposes.
3rd Party Link Metrics for HVAC Websites
Since Google fails to publicize its link-grading metrics, we must rely on 3rd party platforms like Moz, Majestic, and AHRefs to gauge a link's quality. Although Google does not acknowledge such 3rd party metrics, they likely use a similar formula to determine their internal link metrics. Let's take a look below:
Domain Authority
Moz's Domain Authority is one of the most widely used link metrics in the SEO industry. It's an easy metric to measure since Moz offers the MozBar Chrome Extension to all Google Chrome users. Typically a DA between 20 and 30 is great for an HVAC company website. Of course, universally respected brands like Google and Facebook have DAs near or at 100.
Domain Rating
Like Moz's Domain Authority, AHRefs uses a Domain Rating metric. Domain Rating often serves as the most prestigious link metric for hardcore SEO agencies. Like Moz, AHRefs offers a free DR checker tool so that any website manager can check their score without paying.
Trust Flow
Majestic uses a Trust Flow metric (TF) to determine a domain's trust. You can measure TF with a Majestic subscription or use their Free Backlink Checker to get a quick score. Trust Flows are typically lower than Domain Authority and may be harder to increase using basic link-building tactics.
Types of HVAC Backlinks
Sometimes website managers lose sight of distinctions between link types. For example, nofollow links transfer less equity than those referred to as dofollow links. In contrast, internal links transfer more intersite authority than any external backlink. Understanding the different types of links can help you fully optimize your HVAC website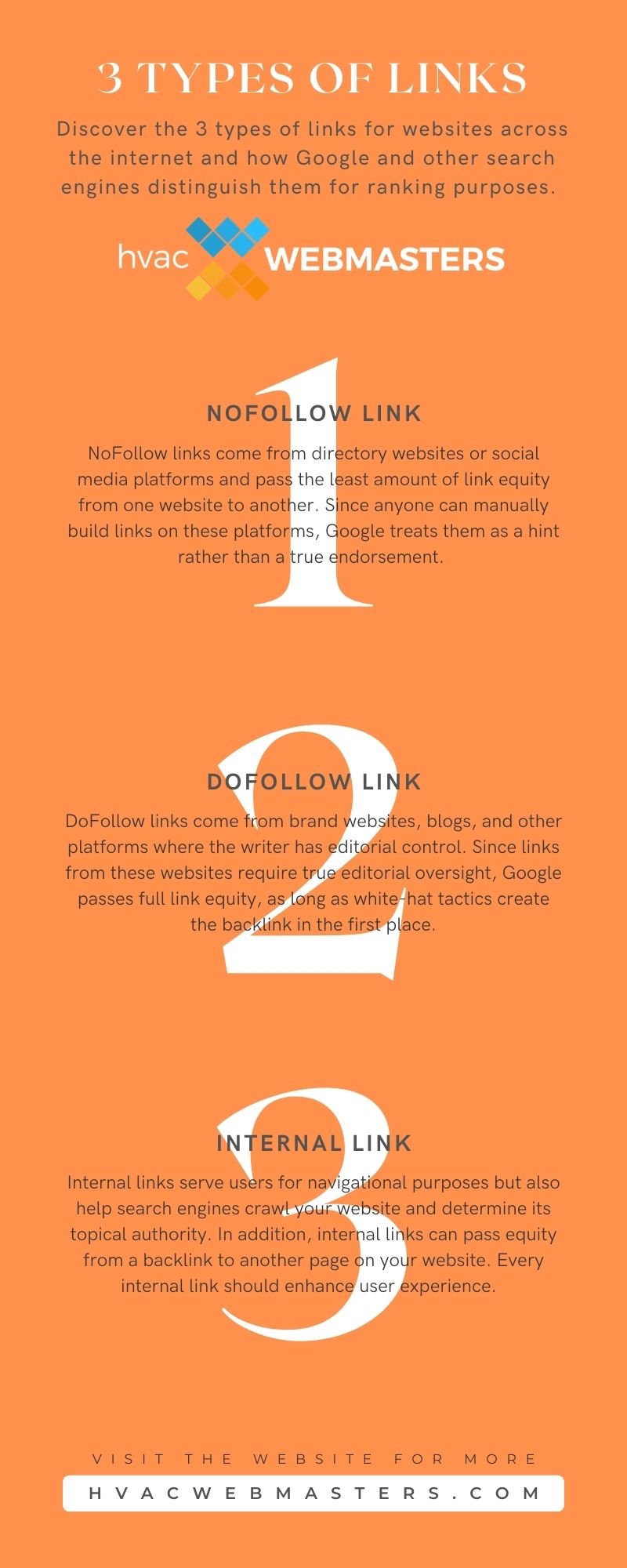 NoFollow Links
Nofollow links come from directory sites like Yelp or social media profiles like Facebook. Any link a user can build manually is considered nofollow. The tag indicates that search engines should pass less equity from the link since they likely built the link manually. While Google does not hold these links in the highest regard, they count as hints for ranking purposes.
DoFollow Links
In contrast, dofollow links pass the most equity from one site to another. Dofollow links refer to links built with editorial control. For example, a popular HVAC blogger doesn't have to link to a specific HVAC website within their blog post but instead chooses websites based on their content quality and authority. The best links you can receive are dofollow links with relevant anchor text.
Internal Links
Internal links are links built within your HVAC website. For example, your blog post about the best air conditioners of 2023 may link to your air conditioner installation page. You'll notice that pages that topically relate to one another should naturally link to one another as well. Internal links should primarily focus on user experience and help them navigate your website. Anchor text is equally as important on internal links since search engines regularly crawl your pages.
Earning Quality HVAC Links in 2023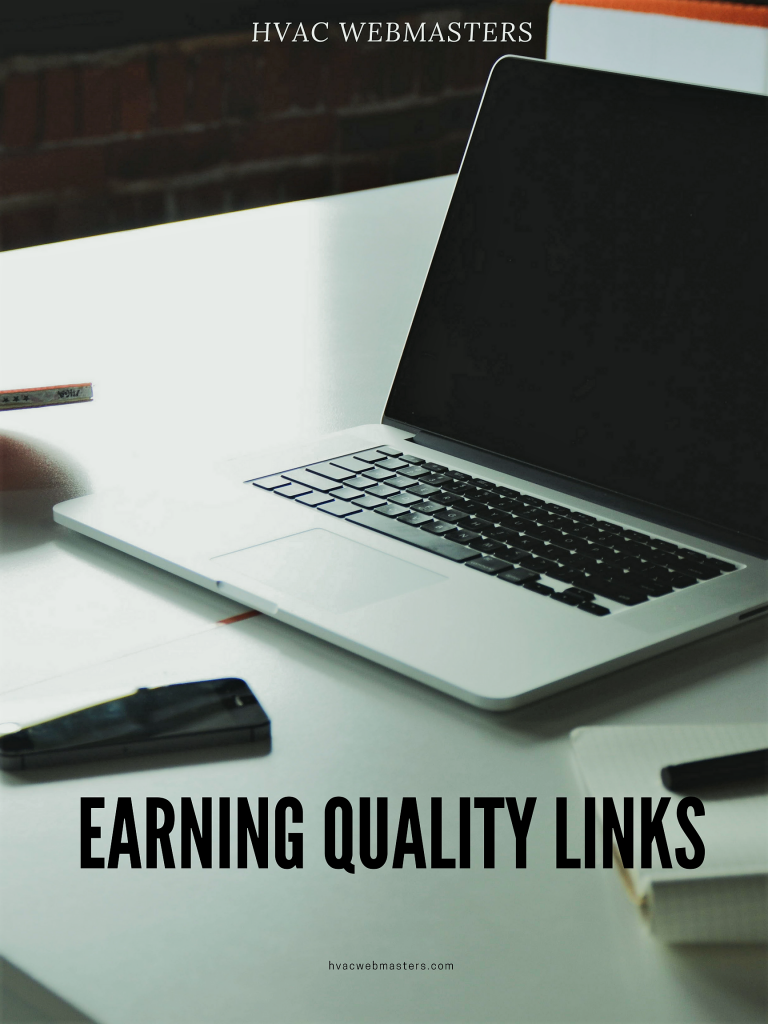 HVAC companies may ask, how do you earn quality backlinks? The answer comes in the form of strategies that generate white-hat links. Keep in mind the difference between acquiring links and earning them since there is a clear distinction. Companies that earn links have a decided advantage over businesses that must rely strictly on relationships or even black hat tactics to get their links.
Create Linkable Assets
The best way to earn links is to create content worth linking. When bloggers or reporters write content online, they like to cite authoritative content that supports their premise. One way to achieve such authority is to rank on search engines for data-driven keywords. For example, ranking for a phrase like how much do HVAC services cost will get you lots of natural white-hat links.
Share Content on Social Media
One of the best ways to earn links is to share your content on social media. You never know who may see your article on Facebook or Twitter or who may share it on their own account. While the chances of going viral with HVAC content remain thin, getting your content in front of the right eye is how you earn quality backlinks.
Establish Your HVAC Company Brand
External websites feel most comfortable linking out to established brands for several reasons. First, they don't have to worry about your credibility since they recognize your brand from afar. Secondly, they can trust users who leave their website to yours will have a favorable user experience.
With so many websites published daily, bloggers and other online writers want the convenience of a trusted brand when creating links.
Backlink Monitoring for HVAC Websites
Although backlinks help websites rank, they can also have the opposite effect. We discussed how black-hat link-building tactics can ban your HVAC website from Google. Similarly, malicious negative SEO attacks are designed to accomplish the same result. For this reason, many websites monitor their backlink profile so they can submit a disavow file if and when their website gets spam links from external domains.
Excessive Anchor Text
One thing to monitor is your link's anchor text. If you start seeing dozens of instances of the same anchor text, your links might harm your website. It's important to note that in some cases, weird links will pick up your title tag and use that as the anchor text. You don't need to worry about disavowing in these cases since those links have no malicious intent.
Shady Domains
Look for links from shady domains in the gambling, medical, or drug industries. These kinds of links can cause immediate red flags and are often used by spammers in negative SEO attacks. You can also check each of the site's spam scores using Moz's MozBar Chrome Extension. Spam scores above 50 typically indicate a problem, although Google does not acknowledge Moz's spam score internally.