HVAC Keywords List
| | | |
| --- | --- | --- |
| Keyword | Volume | Intent |
| hvac | 101,879 | hybrid |
| hvac near me | 98,479 | commercial |
| heating and cooling near me | 34,732 | commercial |
| air duct cleaning | 30,250 | hybrid |
| duct cleaning | 20,250 | hybrid |
| air conditioning repair | 18,100 | commercial |
| air duct cleaning near me | 16,915 | commercial |
| ac repair | 14,800 | hybrid |
| furnace repair | 12,100 | commercial |
| duct cleaning near me | 11,100 | commercial |
| ductless heating and cooling | 9,900 | hybrid |
| hvac system | 9,176 | hybrid |
| heating and cooling services | 8,100 | commercial |
| air conditioning service | 8,100 | commercial |
| air conditioner near me | 8,100 | commercial |
| furnace repair near me | 5,327 | commercial |
| ac not turning on | 4,400 | informational |
| hvac repair | 4,400 | hybrid |
| air quality testing | 4,050 | hybrid |
| commercial hvac | 3,968 | hybrid |
| family heating and cooling | 3,600 | hybrid |
| air conditioner service | 3,600 | commercial |
| duct cleaning services | 3,264 | commercial |
| heating repair | 2,900 | commercial |
| ac service | 2,900 | commercial |
| ac tune up | 2,790 | commercial |
| heating and cooling service | 2,645 | commercial |
| emergency ac repair | 2,438 | commercial |
| air conditioner not cooling | 2,400 | informational |
| air condition repair | 2,400 | commercial |
| ac not cooling | 2,400 | informational |
| ac maintenance | 2,327 | commercial |
| heat pump repair | 2,229 | commercial |
| ac vent cleaning | 2,155 | commercial |
| heating and cooling companies | 2,149 | commercial |
| gas valve furnace | 2,048 | hybrid |
| air conditioner installation | 2,009 | commercial |
| fix central | 1,900 | commercial |
| ac not blowing cold air | 1,900 | informational |
| ac repair near me | 1,900 | commercial |
| home ac repair | 1,739 | commercial |
| mini split ac installation | 1,622 | commercial |
| air conditioner not working | 1,600 | informational |
| ac installation | 1,600 | commercial |
| hvac ductwork | 1,472 | informational |
| emergency air conditioning repair | 1,352 | commercial |
| hvac repair near me | 1,300 | commercial |
| home ac units | 1,300 | informational |
| heating and cooling repair | 1,300 | commercial |
| heating and air conditioning repair | 1,300 | commercial |
| ac technician near me | 1,205 | commercial |
| ductwork cleaning | 1,200 | commercial |
| ductless air conditioner installation | 1,167 | commercial |
| air duct cleaning services | 1,131 | commercial |
| air quality testing near me | 1,033 | commercial |
| emergency furnace repair | 971 | commercial |
| hvac company | 866 | commercial |
| air conditioner maintenance | 825 | hybrid |
| heat pump repair near me | 740 | commercial |
| air conditioner maintenance near me | 714 | commercial |
| ac repair cost | 684 | informational |
| air conditioner troubleshooting | 664 | informational |
| 24 hour ac repair near me | 663 | commercial |
| gas furnace repair near me | 646 | commercial |
| central air repair near me | 633 | commercial |
| 24-hour emergency heating service | 485 | commercial |
| emergency air conditioner repair | 346 | commercial |
| ac maintenance services | 344 | commercial |
| heat pump maintenance | 311 | hybrid |
| ac compressor repair | 270 | commercial |
| furnace gas valve replacement | 266 | commercial |
| replace gas valve on furnace | 266 | hybrid |
| emergency ac repair near me | 229 | commercial |
| air conditioner maintenance service | 223 | commercial |
| air conditioner maintenance services | 223 | commercial |
| hvac emergency service | 218 | commercial |
| 24 hour air conditioning service near me | 209 | commercial |
| emergency hvac near me | 207 | commercial |
| same day ac repair | 189 | commercial |
| furnace repair near me free estimate | 184 | commercial |
| home heating repair | 171 | commercial |
| heat exchanger replacement | 152 | commercial |
| emergency furnace repair near me | 144 | commercial |
| 24 hour heating and air conditioning repair near me | 141 | commercial |
| 24 hour heating repair | 120 | commercial |
| after hours ac repair | 115 | commercial |
| gas valve replacment | 109 | commercial |
| commercial hvac services | 82 | commercial |
| 24 hour furnace repair near me | 78 | commercial |
| air conditioner fan repair | 73 | commercial |
| central air conditioner maintenance | 71 | commercial |
| emergency heating service near me | 69 | commercial |
| home air conditioner maintenance | 48 | commercial |
| 24 hour emergency furnace repair near me | 37 | commercial |
| emergency air conditioner service | 27 | commercial |
| 24 hour heating and air conditioning repair | 27 | commercial |
| ac blower repair | 24 | commercial |
| ac emergency repair | 24 | commercial |
| hvac heat exchanger replacement | 22 | commercial |
| whole house air purification | 22 | hybrid |
HVAC Keyword Research
Before we list the top keywords for HVAC contractors, it's important to note the logic behind HVAC keyword research and selecting targeted keywords. The strategy's first and most important element involves a concept known as user intent.
Commercial Intent: The user intends to spend money on a service or product
Informational Intent: The user intends to learn more about a specific topic
Hybrid Intent: The user's intent is unclear or a combination of commercial and informational
Since those searchers are the only ones who will become customers for your HVAC company, they are the only ones worth targeting with your SEO strategy.
Identifying commercial intent keywords is critical because these queries often result in conversions. In contrast, informational keywords increase website traffic but do not convert at the same rate. While there's still value in attracting users at the top of the funnel (they are not ready to buy), it's less valuable.
To show up for commercial intent keywords, your keyword must be present not only in the body content but in the metadata and coding of the site. Furthermore, it helps to utilize a tool like DataPins, which generates long-tail, commercial-intent keywords from your recent job captions and corresponding pins.
The Best Heating & Cooling Keywords
When HVAC contractors think about search engine optimization (SEO), they often picture keywords. Although keywords are not the end-all-be-all of SEO that they once were, they still hold a valuable place in on-page optimization.
Whether these phrases and terms are placed within title tags, header tags, meta descriptions, or body content, they should be integrated within the page's context and place a premium on user experience.
As for the industry keywords HVAC contractors should target, take a look at the top 15 below, descending by search volume:
air conditioning repair 18,100
ac repair 14,800
furnace repair 12,100
ductless heating and cooling 9,900
heating and cooling services 8,100
air conditioning service 8,100
air conditioner near me 8,100
ac not turning on 4,400
hvac repair 4,400
family heating and cooling 3,600
air conditioner service 3,600
heating repair 2,900
ac service 2,900
air conditioner not cooling 2,400
air condition repair 2,400
Remember that search volume is not the only consideration when determining the top 100 HVAC keywords. Terms and phrases with "commercial intent" are more valuable because they generate the most relevant traffic, much of which can be converted into paying customers.
Research-based keywords like "how to fix an air conditioner" will have a high search volume but will fail to generate leads because the users are simply looking for information. Another consideration is location; attaching local keywords to industry keywords can create long-tail keywords that net valuable traffic.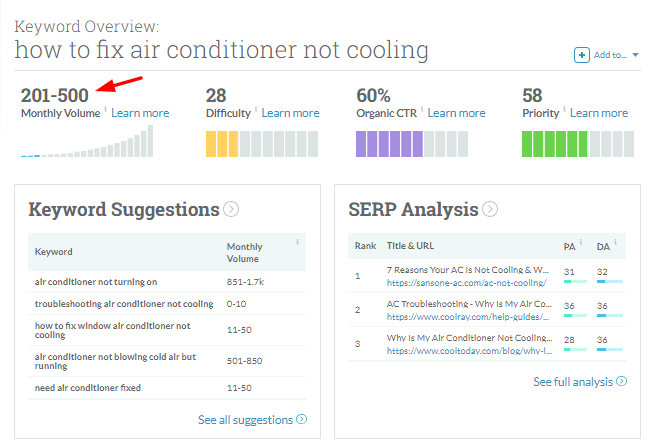 Source: Moz
How Valuable Are The Top 100 HVAC Keywords?
Keyword research is one element of SEO, but it should not come at the expense of others. Many HVAC contractors mistakenly believe that keywords are the only consideration when optimizing a page, which couldn't be further from the truth.
Keywords can actually become a detriment when they are "stuffed" within content, hindering the readers' experience and signaling to Google that your content is low-quality. The key is striking a balance between keyword placement and readability.
It's best to use keywords naturally within the flow of the content. Here are the next ten keywords, once again descending by search volume.
ac not cooling 2,400
fix central 1,900
ac not blowing cold air 1,900
ac repair near me 1,900
air conditioner not working 1,600
ac installation 1,600
hvac repair near me 1,300
home ac units 1,300
heating and cooling repair 1,300
heating and air conditioning repair 1,300
You'll note that the keywords above once again contain "commercial intent, " sometimes called "buyer intent." On repair-based keywords, in particular, it's important for HVAC websites to differentiate themselves from auto shop repair.
One way to accomplish this is through structured data markup. Through microdata tags, websites can communicate their specific services to search engines which will then appropriately index them on search results. This attracts relevant traffic, which drives business while simultaneously enhancing SEO.
Industry Keyword Context for HVAC Companies
In 2013, Google started tailoring search results to better fit the user's query context. The intent is now a primary consideration when Google presents results to its users. Before the algorithm changes, the presence of keywords alone would have websites ranking in the top 5.
Because that system was so easy to manipulate, Google decided to improve its algorithm to enhance user experience. With this in mind, HVAC websites should consider the following aspects of keyword context:
What kinds of questions will prospective customers be asking?
What problem are they trying to solve?
What actions will they potentially take?
How would they go about inquiring about HVAC services?
By targeting user intent, you can more effectively meet the needs of your consumers and as a result, increase business for your company. Keywords only matter within their intended context. For example, attracting a bunch of people looking for car AC repair will leave them disappointed when they come across your website.
They will subsequently exit your site, increasing its bounce rate and signaling to Google that you don't deserve a high ranking. Instead, you should focus your attention on attracting the right kinds of users who will enhance your SEO and drive your business.

Source: SEMRush
Final Thoughts on Keywords for HVAC Companies
Keyword research is helpful for reaching more customers on search engines like Google. However, it's important to realize that search volume is not the #1 consideration when optimizing your SEO content. Your goal is to reach customers who are ready to utilize your local HVAC services in 2023. As a result, focus on long-tail, commercial-intent keywords to maximize your organic reach for HVAC customers.
Get the rest of your 100 HVAC keywords here!