You might have heard about HVAC retargeting ads. Chances are you are spending a lot on customer acquisition for your HVAC company. And it's exciting to see the data roll in and realize that there are way more visitors to your site monthly than there were a year ago. But the figures aren't all there is to the story. 
The fact is that if you are not converting those customers, then your strategy needs some work. And one of the most effective ways to make sure that you make the most of a missed opportunity is retargeting ads.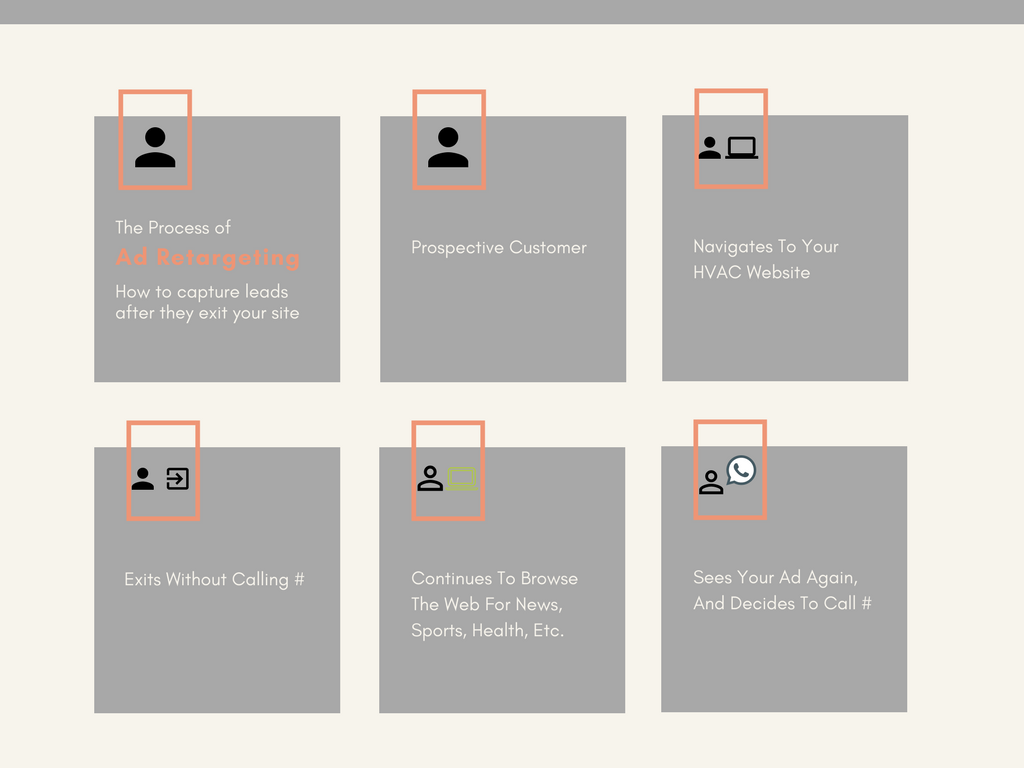 Retargeting ads offer an effective way to complement your customer acquisition efforts and help your potential customer move down the sales funnel.
The following post will discuss retargeting ads, how they can help your HVAC business, and the best way to utilize them. 
What Are Retargeting Ads?
Retargeting or remarketing ads are display advertisements shown to internet users who have previously demonstrated interest in your HVAC service. Their previous interest is most frequently tracked through browser cookies in the form of website visits and user engagement.
Retargeting Ad Examples
Let's take a simple example. You are online shopping for an anniversary gift for your wife. You are looking at some diamond necklaces, and you visit a few sites. After looking at five different sites and being unable to decide, you decide to call off the search for the day. 
The next day you resume your search and notice that you see ads from websites that you have visited in search of an anniversary gift. In this hypothetical situation, you were made the target of a retargeting ad.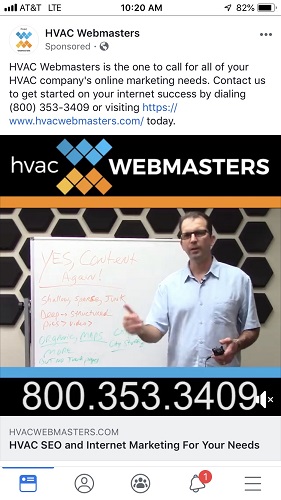 A retargeting ad uses cookies or pixel identification to track web browsers who have visited your website but did not make a transaction or fill out any information form. Then, it shows them ads for your website on other platforms as they browse the internet – even as they browse away from your website. 
What is the Purpose of Retargeting Ads?
Retargeting ads play a vital role in ushering people through your sales funnel. You see, not everyone who visits your website will be ready to purchase your HVAC services. Just like in the hypothetical situation, you looked at websites for a diamond necklace but didn't decide to buy from any of them. 
Not everyone visits a website for the same reasons. Some people are indeed ready to buy immediately. These are what are known as prime leads. In the HVAC industry, a prime lead may be someone who visits your company's website in need of emergency HVAC service. In other words, they are on your website for the specific purpose of paying for your services. 
But some people may simply be conducting research. They may need an HVAC service soon, but the work isn't imperative yet. These people are likely to visit your website, see what services you offer, find out which areas you service, find out whether or not you offer free estimates, and may even jot your number down – but not necessarily make an appointment.
Retargeting ads are essential to keep your business and brand at the forefront of potential customer's minds. As they browse the web away from your website, they will see an ad for your company and remember that your company is an option for their HVAC needs. 
Why is Retargeting Important?
Retargeting ads are important for two major reasons:
It's Effective: Studies have shown that conversion rates actually rise when the customer has interacted with your brand, not made a purchase, and then sees your ad as a retargeting strategy.
It's Affordable: It costs a lot more to drum up brand new prospects than retarget an existing one.
Furthermore, retargeting ads get higher click-through rates than typical display ads because they are displayed to people who have actually shown interest in your service.
How to Create Effective Retargeting Ads
Now that you have a better idea of what retargeting ads and what they offer, it's time to utilize them. Here are some of the most effective methods of ad retargeting:
Search Intent: You can actually make it so that your ad displays to certain people who have done certain online searches. This method uses keyword tracking. In other words, you might target someone who has recently done an online search for "air conditioning replacement."
Email: If you have had email correspondence with a potential customer but didn't make a sale, you can target these specific people with ads reminding them of your services.
These are two of the most effective retargeting ad methods for HVAC contractors specifically. But knowing which methods to use is only half the battle. You still have to craft the actual ad.
For retargeting ads that go out to people who have actually visited your site, you can craft your ad based on the specific pages they browsed.
For example, you tracked a potential customer that visited your page on air duct cleaning. You can target that person specifically for that service. In this case, it may be most effective to create an ad that promotes a special discount you may be offering on duct cleaning. Limited-time offers are typically effective in these situations. 
In fact, with retargeting ads in general, it's important to make an offer that will entice the potential customer back to your site. So limited time offers may help to spur them to action. Free service add-ons related to the service page that they visited may also be helpful.
Create Unique Landing Pages
Next, you will have to consider where your potential customers will be a lead once they click on your retargeting ad. It shouldn't lead to your homepage. It has to correspond with the specific offer in the ad, which should lead back to the page that they visited on your site in the first place. 
Crafting service-specific landing pages is just as crucial to making enticing retargeting ads. When the person clicks on an ad, it should take them somewhere to learn more about the service they're interested in.
Choosing a Retargeting Platform
So, where can retargeting ads be displayed? More importantly, where should your HVAC retargeting ads be displayed? You should advertise on four major platforms: Facebook, Google, YouTube, and Instagram. 
Google is essential because you get space on the actual Google search site when you advertise with them. Also, Google works with many websites where your ad can be displayed. And while Google is very hush-hush about which websites they are partnered with, it is apparent that the number is astounding and includes some of the highest-profile sites.
Retargeting Services for HVAC Companies
Retargeting ads (sometimes referred to as remarketing) take a lot of thought and planning. So if you need some expert help crafting and setting up your HVAC retargeting ads on the most prominent platforms, we want to lend a hand. We are HVAC Webmasters and offer ad services, digital marketing, and SEO services. We know what it takes not only to drive more traffic to your site but to convert more leads as well.