What is HVAC Branding?
HVAC branding is the promotion of a specific heating and cooling company through advertising, marketing, and presentation. A company's brand may include its logo, website, marketing materials, and other distinguishable items.
Building a Brand for Your Heating & Cooling Company
Building an HVAC brand takes time. We're not discussing designing a logo or developing a slogan. A professional can do those things in one afternoon. But building a trustworthy brand that represents your company and your values is not so simple.
Many HVAC business owners overlook how important HVAC branding is. Your brand is what comes to people's minds when they think of your company. Your brand is your opportunity to send a message to the public.
Now think: what kind of message is your current branding sending? If you aren't sure how to answer that question, don't worry. Today's post will discuss HVAC branding and how you can successfully brand and market your company.
Brand Consistency
Again, your brand tells the public what your company is all about. So if your HVAC company is new and you are just starting to market it, take some time to sit down and think about what your core values are as a company.
And if you are looking to re-brand your company, do the same. What is it that your HVAC company does better than the others? What unique quality makes you stand out among the competition? What do you feel that you bring to the table that no one else can?
Once you have some answers to questions like these, you can begin to formulate a message. Your message will tell the public about these attributes that make your company unique and that you want to promote.
Maybe you are the fastest for HVAC repairs. Perhaps your company emphasizes transparent and fair pricing. Or possibly you place emphasis on emergency HVAC services. Whatever the case may be, you can use these qualities to develop a brand for your company.
And before we get into our tips for HVAC branding, we want to impress upon you the importance of brand consistency. No matter what route you choose to go, be sure that you keep your message consistent.
Remember that your brand is your identity, and you don't want any consumers to be confused about who you are, do you? Staying on message with all your logos, slogans, and marketing efforts will help develop a singular and consistent image for your company, becoming your brand.
HVAC Branding Tips
1) Developing a Logo
When creating a logo, try to be as original as possible. Ideally, you want an image that conveys your message in some way as well. If you offer fast service, start thinking about images that represent speed. If you emphasize fair prices, think about images that conjure up honesty in people's minds.
Next, start thinking about the text and color of your logo. Many HVAC contractors want to come across as professional, so stay away from text fonts that look silly with many curved lines (no comic sans). And it may be tempting to stick with red and blue as your primary colors.
Try to be as original as possible. The last thing you want is for your customers to confuse your logo with some other HVAC companies. And if you aren't an artist yourself or don't have one in your family, don't worry. Hiring a freelance graphic designer isn't that expensive.
2) Developing a Slogan
Again, your slogan should convey the message you want to send to your customers. Remember that your slogan should conjure up the concepts that set your business apart from others. So depending on those concepts, your motto may be something curt and professional or more casual, like a pun or play on words.
It helps to workshop slogans with your friends and family. Once you have come up with about five possible slogans, tell them to a group of friends you trust, colleagues who are also in the business, or just your family. Ask them what thoughts come to mind when they hear your slogan. Ask them whether your business comes across as professional or friendly when they hear your sayings.
Then cross-references their answers against what your overall message is. If the answers aren't consistent with what you were going for, you may have to head back to the drawing board.
Sometimes keeping things simple is the best way to go. As one expert puts it, the best slogans are the ones that faithfully describe what the company stands for.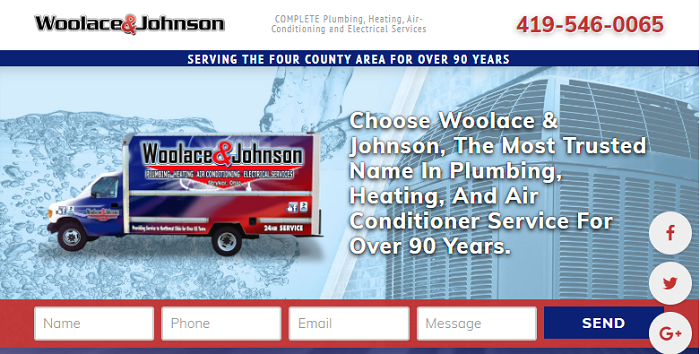 Sometimes the best slogans are the ones that skip all the gimmicks and cheesy rhymes and state in a clear, concise (catchy always helps, too) manner what your HVAC company is all about.
3) Branding Opportunities
Once you have your logo and slogan, it's time to look for branding opportunities. Having some swag made up with your logo and tagline is an excellent place to start. Koozies are cheap and practical, so think about getting a couple hundred of them made up with your company logo and colors.
Of course, your service vehicles should all have your logo emblazoned on them, as should your company apparel. Your business cards should also have your logo and company colors on them. Then there is cyberspace.
Your company website should prominently display your logo, slogan, and company colors. The same goes for your social media pages and any review websites you may be on, which leads us to our next tip.
4) Website Design
Your HVAC website is the central hub for your company's digital brand. Since companies list their info on Yelp, Facebook, Google, and elsewhere, each platform holds a spot for your website URL. The goal is to create a branded website that showcases your logo, slogan, and color scheme.
Investing in custom website design is essential since template websites dilute your brand's potency. Every subtle representation of your company influences branding. Think about consumer psychology; in their minds, a cheap website equates to a frugal company. Do you want that to be your reputation?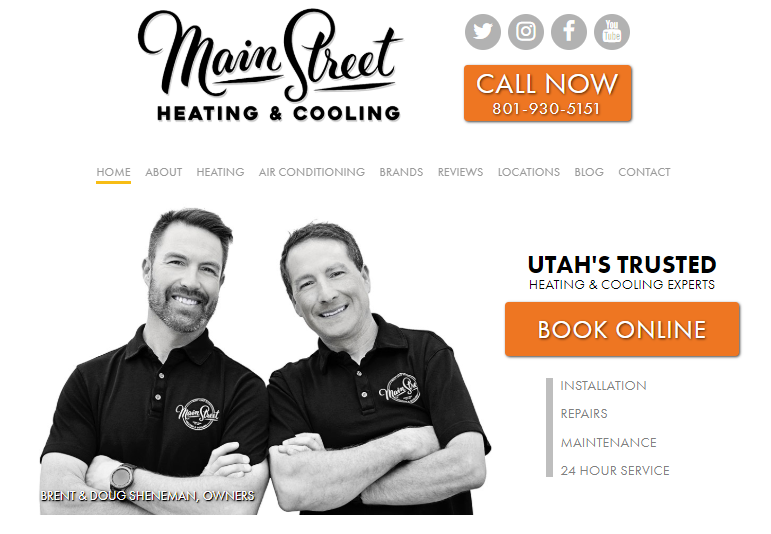 Aside from the presentation, websites also help you get more business. Branding is about outreach because how valuable is something that nobody sees? Of course, the goal is to implement HVAC SEO on your website and start ranking for high-volume keywords along with your brand name.
5) Reputation Management
Online reviews are a massive part of your overall branding. When people read reviews for your company written by fellow consumers, the image they get in their minds should be consistent with your intended message. But it's not entirely possible to control what people say about your company.
But there are some ways you can steer the narrative in your favor. For instance, making it easy for customers to leave your business review is always a good idea. So consider having a templated review ready for your customers. That way, they don't have to develop anything and get a consistent assessment of your brand.
You can also ask for reviews about specific services if it's part of your company's brand. Try emailing customers who have just hired you for a service that you are promoting or are on-target with your brand. Please include a link that leads directly to a page where they can leave a review.
And, of course, you should always respond to negative reviews.
Tools like DataPins automate SMS and email review requests for HVAC companies, increasing review frequency for Google Business Profiles and other platforms.
6) Truck Wraps
Truck wraps turn your everyday vehicle into a branding asset. You start reaching customers on your commute when you invest in a color-themed truck wrap that includes your name, logo, and NAP info. Think about the impact of billboards on branding, and then consider how your truck serves as a mobile billboard for everyone you come across.
Truck wraps work even when parked. You get 24/7 exposure for your brand and an outstanding ROI in most cases. Studies show that truck wraps deliver one of the cheapest costs per exposure in the marketplace. Upstart HVAC companies should jump at the chance to brand their heating and cooling company's work vehicle.
Brand Development from HVAC Webmasters
Of course, developing a brand for your company is just one of the initial steps toward success. You then have to figure out how to market that brand. Here at HVAC Webmasters, we specialize in helping HVAC contractors get their names out to as much of their target audience as possible.
We can help you increase your brand's consistency, make it known to more people, and help you earn more business. Take the next step today.