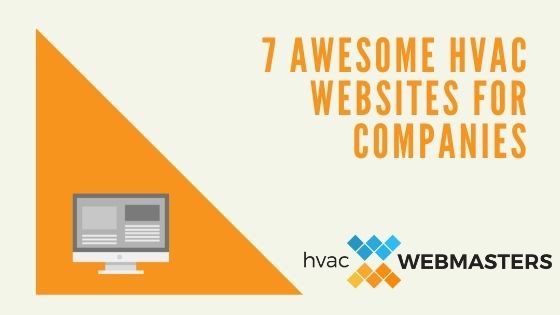 Growing your HVAC business online is an attainable goal in 2023. Of course, you will need a high-quality website to achieve your goal. When it comes to the best HVAC websites in the USA and globally, they all share specific qualities. In the following blog post, HVAC Webmasters reveals the seven best heating and cooling websites on the internet today and which shared qualities make them successful.
1) A 100% Guarantee Heating & AC
A 100% Guarantee's website makes things simple for the visitor with clear and convincing calls to action and an appealing color scheme. The chatbox on the bottom right makes contacting their business more accessible than ever, and the main navigation menu shows prospective customers their service options. In addition, the review widget provides social proof to build trust with potential customers.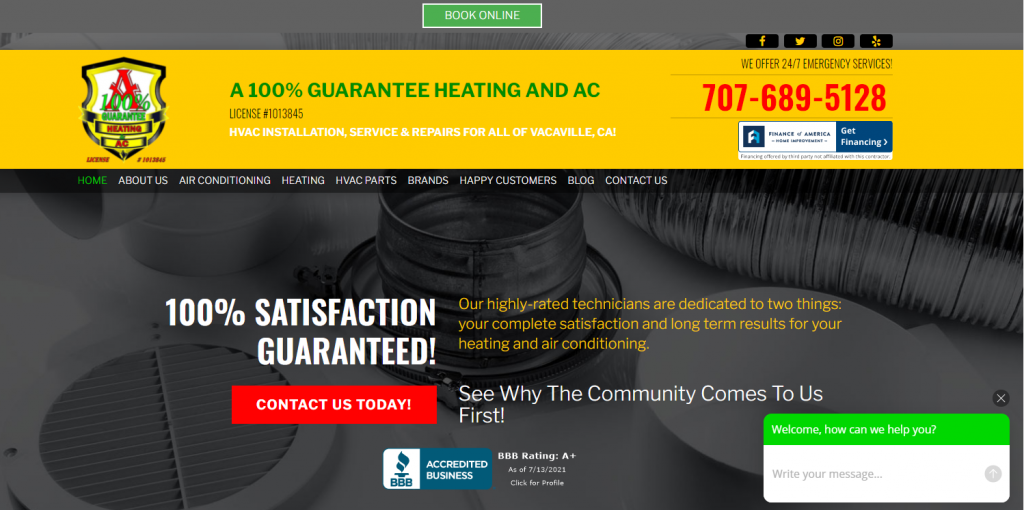 2) Airmatics
Airmatics grabs visitors' attention with a featured slider that offers an instant online quote and a free service call. Talk about making a first impression. The site continues to impress visitors with badges of honor, such as the Thumbtack Top Pro award, which provides the necessary social proof to foster trust. The homepage describes different service types and showcases Google reviews through an embedded widget.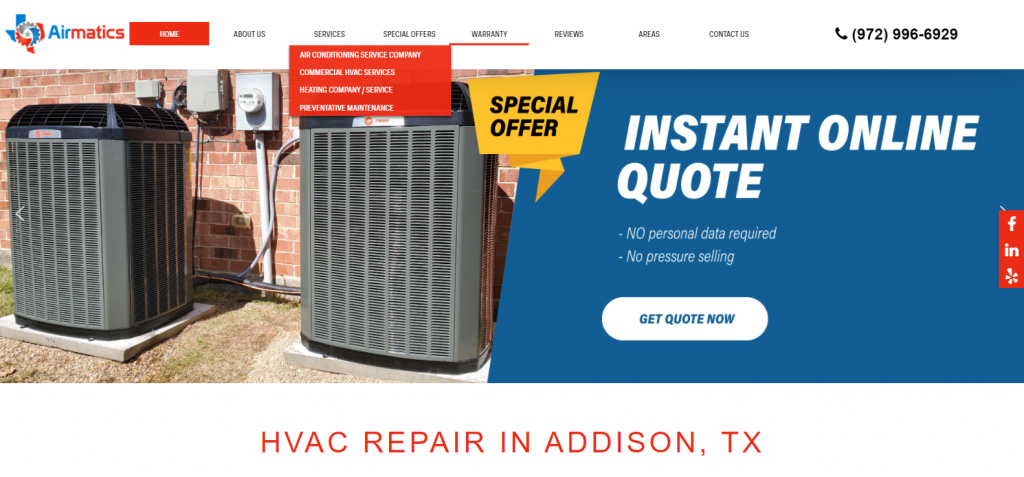 3) DRX Air Duct
DRX Air Duct's website is all about establishing its brand. The color scheme, top images, and truck wraps drive home their well-known brand and build instant trust with potential clients. The homepage shows even more authority by showcasing DRX Air Duct's social media pages, video content, and unique images. The company even showcases how they accept bitcoin as a payment form to appeal to customers with cryptocurrency.
4) Einstein Air Conditioning
Who inspires more trust than Albert Einstein? The HVAC website below features their Einstien-like logo and truck wrap to build instant trust with visitors. If that weren't enough, a prominent video introduces their company to personalize the experience. The homepage builds authority by showcasing online reviews from Google and Facebook and featuring additional unique images of their staff and equipment. The main navigation menu outlines the different services they offer.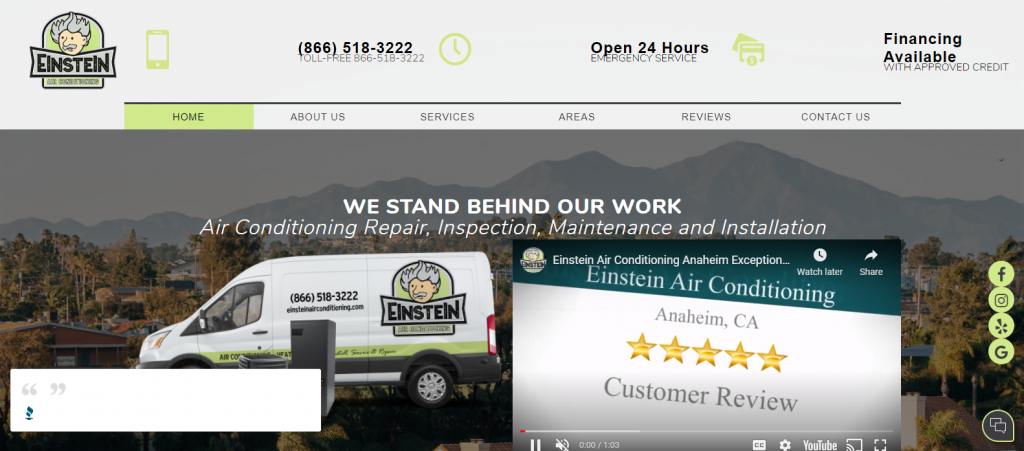 5) Total Comfort Cooling & Heating
Total Comfort's website features a sleek and simple design that matches the brand color scheme and provides an excellent user experience. The form on the top right of the homepage allows users to register for a free quote which converts lots of leads in a short period. The company's Approved Installer badge from Service Finance appears prominently on the homepage and builds trust with prospective clients. Additionally, logos of different HVAC brands give prospects some insight into potential HVAC solutions.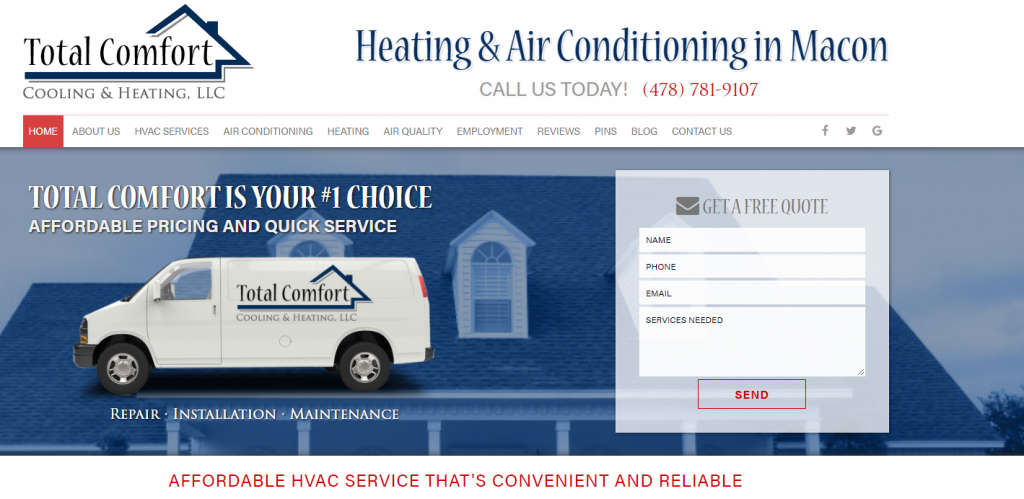 6) Woolace and Johnson
Woolace and Johnson is one of the best-looking HVACR websites you'll ever see. The truck wrap establishes brand authority from the jump, and the rest of the homepage goes on to detail services and provide social proof. Like several other websites on the list, Woolace and Johnson features a review widget to show off 3rd party reviews and encourage visitors to take action. The top-right phone number matches the site's color scheme and stands out to visitors intending to schedule HVAC services soon.
7) Mission Critical Comfort Solutions
MCCS shows why personalization is so essential for website success. Their homepage features a staff picture so potential customers can immediately connect with the brand. The subsequent video further drives home their brand personalization and encourages prospects to take action. The "Request A Quote" CTA gives website users a straightforward course of action, and the extensive navigation menu details each service provided to customers. 
Qualities of The Best HVAC Websites in 2023
While each of these websites presents different strengths, they all share specific qualities that are symptomatic of a robust HVAC website. If you can master the common themes of these seven websites, you will give your HVAC company a chance to convert online customers and grow your brand in 2023. 
Branding
Websites that feature their logo and images of their brand convert at a 164% higher rate than non-branded sites. The best way to brand an HVACR website is to match the logo colors with the site theme. In addition, companies can drive home their brand by showcasing truck wraps, staff members wearing company shirts, and videos with a brand introduction.
Calls To Action (CTAs)
Every robust website must have a prominent CTA so that users can take action. A great-looking website without an accessible CTA fails to convert the visitors it inspires. Imagine doing all that work just to lose out to competitors. The CTA is essential to lead generation and perhaps the most critical aspect of your company website.
Personalization
Stock photos fail to establish the level of trust that custom photos do on a website. Personalization is about connecting with visitors on a personal level. When prospects can see the company owner, staff members, and truck, they immediately feel an emotional connection. At the very least, they know they're dealing with an honest company and not potential spam.
Social Proof
Every HVAC website talks about how great their company is, but how many of them can prove it with data? Showcasing 3rd party reviews is the best way to publish social proof and increase conversion rates. Ensure the reviews widgets feature 3rd party reviews, like Google Reviews, because people are less likely to trust feedback that comes straight from the company. Anybody can copy and paste reviews to look favorable, but a reviews widget pulls the feedback straight from Google.
FAQ about Heating and Cooling Websites
Should I Use an HVAC Website Builder?
We don't recommend website builders because they limit your SEO potential. In addition, most builders use pre-made code blocks that resemble countless other websites on the internet. However, if you have no web design help, it's not a bad alternative.
Should I Use HVAC Website Templates?
Using website templates is generally acceptable as long as they are on WordPress and feature original pages and content. Custom design is the best option for companies who want to maximize their SEO efforts, but templates serve their purpose for companies who wish to add content and brand their website.
Where Can I Get HVAC Website Content?
Most SEO agencies provide custom content for your website. You can also hire content writers from crowdsourcing websites or through regular advertisements. However, be careful who you hire since some people will copy and paste content from other websites. You should run your content through Copyscape to ensure its 100% uniqueness.