Most HVAC contractors set a goal to rank #1 on Google for industry keywords. There are different ways to rank #1, but the competition is also fierce. Once a company determines its target keywords, it can develop a strategy to pursue those rankings. HVAC Webmasters can help you claim that top spot.
Generally speaking, the most effective methods of ranking #1 on Google are:
Branding: Demonstrating E-E-A-T through your HVAC company's brand
Content Quality: Crafting engaging, unique, & valuable content
Featured Snippets: Earning a highlighted snippet with informative content
Google My Business: Securing the top position within the Local Map 3-Pack
Google Ads: Launching a PPC campaign on Google Ads
Link Building: Earning quality inbound links from authority websites
On-Page SEO: Optimizing on-page content to earn a traditional #1 organic ranking
HVAC Webmasters' marketing plans empower contractors to pursue all outlets towards a #1 ranking. With our basic services, on-page SEO will be a top priority. If you decide to invest in add-on services, you'll have additional chances to rank with PPC management on Google Ads.
Our PPC expert is Google certified and will help companies reach their maximum potential on paid search advertisements. We believe in targeting every opportunity.
Factors For #1 Google Rankings
Multiple factors determine which page secures the top ranking for specific keywords. As we detailed above, there are now more ways than one to obtain a #1 ranking. Each of them requires attention to detail and an investment of time and resources.
Even with perfect execution, there are no guarantees your website will achieve or sustain the top position. Google changes its algorithms all the time, making SEO an inexact science. Furthermore, SERP rankings vary by user location, IP address, time of day, and multiple other variables.
The following elements contribute to a #1-page ranking:
Content Quality: Informative, engaging, and valuable content
Link Building: Inbound links from authority websites
Page Structure: Hierarchical structure with individual pages for specific services
Web Design: Cleanly coded websites with structured data markup and mobile-friendliness
The term "link building" is a bit misleading because the most impactful links are earned rather than built. To earn quality links, HVAC companies must follow consistent patterns of behavior that encourage external websites to link out to your page(s).
Remember that links can also be low quality, and you'd like to avoid associations with spam-like websites. If a spam site links to you against your will, you can implore Google's Link Disavow Tool to disassociate yourself from the entity.
Should HVAC Companies Pursue Ranking #1 on Google?
Ranking first on Google is an admirable goal that HVAC contractors should pursue. However, ranking #1 is not the only way to generate quality traffic to your website. Following the protocol that Google outlines in its documentation is the best way to have sustainable success in online marketing.
HVAC Webmasters offers several avenues in which contractors can generate leads. In addition to SEO and content marketing, which are included in the basic plans, we offer PPC management and Facebook advertising as add-on services.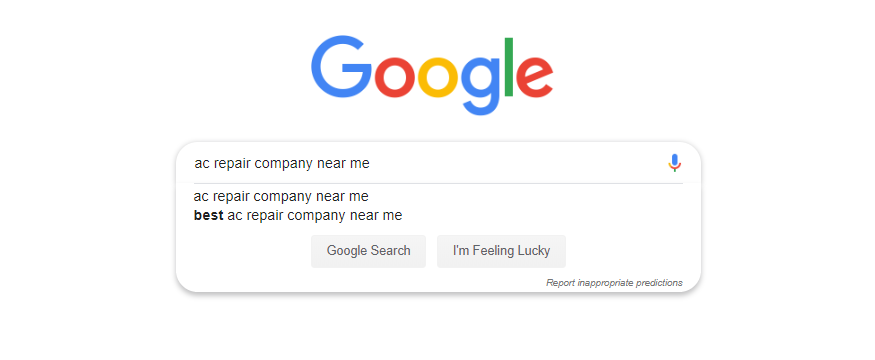 HVAC Webmasters employs web design, SEO, PPC, and social media experts. With a full spectrum of internet marketing tools at your disposal, you'll have a better chance than ever before to rank on the top of Google SERPs!
You can maximize your marketing potential with add-on services like PPC Management and DataPins (a website reviews integration plugin). When you see all we have to offer, you'll be hard-pressed to find a superior marketing option.