What is Organic SEO?
Organic SEO is a term used to describe search engine optimization techniques that are implemented for the purpose of generating organic (non-paid) traffic from Google search results. One of the best ways HVAC companies can attract clients and improve sales is through organic SEO. Consumers nowadays turn to search engines to find a product or service that they are looking for. While organic SEO is a great way to improve search rankings and maximize your web presence, it takes a lot of work and a highly effective SEO and internet marketing strategy.
Though it's something that you could technically do on your own, a professional SEO firm is recommended. At HVAC Webmasters, we want to improve your organic search engine ranking so you can show up at the top of search results for HVAC companies in your area; in turn, this will generate website traffic and clients. It takes time for your HVAC website to optimize organically, but our team of creative professionals has the right tools and skills to get you the results that will be worth the wait. Let us get you ranking higher organically in search engines by calling us today at (800) 353-3409 for organic SEO for your HVAC company website.
What Organic SEO Can Do for Your HVAC Company
One of the things that turns HVAC companies off about organic SEO is the time it takes to optimize. They don't want to wait for their website to rank in the search listings and instead will look for an easy way to rank faster with advertising services like PPC. While PPC is a great marketing tool when you first launch your site or if you want immediate sales and customer traffic, it can not top organic SEO in regards to long-term results. PPC, or pay per click, are sponsored ads that show up on Google or other search engines. While it is very effective, it can cost a lot of money in the long run, and consumers can begin to differentiate between ads and organic SEO that is seen as a more respected source. PPC does have the edge of giving HVAC companies results faster, but SEO has a lot of factors that can impact your company in a truly positive way.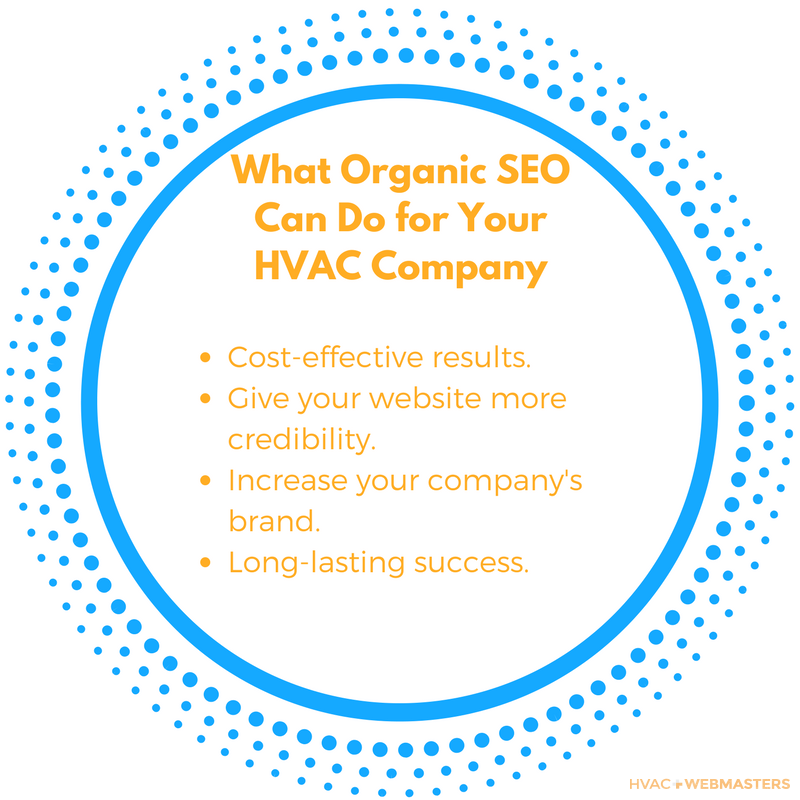 Organic SEO Costs Less
Yes, there is some investment with organic SEO to maintain and build upon, but unlike PPC, once you have a solid SEO strategy and unique content, you don't have to worry about changing your material all the time. PPC is something you have to continue to pay for and change up.
Website Traffic Using Organic SEO Is Credible
Consumers are more likely to click on a website that incorporates organic SEO than sites who are using paid advertising. Because people use the internet a lot to research products and services, they began to see the difference between organic and PPC. They tend to think that organic results are more credible and see PCC as less credible because it has a paid spot.
Organic SEO Produces Long-Lasting Success
Search engines, especially Google, love unique and original content. When you have quality content on your website and keep updating your website with blog posts and citations, it will have a lasting impact on how your website ranks and how often it turns up when someone searches for a relevant keyword associated with your industry.
Other advantages to organic SEO include increasing your brand, you are able to stand out, and it can help your business grow. It's important to note that even though nothing can compare to organic SEO, PPC is a great way when you first launch your HVAC website. By combining both organic SEO and PPC, you are able to cover all bases on the internet. Want to begin your organic SEO services with HVAC Webmasters? Give us a call today at (800) 353-3409 to get your HVAC website ranking higher.
Benefits of an SEO Assessment for Your HVAC Company
When you work with the HVAC Webmasters, we will perform an SEO assessment of your website and do one every so often. The goal of an SEO assessment is to look at your SEO campaign and see what can be improved. While there are free ways to perform an SEO audit, having an SEO audit handled by a professional SEO firm will be able to look at every aspect of your website and see what your competitors are doing. The HVAC Webmasters SEO assessment is very extensive, covering every detail of your website.
Content: When we perform an SEO assessment, we will look to see if your content is relevant and adds value to your website.
Competitors: We like to look at what your competitors are doing. We will look at their content and use of keywords and even links to see what we can work on from evaluating their website.
Design: We will look at the overall design of your HVAC website to make sure everything is consistent.
Pages: This includes looking at all pages for specific criteria like correct title tags, meta descriptions, and H titles that help optimize your web pages.
Technical: A technical analysis will look at the code of your website. We will analyze and check your websites speed, any issues with a link redirecting, check for duplicate content, evaluate your website's sitemap, if the pages are being indexed, and lot more technical aspects.
Usability: With this portion of the audit, we will look to see if your website is user-friendly if it has the proper links on internal pages and the correct structured data markup.
After we have completed your SEO assessment, we will come up a way to improve any errors we might have found and get you those immediate results to increase your organic search engine visibility. The HVAC Webmasters are ready to give your HVAC company website a detailed SEO assessment that will cover everything on your website. We provide quality SEO assessments that will expand your online presence and improve your overall SEO campaign.
Ready to work with the HVAC Webmasters? Call us today at (800) 353-3409 for organic SEO that will improve your HVAC website search engine ranking, client traffic, and sales leads.