The HVAC Webmasters team provides organic SEO services. The ten blue links that appear on Google search results are known as organic rankings. Although they appear below Google Ads, they receive a higher click-through rate from search users. Ranking #1 on Google organic search results provides the best ROI of any digital marketing platform in 2023.
Although organic rankings are free, implementing the consistent SEO required to achieve them costs money.
What is Organic SEO?
Organic SEO is the process of ranking a webpage or other web entity (i.e. Google My Business Listing) on organic search results. When someone looking for HVAC services searches Google for a local contractor, they receive several types of results. The top of the search engine results page (SERP) shows paid advertisements.
These Google Ads are not secured through SEO, but rather through paid advertising campaigns. The results beneath those ads are known as organic results. Some components of organic SEO include:
On-Page SEO: Optimization that takes place on your main website
Off-Site SEO: Optimization that takes place away from your main website
Link Building: Generating quality backlinks along with embedding internal and external links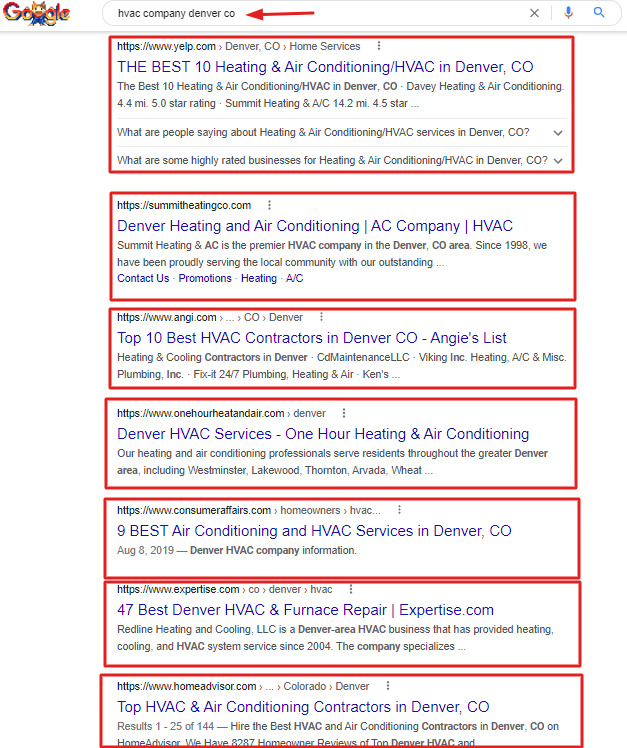 How Organic SEO Helps Your HVAC Company
Achieving top organic rankings can boost sales, limit spending, and increase visibility. Most HVAC contractors share the same goals when it comes to online marketing. They want to make more money, which is why organic SEO's efficiency is so appealing. Imagine securing the top local rankings for relevant keyword terms and enjoying a consistent stream of phone calls for the next decade.
Now imagine spending only a reasonable monthly fee to sustain those rankings through ongoing web work and content creation. Let's review the pros of organic SEO:
Cost Efficiency: Relatively inexpensive
Credibility: Organic results are the most universally trusted
Sustainability: Though it takes time to implement, it works over the long-term
Google continues to evolve and refine its algorithm to better suit internet searchers. One way they achieve this is by catering search results to user intent. The algorithm has become more sophisticated and can now evaluate the implied meaning of the user's search query. For example, a search for ac repair surmises that the user intends to find a local HVAC contractor.
We know this, in part, based on the autosuggest box that pops up beneath the query. When users are looking for how-to manuals or DIY articles, they typically use different phrases and terms.
Organic SEO Components
What distinguishes organic HVAC SEO from search marketing, in general, is that organic techniques are non-paid — meaning the clicks are free. Perhaps the most appealing aspect of SEO is its long-term affordability. While paid ad campaigns drain the marketing budgets of heating & cooling companies across the nation, companies can profit from organic rankings for decades.
Achieving and sustaining top-rankings for relevant local keywords creates a consistent stream of quality leads. Let's take a look at the primary components of organic SEO:
On-Page SEO
On-page SEO is the best way to influence organic rankings. Title tags, meta descriptions, keyword density, and internal linking are all elements of on-page SEO. If you can properly tag your pages and posts and target keywords for topical relevance, you have a great chance of ranking on Google's top results.
Google recently changed the way they display title tags, so it's more important than ever to monitor your H1s and other header tags.
Off-Site SEO
Off-Site or Off-Page SEO influences organic results in multiple ways. First, properly branding your company through NAP citations helps you show up for branded searches, which is when a user searches for your company name on Google. Second, off-site SEO builds links and authority to your website, which strengthens its ranking signals in 2023.
Engagement signals from your social media profiles, directory listings, and other platforms, all contribute to rankings.
Link Building
External links remain a primary ranking factor for organic search results. HVAC websites with authoritative links from credible websites earn more trust from Google and other search engines. Conversely, links from spammy and low-quality websites can threaten your ranking signals.
Typically, Google will ignore malicious links, but if they find out you've engaged in black-hat link-building tactics (i.e., buying links) your website may get de-indexed on search.
Organic SEO Assessment
HVAC Webmasters provides SEO assessments, free of charge. We evaluate optimization components and report our findings and recommendations. If you choose to proceed with our SEO services, we'll immediately get to work on improving your online presence. Once we agree to terms, our assessment becomes a full-on optimization process. Furthermore, our services extend beyond your primary website.
We also handle off-site SEO, which influences business listings, social media profiles, and inbound link strategies. But before we get ahead of ourselves, let's take a look at what our SEO experts will evaluate in the initial assessment:
Content: The relevance and value of your content
Competitors: Where you rank in relationship to competitors
Design: How well the design aspects compliment SEO
Pages: How your page hierarchy is constructed from a user's standpoint
Technical: Speed, redirection, duplicate content, sitemaps, crawling & indexing, and more
Usability: How easy it is to use your website
Low grades in any of the categories listed above should be a red flag. While you don't want to overpay for digital marketing services, you do want to generate as many heating & cooling leads as possible. HVAC Webmasters values transparency, so we won't be embellishing any of your website's weaknesses in order to gain your business. The same can't be said about every online marketing company, so we advise you to be skeptical of other agencies.
SEO can be frustrating in many instances, but our team of designers, experts, and marketers has created a service that contractors have trusted for a decade. With a little patience, SEO can change the course of your HVAC business for decades to come. Our optimization services follow Google Quality Guidelines for organic search engine optimization.