As more consumers look online for their heating and cooling services, HVAC contractors clearly have a lot a work to do if they want to keep up. When faced with all the challenges of digital marketing, it's only natural to look for ways to streamline content production. The trick is knowing how to tell smart management apart from cut corners!
Today, we're going to examine ways that contractors can optimize their websites ways that both Google and potential customers enjoy. Beware the traps we'll discuss, but hunt for the exciting opportunities to enhance SEO for HVAC professionals. Let's dive in!
Common HVAC SEO Traps
Everybody likes a good shortcut. They make life simpler and offer means of saving time, money, and effort. When it comes to SEO for HVAC professionals however, shortcuts cause all too many companies to fall from the upper ranks.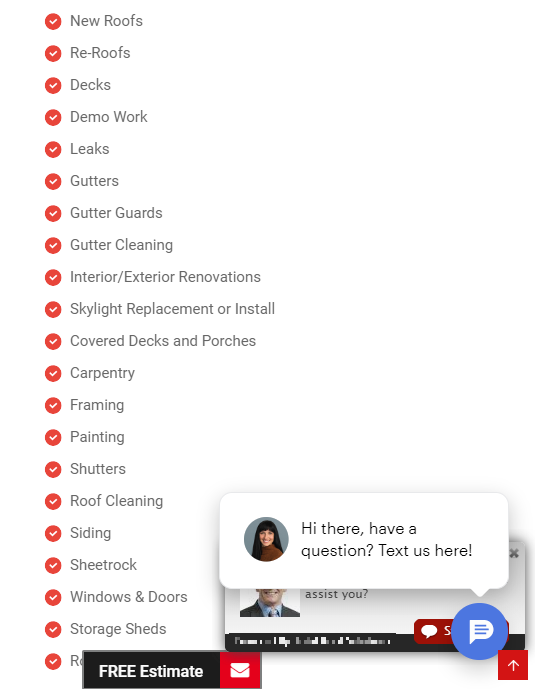 The Most Dangerous SEO Shortcuts
Prioritizing Keywords over Engagement

Building Text Walls

Spun Content

Mass Targeting
Consider the purpose behind all of these shortcuts. Most are designed to either take advantage of search engines, to try to game the system. In the end, users are the ones to lose out because of poor content quality. By sacrificing engagement with potential customers, HVAC contractors end up with rapidly dropping site performance. This ultimately results in lower rankings and lost leads.
Simplified SEO for HVAC Contractors
Now that we've talked about how to side-step those dangerous website pitfalls, let's focus on how to make your website shine in Google search rankings! There are dozens of elements that feed into SEO for HVAC professionals. Instead of trying to tackle them all, we're going to focus on a handful of habits that make it easier for business to manage their websites (while getting better search results).
Ultimately, web developers pursue two goals when they craft a website:
A convenient, enjoyable user experience (UX)
Optimization for better Google rankings
Each of the streamlining suggestions below enhance how Google and potential customers perceive your website (plus your company in general).
Site Structure
Clean Design, Easy Navigation
According to consumer research, it takes the average person only 0.05 seconds to form a preliminary opinion about a website (SWEOR). Visual cues from your homepage mold first impressions for your site visitors. These include your:
Company Logo
Navigational Menu
Your Call to Action
Overall Graphic Style (Color Scheme, Use of Space, etc.)
If a graphic designer approaches your company with an idea for a complex web design, run like the wind. When it comes to site structure and visual elements, simpler generally means better. After all, homeowners and commercial clients aren't looking for Nobel Art Prize winners. They're hunting for dependable professionals that offer quick solutions for their problems.
Stick with site designs that make it easy to see your calls to action, so that visitors can contact you from any page. Let your menus be just as concisem, without packing them with extra services.
Services
Prioritize and Promote
Over the years, your HVAC contractors will spend countless hours training, earning certifications, and learning new systems. It's tempting to take all of that raw ability and craft a page for every single service your team provides. But casting a bigger net rarely provides great results when it comes to SEO for HVAC companies. That's why the lesser pages of Google SERPs (search engine results pages) are littered with sites offering dozens and dozens of slightly different services.
If your really crave more attention for your services, offer fewer options. Stick with two to four major service categories, and present a handful of related services beneath each one. Even if you run an extremely diverse HVAC company with additional industry services, you'll still find better results by restricting your offered portfolio. Remember, you can still mention more specialized solutions in your page content. Just keep your menu short and concise.
Service Area
Basic Service Area, Major Cities
Too many HVAC contractors feel that they need a city page for every single town within their service area. If your heating and cooling company only supports a 20 mile radius, that's manageable. But businesses that cater towards larger geographical areas could end up with hundreds of city pages that don't actually help bring in business. In fact, this habit could harm your business if your website relies on spun city pages like we talked about earlier.
Instead of trying to write or spin a page for every single town in your service area, focus your attention on a dozen or less. Create handwritten content that's optimized for that particular city, and really dig deep into your on-page search engine optimization. Instead of getting zero results for a bunch of poorly developed city pages, you'll start earning steady influx from the smaller quantity with incredible content.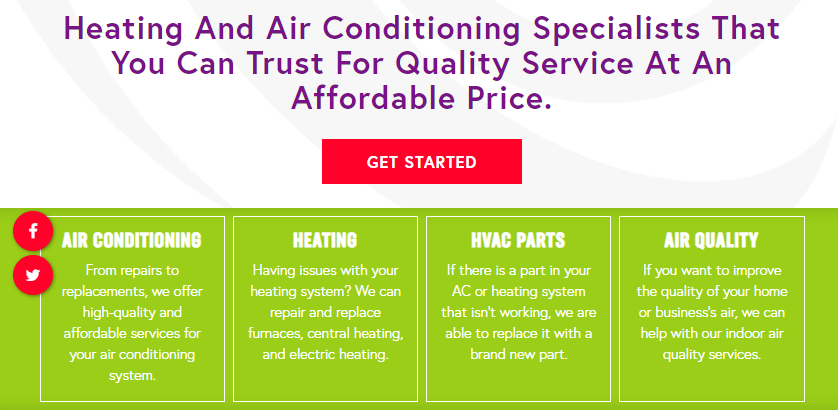 SEO Solutions for HVAC Contractors
These tips should guide your business towards higher search rankings across the board. While shortcuts provide plenty of opportunities to save your business time, money, and effort, always aim for website design that balances SEO with premium user experience. That balance provides the best long-term growth for heating and cooling businesses.
If you'd like to learn more about SEO for HVAC companies, or if you'd like a specialist to analyze your online marketing program, our team at the HVAC Webmasters would love to help! Our clients dominate local search rankings for more clicks, more leads, and more customers. Call us anytime at (800) 353-3409!