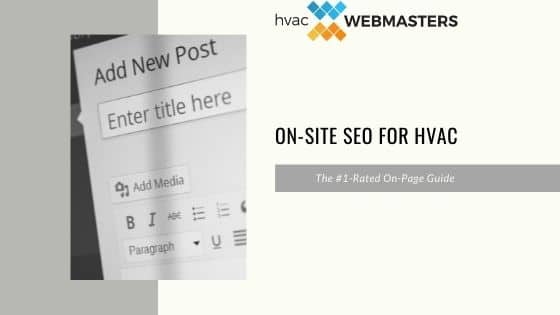 On-site SEO for HVAC companies is an essential yet undervalued aspect of HVAC marketing. Unfortunately, companies get caught up in link building and content writing but fail to execute the fundamentals of website SEO in 2022. The highest-ranking websites master the fundamentals before expanding into off-site ventures to boost authority.
Your on-site content will still be pivotal no matter what algorithm changes the search engines throw at you. As an HVAC business owner, you should know how crucial on-site SEO is to its best practices and how to implement it. As a result, HVAC Webmasters outlines the process step-by-step below.
Keyword Research
Other on-site optimization aspects have overshadowed keyword relevance over the years. Still, one thing remains the same: optimization starts with keywords. Keywords are still the essential roadmap for web crawlers looking for sites to index on search engine results pages.
So not only are you going to want to perform keyword research and choose the best ones for your HVAC company (based on the products and services you offer), you will need to know how to use them best.
Yes, it would be best to use the keywords strategically throughout the written content on your website. And yes, you should never engage in keyword stuffing (placing keywords where they don't sound natural to try and manipulate the algorithm).
But in 2022, there are more important uses for HVAC keywords. So take a look at what you should be doing with your keywords aside from just including them in written, on-page content:
Page Titles: Whenever possible (and when it's relevant and natural) include the keyword in the page's title. 
Meta Titles and Descriptions: Including meta titles and descriptions allows search engines to display important information about a specific webpage to the user. This helps the user get a clearer picture of what they will read or see if they click on that link. Including a keyword in the meta title and description of the page will also make it easier for search engines to tell whether your content is relevant to the user or not. 
H1's: H1's, or headings, should also include the keyword whenever possible. This is why it's essential to start with keyword research and then center your on-page content around a specific keyword. 
On-Page Content
Since we are focusing on on-site SEO for HVAC, the type of content you should include on your website is more or less black and white. Of course, you will want About, Contact, Home, and Services pages. You may also need some product pages if you sell HVAC equipment.
The type of content you choose for your HVAC site will vary slightly based on the kinds of services and products you provide. However, aside from the essential pages we just mentioned, here are some other types of content you should consider including on your site:
Blog Content: Blog content is always helpful because people prefer information about a business rather than traditional advertising. Plus, blog posts present unique opportunities to rank for competitive keywords. You can create blog content centered on helping people understand their HVAC systems, determine what kind of systems they have, basic HVAC maintenance, or other helpful topics.
Images: Images are also pretty important – primarily if you sell HVAC systems. Search for "forced air heating," You will see that some of the top results include blog posts about what forced air heating is with an image. You will also see a list of forced air heating products along with, you guessed it, photos of the product. Search engines like Google like to display images to their users, so you have to ensure you have high-quality images to display on your site.
Service Pages: If you offer specialty HVAC services, you may be at a loss of what content you should include on your site to promote them. In this case, the best thing to do is do a Google search of the name of the product or service you provide. See what kind of pages come up. See what kind of questions people are asking. What are the top results? Are they videos of said service or product? Are they blog posts? Try to emulate the content that ranks the highest for your products and services.
URL Optimization
Google crawls the URL making it critical to optimize your URLs for SEO. Avoid using numbers or baseless text within your permalinks. Instead, focus on concise keywords that reflect the page's primary topic.
Good: bobshvacservices.com/ac-repair
Bad: bobshvacservices.com/394380dk-45
It can be helpful to use short descriptions of the content in the actual URL. In other words, you can use the page's title to name your URL. That way, next to the domain name, the URL will tell the user what the content will be about – making them more inclined to click your link instead of the one with all the non-descriptive numbers.
Most Content Management Systems will allow you to create a custom URL slug (permalink) that appears after the domain name and subfolders. Using the target keyword in this URL slug may be the best practice.
Internal Linking
Much is made of link building for HVAC contractors, but most people focus on inbound links from 3rd party domains. However, one of the most powerful link-building strategies occurs directly on your website. For example, linking your website from one page to another (internally) helps build topical authority while distributing link equity.
On-site SEO for HVAC should monitor dead links as well. You could also use external links (links that lead to another site) to direct visitors to other helpful pages. External linking (sending visitors to another domain) may sound counter-intuitive. Still, it increases the value of your site in the eyes of search engines. After all, it helps its users find relevant information. So, in reality, external linking can boost your rankings.

User Experience
User Experience or UX overlaps technical and on-site SEO categories. Yes, a fast website relies on a solid technical foundation. Still, the user's on-site experience also depends on your on-page SEO strategy. For example, your website might be speedy but fail to provide unique value to the user. As a result, the speed becomes inconsequential to their experience.
On-site factors influencing UX include image placement, text formatting, and the aforementioned internal linking. It's always intelligent to regularly visit your website from the user's perspective, both on mobile and desktop, to experience it from their point of view. Try thinking less about keywords now and think more about how the average person consumes the site.
Final Thoughts on On-Page HVAC SEO
HVAC companies can invest their resources in various SEO strategies. Still, it's wise to focus first on the foundational aspects of on-site SEO. Your website is your most crucial piece of digital content and reflects your brand more than any other platform.
Once you complete your on-site tasks, expanding the solid foundation is much more manageable. With proper keyword research, content writing, URL optimization, internal linking, and UX, you can dominate in 2022.