Ranking on organic search results is the cheapest and most sustainable way to market your HVAC business successfully in 2019. Unlike PPC (Google Ads), organic ranking does not require a bid or payment to Google. Instead, the search engine ranks these results algorithmically based on their artificial intelligence. Sites deemed most relevant to the user's search query, and most trusted by Google, will appear at the top. Conversely, the opposite is true for web properties that are not trustworthy or relevant in the eyes of Google. So the question for heating and cooling companies becomes; how do you establish relevance and earn trust?
Establishing Relevance
To establish relevance for your website, you must implement best SEO practices. This includes high quality content, natural keyword placement, and schema markup. Your title tag must contain keywords for which you wish to rank, as must your meta descriptions, header tags, and image alt text. Placing these keywords into these on page areas without "stuffing" them can be a challenge, but one you must meet if you hope to meet their standards. Google is anti-manipulation. With this in mind, they need to see the keyword to know what the page is about, but they don't need to see it too much, and in unnatural contexts. Remember, Google's allegiance is to their users, not you. Think of yourself as Google's partner in bringing the best website possible to their users. To review, focus on the following:
Content Quality
Keyword Research
Keyword Placement
Schema Markup
You might be wondering what schema markup actually is. It is a microdata language that helps a Google more effectively understand the purpose of a website. For those of us who are not web developers, the language itself will seem like gibberish. But to Google, it helps them crawl and index your website appropriately and promote it to the correct audience. Google no longer relies solely on the on page text to decipher a website's content. Evolution in technology has made the process more refined, and empowered web developers to build better and more informative websites. For this reason, a professional web developer is an important investment. Stock templates often lack the precision in schema.org that is required to outrank the fiercest competitors.
Earning Trust
Google mirrors conventional wisdom in how they determine the trust of a website. For example, newer companies with no established website, no reviews, and no Google Maps listing are appropriately ranked at the bottom. Conversely, sites with established websites that have been live for years and with established Google My Business profiles and verified reviews are placed at the top of rankings. So does that mean a new company is hopeless for the time being? No it doesn't. They just must be more vigilant in earning the trust. Domains younger than a year will have a tough time reaching page one, but can still appear on Google Maps, and Google Ads. And with some hard work, can start to earn organic rankings right at the 1 year mark. Sites that have been around for more than 1 year but have been stagnant, can turn things around quickly with proper optimization and some quality and relevant link building. In summary, Google determines trust based on:
Age: How long your company has been established online, particularly with a website
Authority: How many relevant and trustworthy domains link back to your site
Citations: How well your company is represented on Google My Business and other citation sources, including Facebook
Consistency: How frequently your site churns out high quality content like blog posts, social media, and traditional web pages
HVAC Webmasters can help you earn the trust that it takes to rank higher on Google SERPs. While newer companies have to be patient for organic success, there are avenues through which to supplement traffic while you work towards organic achievements. For HVAC contractors who already have a website, and have had one for years, the process can actually be much simpler and faster. Your lack of trustworthiness might be due to optimization issues, and a simple re-focus on proper SEO could jettison you to the top of rankings before you know it. In either case, don't let your current lack of success discourage you. There are absolutely ways to generate leads online as an HVAC company. Our clients are living proof of that reality. As a marketing service that caters specifically to the heating and cooling industry, we are here to help you in every way possible.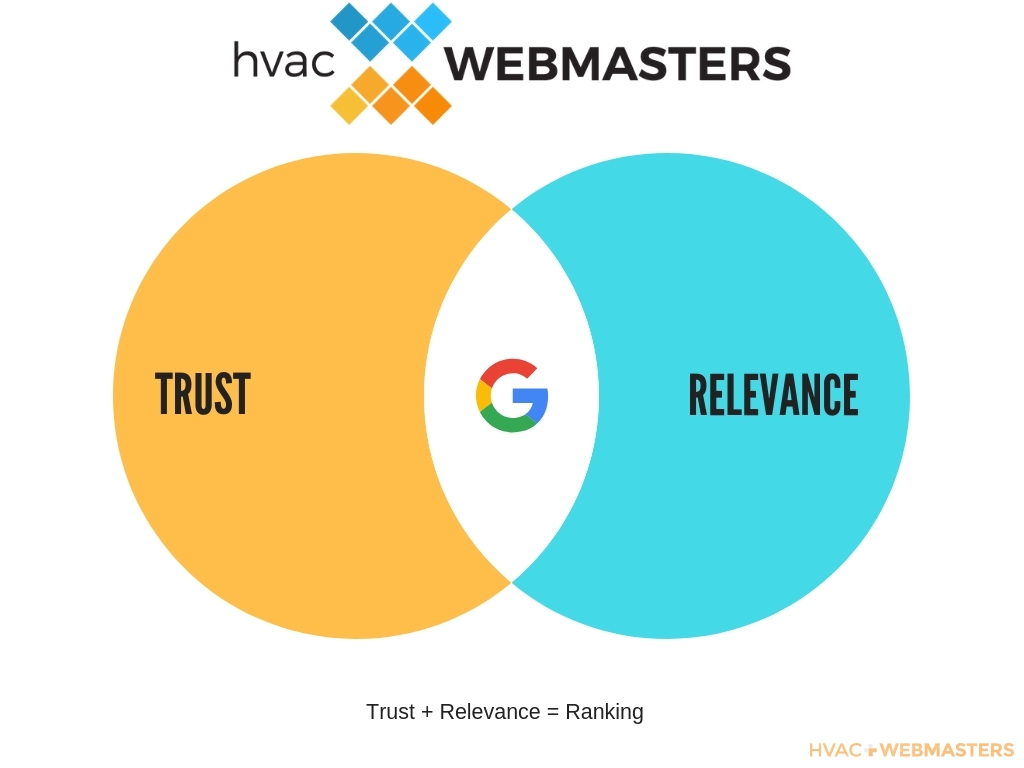 Working With HVAC Webmasters
To build a truly organic web property, the team building it must understand the material. This where heating and cooling companies run into problems. They hire a general marketing agency that is clueless about HVAC as an industry. They implement all of the common tactics used in the SEO industry, but fail to make measurable progress. With a team that works with HVAC companies all the time, we can build an organic concept that implements relevant content that is appropriate for your industry. We also have a base of existing HVAC clients that are proof that our organic methods are in fact productive. We utilize the following organic concepts:
Content Quality: High quality writing relevant to HVAC
Keyword Placement: Natural usage of keywords where appropriate
URL Hierarchy: Sensible and logical URL structures
We offer two payment plans for your choosing. Pay Per Lead (PPL) provides you with full marketing services but requires payment only when an exclusive lead is produced. Month to Month (MTM) provides the same services for a fixed monthly payment. MTM fees are lower than PPL fees, but PPL fees are totally dependent on tangible results. PPL is great for companies just starting out because you never pay a dime until an exclusive lead is generated on your behalf. We screen all lead calls to ensure that they are properly attributed. If the lead comes from a source unrelated to our work, you are NOT charged for it. We are happy to discuss which plan is best for you when you call us now at (800) 353-3409.
Podcast: Play in new window | Download
Subscribe: RSS