A business has two options for digital marketing:
1) Outsource Marketing to an SEO Company / Marketing Agency
2) Hire or Appoint an Employee To Handle Marketing In House
Compare & Contrast Each Option: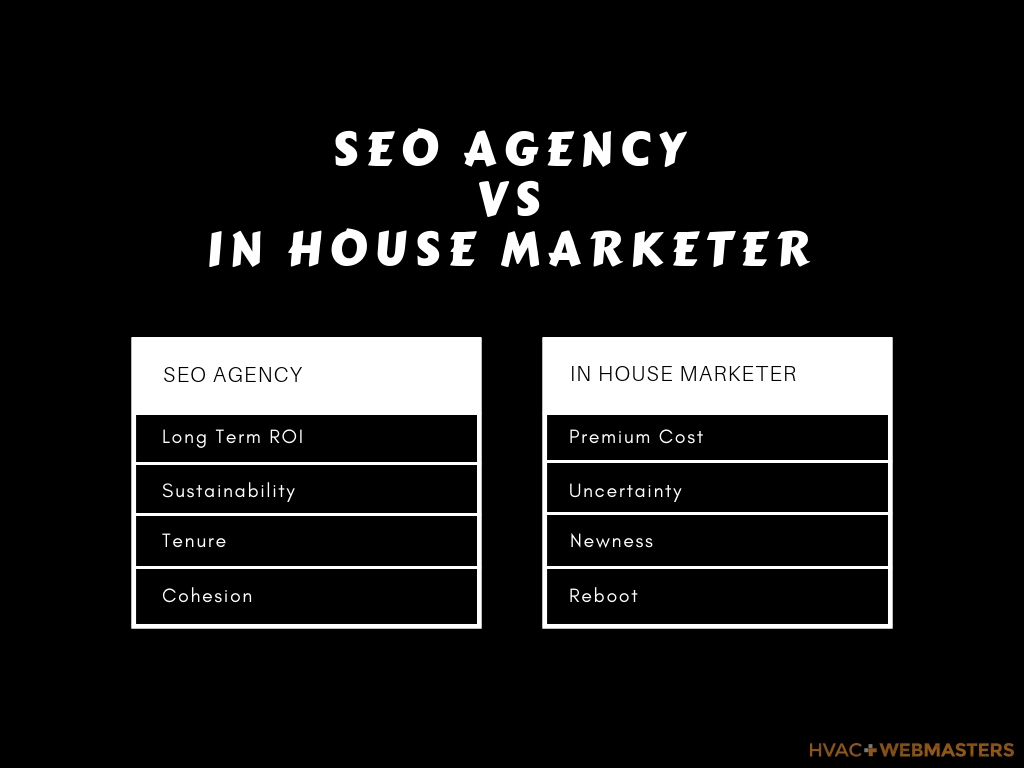 Hiring an SEO Company
The case for hiring an SEO company is strong. It allows you to focus on your day to day business operations while experts in the marketing industry maximize your reach. This ideal is contingent however on the quality of the marketing company you hire. It's this contingency that gives some local business owners pause and inspires them to invest in their own in house marketing department. The key to finding a good SEO company is to research them, speak with them, and compare them to other similar companies. It also helps if the company has a general sense of the industry you are in, and has worked with clients in your field in the past. It's even better when the company is devoted exclusively to your niche. Look for the following qualities in a digital marketing company:
Comparative Strengths
Fair Pricing
Industry / Niche Specificity
Online Reputation
There's certainly a risk when hiring an external marketing firm. But later you'll find out why that risk is actually less significant than the risk of hiring someone who is in house. Let's consider the risks of an SEO firm first however. There's always a chance the company won't perform up to expectations, which can end up costing you money. There's also severe cases where hidden contract terms lock you into longer agreements than you anticipated. For this reason, you should always carefully discuss the terms before agreeing to a contract with any SEO company. Most firms offer month to month options, which will allow you to cancel at anytime. In some cases, like with HVAC Webmasters, pay per lead agreements are also available.
Hiring an in-House Marketer
Are in house marketing experts good or bad? It's a fair question with an unfair answer, if you are one. The problem with in house marketing experts is that they charge a lot of money to do what external firms could do more cheaply, and in many cases, have done more effectively over a period of years. Once a marketing firm helps a contractor reach a certain level of success, their brain moves towards hiring someone "in house." There's many nightmare stories associated with marketers who come on board. Sometimes they reverse the positive impact an SEO firm built up over years, and can actually detract from your overall goal. Worst case scenarios include:
Negative ROI
SEO Regression
There's always cases of course where in house marketers are excellent. It's better to hire one from the origin of your SEO process rather than after having already invested years, or even decades in an SEO firm. Not every in house marketing employee will ruin your optimization, but it's really difficult to maintain a cohesive strategy when its been established by an entirely separate entity. The best move isn't always to "upgrade" to someone else, but rather to invest more in your current marketing agency. To learn more about the pros and cons of in house marketers, listen to the podcast below.
HVAC Webmasters
If you decide to proceed with a marketing firm, HVAC Webmasters is an ideal choice. Our group of 15 marketing experts have diverse skillsets that range from website design & coding to search engine optimization & content marketing. We specialize in marketing for HVAC contractors which gives us a distinct advantage over competitors with a more generalized focus. Take a look at some of the services we offer:
Content Marketing
Google Ads Management
SEO
Web Design
An in house marketer might handle some or all of these things, but to what degree? Depending on how much salary you are willing to pay, the marketer might be deficient in one or more of these areas. Furthermore, the ones that are proficient, are likely to demand a salary that is more expensive than what you would pay for a company like HVAC Webmasters to handle your marketing campaign.
Podcast: Play in new window | Download
Subscribe: RSS