Hiring an SEO Company
Hiring an SEO company like HVAC Webmasters allows you to focus on your day-to-day business operations while experts in the marketing industry maximize your reach. Unfortunately, however, many SEO companies fail to live up to their promises. As a result, some businesses choose to hire in-house marketers to have greater control and oversight over their marketing campaigns.
There's certainly a risk when hiring an external marketing firm. But later, you'll find out why that risk is less significant than the risk of hiring someone in-house. Let's consider the risks of an SEO firm first, however. There's always a chance the company won't perform up to expectations, which can end up costing you money. There are also severe cases where hidden contract terms lock you into more extended agreements than you anticipated.
For this reason, you should always carefully discuss the terms before agreeing to a contract with any SEO company. Most firms offer month-to-month options, which will allow you to cancel at any time. In some cases, like with HVAC Webmasters, pay-per-lead agreements are also available.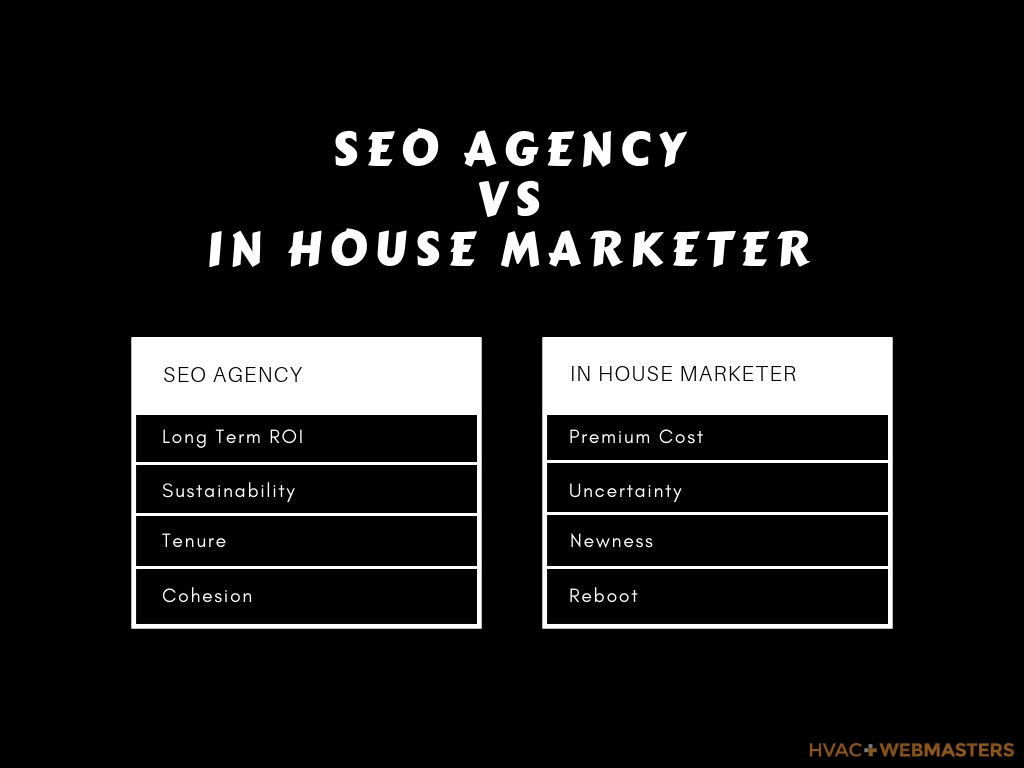 Hiring an in-House Marketer
The problem with in-house marketing experts is that they charge a lot of money to do what external firms could do more cheaply, and in many cases, have done more effectively for years. Once a marketing firm helps a contractor reach a certain level of success, their brain moves towards hiring someone "in-house." There are many nightmare stories associated with marketers who come on board. Sometimes they reverse the positive impact an SEO firm built up over the years and detract from your overall goal. Worst-case scenarios include regression and negative ROI.
There are always cases, of course, where in-house marketers are excellent. It's better to hire one from the origin of your SEO process rather than after having already invested years or even decades in an SEO firm. Not every in-house marketing employee will ruin your optimization, but it isn't easy to maintain a cohesive strategy when it's been established by an entirely separate entity. The best move isn't always to "upgrade" to someone else, but rather to invest more in your current marketing agency.
HVAC Webmasters
If you decide to proceed with a marketing firm, HVAC Webmasters is an ideal choice. Our group of 15 marketing experts has diverse skillsets that range from website design & coding to search engine optimization & content marketing. In addition, we specialize in marketing for HVAC contractors, giving us a distinct advantage over competitors with a more generalized focus.
An in-house marketer might handle some or all of these things, but to what degree? Depending on how much salary you are willing to pay, the marketer might be deficient in one or more of these areas. Furthermore, the proficient ones are likely to demand a more expensive salary than what you would pay for a company like HVAC Webmasters to handle your marketing campaign.
Podcast: Play in new window | Download