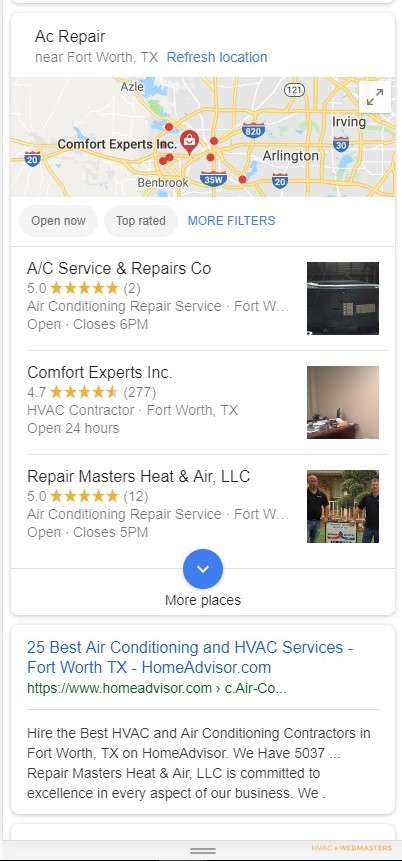 Google search engine results pages, often referred to as SERP's, are the prime real estate of the digital marketing industry. Companies from all over the world, of all sizes and disciplines, compete to rank prominently for competitive keywords. Most HVAC contractors understand how valuable SERP visibility is to their business, which is why they invest in services like SEO and PPC. As Google has evolved, new avenues of search visibility have manifested. While organic results and PPC ads were once the only vehicles through which to appear on SERP's, there are several new and innovative additions. One of those is the local 3-pack, which is a location dependent block of search results aimed to match local searchers with companies near them.
Less Is More In Local SEO
What is now known as the local 3-pack was actually once a 7-pack. The reason behind the reduction stems from Google's renewed emphasis on mobile experience. Since most local searchers, and searchers in general, are performing search queries via smartphones, or other mobile devices, the limited screen size makes less information more prominent, and more valuable. A smartphone user's viewport can more effectively display 3 local companies than it can 7. Things to consider for mobile experience include:
Display: How much can be shown within the screen dimensions?
Location: Where are users searching from?
Navigation: How easily can users navigate the page?
How To Appear On The Local 3-Pack
While there's no way to guarantee a spot on the local 3-pack, there are steps that can certainly aid your efforts in securing one of those coveted placements. Practicing good local SEO, in general, is conducive to appearing on local results, and subsequently; the local 3-pack. We noted above how mobile experience drives local SEO, and what is expected of it. Catering your website to mobile users is one way of signaling to Google that your website is worthy of a prominent local ranking. Other ways to improve local SEO include:
Google My Business: Claim and optimize your listing on Google My Business
NAP Consistency: Ensuring consistent name, address, and phone number info on directories
Responsive Design: Creating a mobile first website that responds based on device
HVAC Webmasters
If you don't have the time or resources to improve your local ranking, HVAC Webmasters is here to help. Our team of web designers, SEO experts, and social media specalists can put your company in the best position to earn a local 3-pack ranking. The traffic generated as a result of this appearence will produce valuable leads for your heating and cooling business. We offer two basic marketing plans including a month to month plan (MTM) and a pay per lead plan (PPL). Which one you choose will depend on your company's specific business goals. Each plan includes organic SEO.
The local 3-pack is valuable digital real estate, but it is not the only non-traditional way or appearing on local SERP's. The emergence of featured snippets has created yet another avenue to improve search visibility for HVAC companies. By posing a question in the H1 or H2 of your on page content, and answering that question in the subsequent paragraph, you put your page in position to be selected as a featured snippet. These highlighted snippets appear on the top of organic results, effectively securing the #1 ranking. Call (800) 353-3409 for local SEO.