Google search engine results pages, often referred to as SERPs, are the prime real estate of the digital marketing industry. Companies from all over the world, of all sizes and disciplines, compete to rank prominently for competitive keywords. Most HVAC contractors understand how valuable SERP visibility is to their business, so they invest in services like local SEO and PPC. 
As Google has evolved, new avenues of search visibility have manifested. While organic results and PPC ads were once the only vehicles to appear on SERPs, there are several new and innovative additions. One of those is the local 3-pack, a location-dependent block of search results aimed to match local searchers with companies near them.
What is The Local 3-Pack?
The Local 3-Pack is a group of 3 Google My Business listings that appear on the top of SERPs for location-based queries. So, for example, when a user searches for ac repair near me, they will see a Local 3-Pack featuring the top HVAC companies in their proximity.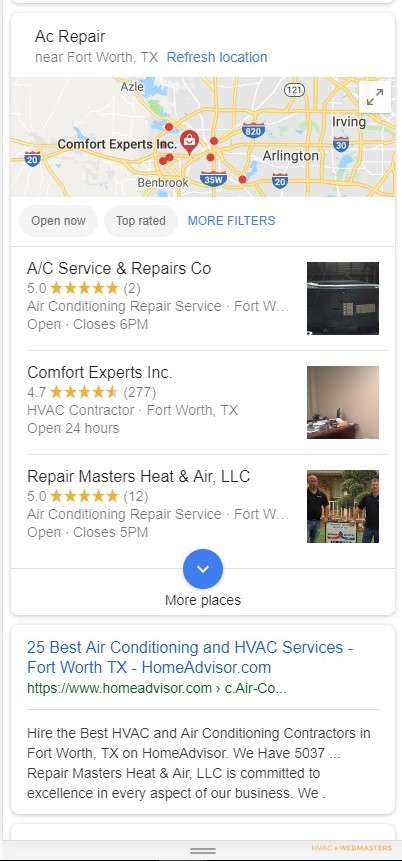 Less Is More In Local SEO
What is now known as the local 3-pack was once a 7-pack. The reason behind the reduction stems from Google's renewed emphasis on the mobile experience. Since most local searchers, and searchers in general, are performing search queries via smartphones, or other mobile devices, the limited screen size makes less information more prominent and more valuable. For example, a smartphone user's viewport can more effectively display three local companies than it can 7. Things to consider for mobile experience include:
Display: How much can be shown within the screen dimensions?
Location: Where are users searching?
Navigation: How easily can users navigate the page?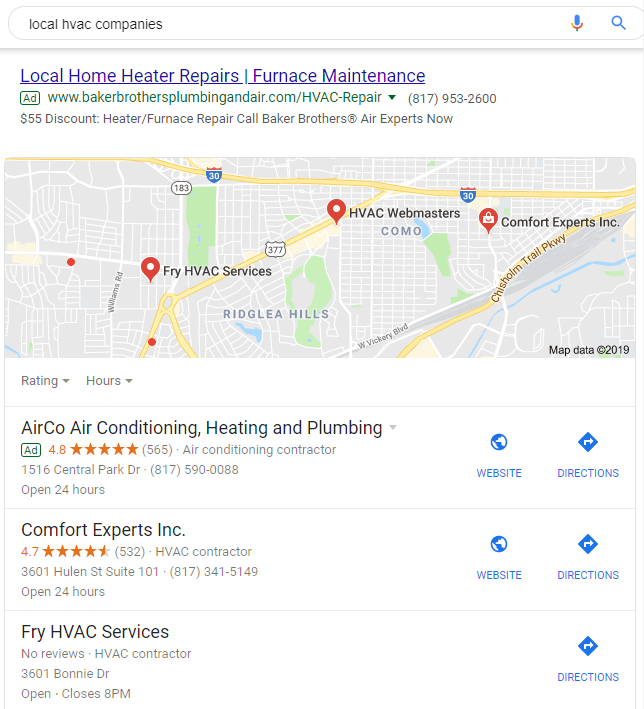 How To Appear On The Local 3-Pack
While there's no way to guarantee a spot on the local 3-pack, there are steps that can certainly aid your efforts in securing one of those coveted placements. Practicing good local SEO, in general, is conducive to appearing on local results, and subsequently, the local 3-pack. We noted above how mobile experience drives local SEO and what is expected of it. Catering your website to mobile users is one way of signaling to Google that your website is worthy of a prominent local ranking. Other ways to improve local SEO include:
Google My Business: Claim and optimize your listing on Google My Business
NAP Consistency: Ensuring consistent name, address, and phone number info on directories
Responsive Design: Creating a mobile-first website that responds based on device
Local 3-Pack Ranking Factors
Google uses three ranking factors for the local 3-pack, including proximity, relevance, and prominence. HVAC companies can't influence proximity unless they move their address to a different location. However, some companies will impact their business for SEO purposes since establishing a map pin in a high population area can help generate traffic.
HVAC contractors can influence relevance by writing content on their main website and attaching the website URL to their GMB listing. You can also impact relevance with your business name. For example, if your business name features your primary city, it will help you rank on the map pack.
As for prominence, HVAC companies can also impact this metric online. The best way to gain reputation is to generate as many reviews as possible on your Google My Business listing. Consider utilizing an app like DataPins to automate review requests. Strengthening your website can also impact your listing's prominence in 2021.