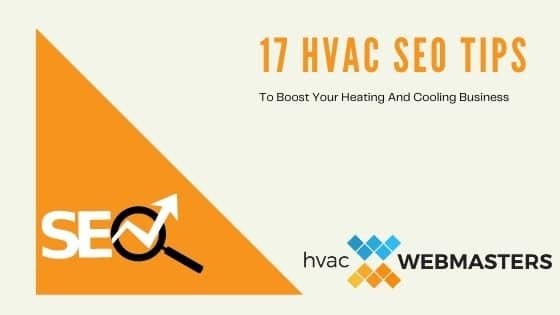 HVAC SEO is one of the best ways to generate leads online. But how should heating and cooling contractors approach search engine optimization in 2023?
There are various ways to optimize your business online, and below, HVAC Webmasters outlines 17 SEO tips to boost your cooling (or heating) business this year.
Meanwhile, check out our HVAC SEO services to learn more about us.
What is HVAC SEO?
HVAC SEO is a process of improving your business's visibility on search engines, and Google, in particular. The primary SEO ranking platforms are Google organic search results and Google Map 3-Pack results.
Helpful SEO Tips for HVAC Contractors
SEO has four main pillars, which are keywords, UX, content, and links. Most of the tips below relate to these central pillars and contribute to an overall web presence. Of course, it always helps to invest in SEO services.
1) Focus on Conversions
There are thousands of Google ranking factors and various methods used to optimize an HVAC business online. Unfortunately, it's easy to go down a rabbit hole and get lost with all this information.
Instead, focus on conversions to keep yourself sane. Every time you choose to perform an SEO tactic, ask yourself, will this help me convert more customers for my HVAC business? The answer should be yes.
2) Use DataPins
HVAC companies don't have much time to spend with SEO, so they must outsource the work to an agency or utilize an automation tool like DataPins. DataPins essentially automates SEO for HVAC websites.
Field techs just snap some photos of their job and apply the appropriate tags via the DataPins app. From here, the pins automatically generate content on the relevant pages, which helps boost your search rankings.
3) Target Long-Tail Keywords
Some companies obsess over primary terms like hvac services when the real value comes through long-tail keywords like emergency ac repair service. Use keyword research tools and Google Search Console to find opportunities.
Remember, search volume is not everything, especially with tools like SEMRush, which produce suspect volume numbers. Google Search Console helps you analyze real-time search data associated with your site.
4) Stay White-Hat
The temptation to engage in black-hat SEO tactics remains strong in 2023. Yes, Google has closed several loopholes in its algorithm, but some websites actively exploit the remaining vulnerabilities.
Choosing black-hat SEO will at best reward you with a short-term win and a long-term loss. The worst-case scenario spells doom for your HVAC business, as you might get wiped off of the search index completely.
5) Choose The Right SEO Agency
There are a plethora of options for HVAC SEO agencies, and choosing the right one is challenging. However, you must get this decision right to succeed in 2023. Try going with an experienced agency in your niche.
For example, go with an agency specializing in SEO services for HVAC companies, not just a general SEO company. The former is more intuned with your industry's needs and opportunities as it pertains to Google.
6) Utilize YouTube Optimization
One way to improve SEO in 2023 is to utilize YouTube. You can rank on YouTube's platform and through Google's video results. Google results even feature YouTube videos on the primary organic results, sometimes.
As an HVAC contractor, you may not think you have much worth filming. But a simple introductory video of your staff can work wonders for online marketing. Be sure to add a keyword-rich title to your video along with a good description.
7) Boost Your Google Business Profile
Google My Business is now known as Google Business Profile but remains integral for HVAC companies. You must rank in Local Map-Pack to generate local clicks. Be sure to add photos and Google posts regularly.
Getting more reviews helps boost your GBP as well. Use a tool like DataPins to automat review requests via SMS and email messages. In addition, make sure your technicians are asking for reviews in person.
8) Invest in Your Primary Website
It might seem like SEO is moving towards 3rd party platforms like GBP and Yelp, but the reality is that your primary website is your most vital asset for Google. So with this in mind, make sure to invest in your website.
For example, it is critical to own your domain name as you accumulate links and mentions from across the web. Additionally, expanding your Google index with high-quality content allows you to preserve value.
9) Avoid Starting Over
SEO is a long game, and starting over every six months or year hurts your cause. Some companies get frustrated with their SEO agency and fire them on the spot. In the worst cases, these agencies own your domain.
If you start over with a brand new website, all of your SEO progress is lost. Your site is no longer indexed in Google, and it can take several months just to appear on page 50, for example. Avoid this at all costs.
10) Strengthen Your Brand Online
The most underrated SEO ranking factor is branding. You can create branded signals by expanding your online presence on social media, business directories, and news publications. Offline exposure even helps.
One significant randed signal is branded search. For example, when a user searches for your company name or your company name + reviews, Google understands their intent and boosts your brand score.
11) Build Internal Links
External link building is a black hat tactic discouraged by Google. Still, many competitors participate in the practice of link building, actively ignoring Google's recommendations. There is, however, a white-hat method as well.
Internal linking is not discouraged by Google and is encouraged. Make sure to link from one page of content to another using relevant and helpful anchor text. Always keep the user's journey in mind when creating links.
12) Stop Publishing Blog Posts
Blog posts are dead in 2023, and every HVAC website that publishes them may die along with them. Don't get me wrong, blog posts can still rank in some industries, by local HVAC services is not one of them.
Instead of publishing worthless 300-word blog posts that Google may not even index, focus your energy on user-generated content like pins. Geo-schema pins appear on your service and city pages, adding new content to existing pages.
13) Fire Your Existing Agency
As we know from Brian Dean's survey, 70% of businesses hate their current SEO agency. So fire them and hire HVAC Webmasters to enjoy better results. Then, of course, you can call them right now with the news.
Moving from your current agency to HVAC Webmasters is best for business. Think about how much your existing agency charged you for a website alone. Is this the type of person you want to do business with?
14) Expand Your Services
If you want to rank for more keywords, offer a new heating and cooling service. For example, start offering commercial air conditioning repair, which can get you many new leads from Google organic search.
Another option is providing ductless air conditioning, which is worth its own service page. Remember, as a competent agency, we can only produce pages for services your company actually provides in 2023.
15) Display Social Proof
If your company won any awards in 2022, make sure to post the badge on your website's home page. You might think it's irrelevant to SEO, but you're wrong. Social proof can influence dwell time which impacts ranking.
If you don't have any award badges, there are other ways to display social proof on your company website. One way is to ask for a video testimonial from a client. Another option is buying DataPins software.
16) Publish Data or Statistics
If you have access to original data or statistics, you should publish it somewhere on your website. Sometimes adding stats to your service pages makes sense; other times, the homepage is a better fit.
Publishing data makes it more likely for 3rd party websites to link to your content, which Google wants. Most agencies believe in a tactic called link outreach, but it blatantly violates Google's terms and conditions.
17) Improve User Experience
A substantial part of SEO is providing an excellent experience for users who visit your site through Google search results. In addition, metrics can demonstrate how users react to your website, including swell time and time on site.
Rest assured that Google has access to all the Google Analytics data your website captures. When users show they have a positive experience on your site, Google wants to share that experience with more of its users.
Bonus HVAC SEO Tip: Stay Secure
A hacked website will drop in rankings fast, so it's critical to prevent that at all costs. Of course, you should already have an SSL certificate on your website, but it's also essential to create regular backup files of your entire site.
Other measures include auto-updating your WordPress plugins to prevent hackers from exploiting vulnerabilities and injecting malware via a plugin. In addition, several WordPress plugins add extra security to your website.