The world of search marketing shifts and sways all the time. Even seasoned professionals work hard to keep up to date on the latest Google algorithm updates and industry strategies. That's why our team invests the time, money, and energy to attend key conferences around the country.
In our latest podcast, Nolen and Jason share some of the insights they accumulated from their latest conference adventures! If you've struggled to cultivate your online brand this year, be sure to listen in for some HVAC SEO tips.
Key Facts on SEO for HVAC Professionals
GMB plays a more active role now, allowing people to contact your business directly via messaging, phone, or Q&A entries.
SSL Certificates, custom code base, and mobile-ready design should be considered basics, but not every company provides these attributes.
Without a GMB account claimed and verified, it's almost impossible to show up properly for local maps listings.
New Light on GMB
One of the most noticeable trends discussed these days is the rising prominence of GMB and the Knowledge Graph. Google My Business (GMB) is a free listing service that allows companies to show up in local searches. Businesses simply need to claim their free listing, provide their basic operational information, and verify their address with Google.
Once the account is active, Google generates a Knowledge Graph with contact information, hours of operation, and uploaded photos for your company.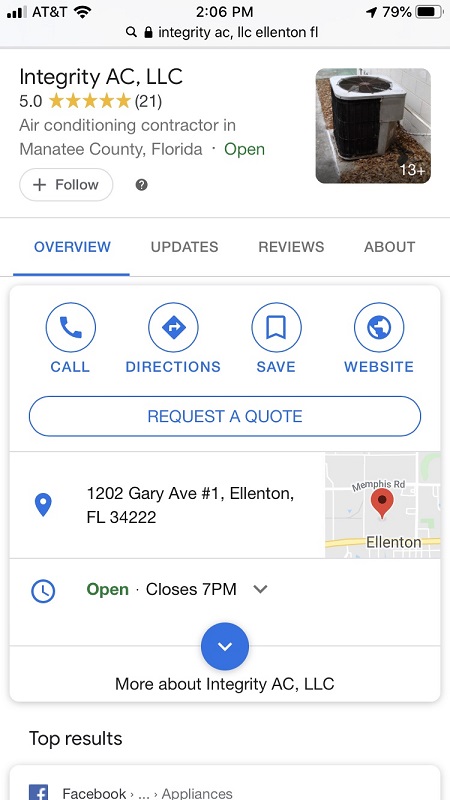 Notice the buttons in the middle of the screenshot above. These enable streamlined communication with potential customers around the area. Not only can they easily call your business (even from the road), they can also request quotes via the messaging system. GMB creates high-value prospects without ever needing to send to your website.
Optimization for GMB
As the capabilities grow for your Google My Business account, so does the responsibility of ensuring your listing stays accurate and up to date. We've seen too many businesses lose valuable leads over the years because of discrepancies in their GMB listings. In fact, we witnessed one outside company (a roofing contractor) lose over $2 million revenue in a single year because of a suspended listing.
It's more important than ever to keep your account optimized. How can your business accomplish this?
Initial Listing Setup
Make sure you've gone through the official verification process.
Use the same address (including abbreviations) for all other listings.
Update your GMB when you start offering new services.
Use your home address only if you don't have an official office.
Answer as many GMB questions about your operations as possible.
Ongoing Activities Good for HVAC SEO
Answer prospect questions in the Q&A section.
Create a short GMB post every week with new content or promotions.
Add team photos, interior views, exteriors shots, and job site pics.
Continue asking for reviews!
Bad SEO for HVAC Professionals
Don't try to mess with other HVAC company websites!
Do not create fake locations to try to expand your service area.
Do not offer any sort of incentives or discounts for client reviews.
Do not get rid of your website domain (barring legal reasons).
Do not leave your GMB vacant after verifying it.
Keyword Strategy & HVAC SEO
Back in the day keyword optimization simply involved using a particular phrase three times for every 100 words. Unfortunately, this strategy created gobbity-gook messes that no one enjoyed reading. Nowadays, the Google Search algorithm does a much better job comprehending the meaning behind everyday speech. This allows the search giant to reward high quality content with the best rankings.
Keyword strategy plays a foundational role in SEO for HVAC company websites, but it also continues to slowly shift every year.
SEO conferences continue to speak what we already instinctively know: keyword diversity and natural writing produce the strongest results. That means incorporating synonyms and other phrases related to your primary keywords as your produce new content. Whether you're re-writing a service page for the fifth time, or you're constructing the latest guide for maintaining a home AC unit, keyword diversity makes for better reading and ranking.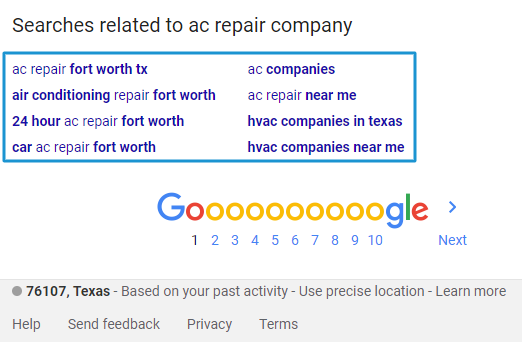 If you aren't sure which phrases best match keyword, try searching it in Google and looking at the blue phrases at the very bottom of the page. You can also try out helpful keyword tools, such as Answer the Public.
Looking for Stronger Search Results?
At HVAC Webmasters, we specialize in creating search-optimized websites for higher rankings and better leads. If you've been stuck with expensive lead channels or simply aren't seeing the local search results you want, our team is here to help! Call (800) 353-3409 and get a free consultation for your HVAC SEO.
Podcast: Play in new window | Download