In 2021, Branding for HVAC companies isn't the same as it was two decades ago. When it comes to creating exposure for your HVAC business, nothing fights more challenging for your company than your online brand. If you want to earn more clients (who doesn't?), you'll need to understand Google's local search process and how people find your brand.
On today's podcast, Jason and Nolen dive into some of the general strategies behind online branding. Be sure to listen in if your business has struggled to make headway in local search ranking! Keep an ear open for these essential tips too.
Tips for HVAC Professionals:
Even Google needs help separating your business from others.
The search engine uses E-A-T to gauge your brand suitability.
Traditional advertising sees increasingly low ROIs.
Many companies see zero brand visibility without a GMB listing.
Google (currently) sees your website's age as your company age.
The Makeup of Your HVAC Brand
What is an "online brand" for an HVAC company?
The Domain Name (or .com)
The Google My Business Listing
All Company Reviews
Blogging and Other Content Updates
Branded / Direct Searches
Citations
Google Map Postings
Social Media Accounts / Activity
Google examines all of these signals to determine the value (or suitability) of your online brand. Keep in mind; the search engine has thousands of similar business listings to sort through and hundreds of millions of related pages on top of those! So even the catchiest brand name can get lost in the overwhelming number of industry competitors.
Let's break down these branding facets into three different categories: Identity, Ability, and Activity.
Establishing Online Brand Identity
Your Target Branding Tools
GMB Listing
Domain Name
Citations
Social Media (Accounts)
Despite popular opinion to the contrary, Google is not an all-knowing force of the industry. The search engine's understanding is limited to the information that users provide. Google can't produce data from anything.
So if you think that Google knows about your 3rd generation plumbing company and overwhelming client satisfaction rate, you might be dead wrong.
A Star Brand is Born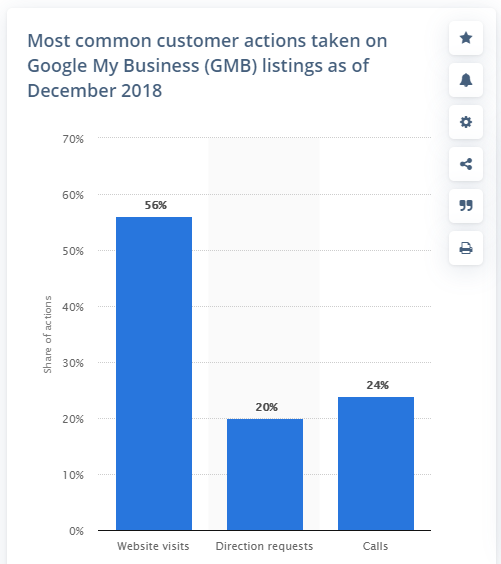 Most (if not all) company online brands begin with listings and citations. Physical location, company age, operating hours, industry type, service area, and other data paint an essential portrait of your business. You'll want to provide this data to as many established citation companies as possible.
When it comes to local search, the ideal place to kick off your brand is Google My Business (GMB).
GMB listings are essential for appearing in local search results, but they also provide helpful interaction capabilities with potential clients via the Knowledge Graph tool. According to consumer research, 56% of search users who interact with your GMB listing use it to visit your website. Additionally, 24% use them to call your business directly (Statista).
Grab Those Citations
Of course, sharing your company information with citation sources like Yelp, Facebook, BBB, and Manta will further establish the identity of your online brand. They also facilitate the review process, a crucial part of establishing your services. We'll talk more about this later.
For now, make sure that the information you provide across your sources is consistent. Even the way you abbreviate your physical address matters! If your HVAC business has the opportunity, you might also want to list it in relevant industry publications.
Stand Out With Your Domain
Another essential branding tool in your question for local search traffic is your domain name. What a make-or-break decision! While many companies mistake targeting generic keywords and city/state combinations, this tactic only makes your brand harder for Google to distinguish.
The best domain names combine HVAC terminology with something quirky or memorable. For instance, real-world company Main Street Heating & Cooling realized their domain name needed to be a little more distinct than their usual title. So they chose mainstreetcomfort.com, a domain name that Google can easily distinguish from other industry competitors.
On a side note, make sure you register your domain under your business' name, not the hosting company's, to avoid potential problems when your registration approaches expiration.
Proving Online Brand Ability
Your Target Branding Tools:
Website Content
Customer Reviews
Citations
Just about anyone can set up a website and claim to provide AC repairs. Thousands of professionals boast in their "best AC repairs" and "affordable furnace maintenance", but Google only shows a handful in front page local results. So how does the search engine decide who gets picked?
E-A-T: Expertise, Authority, and Trustworthiness
In its Search Quality Evaluator Guidelines, Google has expressly stated that it looks for these qualities as it judges content. These brand values, however, can be evaluated even beyond the actual business website and service pages.
Reviews Build Credibility for Your Business and Confirm Your Service Offerings.
Matching Claims With Results
To prove your online brand's trustworthiness, Google needs to match up the claims of your website (such as what services you provide) with the testimonies of relevant sources. One of the most powerful channels of information in the evaluation process is your client reviews. Not only do they speak to the general quality of your services, but they also verify that your company does what you say it does.
Having multiple citations enables reviews from a variety of sources. If you continue to ask for reviews after finished jobs, that means numerous sources will be confirming your brand's abilities! As your team gains more experience and your website ages, Google will reward this proven ability with higher rankings in local search.
Engaging in Brand Activity
Your Target Branding Tools
Blogging
Customer Reviews
Direct Searches
Content Updates
Social Media (Posting)
Online branding is an ongoing process. While Coca-Cola and other multi-billion dollar brands can sit back and rest on their laurels, HVAC professionals have to fight to maintain their top position. Since Google doesn't have real-world eyes watching as company's open and close their business, the search engine relies on online branding activity to infer these details.
Managing Content & Reviews
When a site goes live, Google crawlers make their way through the pages to analyze the content. So Crawling is how Google creates an initial picture of what your business does. Later on, these same crawlers revisit the site, on the hunt for new content. The process goes on and on over the years.
If the bots repeatedly find no new content, Google might believe your business has closed down. That's why so many HVAC companies who enjoyed top rankings find themselves on the back pages of local search.
So what online brand activity can your business use to stay up-to-date?
Content Marketing & Refurbishing
Blogging is the go-to tool for many HVAC businesses. Not only does it provide proof of continued activity, but it's also the perfect way to earn featured listings and other high-traffic search results. Of course, Facebook Posts and Instagram posts also help, especially with original visual content.
Older content can spring back to life too. For example, some of your business's most valuable assets are your service pages and handy guides. Take time every year to assess this valuable content and refurbish them for fresh value. You can even take advantage of this cyclical editing to amp up your keyword strategy!
Building a Review Bank
As we like to say, reviews are one of the purest forms of digital currency. Not only do they pay huge dividends with Google's perception of your online brand, but they also encourage other consumers to try out your HVAC company! Most companies partly understand the value of customer feedback, but few make the necessary effort to collect it.
If you only take one lesson away from this discussion, let it be this: never stop asking for reviews! Train your team to ask for them immediately after repairs. Follow up with clients after installations and explain how important their feedback is to your business' growth. You'll be amazed just how much your online brand will climb the local search rankings.
Start Building Your Brand
Ready to start crafting a brand that lasts? Our team at HVAC Webmasters would love to help! Not only do our clients enjoy impressive rankings in local search, but they also earn higher quality leads. With years of experience in the industry, you can expect powerful results from our team of seasoned content writers, SEO specialists, website designers, and editors.
Podcast: Play in new window | Download