HVAC contractors looking to boost their engagement in 2019 should consider YouTube marketing services from HVAC Webmasters. Why? YouTube reaches more 18-49-year-olds than any cable network in the United States. This presents a great opportunity for HVAC companies to reach a wider audience. YouTube marketing can consist of:
Original Video Clips: Creating introductory videos or even clips that show your services
Video Advertising: Buying ad space on YouTube videos
Website Integration: Embedding video clips within your website to engage users
YouTube Channel: Creating an original YouTube channel branded with your logo
YouTube is much more than social media, it is the most popular content medium on the internet. With mobile streaming now a common occurrence, there has never been a better time to reach a wider range of potential customers. You can market your services to anyone at any time. For HVAC YouTube marketing services, call (800) 353-3409.
Creating HVAC Video Content
We previously mentioned introductory videos as they are the most common and simple forms of video. There are several other types of videos that can be used to market your HVAC business. But how does one go about recording the video? There are multiple things to consider:
Audio Quality: Using an external condenser mic will give a higher grade of audio
Post Production: After the video is recorded, you'll want to add watermarks and other FX
Scripting: In some cases, you will want to follow a script for your video, much like a commercial
Thinking about video ideas besides an introduction? Doing a walkthrough of one of your service jobs (with clearance from the customer) can give prospective clients a visual look at what they will be paying for. You can then share this clip on your website and all major social media platforms, increasing your engagement and growing your brand awareness. Another video concept that many HVAC companies take advantage of is offering a guide on how to make small repairs like a thermostat replacement or filter replacement. These videos offer helpful advice while presenting a knowledgeable front for your company. Call the Plumbing Webmasters experts to learn more about how you can use YouTube to your marketing advantage.
Sharing HVAC YouTube Content
A major advantage of YouTube content is its shareability. YouTube makes it extremely simple to share and embed videos on any platform you can think of. That means when you create a high-quality YouTube video for your HVAC company, you can post it on your Facebook page and also embed it on the homepage of your website. Sounds overwhelming? Not a problem. HVAC Webmasters handles all aspects of video integration and sharing, so you never have to stress.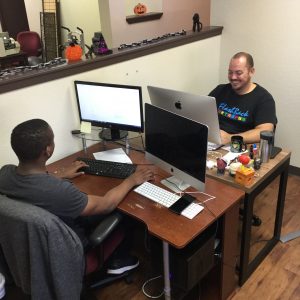 2019 is the time to take your HVAC business to the next level. There is no better way to spark that journey than to invest in YouTube video marketing. This a medium that is already extremely popular, a trend that will only increase over the next year. Reach potential customers on the go with mobile video streaming and advertising. To further discuss HVAC YouTube marketing and how it can help your company, give us a call at (800) 353-3409.