HVAC companies don't have a lot of free time on their hands to brainstorm social media posts. As a business owner or operator, this can be a frustrating problem. You probably found this page because you need some ideas for your Facebook, Twitter, Instagram, or Google Posts.
Without further ado, HVAC Webmasters' presents 20 social media post ideas.
1) Company Culture Post
One of the most effective social media posts for HVAC contractors demonstrates company culture. Highlighting your company's principles, such as loyalty, honor, and respect, can go a long way toward connecting with customers. For example, business owners with military backgrounds can integrate their background through company culture.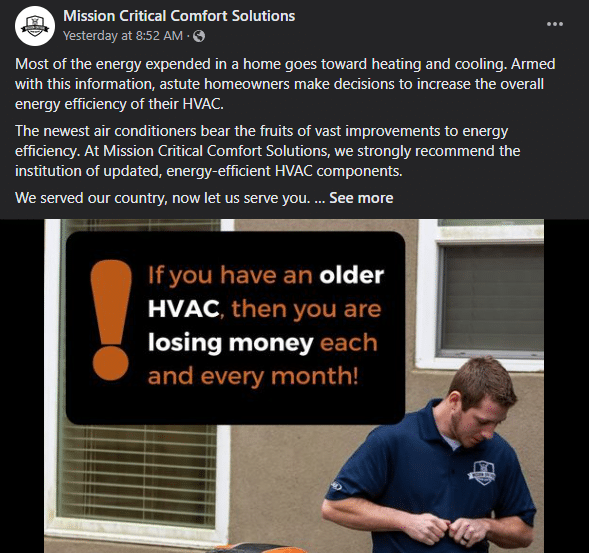 2) Blog Share Post
If you are familiar with content marketing, you understand that one piece of content can be used in various ways. A great example of this is sharing a blog post on social media. Shared posts help drive traffic to your website, where social media followers can enter your sales funnel. Crafting engaging, high-quality posts with appealing topics works best.

3) Seasonal Post
When it comes to social media marketing for HVAC companies, seasonal weather changes can be a significant inspiration. After all, your consumers' needs change with the seasons. For example, emerging winter weather calls for furnace maintenance, heating repair, and other kinds of services that keep residents warm.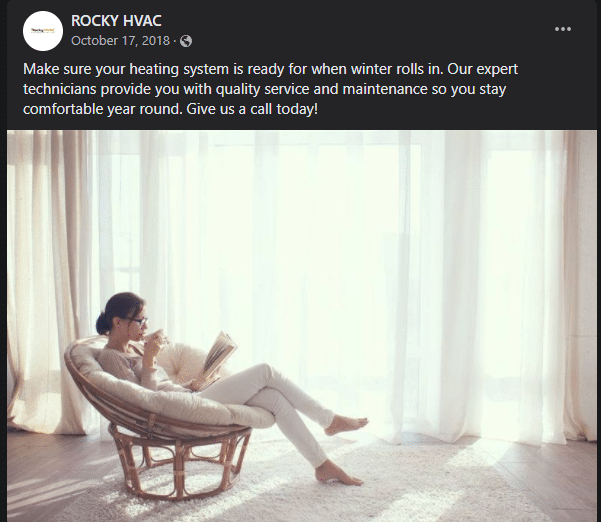 4) Holiday Post
Like with seasons, holiday posts are a great source of inspiration for HVAC social media. Whether it's Christmas, Thanksgiving, Halloween, or Memorial Day, your company can share the holiday spirit with followers. HVAC contractors also often run promos during these periods, which you can integrate into your social media post theme.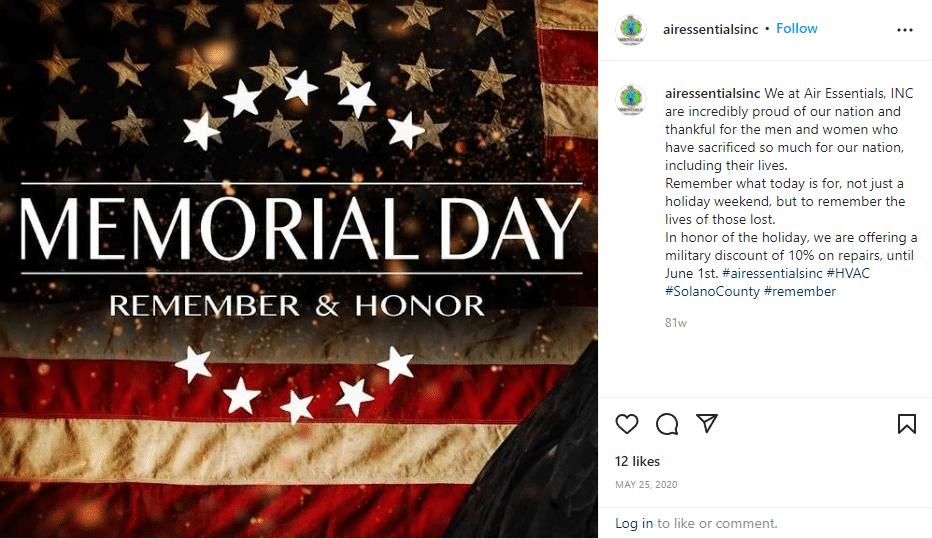 5) Service-Based Post
Sometimes highlighting a featured service can help draw interest from social media followers. Customization is a vital component of marketing for HVAC contractors, so reaching people who require a specific service works best when your post is particular. If your company offers a rare or unique type of service, be sure to feature that within your social post.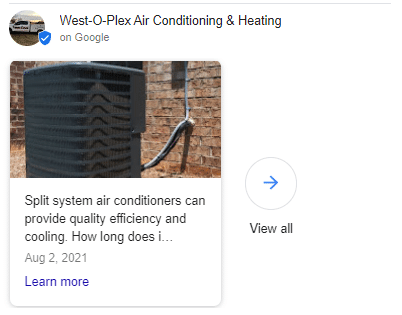 6) Social Proof Post
At its core, social media is about community and bringing people together. There's no better way to spark interaction than by providing social proof. For example, creating a social media post that highlights a recent customer review is a great way to foster engagement and increase conversions for your AC and heating service.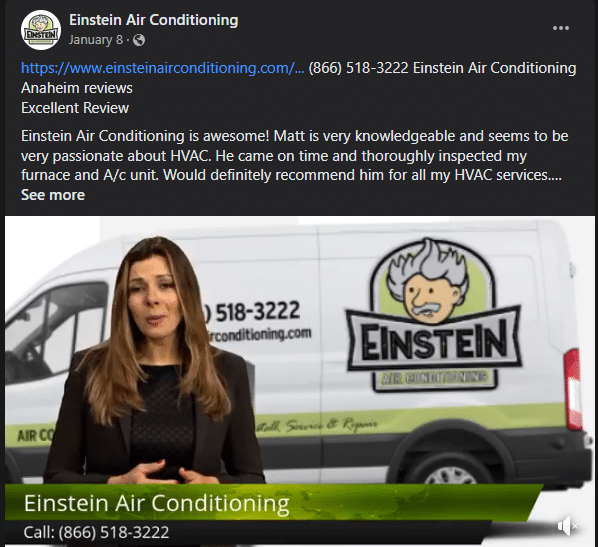 7) Job Site Post
Social media followers tend to respond more favorably when they see you in action. This will look like an image or video of your team performing a job on-site for an AC company. Nothing builds credibility more than real-time images and videos, which provide onlookers with an inside peek into your services. Showing yourself and your staff is also a great way to personalize your brand.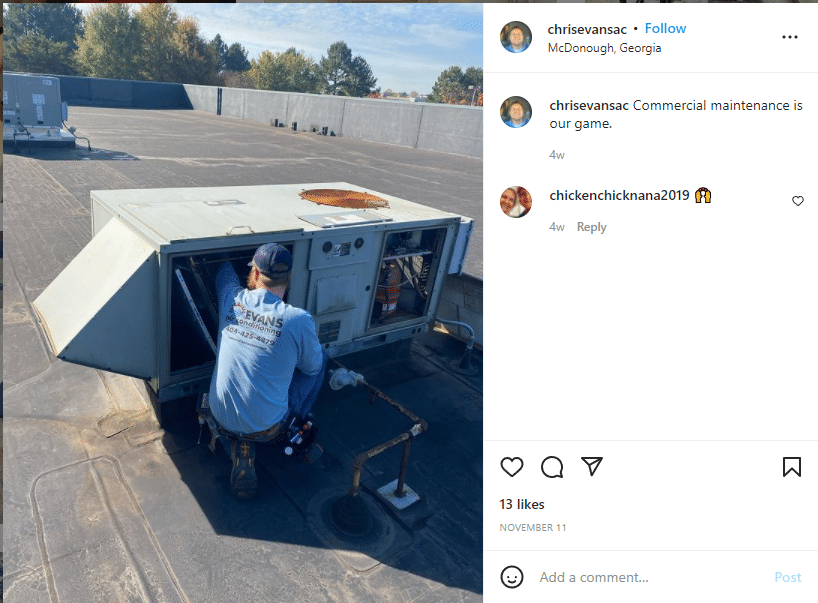 Where To Publish Social Media Posts for HVAC
Now that you have some excellent ideas of what content to post, you must decide where to publish them. Naturally, the best platforms are the ones where you've already built a significant following. The one exception is Google Posts which can appear anytime a user searches for your brand name. Below is a list of social media platforms optimal for posting.
Facebook
Facebook's organic reach is limited, so you will have to boost posts to reach a significant audience. Think of a boosted post as a post/advertisement. Though you are paying for others to see it, like with a Facebook ad, it appears post-form and, therefore, tends to reach people organically.
Google Posts
Google is an excellent place to post social media content because users will see it every time they search for your brand name. In addition, unlike social networks like Facebook and Instagram, users do not need to follow your company to see your post populate on their search engine. You will need to claim your Google Business Profile before posting anything.
Instagram
Instagram, owned by Facebook/Meta, is the best place to post visual-driven social media content. For example, images or short videos of your on-site work will appeal to Instagram followers. Unlike Facebook, IG allows users to see your content without boosting the post.
Twitter
Twitter can be hit or miss for HVAC companies, but it's still worthwhile to post on your feed occasionally. Unfortunately, the reality is that most HVAC consumers are not using Twitter to engage with companies. Still, it lends credibility to your business when you establish a profile and post your content. Also, be sure to include your contact information within your profile.