What are Long-Tail Keywords?
Long-tail keywords are extended queries users submit through search engines like Google. For example, instead of a base term like hvac repair, the user may search for a long-tail phrase like signs you need hvac repair.

What You Need To Know
Long-tail keywords account for more than half of your company's organic search traffic, making them more important than "primary" keywords.
How HVAC Websites Can Benefit From Long-Tail Keywords
Everyone in the local market competes for the same HVAC keywords. For smaller businesses, this is a problem because outranking the big guys means trying to match deep pockets, dollar for dollar.
And even for big, well-established HVAC businesses, it's a full-time job ensuring they stay at the top of search results for high-volume keywords like hvac repair, hvac maintenance, and hvac installation.
Another factor is domain age. Sites registered ten years ago respond faster to search engine optimization, while brand-new domains may take up to 6 months to compete for high-competition keywords.
Long-tail keywords are lower competition, but new sites can rank for them quickly. In the following post, HVAC Webmasters outlines the importance of long-tail keywords for HVAC contractors.
Long-Tail Keywords Explained
Long-tail keywords contain more specific information, typically due to users honing their search while moving through a purchasing funnel. We touched on the fact that long-tail keywords are lower competition (used by searchers less frequently) in the intro to this post.
While their keyword volume registers less frequently, they are still incredibly valuable because websites can more easily appear as the #1 result. In addition, an Ahrefs study found that nearly half of all Google queries are undetectable. As a result, these terms will generate substantial clicks and more conversions.
Anyone who uses a long-tail keyword is much more likely to be ready to pay for HVAC goods or services. But, again, the results are tangible and trackable. For instance, long-tail keyword usage has been observed to increase conversion rates by a significant margin.
Long-Tail Keyword Examples for HVAC Companies
Before we go any further, providing some examples of HVAC long-tail keywords may be helpful. So instead of simple hvac repair, an example of a long-tail version of that primary keyword would be something like:
hvac repair in gig harbor washington
Instead of a primary keyword like hvac maintenance, an excellent example of a long-tail version would be:
how much does hvac repair cost
Notice how HVAC long-tail keywords have a narrower focus. The first example altered the keyword into long-tail form by including region-specific search terms. The second example altered the keyword for customers wondering about the cost.
By using HVAC long-tail keywords, you are honing in on a smaller audience, but one that is more likely to pay for your services.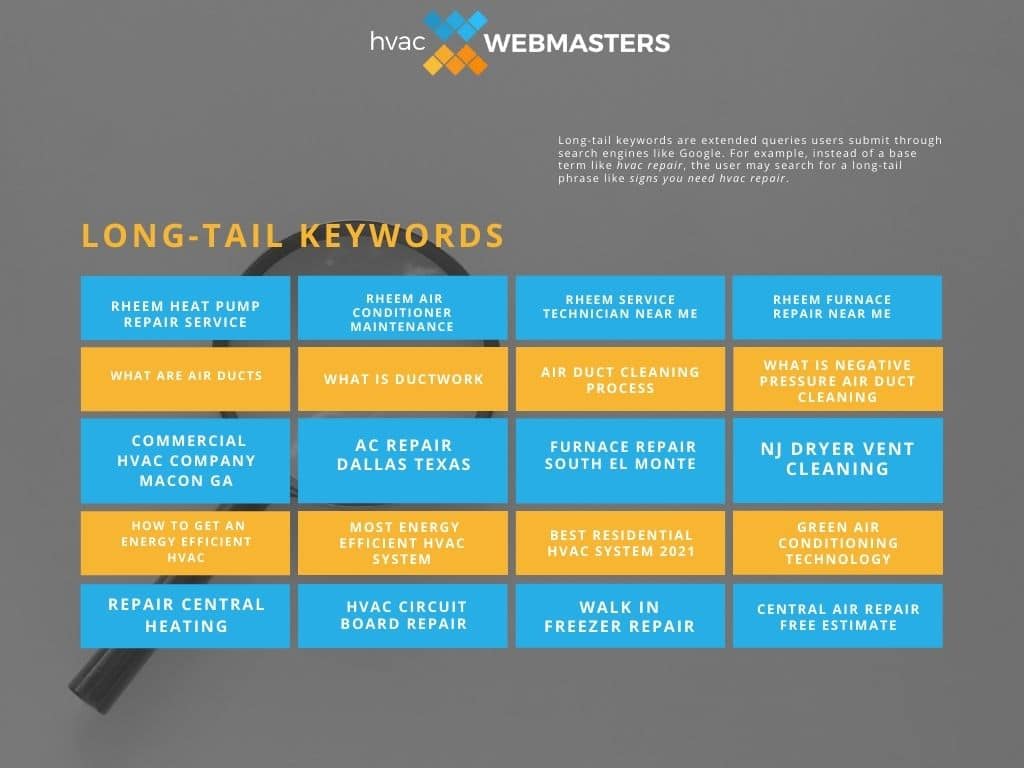 The Importance of HVAC Long-Tail Keywords
Long-tail keywords are essential because they cater to consumers who know what they want. Instead of using generic search terms to do research, they use long-tail keywords when they have already done research or when no research is needed, and they are ready to buy.
The advent and growing popularity of voice search is another reason why long-tail keyword usage will be pivotal for businesses. Currently, it is estimated that over 111 million Americans are using voice recognition technology to conduct online searches.
That figure is expected to increase by nearly 10%. In addition, when people use voice search functions, they tend to use longer, more conversational terms because they don't have to type them out.
Using HVAC long-tail keywords will also cater to the growing percentage of consumers who use voice search technology. It will also help you stand out among these kinds of users.
Using long-tail keywords can also give you a higher return on your SEO investment. Because they are lower competition, they cost less than bidding on primary keywords. And as we have mentioned earlier, they significantly increase conversion rates.
Essentially, you would spend less to make more by utilizing HVAC long-tail keywords. Speaking of using HVAC long-tail keywords…
How to Identify Long-Tail Keywords
So which long-tail keywords should AC companies use for their content? There are a variety of methods for finding high-opportunity keywords. Some of the essential things to keep in mind include:
Location Data
Please look at the above example about HVAC repair in Gig Harbor, Washington. Start with the services you offer and add in the city and state. Then, depending on your city, some keyword tools like SEMRush and AHrefs will show you the monthly volume by location.
Online Tools
There are free and paid online services that you can use to find relevant long-tail keywords for your business and the HVAC services/products you sell. Take advantage of these services if you have difficulty developing a renewable list of long-tail keywords.
Use Industry Expertise
Some tracking tools don't register volume for newer keywords, especially those dealing with more unique types of AC repair services. As an industry expert, optimize your content for all of your services, and you'll notice that people will click.
How To Implement Long-Tail Keywords
Implementing long-tail keywords or keyphrases should mirror your process with primary keywords. It is critical to avoid keyword stuffing which is the unnatural insertion of terms within content at the expense of user experience and readability. Consider the following principles:
Use Naturally
You have your keywords like ac repair las vegas, but your reader will not want to see a grammatically incorrect phrase. As a result, you should write the keyword as AC Repair in Las Vegas. Yes, Google is smart enough to understand that they are identical.
Link Internally
The fastest way to boost rankings for a particular long-tail phrase is to link it internally from another relevant web page. So, for example, if your AC repair services page links to an emergency AC repair services page using keyword-rich anchor text, you will benefit immensely.
Supporting Images
Create supporting graphics for your long-tail keywords, and name the file something similar, or even exact, when it makes sense. Be sure to include descriptive Alt Text that mentions the phrase, if possible. An excellent example of a supporting graphic is AC Repair Tips, with a list of suggestions in graphic form.