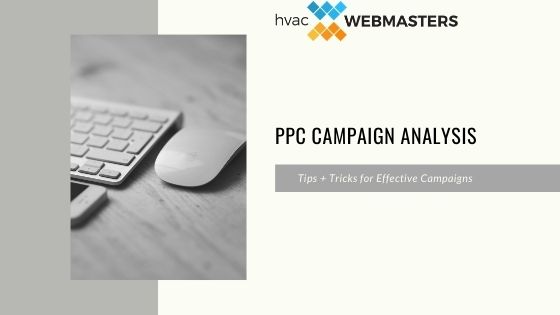 PPC (Pay Per Click) ad campaigns can be an excellent investment – especially if your HVAC company is young and lacks a substantial customer base. Not only do PPC ads give your business an instant shot in the arm in terms of lead generation, but they can also significantly increase your brand awareness in very little time. 
Whether you are new to PPC advertising or have been using it for a long time, though, all your investments into it may be in vain if you are not managing your campaign correctly. Your job isn't done after your ads go live. PPC ads require regular testing, tweaking, and PPC campaign analysis is a must if you want to get the most from your investment. 
It can be a very daunting task, but PPC campaign analysis is very important for your HVAC company. To help ease the burden a bit, HVAC SEO Webmasters will share some points of emphasis that to keep an eye out for when critiquing your PPC ad campaign. However, if you want to learn how to turbocharge your PPC ad campaign right now, give us a call here at HVAC Webmasters.
1) Data Reports
Many HVAC contractors would like to omit to pour over the myriad data that PPC ad campaigns produce but doing so puts you at risk of wasting money. Data reports are essential if you want to know how your ads are performing and whether you are getting your money's worth.
However, some tools can make analyzing the data simpler. For example, a heat map can show you how well your landing pages and ads are performing, which CTA's are generating clicks, and where your visitors may be losing interest.
Not only do heat maps provide you with crucial data, but they also make the data easier to digest. If you are a visual learner, tools like heat maps can make PPC campaign analysis much more straightforward.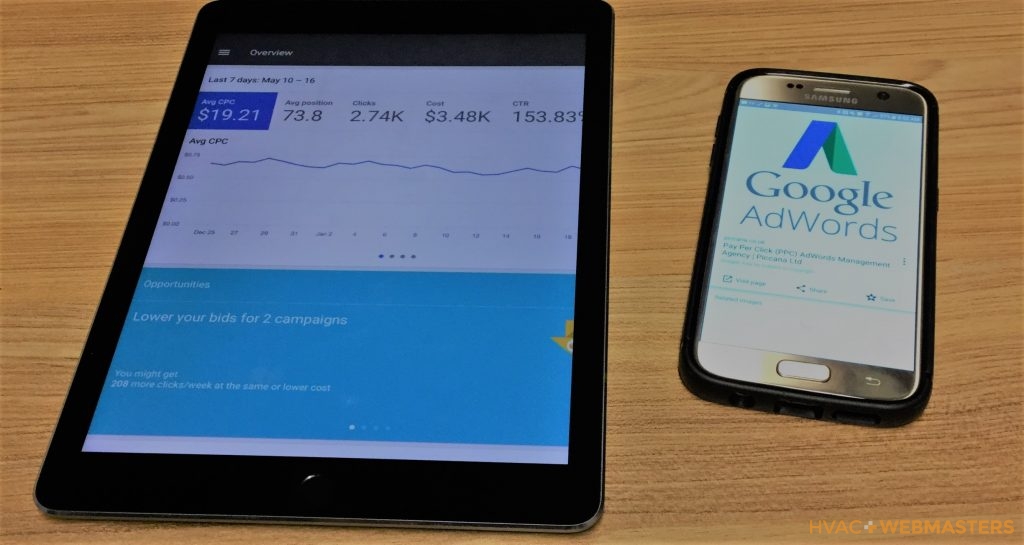 2) Automation and Algorithms
The big problem that many HVAC contractors have is that they don't have time to manage their PPC campaign once it goes live successfully. The fact is that PPC campaign analysis does take a significant amount of time if you want to do it right.
So if you are short on time, our recommendation would be to take advantage of Google Ads automation and algorithm features. Smart Google ad campaigns can automate several time-consuming tasks for you.
For example, the bidding process for keywords can be fully automated. Smart ad campaign data reporting is also simplified. Instead of flooding your account dashboard with indecipherable information, only the most pertinent data for your campaign is displayed. With ad automation, you won't have to worry about where your ads will display. The Smart Google ads option will automatically display them across the Google network.
3) Conversions
Of course, you always want to keep a keen eye on how much your ads convert customers. Impressions are great, but they don't mean much if they are not converting. You have to get an accurate idea of the conversion rate of each of your ad campaigns if you want any shot at successful PPC campaign analysis.
To get a clear picture of how much your ads are converting, it helps to track data in digestible chunks. For some, this could mean tracking daily, weekly or monthly spans of data. Most PPC ad services will also allow for conversion tracking, allowing you to tie clicks to visitors who actually completed a sale. Be sure to take advantage of these tools so you can get an accurate idea of the rate at which your ads are converting.
4) Competitor Analysis
In digital marketing and advertising, it can be beneficial to look over the shoulders of your competitors. When analyzing your ad campaign, it can be helpful to see what your successful competitors are doing that you may not be.
Ad content is essential. You should keep your ad content as fresh as possible. So if you are running low on ideas, as is so often the case with long-running PPC ad campaigns, take a look at some of the content strategies other HVAC companies are using. Examine their ad formats, which platforms they are advertising, and even what CTA's (calls to action) they are using. 
You should never plagiarize, but peeking now and then can give you just enough inspiration to keep your ad content fresh and alluring.
5) A/B Test Results
Last but not least, you should regularly conduct A/B tests on your ad copy and page performance. A/B testing allows you to see how a variation of your current ad would perform compared to the original ad.
First of all, you should be conducting regular A/B tests on all your live ads. Yes, all include even your best-performing ads – remember that there is always room for improvement. Then you have to take a close look at what the A/B testing turns up. You may find that you can reach a higher conversion rate with a simple change in the ad copy layout or by switching a CTA here and there. 
Also, be sure that you are getting a large enough sample size. Most experts agree that you should let A/B testing run for at least seven days to get comprehensive data you can use to improve your ads.
PPC Campaign Analysis Services
We know that even just these five aspects of PPC campaign analysis can be a challenge. And while we don't want to discourage anyone, this is just scratching the surface. So if you ever need professional help with PPC campaign management, we are here to help. We have experience with HVAC PPC ad campaigns: both in crafting effective ads and successfully managing them. Put a PPC professional in your corner today.