Some HVAC contractors we talk to regularly at HVAC Webmasters are always asking, what is the point of social media? Do I actually need social media marketing? The answer each time is a resounding yes! While social media can seem like an overwhelming proposition at first glance, HVAC Webmasters will simplify the process, to make social media marketing an accessible strategy to contractors around the country. Call (800) 353-3409 for HVAC social media management. Here is social media 101 for HVAC companies:
Diversify Your Portfolio
Do I need a Facebook page? Yes. Do I need a Twitter page? Yes. It is important that HVAC contractors understand diversification of marketing tools helps spread brand recognition and generate more customers. To get started, sign up for the following social media networks:
Facebook
Twitter
Google Plus
LinkedIn
Other marketing opportunities exist throughout social media. Still, starting with these 4 main websites, is a great way to establish your HVAC company as socially relevant. Some of your prospective customers might lean towards Facebook, while others prefer Twitter. Being ready for anything is an invaluable marketing tip.
Post Original Content
One of the biggest problems we see in social media management, is the autogenerated, and often spam-like, content being posted on company social media profiles. Not only does this content seem automated and disengaging, but it comes across as lazy and uninspired. Here are some techniques you can use instead:
Personalize: Use dialogue that you would use in everyday talk, customers want a real connection, and they can only do that if you personalize your content
Curate: Not everything you post has to be your personal content, you have the ability to share or "curate" other content that you find interesting. In cases like these, adding your own reaction to the shared content can further engage potential customers
Engage: When people comment on your social media posts, reply back, or even like or "re-tweet" their comments, its a great way to interact with prospective customers, and to encourage more to join
We cannot understate the importance of personal connection when it comes to online marketing. HVAC contractors who want to build a strong reputation online, must be willing to engage with people at their preferred source; social media. While the task might seem daunting at first, social media becomes a relatively simple aspect of marketing after a while.
Market Research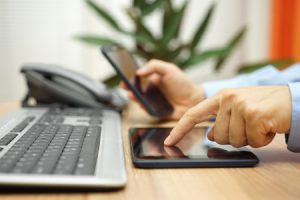 Social media presents a further marketing opportunity, outside of conversion rates. By running promotional material, and other campaign content, HVAC companies get a free data analysis of their targeted market. For example, running a promotional campaign on Twitter allows HVAC contractors to track the engagement, and its effectiveness through social media. Here are some examples of social media data:
Audience Demographics: Both Facebook and Twitter offer audience demographics, so that HVAC companies can get a better understanding of their current market, and to which markets they must expand
Facebook Insights: Facebook allows users to track numerous components of their page, including engagement, and follower growth
Twitter Analytics: Twitter allows its users to track engagement data, along with losses and gains in followers
While many companies only think of social media as successful, if it directly correlates to a sales conversion, more cerebral businesses will use social media data to improve their marketing strategy and yield sales conversions as a result. In addition to Facebook and Twitter, Google Plus also offers insights into user engagement, and provides powerful data that can be used both internally and externally.
Does Social Media Impact HVAC SEO?
The 2017 Local Search Ranking Factors from Moz indicate that social signals account for only about 4% of Google's local ranking factors. While that number seems low, it is important to note that the 4% number confirms that social media is a direct factor in local search rankings. Though there are more important signals like link building, on page SEO, and citation sources, social media is still something to be taken seriously by HVAC contractors.
At HVAC Webmasters, we believe that contractors should build their online presence throughout all corners of the internet. Though social media only accounts for an estimated 4% of local search ranking factors, its indirect impact on SEO and user engagement, is invaluable. If you are a local HVAC contractor looking to expand your business online you should consider HVAC Webmasters. Call (800) 353-3409 for HVAC social media management.