HVAC companies should approach PPC campaigns differently based on the season. After all, most consumers are looking for different services in the winter than they will be in the summer. Depending on the climate of your service area, these fluctuations can be more or less pronounced. Still, to maximize your paid advertising budget, campaigns should target the needs of the consumers, which will vary according to temperature, weather, and other seasonal variations. In some cases, suspending PPC campaigns all together makes sense for periods of time. If there's an exceedingly low demand for any kind of services you offer, there's little value in pursuing clicks that are unlikely to come, and if and when they do come, will be highly irrelevant. In summary, PPC campaigns should vary by season for the following reasons:
Budget: The amount HVAC companies should spend on ads varies by season
Demand: The need for specific services changes with the seasons
Variation: The type of service required varies by season
Google Ads, formerly AdWords, is not the only platform on which an HVAC contractor can buy ads. Companies can also utilize social media advertising, specifically on Facebook, Instagram, & YouTube. Similarly to Google Ads, maximizing ad campaigns on social media is a seasonal game of cat & mouse. Your goal as a contractor is to maximize your financial resources to produce the greatest ROI. The bottom line is what matters to most companies, and efficient deployment of marketing dollars holds the greatest influence over your bottom line, whether that's at the end of a month, quarter, or year. With intelligent PPC management that considers season, supply, & demand, the sky's the limit for heating & cooling professionals.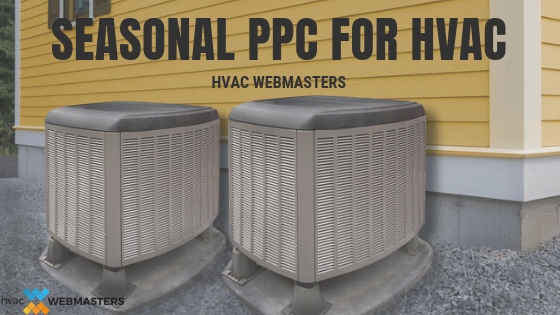 An Organic Foundation
PPC works well in pockets of time, but organic SEO can keep money coming in all year long. During low points of an HVAC season, there will still be consumers looking for maintenance. It's often not worth it to buy PPC ads for the term maintenance, because the volume is not high enough. But if you establish an organic ranking for that keyword term, you won't have to pay to get those leads year-round. Since you can cut your PPC budget during these time periods, your ROI will be substantially higher than it would have been with a straight Google Ads campaign. This is not to say that abandoning PPC will be permanent, it instead means that you should pick your spots, so to speak. Here's why an organic SEO foundation is critical for year-round leads:
Budget Efficiency: Make the best use of your marketing resources
ROI: Earn a greater return on investment
Sustainability: Keep phone calls coming in year-round
Sometimes contractors mistake PPC as the ultimate quick fix for online marketing. While paid ads have great value when properly managed, they are also dangerous to rely on as a singular entity. PPC and SEO are not mutually exclusive concepts, but rather ones that work well together and in fact, work best when combined. Even when securing a top ad spot, 76% of users will scroll down and click the organic result. That means you must be present on organic as well. Not only that, but once a user clicks on an ad, they will only stay if the landing page is well optimized with informative content that facilitates a favorable user experience. SEO lays a great foundation for subsequent PPC campaigns, in any and all seasons.
Podcast: Play in new window | Download