The component of local SEO that causes the most confusion across the board is marketing for multiple locations. As an HVAC company, when you have numerous legitimate locations, some challenges come along with properly optimizing a website to reach all of your target customers. But before we detail how to optimize the best, we should first define a legitimate business location.
What is a Legitaime HVAC Business Location?
A legitimate business location utilizes a paid commercial space and reads your business name on the lease. If you have only a single location, a home can be considered legitimate. But if you have more than one location, none of them can be households.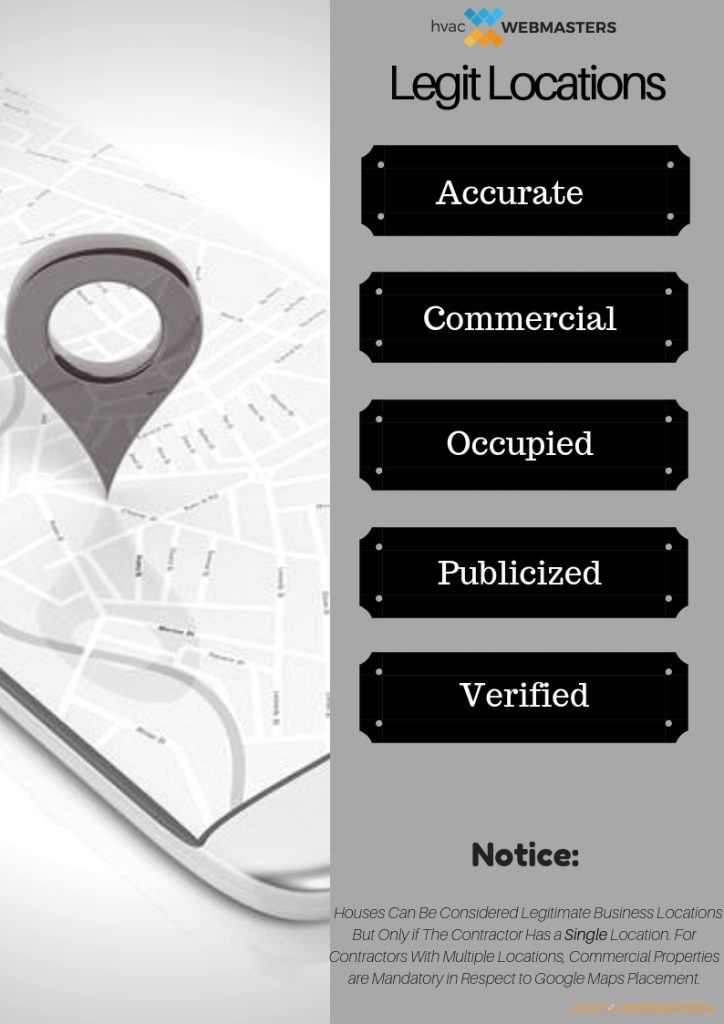 What Business Locations Violate Google Guidelines?
A better way to understand location legitimacy is to review what Google perceives as illegitimate:
PO Boxes
Shared Spaces
Virtual Offices
Google started cracking down on these kinds of locations, but their logic is sound, whether we agree with it or not. It certainly makes optimizing for multiple locations much more difficult, but it also makes the user's experience far superior. Google wants the best results for their users, and someone looking for furnace repair within a 5-mile radius is unlikely to be satisfied with someone's mother-in-law's closet as the office headquarters.
Optimizing an HVAC Website With Multiple Locations
The best way to optimize an HVAC website with multiple locations is to produce location pages for each primary office and install DataPins local SEO software. Creating individual pages for each location helps Google crawl each page and assign the correct location. Meanwhile, DataPins validates your service areas by creating schema pins each time you complete a job in the field.
It is essential to avoid mass-producing city pages with similar content since Google views such pages as doorway pages that violate their guidelines. Google may even refuse to index several of these pages if they fail to provide value to the consumer. Instead, HVAC websites should feature unique content for each location page and differentiate the content through language. Of course, DataPins makes that easy for HVAC.
Creating Multiple Google My Business Locations
Another benefit of individual location pages is linking multiple Google My Business accounts to one website. Google wants a separate address for each location, so having an independent page for each is ideal. For example, your location page for Dallas will have its own GMB address with a verified Dallas address. The same is true of your Phoenix page, Springfield page, and homepage (let's say your primary offices are in Houston).
Since Google search results vary by the user's location, each of your 4 Google My Business accounts has a chance to show up at the most appropriate time to the most geographically relevant users. Perhaps most importantly, you limit confusion for the consumer and encourage them to use your services as needed. This method is exceptionally straightforward and user-friendly, and that's why Google loves it so much.
Paid Advertising for Multiple Locations
Many HVAC contractors say screw it and go for paid search only. There's a reason for this. Paid search makes it much easier to target a location, zip code, or region, regardless of how well or poorly the website is optimized. Additionally, if you own an HVAC website, you have to pick your target location and pay only for clicks in that area.
Google Ads is not the only platform that targets locations. You can target areas on Facebook, Instagram, and other media. At HVAC Webmasters, we generally recommend Google Ads and Facebook Ads for our clients. We are Google AdWords Certified, so we can handle your heating & cooling campaign, budget, and maximize the clicks you want in a specific location. While PPC is certainly an avenue to pursue, we must again stress that it should not replace organic SEO under any circumstances.
Podcast: Play in new window | Download