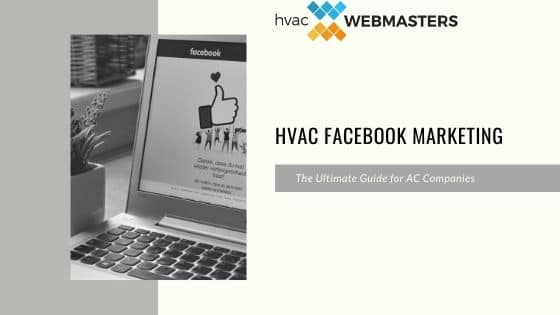 Delving into HVAC Facebook marketing can seem intimidating for contractors in 2023. However, with the volume of users (about 307 million) and the average time spent per day (about an hour), Facebook has done a lot to transform itself into an asset for business owners. 
Like Google, Facebook has spent a good portion of the last decade rolling out new services like advertising and ways to connect business owners to their audience. As a result, Facebook has emerged as an essential marketing tool for AC and heating companies.
2023 is the perfect time to revamp your HVAC business's Facebook page. That's because HVAC contracting enterprises have been slow to adopt Facebook marketing as a priority, as have many other home service businesses. So if you are serious about getting started with HVAC Facebook marketing, you could be getting a jump on your local competitors.
There are many different aspects of Facebook management for AC companies. As a result, HVAC Webmasters outlines some critical social media marketing and management tactics in the following guide.
Setting up an HVAC Facebook Business Page
Having a Facebook page for your business differs from having a profile on Facebook. To set your business up for success on Facebook, you will want to set up a Facebook "Page" for it. You can start by visiting the Facebook setup page.
And as you can see from this page, you have two "Page" options. The first option is "Business or Brand," and the second is "Community or Public Figure." Of course, as an HVAC contractor, you will want to choose "Business or Brand."
To go any further, you will have to have a Facebook account already, so if you don't already have one, sign up for one now. Next, you will be asked to categorize your business. You will also be asked to name your Facebook business page. We recommend naming your page directly after your HVAC business name.
The rest is self-explanatory. Fill your business page with high-quality pictures, provide a brief description of your business, and assign page roles to yourself and anyone else that will be helping you manage your Facebook page (Admins, moderators, editors, etc.).
If you look just below the cover photo of your Facebook page, you will see an option for "Add a Button." This is where you can add a call to action button. We recommend doing that as soon as possible because it will make it easier for consumers to get in touch with you.
Once you click the "Add a Button" option, you will be asked to choose from various CTA's. Pick the one that is most relevant to your business.
It's also vital to thoughtfully fill out the "About" section of your Facebook page, as that is the section where most people go to find out crucial information on your business. Here are some things you might want to include in the "About" section:
The date or year your business was founded
A brief description of the services you offer
How your customers use and benefit from your services
Any awards or accolades your business has earned
Company mission, philosophy, or motto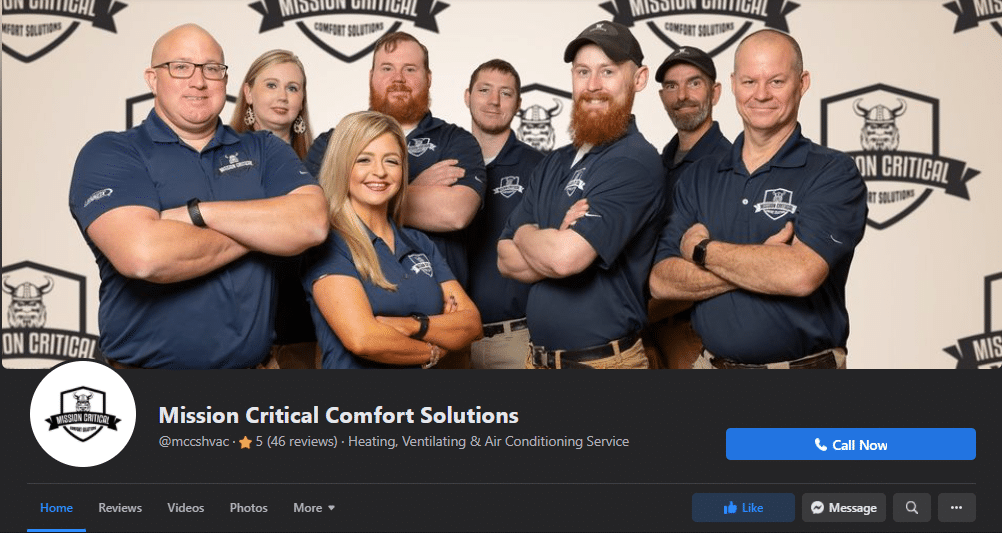 Building A Community
Using Facebook as a means of HVAC marketing is about building a community. One of the first steps towards building a community is going to your page and clicking the section that says, "know friends who might like your Page?"
You can invite people you know to check out your page and follow it here. You must only include people who might be interested in your page, business, or the content you plan to share.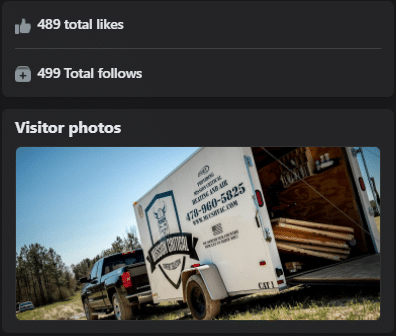 Consider friends, business contacts, customers, colleagues, or even suppliers in your business network. Of course, you will need their contact information to narrow your options immediately.
Interact with Followers
One of the best ways to cultivate a community on Facebook is to be active and responsive. Consider your followers as valuable commodities. If someone leaves you a comment, don't ignore it. Instead, do your best to respond to the comment as soon as possible.
It is helpful to have someone manage your Facebook Page daily – even if you can't respond promptly, someone in your business should speak on your behalf.
The more likes you get on your Facebook page, the more potent it becomes for your business. And to keep things in perspective, the point here is to market your business. So, of course, marketing works best when your business is evident.
Getting likes makes you visible on Facebook, and being responsive to comments and posts is a great way to get likes.
Post on Facebook
The "Write Something" field is where it all begins. Of course, sharing content will reach out to your audience and attract more followers. But what sort of stuff should you post on your Facebook Page as an HVAC contractor? Here are a few examples of content that will be helpful for HVAC businesses specifically:
Blog Content: Content marketing is compelling and important. With Facebook marketing, you can leverage the blog content you have published on your website. You can do this by writing up a quick preface to the content (1-2 sentences should do it) so that your followers will have a good idea of what they will be reading. Then, include a link to the blog post and click "Share Now." It's best to link to blogs that have been particularly popular on your site or at least relevant ones to the original post content.
Images: Images are a great way to engage followers and give them a quick reason to hit the "like" button. Images also drive engagement and interaction among Facebook users. Everything from funny memes to images of interesting job sites is fair game.
Pins: A tool like DataPins produces verified job postings of your recent work with images and captions. These schema-pins are great to share on Facebook as they serve as social proof for your heating business.
Facebook Live: Facebook Live allows you to share live, streaming video content with your followers. This can be especially beneficial for HVAC contractors because it will enable them to show real-time work. Consider live-streaming the final touches on a new HVAC system you're working on or an exciting phase of the job.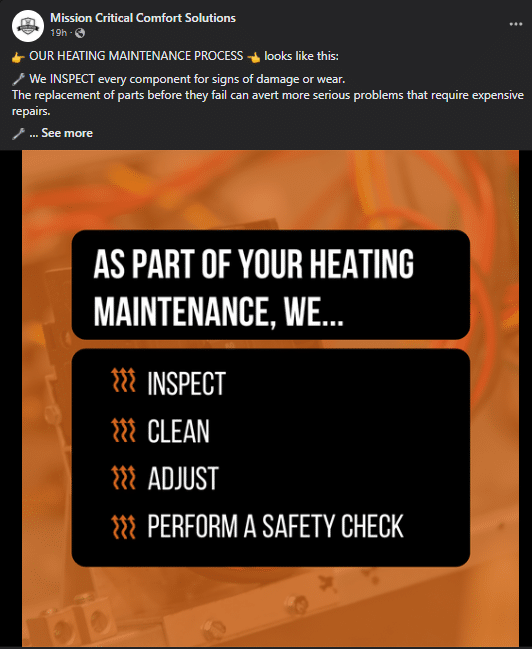 HVAC contractor Facebook management comes down to timely posts that spark engagement. Of course, the algorithm limits how many impressions your organic posts receive, encouraging you to invest in Facebook Ads.
Target an Audience
Facebook promotion is also about knowing your target audience. Think about your typical customers. What age are they? What does their general income appear to be? Are they residents? Are they business owners?
The cool thing about using Facebook for marketing is that you can tailor your content to the interests of a specific group of people. Facebook ads even allow you to target consumers by particular demographics.
You have to consider the kind of content your demographic wants to see for inbound marketing. This will make your marketing efforts much more effective.
You can use their helpful Audience Insights tool even if you don't use Facebook Ads. It's free, allowing you to gain insights into your followers' interests and behaviors.
We encourage you to use this tool to tailor your content to your target audience's interests, needs, or desires. You can even use the Audience Insights tool to see the same characteristic data for your competitors' target audiences.
Facebook Ads for HVAC Companies
While your Facebook Business page can help establish your company and showcase recommendations and content, the best way to reach a large audience on the platform is through HVAC Facebook advertising. Whether you run lead ads or boost your posts, you will earn more followers and gain more impressions than you ever could without ad spend.
The best Facebook Ads for heating and cooling companies create engagement, urgency, and action. Consider offering a timed discount or coupon along with social proof that validates your company's credibility. Video ads often produce the highest engagement rates, particularly if you demonstrate energy and liability through the video content.