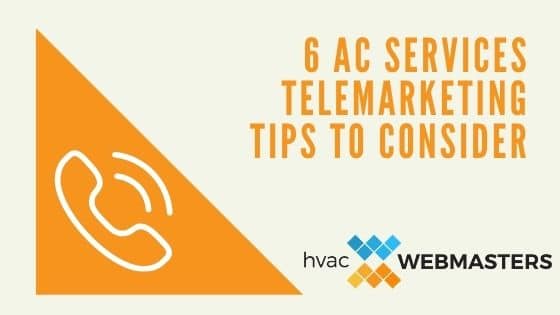 AC services telemarketing may seem old-fashioned, but it can still help with HVAC sales in 2023. Telemarketing produces results if you're persistent. While HVAC telemarketing can help you convert leads, it will take time, resources, and human resources. 
One of the reasons you must be persistent with cold calling is that it takes an average of 8 attempts to reach a prospect. As an AC service business owner, you probably don't have the opportunity to spend hours on the phone. The good news is that spare time isn't necessarily needed.
If you are ready to start converting more customers via AC company telemarketing, check out the following list of tips to make your efforts more fruitful. And for loads more helpful information about marketing your AC business online, get in touch with us here at HVAC Webmasters.
1) Invest in VOIP
VOIP stands for Voice Over Internet Protocol. As the name implies, it's a phone service that uses an internet connection rather than an actual phone line. There are many advantages to ditching your old phone service in favor of VOIP, but let's focus on the one that will help to telemarket.
VOIP can help automate some calls. Then, when someone does pick up the phone, you can have the call routed directly to you or an associate. As a result, cold calling is much more efficient and frees up your time for more important things.
Besides making cold calling more manageable, VOIP is affordable. Some of the basic packages are free, and smaller businesses will likely only need the basic packages, so there is nothing to lose. 
2) Keep Everything Legal
As the proprietor of an HVAC business, you probably don't have cause to know that telemarketing is regulated very strictly. The laws for telemarketing vary by state.
There are laws on call length, when you can call, the numbers you can dial, and how you record calls. There are also stiff penalties for companies that violate any of these laws. You can review a general guide of the laws and requirements for telemarketing and consult with your attorney.
3) Curate Your Call List
It will take some time, but the smart move is to put together a call list carefully. As much as possible, you will want to avoid calling people who have not expressed any interest in your services.
Please make sure you carefully curate a call list and start with the numbers of people who have voluntarily given you their contact info. However, if you make lots of calls, you will probably need to populate your call list with completely cold prospects.
Ensure that you aren't contacting anyone on the national Do Not Call registry in these cases. Also, consult with an honest lawyer at all times.
4) Keep A Customer Profile
Every lead should enter your CRM system so you can recall previous conversations and preferences. For example, keep track of past services, areas of interest, names, and addresses. Also, take note of and archive any information that will be helpful for you or an associate to close a sale.
Many VOIP services offer a feature that displays a detailed list of information when you contact a lead. However, keeping a data index is still helpful if VOIP is not an option. Indexes will allow you to personalize your pitch and increase the lead's likelihood of making a purchase.
5) Monitor Performance
If you delegate telemarketing to employees or a call center, it's essential to ensure optimal performance. Don't be afraid to step in on low-quality calls. In addition, it's your job to train employees and provide a sales script and constructive feedback for progressive improvement.
Every call will be different, but the message or sales script should have a general philosophy or guide. Ensure that anyone handling your cold calls understands the message you want to send and stays focused.
6) Don't Get Discouraged
It is common to get discouraged when making cold calls. You will hear the word "no" quite well, so prepare for that. Most importantly, don't get discouraged by the customer's reaction, even if it's vile.
There is a negative connotation around telemarketing in general, but perseverance is key to success. Remember that telemarketing is all about being persistent. For example, you can't sound timid when calling back leads. People will sense any hesitancy and reject your entire premise.
Of course, not everyone needs AC services now, but most people will need them at some point. As a result, make sure that you are reaching those people. That means being persistent and keeping up with your cold call efforts.
Consult With an Attorney Before Cold Calling - HVAC Webmasters Does NOT Provide Legal Advice.
Increasing Telemarketing Conversions Through Brand Synergy
You'll find that you convert more cold calls if your brand exists online in other formats. For example, does your HVAC company appear on Google search results from SEO efforts? Can consumers find your business on Facebook, HomeAdvisor, and other popular platforms for home service providers?
Part of establishing a rapport over the phone is finding familiarity. When people know of your brand, whether they can recall the source or not, they are more likely to give you latitude with your sales pitch if you call as a complete unknown, the chances of quick rejections skyrocket.
As a result, make sure to invest in your digital marketing strategy in 2023. Your AC services telemarketing will improve.