Getting listed on HVAC niche citations is critical in 2023. Claiming and optimizing listings on business directories heavily influences local search optimization. There are specific HVAC directories, in particular, in which listings hold more weight. HVAC companies once used the Yellow Pages to list their business, as well as print, television, and radio advertising to supplement it. Those platforms are now obsolete due to 24/7 internet access and the convenience of mobile web browsing.
The excellent news for HVAC contractors is that the directories that matter most are free to join, claim, and optimize.
Below, HVAC Webmasters will detail seven critical business listings and niche citations that every HVAC contractor should secure:
1) Google My Business
The ultimate HVAC citation source is Google My Business (AKA Google Business Profile). Its listing holds unrivaled value due to its affiliation with the world's top search engine and its subsequent integration with search engine results. Google has introduced the local 3-pack and the knowledge graph to more efficiently display the GMB profiles of local businesses to searchers.
For this reason, a completed listing, equipped with a company logo, contact information, and about-us section, is even more imperative than it otherwise would be. To review, the benefits of GMB include:
Google Affiliation: Since Google is the #1 search engine, GMB is even more influential
Local SEO: Its signals influence local search rankings
SERP Presentation: Foster's visibility on the local 3-pack and knowledge graph of Google SERPs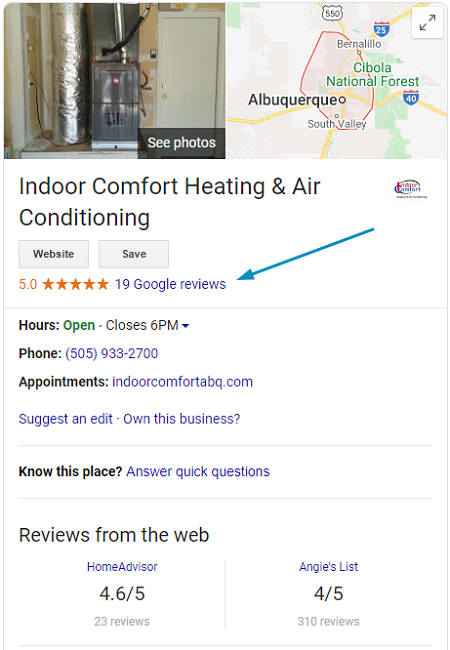 Google My Business Listings are eligible to rank on the Local Map 3-Pack, which appears for thousands of HVAC-related queries searched by local consumers.
2) Yelp
Aside from Google My Busines, which is uniquely valuable because of its Google affiliation, Yelp is the most popular business directory. Though not considered a niche directory (it allows listings from various industries), its brand is synonymous with online reviews and reputation.
With its main menu displaying three overarching categories; Restaurants, Nightlife, and Home Services, contractors are encouraged to join. Consumers will often form opinions of HVAC companies based on Yelp listings. The benefits of an optimized Yelp listing are:
Local Reputation: Build a favorable reputation within your community
Local SEO: Like GMB, Yelp improves local optimization
Review Generation: Display impactful company reviews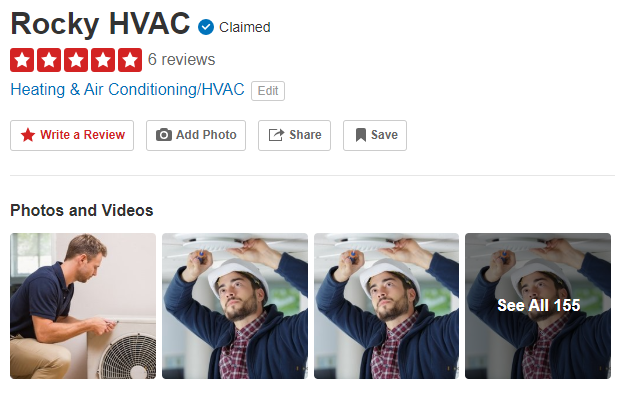 Yelp remains an authoritative citation for HVAC contractors across the U.S. Yelp Top-10 lists still often rank for HVAC-related queries on organic search.
3) Angi
Aside from general directories like GMB and Yelp, niche directories focus more specifically on the service industry. One of those directories is Angi (formerly Angie's List). As a brand that prides itself in being a platform for crowd-sourced reviews, it is a commonly consulted directory for consumers who know they're in the market for specific home services, such as HVAC.
Angi started as a subscription-based service but is now available for public consumption. Optimizing a listing parallels the same action on other platforms. Benefits of Angie's List include:
Local SEO: Like GMB and Yelp, Angie's List can improve local SEO
Niche Audience: Its visitors are interested in-home services
Review Generation: Display reviews for the niche as mentioned above
Angi is a niche directory for contractors, including heating and cooling contractors, who can benefit from an Angi citation in 2023.
4) HomeAdvisor
Much like Angi, HomeAdvisor is a niche directory for home service companies. Founded in 1998, HomeAdvisor has developed a reputation for itself for nearly 20 years. Consumers looking for HVAC services often consult with this directory before making a purchase decision.
Optimizing your listing and its accompanying reviews can make or break lead generation for your business. As is the case with other directories, uploading an HQ company logo is highly recommended, as well as additional photos. Benefits of HomeAdvisor include:
Local SEO: Like GMB, Yelp, and Angi, HomeAdvisor contributes to local SEO
Niche Audience: Like Angie's List, HomeAdvisor is a niche directory for home service companies
Review Generation: Like other directories, HomeAdvisor displays reviews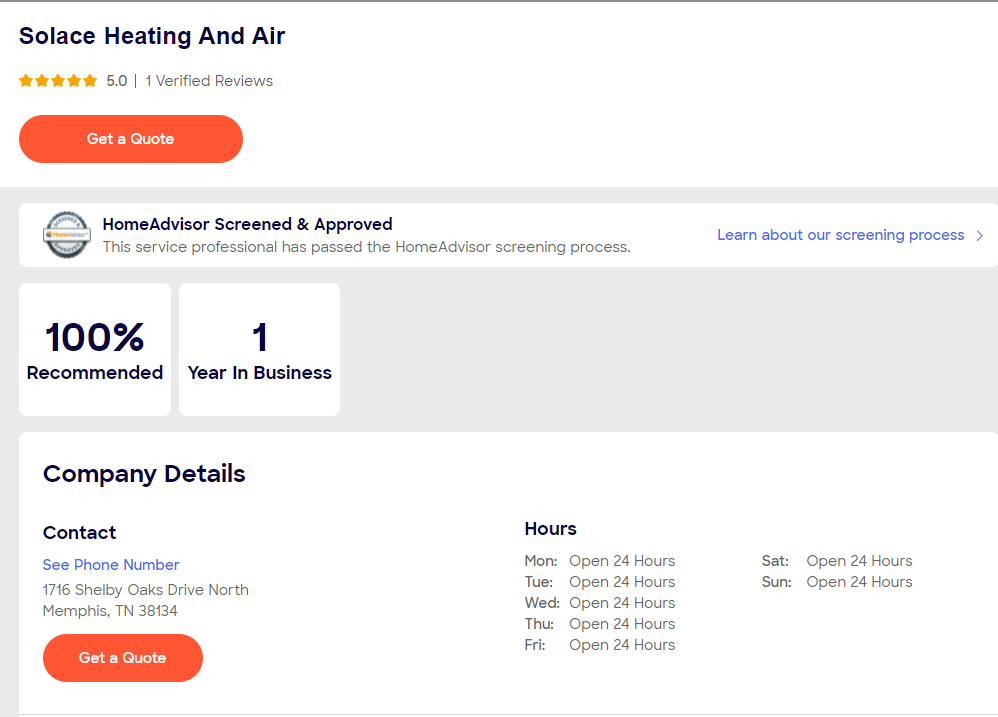 Like Angi, HomeAdvisor is a directory explicitly made for contractors. Although they have their own lead generation service, claiming your HomeAdvisor citation can help your own SEO efforts.
5) Facebook
Might you be thinking, "Facebook? A business directory?" Yes, it's true; not only is Facebook a social media platform, but it is also one of the most trusted local business directories. Despite Facebook re-dedicating itself to bringing people closer together, consequently minimizing branded content, consumers searching for HVAC companies will still find Facebook business listings on their results.
Creating and optimizing a Facebook Business Page is not as much for social media to secure a quality listing. Advantages of Facebook include:
Customer Interaction: You can interact with real people instead of user-names
Local SEO: FB creates both citation and social media signals, enhancing its local SEO power
Review Generation: Facebook reviews are among the most trusted on the internet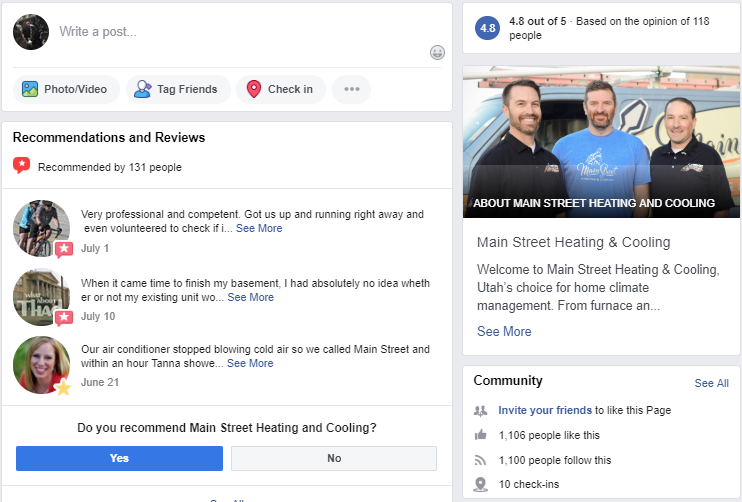 Facebook is both a social media network and a vital business citation for HVAC contractors in 2023. Facebook reviews hold weight for local consumers, so claiming your listing is crucial.
6) Porch
Although Porch covers a broad range of industries, including insurance providers, security companies, and internet/TV companies, it remains well-known for the contractor niche. Couple that with its 80 Domain Authority, and it becomes a must-have citation for HVAC companies in 2023.
Porch can also be utilized as a lead generation service, though we recommend relying on your own digital properties to generate HVAC leads. Still, claiming your business on Porch creates a valuable and authoritative HVAC citation that can boost your credibility.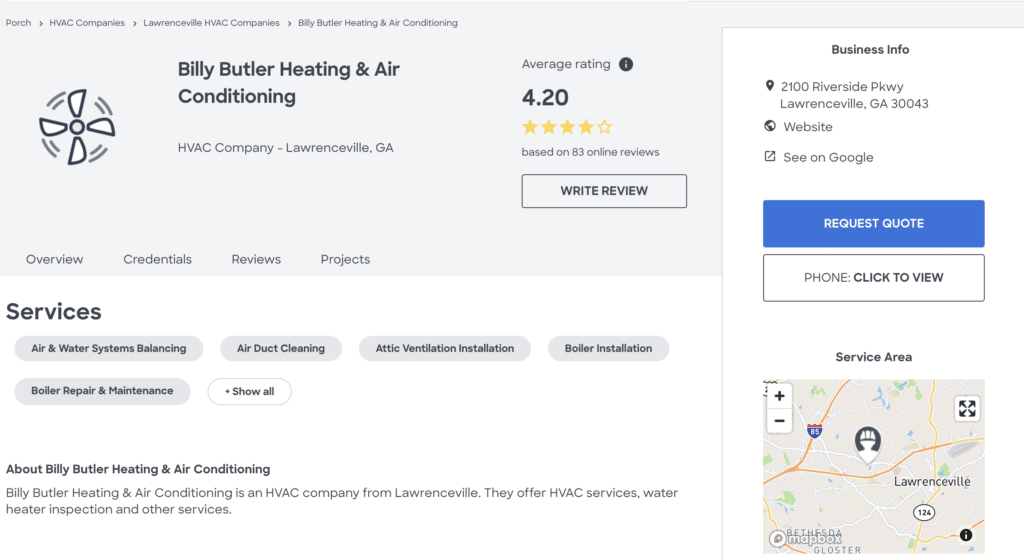 Porch has an 80 Domain Authority score, indicating the robust backlink profile that makes it a worthy candidate for HVAC citations.
7) Nextdoor
Nextdoor is a popular community platform where users can exchange recommendations with neighbors. Local HVAC businesses can take advantage by claiming a free citation, uploading photos, and creating posts that show up on neighborhood news feeds.
Nextdoor also offers an advertising option for HVAC companies who are looking to increase their visibility in specific zip codes. While the advertising feature is something to consider, claiming your business listings should be the first step to benefiting from Nextdoor.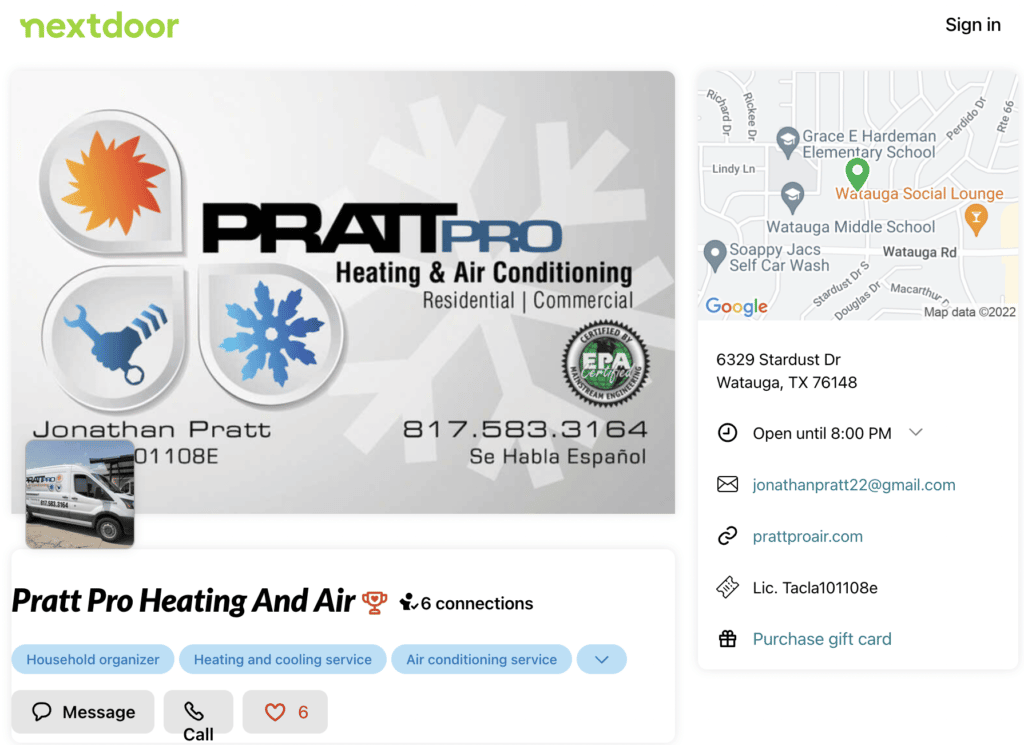 Nextdoor is the online version of word-of-mouth where neighbors recommend HVAC companies like yours. Claiming this niche citation is a no-brainer in 2023.