The rules of Internet Marketing have significantly changed over the years as search engines like Google have become almost single-mindedly concerned with quality content, and as modern consumers flex their buying power to speak volumes about what works and what doesn't in the advertising realm. Brands have to stand for something beyond a product to attract customers, and the prevalence of Content Marketing is absolutely a reflection of this shift.
If this is a new term for you, content marketing is basically using helpful, relevant information to attract customers. Instead of tapping traditional methods of advertising to attempt to impact buying decisions, this approach favors making your company or brand reputation invaluable to the likes of your client pool as a way to attract business. Content Marketing Institute explains it this way: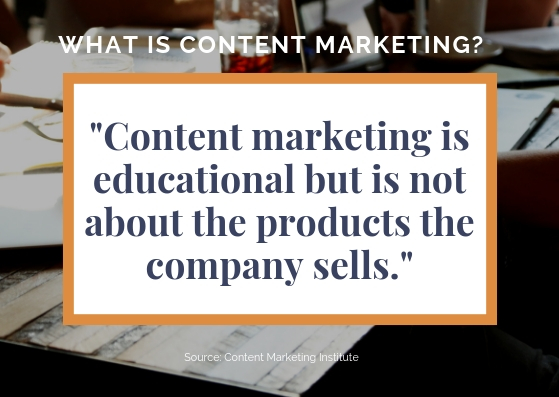 "…Content marketing is educational but is not about the products the company sells."
Is Content Marketing Needed For HVAC Companies Too?
For an HVAC professional like yourself, this may sound like something that is better suited for major brands in the consumer space. But it's important to remember that the same customers that are driving this change are also looking for the heating and cooling services you provide! It's a resounding "YES!" that you should incorporate content marketing into your overall internet marketing strategy, but that doesn't mean you need to hire a full-time PR firm to make it happen.
Given the inherent value of content marketing, let's talk more about how you can leverage a tool already in your toolbox to make your company more relevant than ever: the HVAC blog for your website!
How To Position Your Blog for HVAC Digital Marketing
When we shared some of our top digital marketing tips, we highlighted several points that can be accomplished via the same effort: blogging.
Among our 20 tips were:
Personalize Your Brand
Produce Original Content
Shift Focus to User Intent
Start an Internal Blog
The common denominator among these approaches for boosting your appeal to new customers online is content that is valuable to the user/potential customers. That's Content Marketing 101, my friend.
The great news is that you can delegate this task (which was another digital marketing tip) to professional content writers (like us), or simply assign someone on your team to churn out regular posts. This is a great way to improve your rankings with Google because there is lots of new content to index as part of your website, as well as regular updates that reflect well for your whole web presence.
Want Your Blog To Get You New HVAC Customers? Write What They Want!
Think about the conversations you most often have with new or potential clients over the phone and in person. What do they often ask? Where are their common pain points? How do you see clients taken advantage of by other home service providers? These are the types of needs that you are uniquely positioned to address.
You Don't Have To Be A Professional Writer To Blog Well
I'm going to restate the point I just made because it's vital for you to hear. You are a subject matter expert on heating and cooling repairs and services in your area. No one is going to know better than you do how you can show up for customers (new and established), tapping into your years of experience and what you've learned along the way.
If you can't think of a topic to blog about, ask your team for ideas! Perhaps your receptionist or office manager can chime in on the most common questions and needs as they field phone calls while you're working in the field. And your HVAC techs may have great insight about what plagues homeowners the most as they respond to repair calls in your specific service area. Another great avenue for generating content ideas is social media; ask your followers what they want to know more about and how you can serve them with your content marketing efforts.
A good rule of thumb for technical experts like yourself is to remember to keep blog posts targeted to an average customer. This means that you shouldn't litter articles about HVAC repairs with industry jargon, but you also don't need to dumb it down. It should be clear when you're talking about AC repairs, for example, that you're focusing on home AC repairs for your city — versus, say, car AC repairs, for which you don't need to nor want to optimize (not all traffic is good traffic if it doesn't serve the user).
Optimize Every Blog Post As A Webpage That Serves A Need
It may seem beneficial to use really generic post titles for your blogs, but as we're focusing on content marketing for HVAC, you'll learn quickly that specificity is the way to go.
For example, if you publish a blog post titled "Everything You Need To Know About Air Conditioners," you're likely competing with thousands of webpages, most of which have been percolating on the net for years (and will therefore have the upper hand when it comes to ranking for that search phrase).
However, if you're laser focused on your desired client base — folks who need heating and cooling services if your geographic area — then a post like "Why Is My Air Conditioner Making Noise In Albuquerque?" is going to really hit home. When Google is trying to fetch a response to that search term, and up pops your blog post — tied to an overall strong SEO strategy — you're far more likely to stand out from the pack. And here's the great news: that search is indicating a need without having to overtly sale, so you're still likely to get a service call out of that post without having to be "salesy."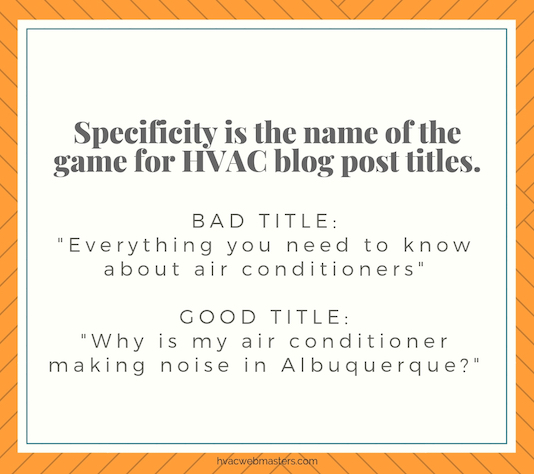 Fact: Great Blogs on Your HVAC Website Can Increase Your Google Rankings
One of the aspects of your HVAC website that Google looks at to signal how you should perform in searches for heating and cooling services is the bounce rate. This refers to how quickly users "bounce" off of your website after viewing a single page. It the average viewer stays only a few seconds on your homepage, for example, it likely isn't providing any real value. Because search engines prioritize user experience, a perceived lack of value is going to make that webpage (and your entire website) take a hit in Google rankings.
If you have rich, relevant content about HVAC services throughout your internal blog posts, viewers will likely spend more time on a single webpage, as well as engaging with your website as a whole. This prevents high bounce rates because you're publishing meaningful content that users want, and thus they will stick around to get the information they need throughout your site. Quality blog posts that are optimized for HVAC content marketing will also allow each post to function as a strong webpage that can serve as a great entry point to your site as a whole!
Don't Forget Internal Links To Add Value To Blog Posts
Knowing that bounce rate is one of many signals that Google receives to weigh your webpages for SERP ranking, it's a great practice to link internally in all your blog posts. This doesn't mean linking to the homepage, as that is a no-brainer to find (usually linked from the header logo on any given page). Help your other posts optimize by linking common topics in an organic way, meaning that you highlight relevant terms to link to.
Do not get yourself in hot water by stuffing arbitrary links throughout posts. This means you don't try to link every single sentence of the post. You also shouldn't artificially try to drive traffic to a given page by linking it from an unrelated term. So let's say for example that you really want a blog post about furnace repairs in the fall to show up more prominently on Google; a bad approach would be to link to that post from every new blog that is published, even if it has nothing to do with furnace repairs. This is not going to serve the user, and will hurt you in the long run because of it.
Shift Your Perspective Of Prospective Clients To Make Content Marketing Sing
One of the best pieces of advice I can offer when it comes to content marketing via your HVAC blog is to write for someone you love. Think about a sister, a dear nephew, a close friend, or a beloved neighbor. What would you want to tell them about what you do to better equip them to make decisions about their home when a need arises? That's what you should publish content about, and you should use that "voice" in your writing. In other words, write as though you're speaking to someone you care about, and the right focus and tone will follow.
Engage With Blog Readers For Loyalty You Can't Buy
This applies to both your blog posts about heating and cooling services, as well as social media posts, but the more you interact with your readers/followers, the better you're going to show up for clients. We are naturally drawn to familiarity, so having regular access to your content (via a steady stream of new content) and great engagement on posts (commenting back to reader comments or responding to Direct Messages) will draw clients near based on a foundation of trust and authority. What better footing is there for a long-term client-service provider relationship?!
Don't overthink your blog posts or feel like we're trying to tack another thing onto your neverending To-Do list. Considering the power of content marketing to appeal to modern consumers, leveraging the blog for your HVAC website is a really simple way to close the gap between you and your customers, and to create a true community that keeps your phone ringing for years to come!