What does the online marketing landscape look like as we advance towards 2020? What sort of HVAC SEO strategies can your company use to climb the ranks even higher this year? Nolen and Jason discuss some helpful tips to increase local search visibility and earn more leads. If you've struggled to make page 1 rankings in Google Search, be sure to listen in!
Helpful Points for HVAC Companies
Original content is still important, but it's a baseline now.
Collecting reviews is more essential than ever.
Make sure your Google My Business account remains active.
A New Baseline for Marketing
Original content. That's a concept businesses live and die by, but also a practice that's become the norm for those looking to perform well in local search. While everyone can and should pursue original content that provides real value for consumers in their target market, it's simply expected now.
In other words, quality content is the new baseline.
To actually win front page rankings and develop a consistent pool of website traffic, roofing contractors have to go above and beyond that baseline. Thankfully, there are plenty of tools at your disposal to rise above the competition and let your brand stand out. Some of them are free tools from Google, while others may require a little investment from your company.
Google My Business Activity
It's one of the easiest resources to access, yet so many businesses fail to claim their free Google My Business (GMB) account. If you haven't claimed your business listing, you're liking missing out on hundreds of potential customer impressions! Fill out as many boxes as possible, as Google will be more likely to present your business during a local consumer search.
GMB accounts come with a number of fun tools to showcase your company. The portal allows businesses to upload original company photos, videos, and infographics. You can also create updates and promotions that show up whenever someone searches your company name. It takes only a few minutes to upload a photo, write some catchy insights about common heating and cooling challenges, then send out the post for viewing in local search!
Be sure to post on a regular basis, as GMB posts disappear a week after crafting them. All posts can be viewed from your archives, but Google only shows recent releases in search engine results pages (SERPs).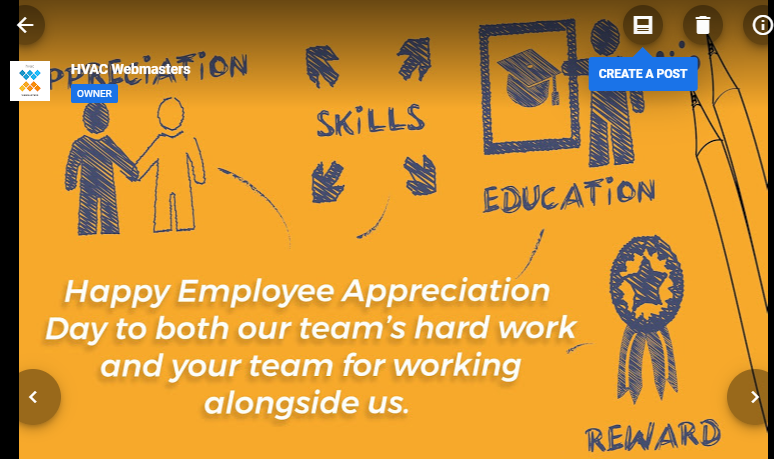 You can upload images to serve as your company cover and office exterior shots. Just be careful that the photos you post represent your company well. As of now, there's currently no way to ensure that your favorite photos are the ones actually showing up in local SERPs.
Review Management and Collection
Apart from your company website and content optimization strategy, nothing impacts local search like customer reviews. As such, all great SEO strategies work to incorporate a steady influx of client feedback. Google used to favor reviews from its own portal (Google Reviews), but now it prefers them from a variety of sources.
You'll notice that many of the top industry performers work hard to consistently gather reviews from their customers. You'll find these companies standing out in local service packs, earning premium leads for some of the most popular services. As you can see, even a little effort goes a long way when it comes to reviews.
Where should you ask for reviews?
Instagram
Better Business Bureau
Yelp
Angie's List
Your Website
Of course, the easiest way to collect client feedback is to simply ask for it! Send your customers (especially the happy ones) a brief invitation via text or email. It doesn't have to be complicated, just provide the link(s) so they can do it quickly.
Showcasing Reviews on Your Website
For the greatest impact, incorporate those reviews into the company website. You'll likely need a professional to do this for you, but watch out! Most HVAC SEO companies simply aren't very good at infusing these reviews into the site effectively. It took years for our team at HVAC Webmasters to develop our tool (Righteous Reviews) to do so, but the impact on our clients' local search results is nothing short of incredible.
Team Up With HVAC Webmasters!
If your business sometimes struggles to earn that oh-so-important front page listing, our team would love to talk with you! At HVAC Webmasters, we enable HVAC companies around the country to earn higher ranks, better traffic, and outstanding leads. To learn more about SEO strategies or digital marketing in general, talk with a professional at (800) 353-3409.
Additional Resources from HVAC Webmasters
Related Articles and Podcasts
– Why Regular Work on Your Web Effort is Important (Podcast)
– The Untold Dangers of Website Templates (Article)
– Streamlining SEO for HVAC Contractors: Tips and Traps (Article)
HVAC Webmasters Services for SEO Strategies
– HVAC Local Search Marketing
– HVAC Brand Development
– Getting More HVAC Online Reviews
Podcast: Play in new window | Download
Subscribe: RSS