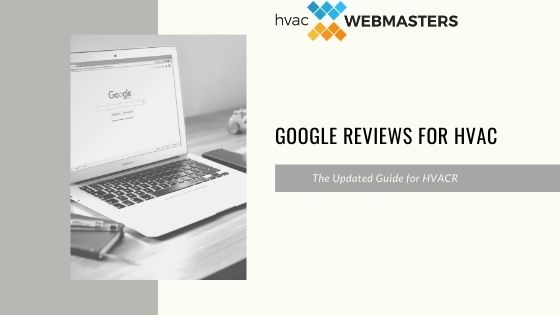 What are Google Reviews for HVAC?
Google Reviews are testimonials or feedback left about your business on your Google Business Profile listing. The reviews appear beside your listing on Google Maps and Search and often influence the user's perception of your HVAC company. Businesses can request reviews with the URL short link available in your Google Business Profile dashboard.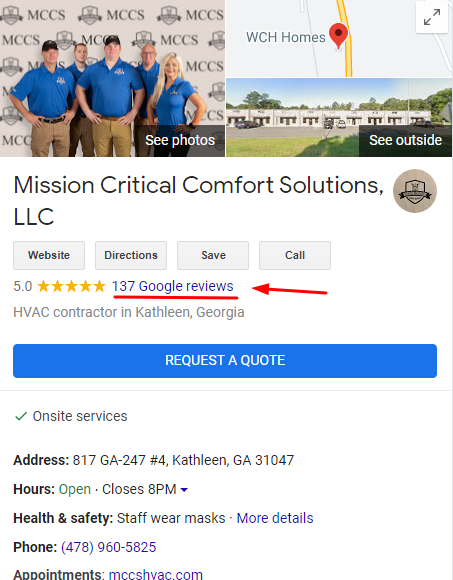 Google Business Profile Reviews directly influence SEO because they increase your company's chances of appearing in the Local Map 3-Pack for relevant queries.
Why HVAC Companies Need Google Reviews
Google reviews mean a lot to your business for many reasons. Perhaps the most straightforward explanation is that many people use Google. Google pulls in the lion's share of all global customer reviews submitted with 57% of worldwide reviews.
You have probably already heard about the importance of a Google Business Profile for your HVAC contracting business. Google reviews are another big reason why having a GMB is so essential. It provides your customers with an opportunity to find your business in local searches and provide feedback that is becoming more important by the day.
People trust online reviews as they've become a digital form of word of mouth. They have become something of an entity in and of themselves. In the following guide, we will take an updated look at what you need to know about Google reviews in 2022.
For all things having to do with HVAC digital marketing, including review and reputation management, make sure you pick our brains over here at HVAC Webmasters. In the meantime, let's get started with the guide.
The Reach of Google Reviews
As always, we want to impress upon our readers the impact that Google reviews have. Since launching in 2007, Google Business Profile reviews have dominated the aggregate online review market. Before Google Business Profile became a thing, Google would pull aggregate customer ratings from 3rd party review sites like Yelp.
But times have certainly changed. Now, 56% of online consumers report that they read at least 4 Google Business Profile reviews before purchasing decisions.
Popularity isn't the only reason Google reviews are so critical. Your online reviews will also have an impact on your SEO ranking. Reviews are now the second most important ranking factor for businesses. Besides having a Google Business Profile (the most critical ranking factor for Google), online reviews are the next more important ranking factor.
The Google web crawler actively seeks out businesses with many reviews (predominantly positive) to display to users who perform a relevant search.
To put it in lay terms: the amount of Google reviews you have for your HVAC business affects how many potential customers see your company website. As you can indeed surmise, this means that Google reviews also impact how many HVAC leads you to rake in every month – and how many sales you complete.
Google Reviews Tips and Tricks
Having made our point about the importance of reviews on Google Business Profile, it's time to tell you everything you need to know about them.
Perfect 5-star ratings can indicate fraudulent reviews depending on the consumer's level of skepticism. As a result, aggregate ratings between 4.2 and 4.9 are ideal.
Frequency Matters
We know that the Google algorithm also checks for how recent your reviews are in addition to the amount of overall Google reviews you have. In short, if most of your reviews are months or years old, Google will be less inclined to rank you high on search engine results pages.
While the exact number of new reviews you need per month to stay relevant is a matter of debate, in general, you should be trying to get at least 10 Google reviews every three months to remain competitive.
Keep Ratings Realistic
It seems counter-intuitive, but you shouldn't be trying to get a perfect aggregate review score on Google. That's because people tend to distrust local businesses with excellent review ratings. They tend to think they manipulated the system somehow. The good news is that people don't expect perfection. Consumers understand that it's impossible to please everyone, no matter how hard you try.
So having a few bad reviews here and there isn't the end of the world. However, you have to make sure you have the right balance. So what is the right balance? According to a recent study, most people trust businesses with aggregate review ratings between 4.2 and 4.9 stars.
Replies Matter
The rate at which you are replying to your Google reviews also plays a part in how Google ranks your business on relevant searches. This will affect your rankings if you are not responding to any of your reviews or taking weeks to reply to them.
It will also affect how your customer base views your business. They see replies as a sign that you care about the customer experience, instilling more trust in your brand.
How to Get More Google Reviews
Knowing all of the review facts we mentioned in the last section is good. But you can't do much with them unless you get reviews for your HVAC business. Here are some surefire ways to increase your review volume:
Get a Short Link
People don't want to go through a gauntlet to leave a review. Many would-be reviews drop out because of a complicated process. To make it easier for people to leave you a Google review, get a review link. Once you have it, you can use it on your site, social media posts, marketing emails, and even texts.
Ask your Customers
In-person review requests are still influential. People who have been pleased with your service are more receptive to requests for reviews. Please make sure you let your customers know how much their reviews can help your business. And again, make it easy for them. Have a link ready to send them or a QR code that takes them directly to the review page to scan. 
Use DataPins
DataPins is a local SEO and reputation management tool for HVAC companies. The software allows contractors to perform jobsite check-ins, which are published automatically on the corresponding web page. The tool also handles your reputation management by sending automated review requests through SMS (text) and email so that customers can respond at their convenience.
Ask Suppliers
Customers aren't the only source for reviews. You probably work with material suppliers, manufacturers, and other contractors as HVAC contractors. You can also reach out to these people for reviews.
Update your GBP Page
Keeping up-to-date information on your GBP is another way to rank it higher and garner more reviews. Ensure all your contact info is current, post new pictures regularly, update services and service areas, and provide FAQ answers.
Reply to Reviews
Replying to most of your reviews is essential for garnering new ones. It shows new and existing customers that you care about their experience and aren't hesitant to engage with them. It is imperative to respond to negative reviews. Avoid being confrontational. Express your regret and ask how you might do better in the future.
Reputation Management for HVAC Contractors
Managing your reviews is a full-time job. Between drumming up a streamlined system for garnering reviews in the first place, you must maintain the perfect ratio between positive and negative feedback. And if you get a bunch of reviews a week, responding to them can be a real chore.
But here at HVAC Webmasters, we offer complete reputation management services. We will help turn your existing reviews into lead-generating machines and generate a steady stream of new reviews for your business. Ask us how to get started today!