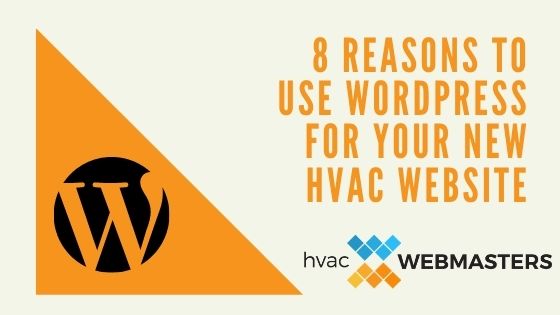 If you have just started your own HVAC business or want to revamp your existing one, you may consider some serious choices. Namely, "Which website builder should I use?" There are a few trendy choices out there for you, but few offer the kinds of resources that WordPress does.
There is a reason why WordPress is the most used website builder on the internet – or rather, there are eight excellent reasons. If you have been debating about which builder you should use for your new HVAC site, allow us to play devil's advocate and tell you about the advantages of WordPress.
1) It can be Free
Please note the italics in the heading. One of the best things about WordPress is that using its primary model is free. You can have an essential WordPress website up monthly without paying a dime. If you want premium features like faster hosting, you will have to pay a bit for that.
In general, small businesses don't have to spend much to maintain a quality WordPress website. Some don't pay anything at all. A free WordPress HVAC website may be just what the doctor ordered if you are working with a minimal marketing budget.
2) Open Source Software
WordPress is open-source, and that means a couple of things. First and foremost, it means that you can use it with software and plugins made by third-party developers. Other website design platforms are closed-source, relegating the user to plugins and tools created by the platform's designers (similar to the difference between Android and iOS).
Secondly, open-source means that many plugins and tools are free. Third-party developers usually offer their software for free (at least initially). You have more flexibility and options when designing and optimizing your WordPress HVAC website.
3) Makes Blogging Easier
Let's flashback to 2003 for a minute to WordPress's initial launch, which bloggers used almost exclusively. It was designed for bloggers to launch their sites quickly and easily. Flash forward to 2023, and WordPress is still rooted in its blogging history. Of course, it has expanded immensely, and you can create virtually any kind of website you want with it, but it still makes posting new blogs on a daily or weekly basis very easy.
The interface can quickly and easily crank out fresh blog posts. Why is this important for your WordPress HVAC website? Because you should have a blog on your HVAC website. Not only do people prefer to get information about a company through blogs rather than advertisements, but websites that have a blog also earn significantly more traffic than ones that don't. The WordPress platform makes it ridiculously easy for you to maintain your HVAC blog with scheduling tools, SEO plugins, and more.
4) Lots of User Resources
One of the biggest reasons small businesses flock to WordPress is that most people aren't web design wizards. We need help from time to time. Since WordPress is open-source, the community is enormous. If you ever have questions about using WordPress or run into a problem, there is more than likely a tutorial for it on the WordPress forums.
Even if there isn't, thanks to being the most used website builder globally, there are plenty of outside resources available from fellow users. No matter your problem with your site, someone has posted a forum comment, blog post, or video tutorial about it.
5) Simple Interface
Again, things can get a bit more complex when you start adding more plugins and software; but the primary interface of WordPress is very straightforward. Again, not all of us are tech-savvy; but you will understand the essential functions if you spend an hour on your WordPress dashboard.
The ease of use is often cited by WordPress users when asked why they chose the platform in the first place – and the 409 million people viewing WordPress sites each month confirm the CMS's dominance.
7) It Grows with your Business
Never forget that the whole point of having a quality website is to grow your business. So you'll want a platform that can grow with it. WordPress can accommodate as your website gains traction, gets more traffic, and customers demand more from it. The myriad of free and paid WordPress plugins can add more functionality to your site without uprooting the whole thing.
Plus, many premium themes can help you scale your site as the business grows. You can even use new themes to change the look of your website without totally redesigning it. Many tools can improve your visitor's user experience, including online form plugins and digital appointment scheduling.
8) WordPress Makes SEO Easier
Last but certainly not least, the popular Yoast SEO plugin seamlessly integrates SEO elements into your content. Please make no mistake about it; SEO is still crucial in 2023. While SEO can be a headache, WordPress makes the task much simpler by automatically scoring your pages based on SEO criteria, suggesting titles and meta descriptions, and suggesting ways to boost your HVAC SEO.
The learning curve is minimal, and it can have a significant impact on your monthly traffic.
Professional WordPress Web Design
WordPress is great for beginners and seasoned design vets alike. Do you know who else uses WordPress? We do! Here at HVAC Webmasters, we use WordPress to craft unique and alluring websites for our clients in the HVAC industry. We can do the same for you, so talk to us about our web design services today.