On-page SEO is the process of optimizing web pages for Google search. The optimization of web pages is under the direct control of the website owner and therefore is the simplest way to increase relevant traffic to your site. Unlike off-site SEO which takes place away from your domain, on-page optimization occurs directly on your pages. It can refer to everything from the insertion of keywords into title tags and headers, to the refinement of content for improved user experience. Here are some of the components of on-page search engine optimization:
Header Tags (H1, H2, H3)
Images / Alt Text
Page Content
Meta Descriptions
Title Tags
URL Slugs / Permalinks
While on-page refinement is simple it is not easy. To perfect SEO on your website, you must perform the proper research to identify the best keywords within your local service area. Additionally, inserting keywords within headers, images, page content, meta descriptions, titles, and URLs is a monotonous and sometimes painstaking ordeal. Furthermore, caution should be exercised during these tasks. While keywords are important for Google ranking they can also lower your position if overused. The blatant replication of keywords is known as keyword stuffing and should be avoided at all times.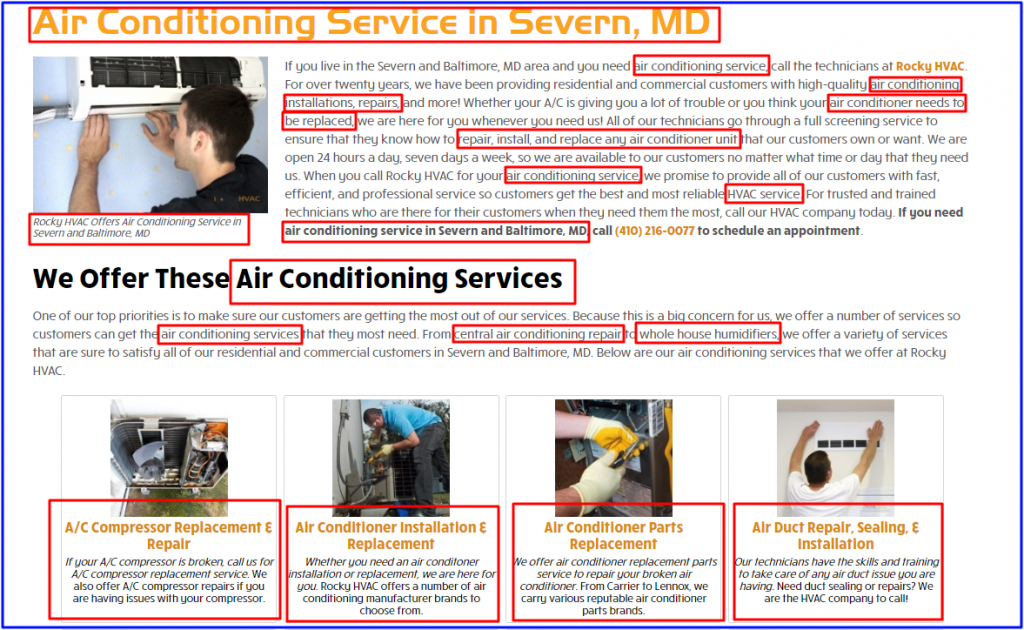 How To Rank HVAC Pages on Google
Let's not fool ourselves, HVAC contractors use SEO for one simple reason which is to rank pages higher on Google and get more business. Depending on the size of your website, the number of pages you have will vary. Larger sites will have more opportunity to rank for niche keywords since they can devote entire optimized pages to a specific target. Ranking #1 on Google starts with content, titles, and headers and is also influenced by meta descriptions, permalinks, and various other factors. Most times, on-page execution is not enough to rank in the top spot. Contractors will also need to implement off-site SEO to achieve top status. Ways to improve ranking are:
Step 1: Target a Specific Keyword
Step 2: Insert Keyword in Title, Headers, Meta, Alt Text, Content, URL
Step 3: Write Informative, Unique, and Valuable Content
Step 4: Update Your Pages When Necessary
Refining pages is not a one time task for HVAC contractors. To improve and sustain rankings, updates must take place semi-regularly. If your content is outdated, the page has a greater chance of dropping in rankings especially as fresher content is being produced to take its place. By continuing to make relevant changes to your pages you signal to Google that your content is the most valuable to the user. Aside from regular attention to your pages, ensure that any updates to Google Algorithms don't disqualify your pages from ranking. Although on-page optimization is the focus of this article, heating & cooling companies cannot ignore other factors like link building.
Other On-Page Ranking Factors for HVAC Websites
The traditional ways to influence rankings on-page are well documented. But recently there have been new ideas on how Google interprets web pages. One example of this is LSI keywords which is part of a larger concept known as semantic search. Google's primary focus is on satisfying user intent through search results by showcasing the pages that provide the most contextual value based on the corresponding search query. Using synonyms and related terms signals to Google and its users that your page is robust and relevant to individuals looking for HVAC services.
Contractors can discover LSI keywords by vising LSIGraph.com and searching for their target keyword. A list of semantic terms will be initiated at which point you can identify phrases and words that should be included in on-page content. LSI terms help mitigate keyword stuffing as well since the use of semantic terms helps companies avoid the pitfall of repeating keywords. The bottom line is this; Google has gotten smarter and its users have increased their expectations. HVAC companies across the nation are expected to meet these newly established standards in 2020.