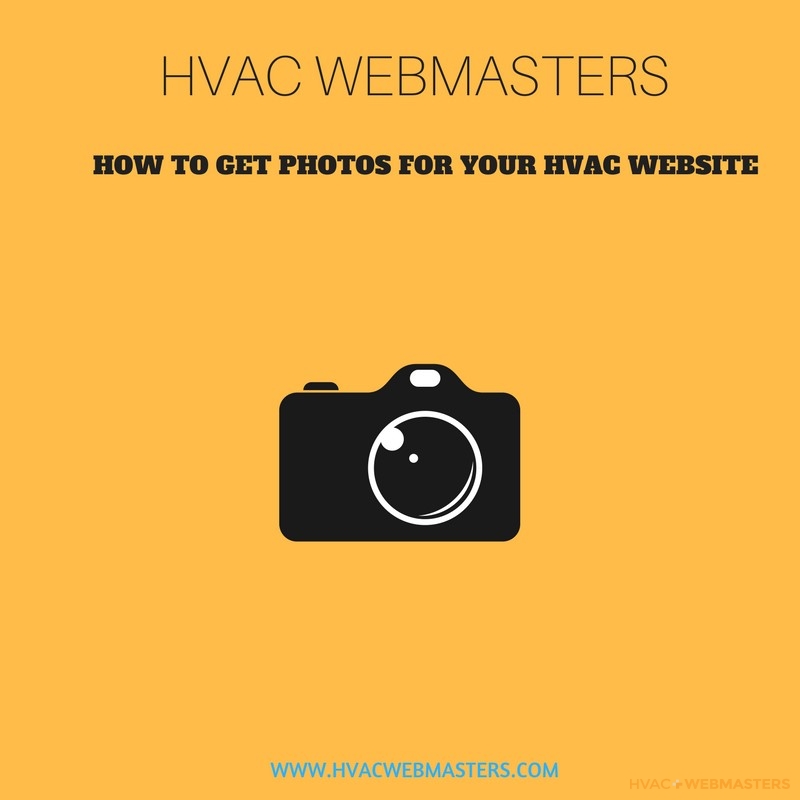 How to Get Photos for Your HVACR Website
What if your HVAC company hasn't been in business long enough to compile an archive of photos? What should contractors do in such a predicament? One can take several steps to find, create, and optimize web-ready images for a business website.
The solution depends on your company's resources. For example, do you have access to a modern smartphone or camera? Are you managing your website on your own, or is it the job of your marketing company? Answering these questions will form the basis by which you'll operate. Check out these tips for generating high-quality images for your HVAC website:
Take Photos With Smartphone or Camera
Websites with original content offer more value to the reader and are looked upon with higher regard by search engines. Many contractors mistakenly believe that content is text only, when in fact, it expands to images, videos, and other forms of visual media. In any case, taking original photos creates original content, and therefore is the best option for contractors. Take photos of the following:
Company Vehicle: Capture your company truck, perhaps with a wrap, via smartphone camera
Employees: Have a staff of 2 or more? Take individual photos of them, as well as group pictures.
Heating or Cooling Repairs: Have someone snap photos of you on the job
Satisfied Customers: Ask a happy customer if they'll pose for a picture with you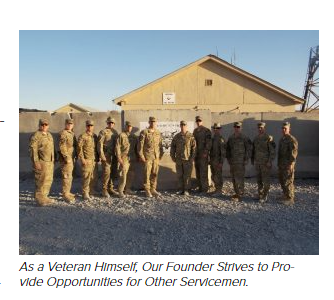 Download Stock Photos From The Internet
If you don't have access to a smartphone or camera, the next best option is downloading royalty-free stock photos from the internet. While this is far from an ideal solution, since these photos are used on multiple websites, it is better than having no visual content at all. Websites like pixabay.com offer free stock photos. Another alternative is selecting "labeled for free-use" under "Tools — Usage Rights" on Google image search, which will produce usable files. Stock photos should be:
Appealing: Appear realistic, rather than humorous or fantastical
Diverse: A variety of files, never used more than once on your website
Relevant: Relate to the HVAC industry, and the page topic specifically
Web-Ready: In an optimal file format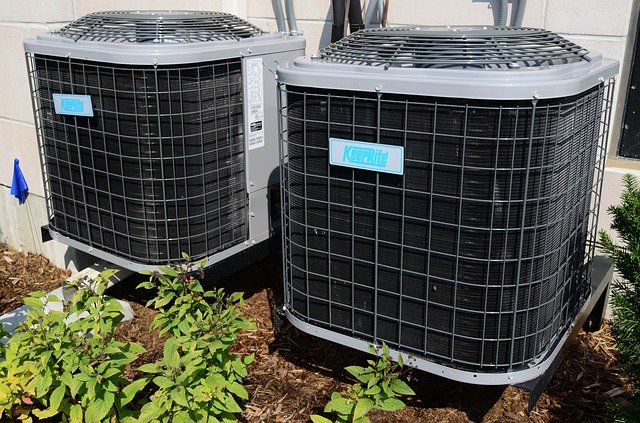 Optimize Your Photos For Web Use
Regardless of if you take original photos or download stock images online, you'll need to optimize them for web use. With images captured via smartphone, you can use Dropbox or email to upload the files to the internet, at which point you can access them on your computer and make the necessary changes. Modern cameras usually come with a USB cord to upload photos onto your PC or Mac, while stock images downloaded from the internet are already on your hard drive. Once you have the files on your computer, follow these steps:
Step 1 – Compression: Compress images with tools like Optimizilla or JPEG Optimizer
Step 2 – File Name: Make a copy of your image file and rename it with lower case letters (i.e., ac-repair-job.jpg)
Step 3 – File Type: Save your image as a JPEG, JPG, or PNG file
Step 4 – Upload: Using a content management system like WordPress, upload the photo to your library
Step 5 – SEO: After placing the image on your page, enter relevant ALT Text for SEO purposes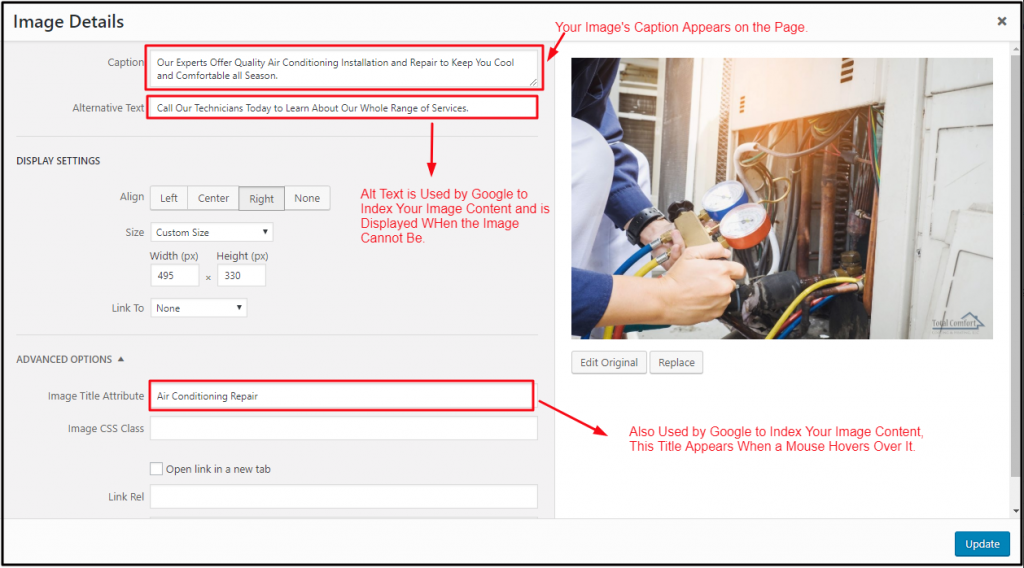 HVAC Webmasters Can Help
HVAC Webmasters can help you through the process. We offer photo optimization for HVAC companies as part of our website design services. First, we'll fill your website with relevant images, either from your archive of original company photos or with relevant stock photos downloaded from the web. Then, we optimize each of your photographs for SEO purposes and keep your website running as fast as possible.
Competing for HVAC leads in today's market can be overwhelming. Websites are constantly trying to outdo one another with the latest trend or techniques. For a process, you can trust, invest in SEO services from HVAC Webmasters. In addition, we offer several month-to-month (MTM) plans, giving contractors their choice of payment options. With MTM, you pay a fixed price at the end of each month and avoid long-term contracts.