Instagram marketing is an untapped promotional resource for many HVAC companies in 2023. While most companies already utilize Facebook Ads for their business, few take full advantage of Instagram.
If you've already taken the time to establish an Instagram Business Account, cheers to you! You obviously have the foresight to understand that this social media platform isn't going anywhere but is, in fact, gaining traction across most demographics.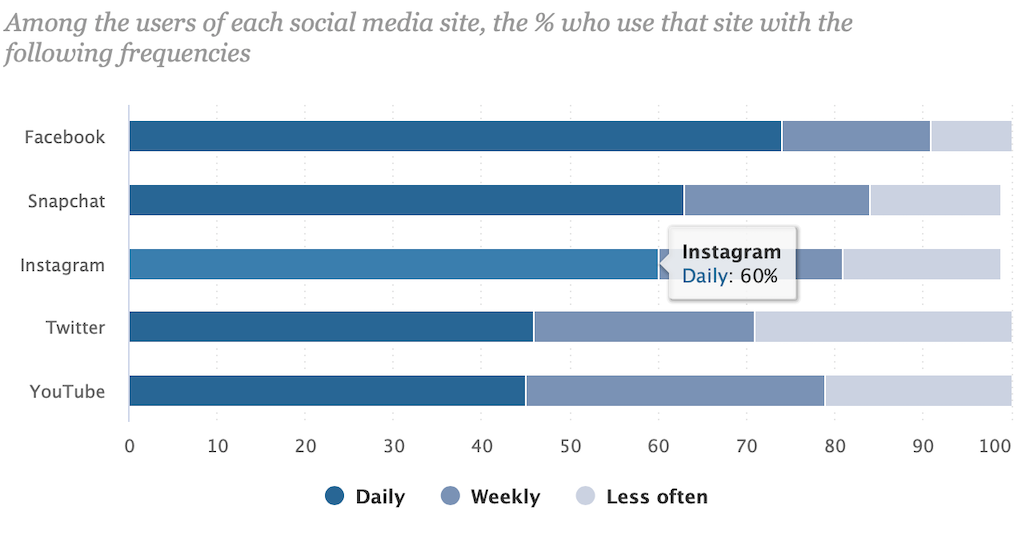 Pew Research Center reports that 60% of users check Instagram daily. This is a huge opportunity to connect with potential clients who regularly make their rounds on social media.
Source: Pew Research Center
Create an Instagram Business Account
Haven't created an Instagram Business Account yet? It's never too late to get started. Check out this guide for some help creating your account and getting started with Instagram. I think you'll find it easier than you expected.
And since Facebook owns Instagram, you get a lot of the same great metrics and feedback on posts, as well as the ability to add pertinent business information to establish your page as a great citation for Google rankings.
Today we'll share some easy tips for stepping up your Instagram marketing for heating and cooling services. By maximizing your presence on social media for a given platform, you can better invest efforts for what is likely to result in more calls and, ultimately, more business for your HVAC company.
Take Great Photos for Instagram Marketing
The visual-heavy aspect of Instagram can make many HVAC professionals groan, imagining it will take a photography background to gain any traction whatsoever. But this isn't actually the case!
You don't have to be a natural behind the camera — or even own a fancy DSLR camera — to make your Instagram account pleasing to the eye and a great source of referrals.
Let's review a few simple tips that you can implement to improve the photos or Stories (videos you can post for a 24-hour period) that you share on behalf of your HVAC business in your Instagram marketing:
Natural Lighting Makes for the Best Photos
Isn't it great news that you don't have to keep a small photo studio in the corner of your shop? And aren't you relieved that my advice isn't to invest in a bunch of expensive photography lights? No, you don't need to do any of that. (Although you can. You do you.) The absolute best, most flattering photos tend to be those that utilize the power of natural light.
Any given consumer camera- and I'm heavily in favor of relying on the camera on your smartphone, to which this still applies- will perform best with plenty of natural light. You don't have to understand "manual mode" to take great pictures for your Instagram ads or feed posts, but you'll benefit from the automatic settings when you let the light hit that lens.
For example, if you're taking a photo of one of your HVAC technicians (which I highly recommend and will talk more about why in just a second), have them stand near a window during daylight hours and shoot with the window to your back.
Now obviously, direct sun isn't flattering due to both the inevitable squints and overexposure you're going to reap. But daylight coming in through a large window will light your subject beautifully, and the resulting photo will be much more likely to get Likes (that running count below your photos, indicating a user appreciated what they saw).
Photos with Faces Get More Attention on Instagram
Mashable reported in 2014 that Instagram photos that include faces are 38% more likely to get Likes. This means, no surprise, you need to include people in the pictures you post. It can be really easy to keep your AC repairs and even your gear or fleet as the focus of your camera, but you are going to be much better served by featuring you, your team (both techs and office staff), and even your customers (with permission, of course)!
Why Likes are Important in Instagram Marketing for HVAC Companies
If you're wondering why it matters whether you get "liked" or not, it's important to understand that Instagram marketing is subject to an algorithm, just like Google. This algorithm fundamentally changed Instagram earlier this year when user feeds shifted from a chronological view to a computer-determined preferred view.
Posts that were more likely to appeal to the user — judged based on their engagement on the platform — were going to get prominent positioning; those less likely to elicit interest were deprioritized or, in some cases, never shown in the user's feed at all.
If this sounds familiar, it should. This is the same sort of goal that Google has in the search engine results, giving prominent positioning to pages most likely to serve the user.
Try Different Angles to Get Better Instagram Photos for Your HVAC Page
You may be surprised by how much more interesting your photos are when you just try a different point of view. For example, it can be flattering for faces to take the photo from ever so slightly above eye level, creating a slimming effect on the face and body.
On the flip side, it's less flattering to shoot from below chin level. (Most of us have experienced this firsthand and can probably spot our better angles. The truth is, rarely is a flattering angle unique to one person.)
If you're featuring a certain piece of equipment, a vehicle from your fleet, or a close-up of recent heating or cooling repair, try framing the focal point in a position other than the center. It's our tendency just to plop the main thing in the middle, but it's actually more visually interesting to focus the person or thing more justified to the right or to the left.
Think of the frame you're capturing as a rectangle with three vertical sections, so basically broken up into thirds, and imagine where the lines would be separating the rectangle equally. Take one photo with the focal point in the middle section, and then take another with the focal point in the crease toward the right or left section. In most cases, the latter photo will be more engaging and thus invite more views and Likes…maybe even a comment!
Engage with Comments and DMs to Boost Instagram Marketing
I mentioned the algorithm earlier, and another important factor that Instagram considers for placement on a user's feed is engagement. Not only does it factor in what that user — or your potential customer — likes and views, but the extent to which you respond to comments and "DMs" (Direct Messages that users can send via the paper airplane icon) can actually boost your posts as well.
Engagement is the name of the game with social media, so staying on top of those notifications can make a difference in the performance and visibility of the Instagram ads for your HVAC company.
Easy Tips for Creating Great Captions for HVAC Instagram Posts
Here's the key when it comes to the content writing for your HVAC Instagram posts/ads: talk to your audience on social media just as you would a potential customer in real life. Your heating and cooling website content might be more polished and professional. While you should never come across as borderline unprofessional, you can loosen your tie a bit on Instagram.
Remember Your Audience – Never lose sight of the fact that social media is meant to be social. Keep the tone friendly and light, remembering that heavy-handed messaging that looks like an ad will likely be ignored (or even hidden).
Technical Jargon is a Buzzkill – You don't need to "dumb it down" completely, as using industry-relevant terms will make you look authoritative and help your clients feel a little more confident as they pick up on the lingo. But don't fill captions with a technical description and call it a day; write out a full sentence, and keep it in layman's terms whenever possible
#HashtagsAreYourFriend – Posts with a gazillion hashtags instantly look like spam. Don't go overboard, but utilizing relevant hashtags is a great way to help drive traffic to your posts. A great way to keep the captions clean is to use a max of one hashtag in the main caption, post it, and then add a few additional hashtags in the comments section. Never use more than five hashtags in total.
When Struggling to Create, Curate!
You don't have to create every post for Instagram marketing for your HVAC business account from scratch. There is much to be said for tapping into the social network aspect of Instagram and sharing relevant content from other users.
Stealing Instagram Content is NOT the Same as Curating
Before I type one more sentence, let me be very clear: you should never steal content. What's the difference, you ask? If you simply screenshot a great image from another user and repost it, you've stolen that image.
Even if there is a watermark on the photo, you're essentially trying to profit off of their work without giving proper credit. Utilizing an app like Repost is a great way to share content from Instagram on Instagram without breaking copyright or behaving badly.
When I say curate, what I mean is to try to look at your overall feed and create a nice balance of your own original content and borrowed/shared content. Incorporate photos of your team, your repairs, and your equipment, as well as photos that you find from other logical pages (that aren't competitors, duh).
Maybe a builder in your service area is sharing photos of their new development; repost the image and welcome them to the neighborhood, and tag the builder and any associated Instagram pages for the development/neighborhood.
Memes Make People Smile
Now, please don't let your feed lose its value by cluttering your professional page with silliness, but sharing a few funnies here and there pertinent to heating and cooling issues is a great way to show that you/your company has a personality. Even with Memes, reposting the right way is important, so if you see an image shared that is linked back to the creator, navigate to the original post and share from there.
Instagram Marketing for HVAC SEO Works
Instagram reports that over two-million advertisers use the platform to drive business results. This is no small figure, and it makes perfect sense for heating and cooling companies like yours to get in on the action.
As a homeowner, I am far more likely to shift my already-established pattern of checking my Instagram (and yes, I'm one of those 60% daily checkers) when searching for home service needs, especially if they're right there in front of me with a beautiful feed or engaging HVAC Instagram marketing ad.