The HVAC industry is one that remains strong because, like it or not, that technology will fail or need repair from time to time. And being a good HVAC technician is just as much about your base of knowledge as it is the experience that you acquire.
After all, how can you gain that experience if you don't already have the knowledge to do the job correctly? That is where having the right texts in your corner can really benefit your progression into fully certified HVAC technician.
Or maybe you are the do-it-yourself type and just want to get the knowledge necessary to implement your own HVAC repairs. Having the right books will go a long way towards allowing you to put forth those repairs on your own without the expensive costs that hiring an HVAC technician can bring with it.
Whatever your reasoning, there are a few books that you need to have in your collection to grow your knowledge as a burgeoning HVAC technician or do-it-yourself HVAC technician. When you have the right books on your side, you can build your knowledge base to a formidable level.
It is important to remember that not all books are created the same. There are some books that were once industry standards but have since grown outdated. Sure, some of these include the necessary updates to accommodate for technology developments, but you will want to make sure that you do your homework on the matter before picking a book. The last thing that you want is to get some archaic tome that fails to build your base of knowledge.
Without further ado, here are ten of the best HVAC books that you can invest in. They will certainly help to make you a better HVAC technician or get you well on your way to becoming one.
Electricity for Refrigeration
Because the HVAC industry is so comprehensive, it is impossible to focus on all aspects in just one book. If you wanted to know all there is to know about the wiring that is involved in an HVAC unit, then this is definitely the book you want to focus on.
The best part is that it has been revised and updated as the years have passed, so you can be certain that you are getting modern solutions and techniques instead of some of the outdated ones that you would find in an older text.
This book does a good job explaining how the electricity works in heating and A/C units and provides simple, easy-to-understand explanations of how to implement repairs.
Refrigeration and Air Conditioning Technology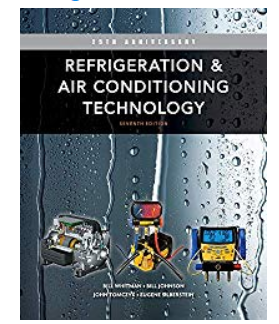 This is one of the staples of many HVAC schools and there are a lot of students that might need it for their classes. Because of the academic necessity, it is one of the most expensive books out there, though it is definitely worth the cost.
If you find yourself looking for something resembling the college theory HVAC experience, this is the book for you. While it definitely covers techniques in repairs and installations of heating and cooling units, it also covers the inner workings, the why and the how, and everything in between.
Troubleshooting HVAC-R Equipment
Though it was published in 1995, there have been updates to this book as technologies have changed and techniques with it. The one thing that makes this so valuable is all of the information on older units. Having the information needed to repair these newer units is fine, but there are still plenty of those older units out there that could stump you without the necessary information.
Best of all, this book will walk through both residential and commercial heating and air in a way that is concise and shows ell organized steps. You will never feel lost when you have this text to refer to as you continue to learn about the HVAC process and the best way to implement repairs. Simply put, it is a must-have for HVAC texts for those looking to grow their knowledge base.
Step by Step: passing the EPA 608 certification exam
Not just anyone can be a certified HVAC technician; it takes a lot of studying and the ability to pass the necessary certifications to earn that title. Like any test, it requires a lot of studying and a little luck. Thankfully, this book is there to help get you through the process in one piece and as a certified technician.
This is also a great tool for a homeowner that is looking to save money on refrigerant. If you are HVAC certified, you would be able to buy it yourself instead of having to go through the traditional method. This book will show you all of the necessary information to pass Type 1, 2, and 3.
Modern Refrigeration and Air Conditioning
This is an excellent book for someone who is looking to carve out a career path in the HVAC industry or for a person that considers themselves the do-it-yourself type that is just looking to expand their education base.
Among the many topics covered in this text is the theory as well as techniques for troubleshooting that is typically involved in the heating and cooling repair industry. Even if you have passed your HVAC exam, it is a great refresher to have in order to continue your education and keep you as prepared for any scenario as you possibly can be.
Low Pressure Boilers
Meet perhaps the most on-the-nose book on this list. Most of the other texts that you have read about or will read about are about the HVAC industry in general. But if you have ever had specific questions about low pressure boilers, this is definitely the one for you.
This is a comprehensive guide that will teach you all that you need to know about the ins and outs of the low pressure boiler. After a quick run through as well as a little bit of experience, you will become an expert when it comes to low pressure boilers and will never run into a scenario that leaves you stumped again. A must-have if you deal with this type of boiler on a regular basis.
Residential Construction Academy HVAC
This is another excellent text on the ins and outs of HVAC systems and how they work. This is a great tool for students in particular as it is very educational and uses practical examples to help students with their education.
While it is definitely recommended that you reference multiple texts along your educational path, this is one of those books that will make things way easier along the way. It is not as highly rated as some of the others on the list, but it is definitely worth the trouble of looking over and reading through.
Refrigeration and Air Conditioning Technology Lab Manual
Like some of the others on this list, this began as a text used years and years ago but has since been updated thanks to the development of technology and methods of repair and installation. Still, the foundation of the book remains solid which makes it one of the better options out there for students.
This was one of the primary texts in the early 2000s, but the principles have all remained the same. And because of its original age, the price has dropped on this one to make it a more affordable option for students or those who wish to learn on their own. There are newer and more relevant HVAC books out there, but for the value, this is one of the best around.
HVAC Level 1 Trainee Guide
This is the perfect book if you are looking to get certified as an HVAC technician. It is for beginners too, so even if you aren't planning on getting certified and are more of a do-it-yourself type, this book can be a valuable addition to your collection and provide you with many necessary skills and a ton of information to become a great DIY HVAC technician.
Even if you are currently certified, it couldn't hurt to go back and bone up on some of the basics. After all, a solid foundation is the key to any job and building up your foundation with this guide will only help to solidify the knowledge that you already possess.
HVAC Level 2 Trainee Guide
This is the next step up from the aforementioned book, but it is just as valuable to both certified and amateur HVAC aficionados. With a brief review of some of the techniques touched upon in the first trainee guide, this builds on those fundamentals to help grow your knowledge base in the HVAC field.
It doesn't get terribly comprehensive or complicated – that comes later and with further study – but it helps to grow your already established knowledge base and buffers that information to add to any experience that you may have as well.
This might be more of a niche book but it is a great addition to any HVAC library and can be a huge help to aspiring or current HVAC technicians.